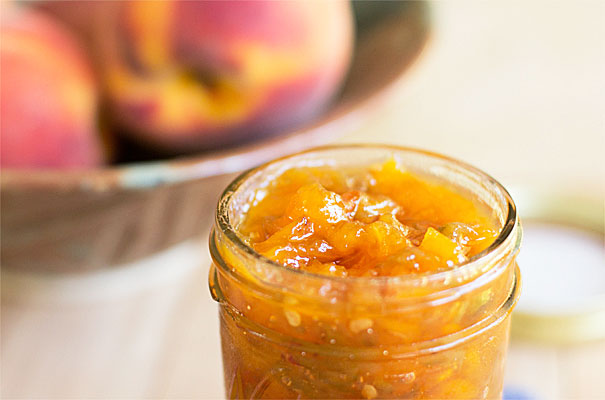 Fresh peaches and roasted New Mexico chile – what a great combination!!!  This simple little recipe for Green Chile Peach Preserves yields a jar of sweet and spicy goodness, chunks of sweet peaches with bites of spicy chile.  These preserves are made using the same method as all of my quick & easy, no pectin jams.  The only difference is that I chop the peaches rather than chopping and smashing them. If you want jam – then just smash the peaches after you chop them, mince the chile, and cook as directed in the recipe.
Green Chile Peach Preserves can be added to marinades, used as a sauce for grilled or roasted meats, scooped on top of baked brie, spread on hot biscuits, muffins or toast, or one of my favorites – spread on top of a toasted muffin with cream cheese.  Then, of course there is the option of just eating it right out of the jar.  Hope you enjoy!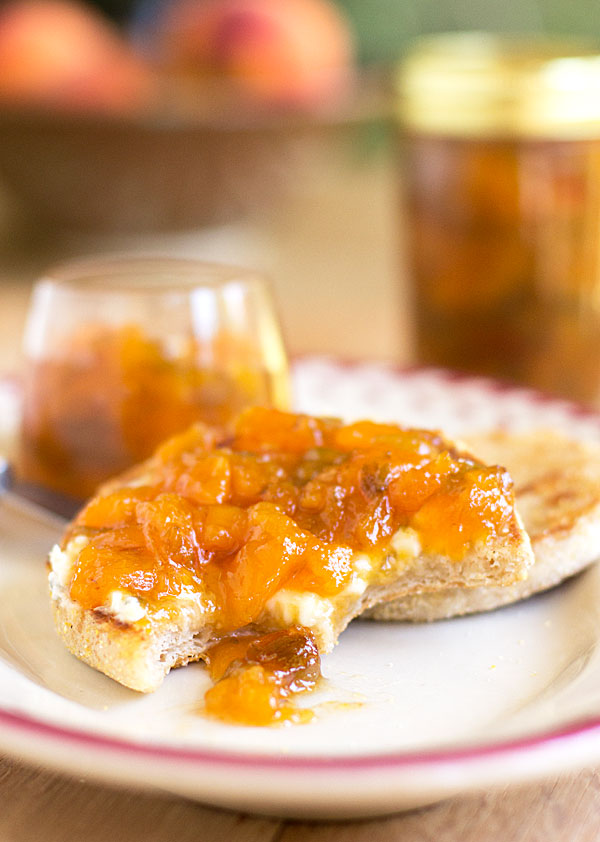 Green Chile Peach Preserves Recipe

Recipe Author:  MJ of MJ's Kitchen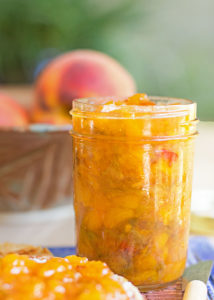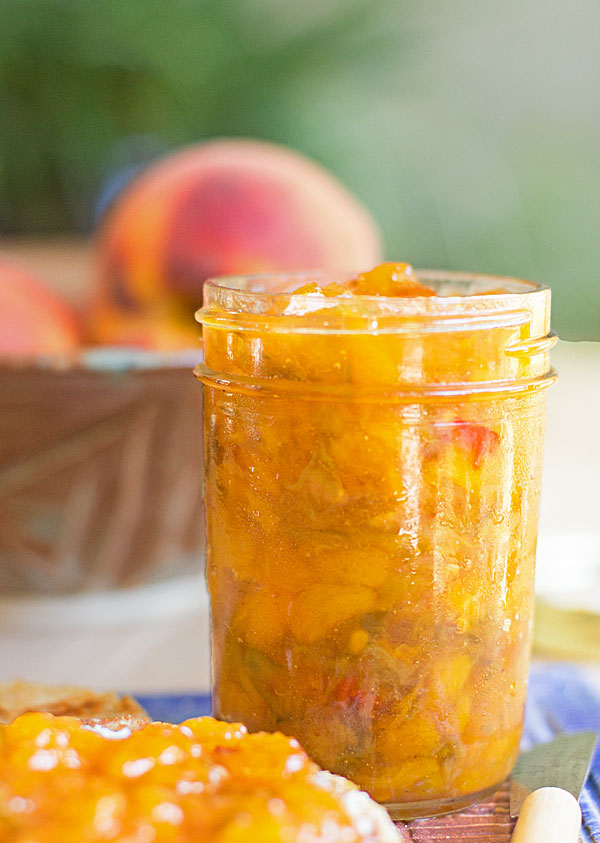 Yields: about 1 pint
Prep and cook time: 30 – 40 minutes
Note:  This is a refrigerator jam and not intended to be sealed and stored in the pantry. All you need is a very clean jar. Once the jam is cooked to consistency, pour into jar, let cool and refrigerate.  This jam keeps for several months in the refrigerator.

Equipment/Supplies
1 heavy sauce pan (2 – 3 quarts)
High heat rubber spatula
1 pint jar with lid or 2 half pint jars
Wide mouth funnel
Ladle
Ingredients
3 large peaches, peeled, diced (~16 ounces)
Juice from 1/2 large lime
¼ cup or 2 ounces drained, roasted and chopped green chile
8 ounces sugar (or ½ the weight of the peaches)
1 Tbsp. water
It's easy to adjust the recipe for a little more or less yield.  Just keep the proportions of fruit to sugar to chile.
Instructions
This is a high altitude recipe; therefore, the temperatures below will be higher for lower elevations.  Check cooking times/methods on how to determine the correct temperature for your elevation as well as how to make these without using temperature as a gauge.
Wash and rinse the pint jar. Do not dry. Heat in microwave on high for 2 minutes. Let sit until ready to use.
Add all of the preserve ingredients to a saucepan.
Heat over low, stirring frequently until the sugar has melted.
Increase the heat to medium and bring to a boil, stirring constantly.
Set the heat to maintain the boil, stirring constantly.  A foam may form on the top of the preserves. Just leave it alone and keeping stirring. It will eventually evaporate or cook back into the preserves.
Stir constantly at a boil for 18 – 20 minutes or until the temperature reaches 205ºF – 210ºF (@5000 – 6000 ft elevation) or 220º F (@sea level).  If you don't have a candy thermometer, click the link below for more methods to test when jam is done.
Remove from the heat and ladle immediately into a pint jar. Top with lid.  Let cool, then refrigerate.  Jam will keep in the refrigerator until you finish it off, which doesn't take long.
*Click the link for more Kitchen Notes on Making Quick & Easy Jam & Preserves.
If you like sweet and spicy like these green chile peach preserves, then you're going these other jams.
DON'T FORGET – It's Green Chile Season in New Mexico!  Be sure to place your order for a shipment of fresh or frozen green chile.  Some suppliers are already shipping Hatch chile and all are taking orders – The Hatch Chile Store, Diaz Farms, Chile Monster.  Click for a list of more New Mexico Green Chile Suppliers.
Click this link for more green chile recipes:  Index of Green Chile Recipes