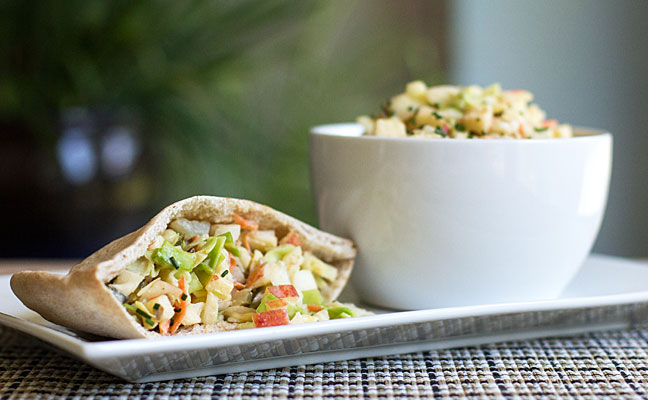 This cabbage apple slaw pita pocket is a recipe I've been making for decades with little changes here and there for variety.  The most recent change was the addition of green chile dressing.  This dressing is made with homemade mayonnaise (recipe below), Dijon type mustard, and a generous  amount of green chile spice mix.  The green chile mix adds a bit of a bite to the slaw as well as the delectable flavor of green chile.  So good!
The slaw is relatively simple – cabbage, apple, carrot, toasted nuts or seeds, and one favorite slaw ingredients – pickle.  I even add a little pickle brine to the dressing.  When you use the cabbage apple slaw for pita pockets you get a light and refreshing summer lunch or supper, and an easy camping meal. And you could forego the pita altogether and just use the slaw as a side for barbecue.  No matter how you serve it or when, this cabbage apple slaw with green chile dressing is a winner.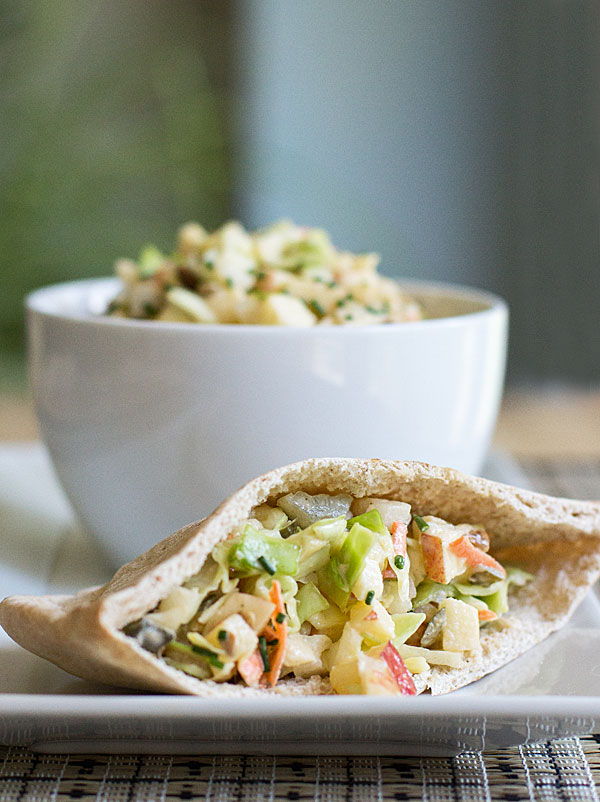 [print_this]
Pita Pockets with Cabbage Apple Slaw and Green Chile Dressing (Recipe)

Recipe Author:  MJ of MJ's Kitchen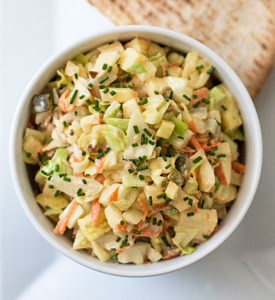 Makes about 6 cups
Prep Time:  20 minutes
Ingredients
Measurements for slaw ingredients are not exact. You can go a little under or over.
Slaw Ingredients
4 cups cabbage, diced
2 crispy apples, diced
1 large carrot, grated
¼ of a large onion, diced
Generous ¼ cup diced dill pickle*
3 Tbsp. toasted sunflower seeds*
1 Tbsp. minced chives*
¼ cup mayonnaise (recipe below) or yogurt
1 Tbsp. Dijon style mustard
juice from half a large lime
1 Tbsp. dill pickle brine
2 tsp. green chile spice blend
Pita Bread, halved and open to create pockets
Instructions
Toast the seeds by placing in a hot skillet over medium low heat, shaking and tossing the seeds around until lightly toasted on both sides.
Place all of the slaw ingredients in a large bowl and toss to combine.
Whisk the dressing ingredients in a small bowl. Pour over slaw and toss to coat.
Serve as a slaw side dish or stuff into the pocket of pita and make a pita sandwich (our favorite).
*Kitchen Notes
Pickles – Use Kosher dill or regular dill and if you don't like dill, then substitute with sweet pickles.
Sunflower Seeds – Toasted pumpkin seeds, pecans, walnuts can be substitute for the sunflower seeds.  Our two favorites are the sunflower seeds and pecans.
Chives – Good substitutes include dill weed, parsley, lovage, or green part of scallions.
Homemade Mayonnaise Using Immersion Blender
Easily make your own mayonnaise using the immersion blender method shown below and the following ingredients.
Place the following in a 2 cup measuring cup in order listed:
1 medium to large egg at or near room temperature
1 Tbsp. lemon or lime juice or brine from pickled peppers
A pinch or two of sea salt
~ 3/4 cup Avocado oil – add to other ingredients until total reaches the 1 cup mark
Place the immersion blender at the bottom of the cup, turn it on and slowly raise until all of the oil has been incorporated. (See video)
How to make mayonnaise with an immersion blender by James Strange (source: YouTube.com)