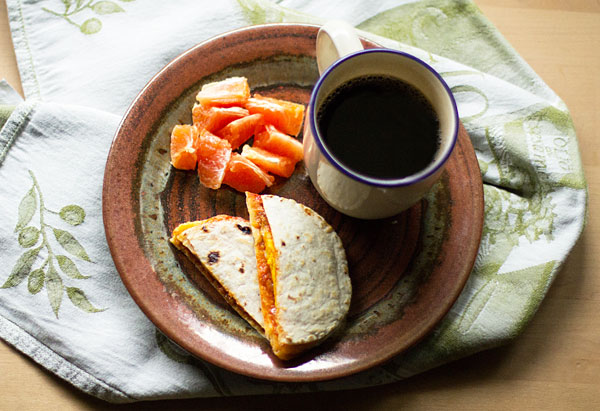 Whenever I can't think of something for breakfast or lunch and I don't want to spend a lot of time cooking, this egg quesadilla is my old standby.  It has only four ingredients – eggs, corn tortillas, cheese and a red chile paste – all of which can be found in my refrigerator at most any time. This egg quesadilla takes about 15 minutes making it a quick & easy breakfast or lunch.  In addition to being quick & easy, it's a very tasty meal and provides an ample amount of protein.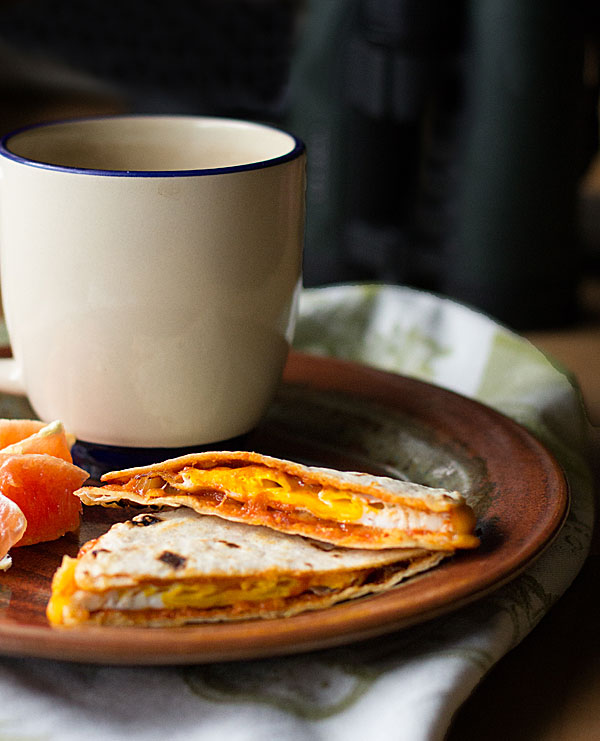 [print_this]
Egg Quesadilla with Red Chile and Cheese Recipe
Recipe author:  MJ of MJ's Kitchen
Yields 1 quesadilla
Prep and Cook Time:  less than 15 minutes
Ingredients
There are no exact measurements for this recipe.
2 corn tortillas
Your favorite Red Chile Paste*
1 egg
a touch of butter or oil
~4 slices Cheddar cheese
Instructions (Click photos to enlarge)

Heat a little butter or oil in a small skillet over medium heat.
When hot, crack an egg into the pan, poke the yolk 2 – 3 times, and swirl to make the egg as round as possible.
Cook the egg, flipping once until the yolk is cooked.
While the egg is cooking, heat a cast-iron griddle or skillet over medium-high heat.
Spread one side of each tortilla with red chile paste. (Amount of paste depends on its heat factor, how hot you want your quesadilla, and the type of paste.)
Place one tortilla, paste side up, on the hot griddle. Top with 2 slices of cheese, the cooked egg, 2 more slices of cheese and the second tortilla (paste side down).
Cook the quesadilla until the cheese melts and starts to ooze out and the tortilla starts to get crispy.  Flip and cook the other side in the same manner.
Remove from the skillet and let rest for a couple of minutes.  This gives the cheese time to set a bit and be less runny.
Cut in half and enjoy!
*Red Chile Paste – It's best if you use a paste rather than a sauce.  Sauces or salsas are VERY messy in this quesadilla.  We like to use gochujang (Korean chili paste), NM red chile paste, aji panca chile paste, or Jamaican Jerk.  Sometimes, we forgo the paste and use chopped green chile.  It's a little messy, but well worth it.
[/print_this]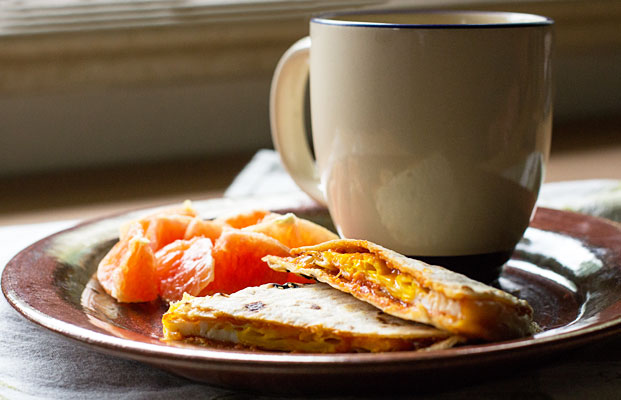 If you enjoyed this egg quesadilla, then you should check out these other quesadillas.
Egg and Jamaican Jerk Quesadilla
Black Bean and Corn Quesadilla