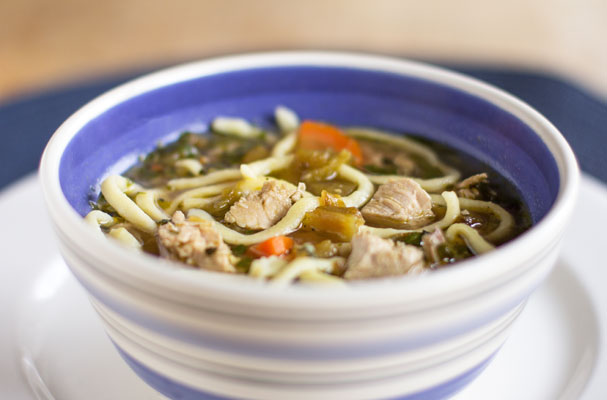 January is National Soup month, so this year's contribution is a hearty and very healthy Green Chile Chicken Noodle Soup with Roasted Garlic. This soup takes the classic chicken noodle soup, spices it up with a bit of green chile, then creates another layer of flavor and stuff that's good for you with the addition of two heads of roasted garlic.  All of this goodness is poured over cooked noodles – homemade or your favorite store bought.
The recipe below makes a large batch of Green Chile Chicken Noodle Soup, enough to feed a family of six or to provide 3 meals for a family of 2. It does freeze well as long as you don't include the noodles.  When you go through the recipe, you might think that this soup is very labor intensive due to ingredients such as cooked chicken, chicken stock, roasted garlic and roasted green chile.  However, with careful planning and/or shopping, you can make/accumulate the ingredients throughout the week through other meals or prepare at the same time you're making the soup.  Please check out the Kitchen Notes below for more information.
Green Chile Chicken Noodle Soup with Roasted Garlic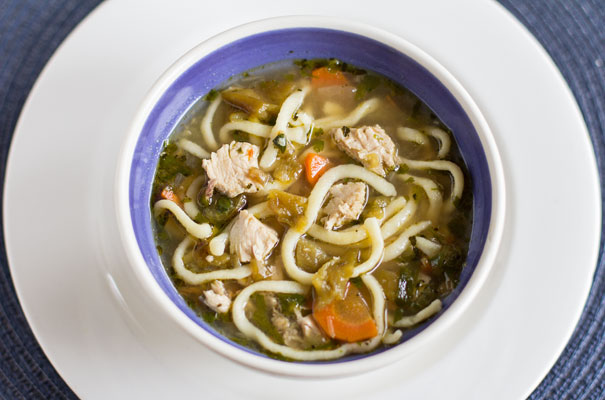 Green Chile Chicken Noodle Soup with Roasted Garlic
The cure for the winter blues or the common cold.

"*" See Kitchen Notes for more information or links to special ingredients.
Course:
Main Course, soups & stews
Cuisine:
American, New Mexico
Ingredients
This recipe can easily be halved by just cutting the ingredient amounts in half.
2

Tbsp.

olive oil

1

medium onion,

chopped

2

stalks celery,

sliced

1

large carrot,

halved lengthwise, sliced

2

heads of roasted garlic*,

peeled

8 - 9

cups

chicken stock/water*,

set aside 2 cups

1

tsp.

dried oregano,

crushed

½

tsp.

coarse ground black pepper

salt to taste

3 - 4

cups

chopped or torn chicken*,

cooked or uncooked

1

cup

mild to medium roasted green chile*,

chopped

½

cup

fresh cilantro,

chopped (optional)

8

ounces

noodles*,

cooked al dente
Instructions
In a large soup pot, heat olive oil over medium heat.

Sauté onion, celery and carrots for 4 minutes.

Add 6 cups of chicken stock and/or water, oregano, pepper, chicken, and chile to the pot.

In a blender, add 2 cups stock and the roasted garlic cloves. Blend. Or, using an immersion blender, add to a bowl or pitcher and blend.


Add to the soup.

Bring soup to a boil, then reduce to a simmer and simmer for 20 minutes. Add more water if needed.

Stir in the cilantro. Cook 3 minutes.

Taste for salt. Add salt if needed.

If you have time, let the soup rest for at least an hour or overnight in the refrigerator to give the flavors time to meld. Reheat while you cook the noodles. If serving immediately, cook the noodles while the soup is cooking.


Cook the noodles to al dente. DO NOT add them to the soup pot*.

To serve, place about ½ cup noodles to a soup bowl and top with soup. Garnish with more cilantro or green scallions tops, if desired.
Kitchen Notes
If you have leftover soup, store the soup and the noodles separately. This keeps the noodles from getting soggy and falling apart.
As with any soup, it is always better the next day. So if you have time, make the day before you serve it.
Following are some ideas for spreading out the tasks involved for making this soup.
Roast a chicken one night, then save the leftover meat for the soup and the bones for the stock.
Before roasting the chicken, place a couple bulbs of garlic on the roasting rack and roast with the chicken. Or purchase some roasted garlic, or make a separate  batch of roasted garlic or roasted garlic/infused oil.
Use the bones and carcass from the roast chicken to make the chicken stock.
You could bypass the cooked chicken and stock altogether and do it all at once when you get ready to make the soup. Place 3 – 4 pieces of chicken (skinless breast, thigh, leg, wing) in 6-8 cups of water and cook the chicken.  Remove once cooked, let cool, and remove the meat from the bones for the soup. Now you have your stock and your cooked chicken.
Unless it's late summer or fall, you probably can't find any fresh green chile to roast, but, if you are like me, you already have some in the freezer.  You might also be able to purchase frozen or canned chile from your local grocer or one of these New Mexico chile suppliers.
For the noodles, I make my own (more on that below), but you can purchase your favorite fresh or dried noodles or pasta to use in this soup.  We like a sturdy noodle that can stand up to the heartiness of this soup.
All About the Noodles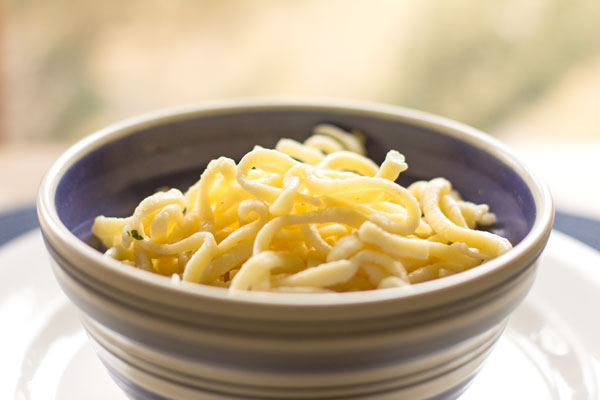 Keeping the noodles separate – One thing I learned years ago from a friend, was to never add rice, noodles or pasta to a soup.  These ingredients continue to absorb the liquid and become soggy and mushy.  To serve, just place the noodles in the bottom of the bowl and pour the soup over them.  For the leftovers, store the noodles and soup in separate containers.  If you know that you are going to eat all of the soup in one sitting, then yes, you can add the noodles to the soup just before serving or actually cook them in the soup.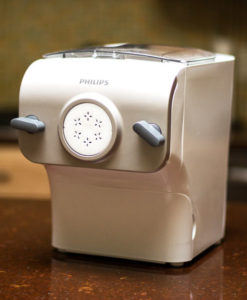 I'm not much of a gadget person, but my brother-in-law is, so I usually let him introduce me to the latest gadgets.  About a year ago, he introduced me to this Philips pasta maker by making  some pasta. It only took 15 minutes, then another 5 minutes to cook it.  After tasting the pasta, I was sold and ready to buy.  However, I did wait for it to go on sale during Amazon Prime Day because it is a little pricey, but well worth the sales price. I haven't bought pasta or noodles since July and probably won't ever again.  Disclaimer:  My review of this product is my opinion. I was not asked to review it.  I just wanted to share this great gadget with you.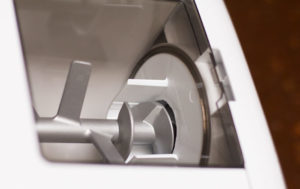 For this green chile chicken noodle soup, I made the Durum noodles in the recipe book (200 grams semolina flour, 50 grams AP flour, and 90 ml water) and used the linguine attachment.  As the noodles were extruding (extruder shown right), I cut them off at about a 4-5″ length.  This recipe produces a robust noodle which holds up quite well to the heartiness of this soup.
I hope you enjoy this Green Chile Chicken Noodle Soup for all of its goodness and flavor, heartiness and healthiness.  If you have a cold, this will surely knock it out after a couple of bowls.
For more soups to enjoy year round, please check out this Tantalizing Collection of Soups and Stews.