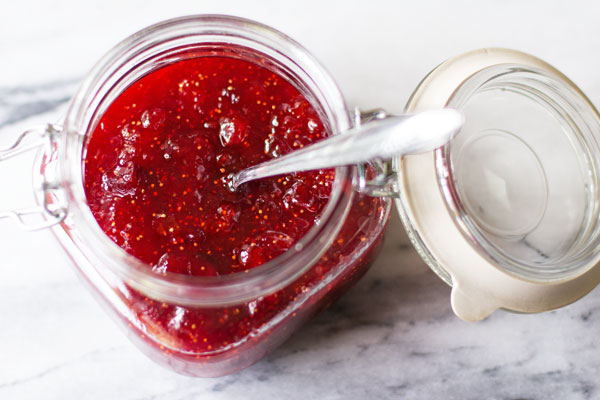 Figs seem to be one of those fruits that people love or they don't like at all.  At the house where I grew up, there was a huge fig tree in the back yard that was quite prolific and produced almost every year.  During the summer we had an abundance of fresh figs which a few members of the family enjoyed right off the tree and the other could leave them be.  My mother and I were a couple of the ones that loved figs and could eat them by the bowl full.  However, we had more figs than we could eat so in order to not waste a single fig, my mother made these Strawberry Fig Preserves with JELL-O.  Everyone loved these preserves!  They are a great compromise for those who love figs and those who don't.
This Strawberry Fig Preserves with JELL-O recipe has been around for a very, very long time; therefore, there are many variations. However, for all of the recipes, the three main ingredients are the same – figs, sugar and strawberry JELL-O. I'm not sure where my mother got her recipe, but then I don't remember her following one. She made this so often, that she really didn't need one and never wrote one down.  So when I went to make these preserves last week, it was hit or miss and I hit it right on the mark! Even Bobby, who doesn't like figs, loves these preserves.
My strawberry fig preserve recipe uses a smaller ratio of sugar to figs than most of the recipes I found and the cooking time is 8 minutes (for high elevation – 6 minutes for sea level). This produces semi-firm preserves that are perfect for toast, biscuits and PB&Js. The recipe yields 2 pint jars or 4 half-pints.  If you want to share with friends, sterilize 4 half-pint jars, pour the hot preserves into the jars, then seal them with canning lids.  After several minutes you should hear the lids pop, indicating they are sealed.
Mock Strawberry Fig Jam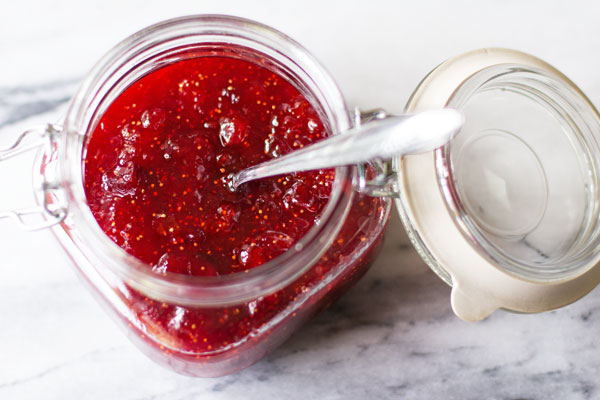 Strawberry Fig Preserves Recipe
Strawberry Fig Jam made with figs, sugar and strawberry jello. So easy and so good. This version is MJ's adaption of hundreds of similar recipes.
"*" See Kitchen Notes for more information or links to special ingredients.
Course:
Jams and Preserves
Yields
:
2
pints (approximate)
Ingredients
3

cups

chopped or smashed figs*

(about 2.5 pounds)

2

cups

sugar

1 - 6

ounce

box of Strawberry JELL-O
Instructions
If you want to have sealed jars to share or store in the pantry for later, sterilize 2 pints or 4 half-pint jars in a hot water bath for for 10-20 minutes depending on elevation. Leave in the hot water until the preserves are ready to pour. For refrigerator jam, rinse clean jars and place in the microwave on high for 2 minutes.

Remove the stems from the figs. Chop coarsely and transfer to a large bowl. Smash with a potato smasher to the desired consistency.*

Add the sugar and JELL-O to the figs. Stir to combine all of the ingredients. Transfer to a 4 - 6 quart sauce pan.

Heat over medium heat, stirring until sugar and JELL-O have dissolved. Continue to heat, stirring to a full boil (a boil that can not be stirred down).

Stir at a full boil for 6 - 8 minutes.* Be careful, because the mixture will start to splatter and it's hot!

After 6-8 minutes, remove from the heat and pour into prepared jars. Wipe the rim of the jars with a clean, damp rag and top with the lid and rings. Tighten firmly.

Let sit on a cooling rack until cool. If desired, after 30-60 minutes, flip the jars over to let the fruit evenly distribute.

*See Kitchen Notes for more information.
Kitchen Notes
Figs – I like using a mix of underripe, ripe and overripe figs. The underripe figs provide the chunkiness for a preserves whereas the ripe and overripe figs cook down into a jam which holds it all together. Therefore, you can use pretty much whatever is available. If you use only ripe and overripe figs, you'll end up with more of a jam than preserves.
Smashing the figs – If you want the consistency of chunky preserves, then don't smash too much. Smash just enough to get some soft pulp mixed in with larger pieces of figs. If you want more of a jam, then use ripe to overripe figs and smash away.
Cooking time – The amount of time depends on two factors: elevation and the consistency you want in the final product. At 5000 feet, 8 minutes yields a softer preserve/jam that spreads nicely on toast, but isn't runny. At sea level, 6 minutes would probably do the job. For a thicker preserve/jam, cook 10 minutes. Some recipes you'll find say to cook 4 minutes. However, I have found that, in 4 minutes, the figs don't cook enough and the preserves are too hard.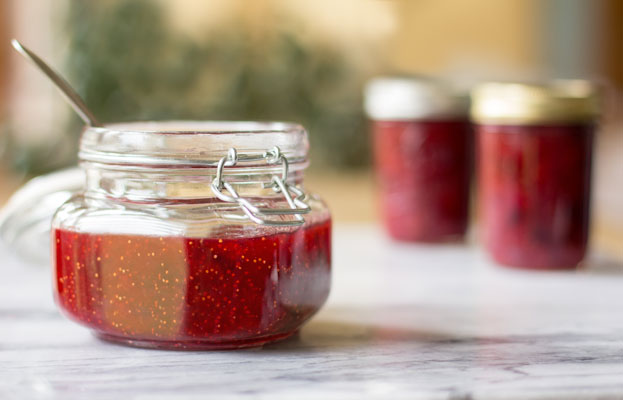 If you like these Strawberry Fig Preserves and the concept of small batch jams, take a look at this collection of Quick & Easy Jams.  Also, click this link for more Kitchen Notes/Tips on How to Make Quick & Easy Jams.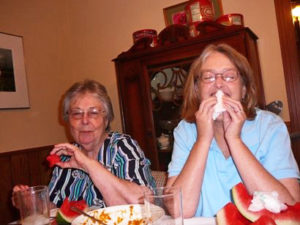 For My Mother Sally (May 1926 – July 2016) who loved her figs and watermelon.

This post is dedicated to my sweet loving mother who taught me how to cook and with whom I spent hours and hours in the kitchen – cooking, baking, eating and best of all, laughing.