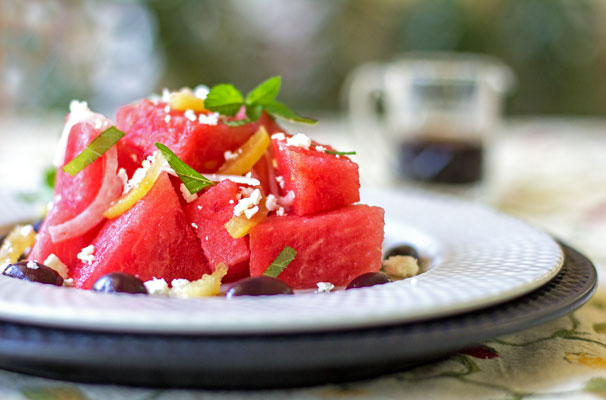 Several years ago when Bobby and I were spending a long weekend in Taos, New Mexico, we went to the El Meze Restaurant for dinner. We had a marvelous meal as we always do at the El Meze, but the shining star of the evening was a watermelon salad with preserved lemons.  It was SO good that we went back a couple days later, just so we could have it again.  This second time, I paid extra special attention to the ingredients and flavors because I knew I would want to be able to make this salad at home.
The recipe below is my adaptation of the El Meze watermelon salad.  I know that the salad ingredients are the same, but the dressing is a little different.  I believe that the original salad used a drizzle of reduced balsamic.  I chose to go with a Ruby port and balsamic drizzle.  The port is a nice complement to the balsamic and works for us.
If you do ever get a chance to visit Taos, New Mexico, be sure to have a least one of your meals at the El Meze.  This watermelon salad is no longer on its menu, but the buffalo tamales are and they are awesome! The other wonderful thing about this restaurant is the view.  The back patio faces the Taos mountains to the east, treating dinner guests to a gorgeous New Mexico mountain sunset.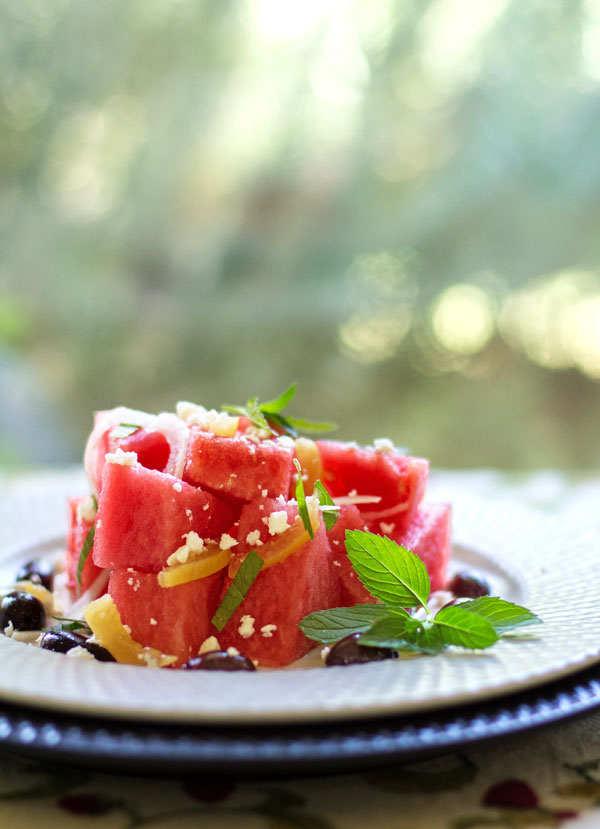 [print_this]
Watermelon and Preserved Lemon Salad Recipe

Recipe adapted by MJ's Kitchen from the El Meze in Taos, New Mexico
Serves: 2
Prep and Cook time: 20 minutes
Ingredients
4 cups watermelon, 1″ cubes (chilled)
¼ cup feta cheese, crumbled
8 – 10 Kalamata olives, cut in half lengthwise
¼ preserved lemon, pulp removed, rind sliced thin
¼ cup sweet onion, sliced thin
Fresh mint, chopped
Balsamic Port Vinaigrette
1 ½ tsp. balsamic vinegar
1 Tbsp. ruby port
1 ½ tsp. honey
2 tsp. canola oil
Instructions
For the vinaigrette, whisk together the vinegar, port and honey. Whisk in the oil.
Drizzle some of the vinaigrette on each of 2 salad plates.
Place 2 cup of cubed watermelon in the center of each plate.
Sprinkle the top the watermelon with the preserved lemon, onion, and feta.
Distribute the olive around the perimeter of the plates.
If you want, you can drizzle any remaining vinaigrette over the top of the salad, but I'd try the salad first.
This makes a great salad for a large group.  Just mince the onion, olives, and preserved lemon and toss with the cubes of watermelon, feta and mint.  Place a pitcher of the vinaigrette next to the bowl and let your guests drizzle a little on each serving.
[/print_this]
Parting Shots from Taos, New Mexico
Thought I would share a few pictures of this particular trip to Taos, New Mexico, in August 2009.  The first two pictures are at dusk just west of Taos above the Rio Grande.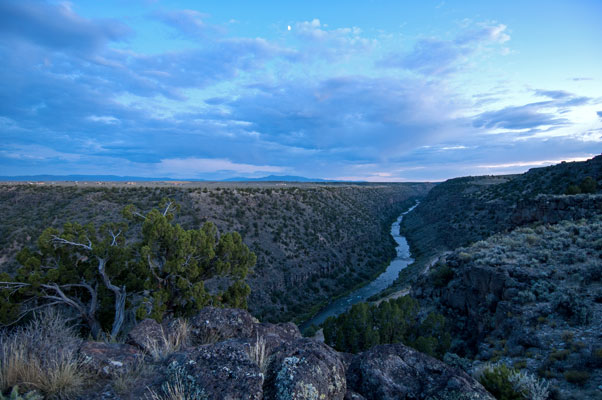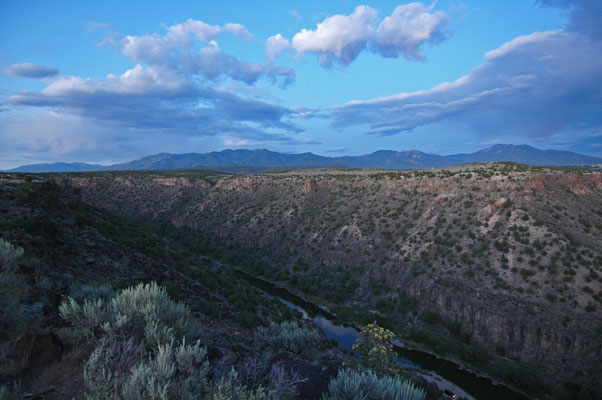 We stayed at a beautiful little Bed & Breakfast with a patio garden in full bloom and hundreds of hummingbirds.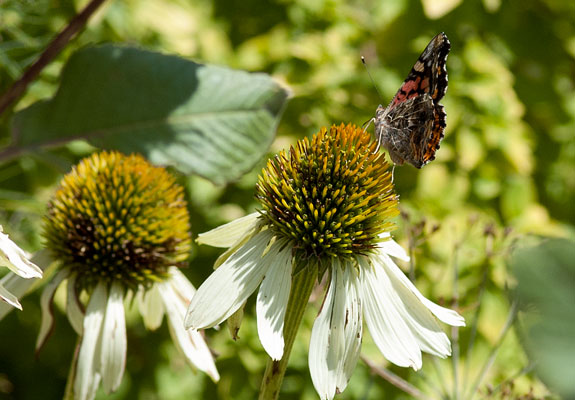 Even with about 20 feeders, there were so many hummingbirds that they would feed 4 to 5 to a feeder, all at the same time. The hard part was where to point the camera. Hummingbirds are fast! 🙂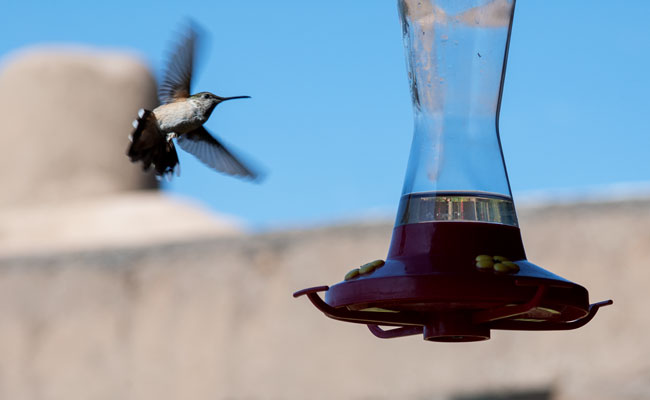 Hope you enjoyed a little taste of Taos, New Mexico – its surroundings and its food.  Even though you can't get this watermelon salad with preserved lemons anymore at the El Meze, you can definitely make it at home.  It's quite easy to make and really highlights the refreshing goodness of watermelon.
Can't get enough watermelon? Be sure to check out my other watermelon posts.
Need more recipes with preserved lemons?
30+ Recipes with Preserved Lemons