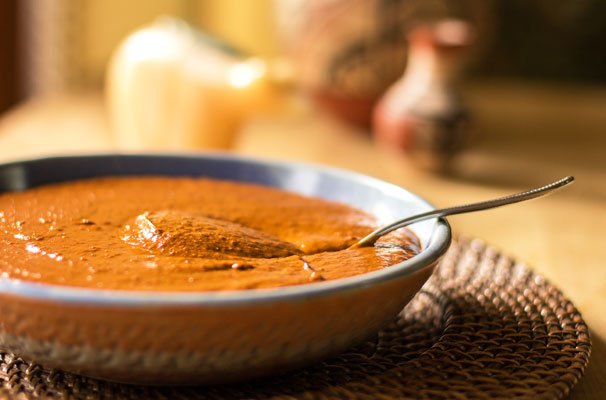 A few weeks ago a friend and I took a cooking class at the Santa Fe Culinary Academy.  The class was on mole and was taught by Chef Fernando Olea, a well-known Santa Fe chef, originally from Mexico City.  The class was a demonstration of Chef Olea making his family recipe for Mole Poblano while engaging the class in a discussion on the different types of moles and the endless variety of ingredients.  Chef Olea encouraged us to create our own family recipe for mole, addressing our own tastes and using local ingredients.  Chef Olea was so inspiring, that when I got home, I did just that.  The main ingredients in the Red Mole recipe are mostly local, New Mexico ingredients. The primary chile is dried New Mexico red which gives the mole more of a red color than the dark chocolate color that one might get from a combination of other dried chiles such as pasilla, mulato, and ancho.
What I really love about this red mole recipe is that it can be prepped and cooked in a little over 2 hours (a process I learned from Chef Olea).  I've only made mole from scratch once before and it was a Oaxacan Mole Negro that took ALL day because the instructions said to toast each ingredient separately.  Chef Olea's process groups the ingredients into batches according to common sizes and toasting rates.  In other the words, all of the chiles are toasted in a batch, the nuts in another batch, and the small spices and seeds in yet a third batch.  It goes much faster and the result is as delicious as the longer process; in fact, I think it's better.
The red mole recipe below does make a huge batch of mole – at least 12 cups; therefore, there is enough to use it any way you want and freeze some for a later date.  It freezes quite well by the way.  There are so many ways to use it that you'll find yourself making another batch as soon as it's all gone.  Red mole makes a great smothering sauce for enchiladas, burritos, tacos, chicken, and pork, as well as a variety of beans and vegetables.  You can substitute it for just about any recipe that calls for red chile sauce or other types of chile sauces.  I love it with these Bean and Red Mole pizzas.
And just in case you're wondering- Yes, we did get to try Chef Olea's Mole Poblano.  At the end of the class each of us was served a dinner of duck breast smothered in Mole Poblano with a side of rice.  It was excellent!
Red Mole with New Mexico Red Chiles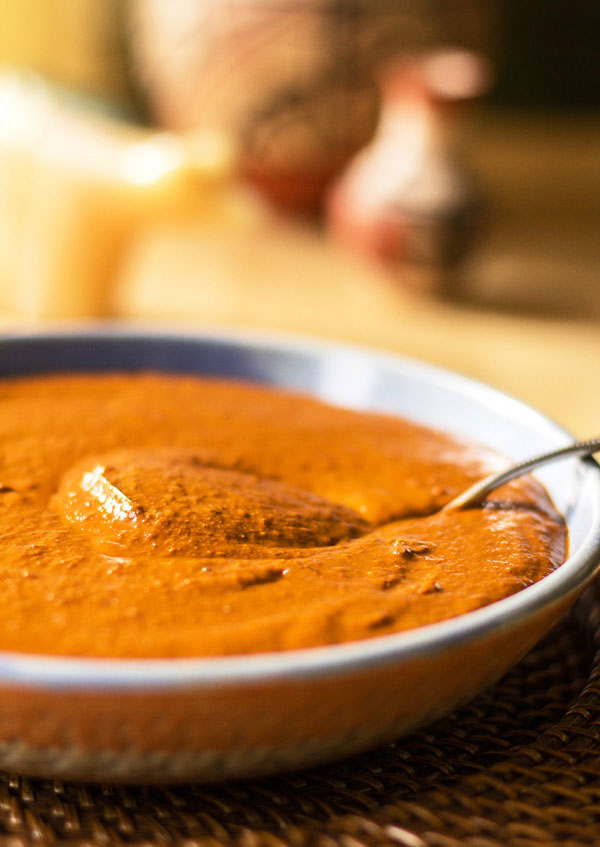 Red Mole with New Mexico Red Chile Recipe
This mole is inspired by the many moles of Mexico. The method used here is less time consuming than some moles, but yields the same decadent results.
*" See Kitchen Notes for more information or links to special ingredients.
Course:
Condiments, Sauces & Dressings
Cuisine:
Mexican, New Mexico
Ingredients
The ingredients in the following groups are toasted or cooked in single batches, so it makes the process go quicker to start by placing each group in its own bowl.
Chiles*
2 ½

ounces

New Mexico dried red chiles,

stems and seed pod removed

1 ½

ounces

dried ancho,

stems and seed pod removed

¼

ounce

dried Chipotle chile,

stem and seed pod removed
Nuts*
4

ounces

pecans

2

ounces

pistachios,

roasted and salted
Spices and Seeds
4

whole cloves

5

points broken off 1 star anise pod or 1/2 tsp. anise seed

½

tsp.

coriander seeds

1

– 1 ½" piece of cinnamon stick,

broken into pieces

¼

tsp.

ground allspice

1

heaping tsp. black peppercorns

2

ounces

sesame seeds
Aromatics and Other ingredients
2

Tbsp.

bacon drippings*

2

Tbsp.

unsalted butter*

6

garlic cloves,

smashed

¼

large onion,

chopped

1

apple,

cored, chopped*
Other ingredients
10

ounces

fresh tomato

(the ones I used were from Alcalda, NM)

½

cup

raisins,

add to chile water if hard and dried

5

cups

chicken stock/broth* and more water as needed
Breads (thickeners)
2

corn tortillas*

4

ounces

stale bread
Finishing touches
2

ounces

bakers chocolate*,

broken into pieces

2-3

Tbsp

sugar,

to taste
Instructions
A cazuela or a thick heavy clay cauldron is normally used to toast the ingredients and then cook the pureed sauce. However, because I don't have one, I used a thick Calphalon stir-fry pan for the toasting and a Dutch oven for cooking the pureed sauce.

Gather your ingredients and divide them into bowls according to the groupings above.

Heat a tea kettle full of water. You'll use this hot water to re-hydrate the toasted chiles.

Heat a large, heavy cooking pot or cazuela over a medium high heat.

Once hot, add the chiles. Toast for 3 – 4 minutes, stirring frequently. Once the chiles start to darken or become very aromatic, transfer to a bowl and pour hot water over the chiles. (If your raisins are hard and dry, add them to the water as well so they can rehydrate.)

To the hot pan, add the nuts, stirring frequently until toasted. Transfer to another bowl.

Next toast the spices and seeds, stirring constantly to keep them from burning. Once the spices become aromatic and the seeds start to turn brown, transfer to the bowl with the nuts.

Turn the heat down to medium and add the bacon drippings and butter. Once melted, add the onion, garlic and apples. Saute' until onions are translucent.

Add the tomatoes and stir for 2 minutes.

Drain the chiles, reserving the liquid.

Add all of the toasted ingredients, raisins, and chicken stock to the pot. Stir and heat.

On an open flame on the stovetop, char the corn tortilla* and add to the pot along with the stale bread.

Remove from the heat and transfer in batches to a blender. Blend* to a smooth puree'. In order to get a smooth puree' you might need to add some of the chile water and/or puree' twice. You want the puree' as smooth as your blender can make it.

Pour the puree' into a large pot and heat over medium heat stirring frequently. Once hot, stir in the chocolate until melted. Once the chocolate is added, stir constantly because the chocolate tends to sink to the bottom and can burn.

Add 2 Tbsp. sugar. Taste. Add up to 1 more Tbsp. sugar for your taste. The sugar will also help to tone down the "heat" of the chiles.

Continue to heat and stir until you see dark streaks rising to the surface. This is the fat in the mole and indicates that the mole is ready to serve. If the sauce is too thick, just add water, a little at a time.


If you aren't going to use it right away, transfer to containers and refrigerate or freeze. The film that forms on the surface is the fat, so don't worry about it. Once you heat and stir, the fat will melt and be incorporated back into the mole.
Kitchen Notes
The chiles – The possibilities here are endless.  The main thing to be careful about is using too many HOT chiles.  If all of the chiles are HOT, then your mole might be too hot to eat.  My red chile was HOT so I toned it down with the ancho.  The chipotle was to add a touch of smokiness to the flavor, but not overpower it.  Three varieties help to create a nice complexity, but moles' can be made with just two chiles or even one.
Nuts and Seeds– Again, the possibilities are endless. Most of the mole recipes that I've seen use raw almonds as the primary nut, but since almonds are not grown in New Mexico, I went with Diaz Farms pecans and Eagle Ranch pistachios. I considered pinons, but after doing a taste test of pecans/pinons vs. pecans/pistachios, I chose the latter. Other nuts and seeds that you could use include peanuts, walnuts, sesame seeds, pumpkin seeds (pepitas), and sunflower seeds. 
Corn Tortillas – Chef Olea used 2 corn tortillas and when he charred them, he actually burned them. They were actually on fire when he put them in the molé pot; so don't worry about overcharring the tortillas. Apparently, you can't. 🙂  If you don't have a gas stove top, then tear the tortillas into small pieces and toast them along with the nuts, OR you can substitute with masa harina (keep reading).
I didn't have any corn tortillas, so I used 2 tbsp. masa harina.  After toasting the seeds and spices, I added the masa to the hot pan and toasted it to a rich, dark brown. I mean…what's a corn tortillas but masa and water? So if you don't have any tortillas, this is an alternative OR, you could just omit this ingredient altogether.
The fat – Originally, I was going use lard, but the lard I had was old, so I chose to use butter and bacon drippings. Because of the yield for this recipe, you could use all bacon drippings or butter, or, if you are vegan/vegetarian, use a mild oil like safflower or canola.
Apple or plantain – Many mole recipes use ripe plantains which are soft and sweet and are used to add bulk and a touch of sweetness to the sauce. If you don't have a plantain, an apple turns out to be a great substitute.
Chicken Stock/Broth – You can use homemade, a chicken base with water or both.  A great chicken base is Better than Bouillon.  If you are vegetarian, they make a "No chicken base", which tastes like chicken but is all vegetarian.
Chocolate – Chef Olea used Abuelita chocolate (which is extremely sweet) plus sugar.  The only chocolate I had was Baker's chocolate which isn't sweeten, but the 3 Tbsp. sugar balanced it out nicely.  You can use just about any chocolate you want. Just adjust the amount of sugar to your tastes.
Blending – If you have a VitaMix or an industrial type blender, you should be able to achieve a smooth, gravy texture with your mole.  Even with my blender on the highest setting, I couldn't quite get there visually, but it sure had a smooth texture when I put it in my mouth. So if I were to say there was a difficult part of this process, blending would be it.  I blended mine twice to get it to where I was happy with it.
Now that you have the mole, here are a couple of tasty ways to enjoy it.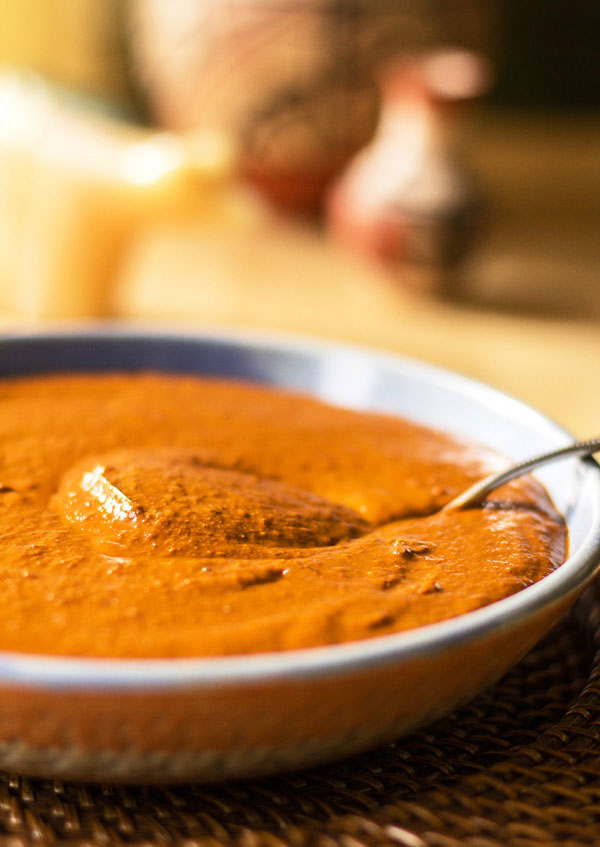 As I mentioned before, the process used for this red mole takes the difficulty and massive consumption of time out of making mole.  It's not a difficult process at all and actually fun to do.  So I encourage you…if you've ever wanted to give mole a try…to give this recipe a try.  You'll be happy you did!
Parting Shots
As we were driving home after the class, the sun was setting and some thunderclouds were trying to form on the horizon.  It made for a beautiful drive home!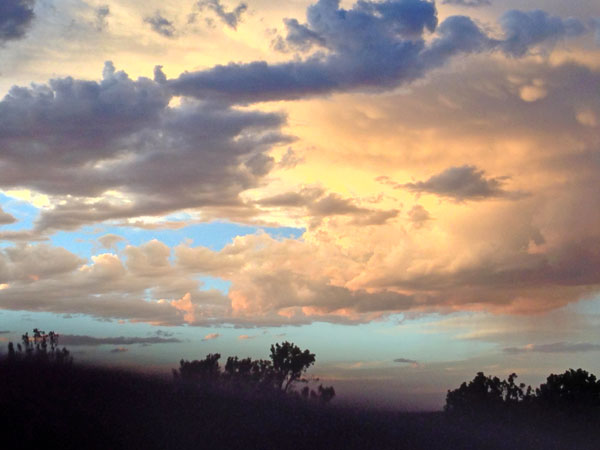 Pretty typical shot of isolated showers in New Mexico.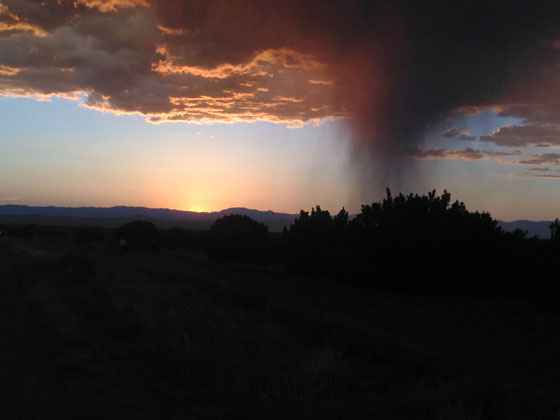 I hope this post has inspired you to give mole a try.  Whether you make this Red Mole or one using the chilies available in your area, you won't regret it.
Once you get the red mole made, be sure to check out my Chicken Mole.