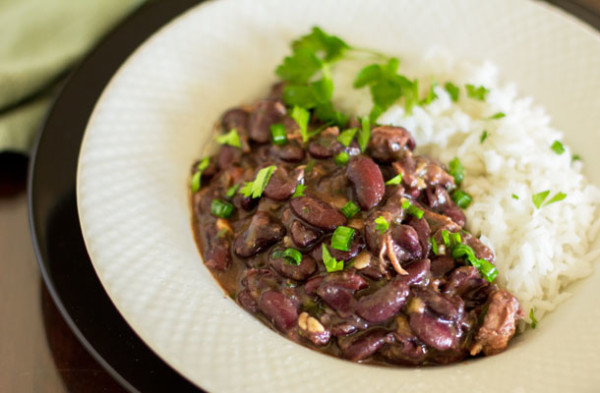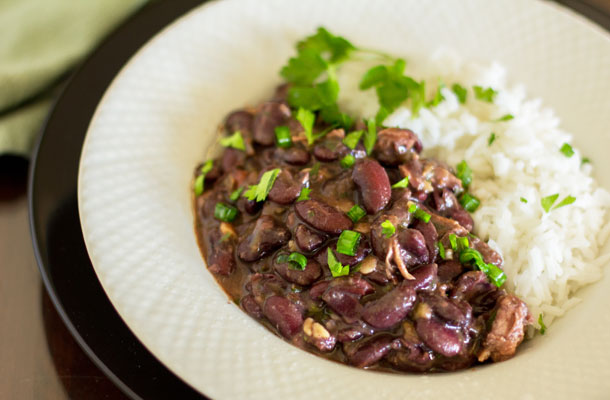 A few weeks ago when we were in Louisiana, we dropped by Bergeron Boudin & Cajun Meats on our way out of Shreveport and picked up some cajun meats to bring back home.  We filled our ice chest with boudin, andouille and tasso, some of which we shared with our New Mexico family and friends. We've been using the rest to make some of our favorite Louisiana dishes.  Last weekend Bobby planned to make a pot of red beans and rice with some of the tasso and andouille; however, once he cooked down the beans with the tasso he found that no andouille was needed.  The tasso added both the spicy and the meaty components to the beans while delivering a different, but just as delicious flavor as we get when he uses andouille.  The recipe below is Bobby's Red Beans and Rice with Tasso.  It is pretty much the same recipe he uses for his regular red beans and rice, so I've indicated the differences in my Kitchen Notes. And yes, red beans and rice is Bobby's dish because he makes it SO GOOD!
Tasso is a highly seasoned smoked pork that is found throughout Louisiana, but not many places outside of Louisiana.  It's very similar to New Mexico's carne adovada which is a marinated then braised pork shoulder/butt, but instead of the pork being braised after marinating in a spicy sauce, tasso is smoked.  Everyone makes their tasso differently; therefore, some is spicier and smokier than others.  Normally, because it is so smokey and spicy, it's used as a seasoning component, much like ham hock.  However the tasso we got at Bergeron's had so much more meat relative to the amount of spice, that we found that no additional meat was needed.  Bobby did add some more cayenne because we do like it spicy.
Red Beans and Rice with Tasso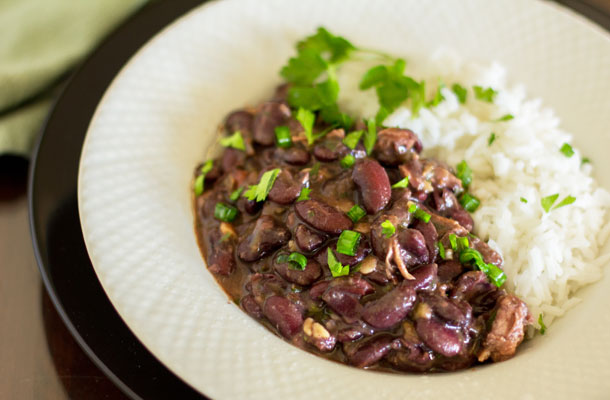 Bobby's Red Bean and Rice with Tasso Recipe
A spicy meal of red beans cooked with tasso and andouille sausage then served over rice.

The prep and cook time indicated below is preceded with a 4 hours brine of the red beans.
"*" See Kitchen Notes for more information or links to special ingredients.
Ingredients
Brine
2

cups

or 1 pound dried kidney beans

1

Tbsp.

salt

water
Bean Dish Ingredients
1

Tbsp.

bacon drippings

1

medium onion

chopped

1

medium bell pepper

chopped

4

garlic cloves

minced

1

tsp.

dried oregano

½

tsp.

dried thyme

1

tsp.

ground cumin

2

bay leaves

¼ to ½

tsp.

cayenne

depends on how hot you want it

4 to 6

cup

liquid

2 cups chicken stock plus water

1/2

pound

tasso*

1

andouille sausage

sliced (optional)*

2

Tbsp.

fresh parsley

chopped

Salt and pepper to taste

Greens from 2 green onions for topping

3

cups

cooked rice

Tabasco Sauce or Louisiana Hot Sauce

optional
Instructions
Brining the beans
Rinse the bean. In a large bowl, dissolve 1 Tbsp. salt in about 4 cup water. Add the beans and enough water to cover the beans plus 2 to 3 inches above the beans. Set aside for 4 hours to brine.

After 4 hours, remove any floating beans, drain and rinse the beans, discarding the soaking liquid.
Cooking the Beans
*Transfer the beans to a pressure cooker, add 2 cups chicken stock and 2 to 3 cups water (enough to cover the beans and then some).

Follow the instructions for your pressure cooker and cook your beans for 10 minutes once pressurized.

In a large Dutch oven melt the bacon drippings over medium heat. Add the onion and bell pepper. Sauté for 4 to 5 minutes.

Add the garlic, oregano, thyme, cumin, and cayenne. Sauté for 1 to 2 minutes.

Transfer the beans and liquid from the pressure cooker to the Dutch oven. Add the bay leaves and tasso, and more liquid if needed.

Continue to cook for 30 minutes to an hour until the beans are tender, stirring occasionally.

Remove the tasso and tear into bite size pieces. Return to the pot. Taste the beans.

Add salt and pepper and more cayenne if needed, and you if want, add an andouille sausage*.

Cook another 30 minutes or until the beans are soft and you have a thick soupy mixture. (You may have to add some water during the cooking process to keep it from getting too thick too soon.)

Remove from the heat. Add the parsley.

Ideally, let the beans come to room temperature OR sit in the refrigerator overnight.*

When ready to serve, reheat slowly and make the rice.

Serve over rice, then top with the greens from a couple of green onions and some more parsley, if desired.
Kitchen Notes
Tasso – As previously mentioned, tasso can be extremely spicy and smokey; therefore, taste or at least smell the tasso before adding. Tasso should be smoked, so there shouldn't be any danger in tasting it.  After doing a taste test on the Bergeron tasso, we decided to put 1/2 pound in the beans which, along with the cayenne, yielded a very spicy dish with plenty of meat. If you find the tasso too smokey or spicy, then cut back to 1/4 pound of tasso and add 2 andouille sausages.
Substitution for tasso – If you don't have tasso, then use an 8 to 10 ounces ham hock. Cook the beans with the ham hock, then remove any meat and return to the beans along with 2 to 3 andouille sausages.
Andouille – Andouille adds a complementary flavor to the tasso and the ham hock.  So whether to add andouille and how much is a personal preference. We like it both ways.  Also, since andouille is already smoked, we like adding it toward the end of the cooking process to prevent it from drying out and becoming tough. Even in 30 minutes, it does a great job in adding flavor to the beans and stays tender.
Pressure cooking the beans – When using dried beans, I always brine and then pressure cook for 10 minutes.  Most of the time, the beans are undercooked on purpose, because this allows me to add the remaining ingredients and finish cooking the beans.  If one were to cooked the beans on the stovetop or in the oven without pressure cooking, it would add at least an hour to the total cooking time.  I don't like to use the pressure cooker for the total cooking time, because I want more control over the texture of the beans. I don't like mushy beans.
Allowing a resting time – As with most soups and stews, you need time for the flavors to meld; therefore, if you have time, let the beans come to room temperature before reheating.  For the best results, let cool, refrigerate and have for the supper the next day.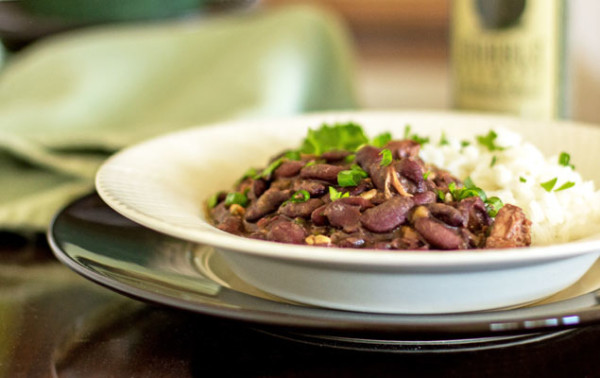 By now you're probably looking up "tasso" and finding a supplier so that you can make a pot of this yummy Red Beans and Tasso.
Have you ever had tasso?  If so, how did you like it?
If you like these Red Beans and Tasso, you'll love these other beans dishes as well.