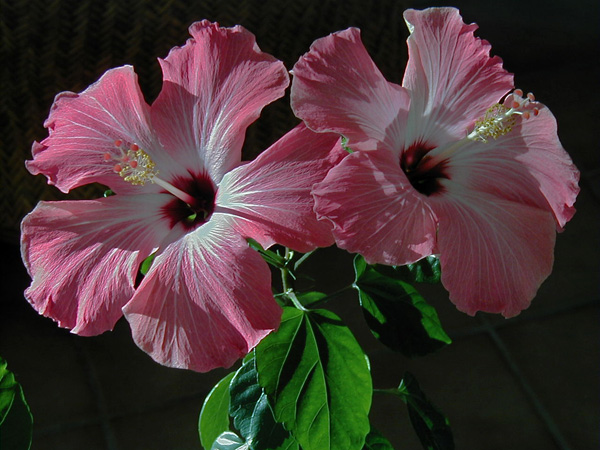 The hibiscus flower is widely known for its beauty, but there is more to this flower than meets the eye.  The dried flowers are used to make a variety of beverages from hot tea to chilled Agua de jamaica ("ha-ma-ike-ah"), sparkling drinks to cocktails. And they have some health benefits as well.  I've been playing around with these dried flowers for a couple of years now and today, I'm sharing with you a few of my favorite ways to enjoy them.
Dried hibiscus flowers make a delicious simple syrup that is both sweet and tart.  The syrup can be added to sparkling water for a refreshing soda or used to make a hibiscus cocktail with sparkling water, vodka and lime.  It can also be poured over vanilla ice cream and who wouldn't love that?!  Following is a recipe for making Hibiscus Mint Simple Syrup.  Since I normally add a sprig of mint to just about any summer drink, I decided to also add some mint to the simple syrup.  However, you could choose to eliminate the mint all together, or even replace it with a small piece of ginger or a stick of cinnamon.
You can purchase dried hibiscus flowers from a variety of sources online, some herb or tea shops or a local organic/health store.  I buy mine at the local La Montanita co-op.
Hibiscus Simple Syrup with Mint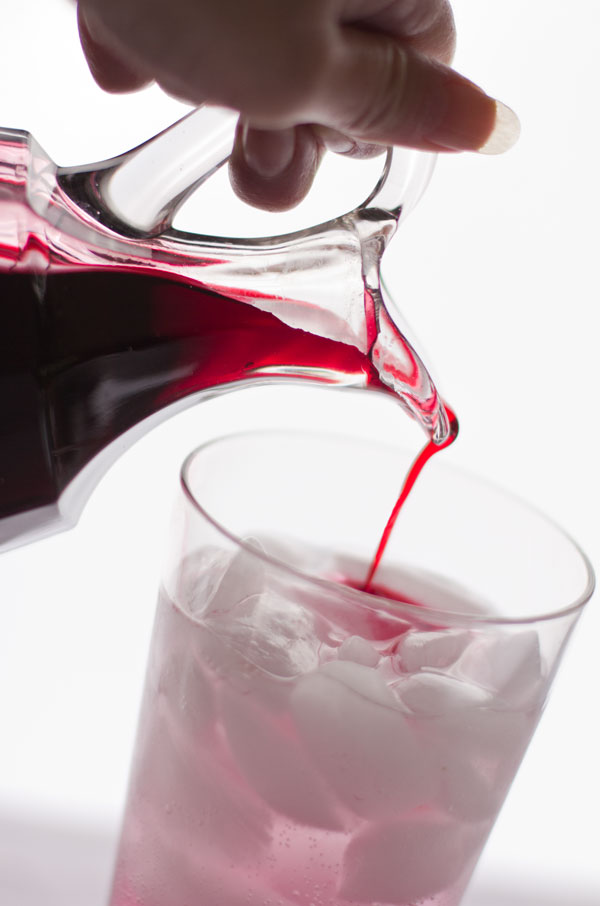 [print_this]
Hibiscus Simple Syrup with Mint Recipe
Recipe Author:  MJ of MJ's Kitchen
Yields 1 to 1 ¼ cup syrup
Prep and Cook Time:  45 minutes
Ingredients
2 cups water
1 ounce dried hibiscus flowers
2 stems spearmint (about 8 leaves per stem)*
1 cup sugar
*Any kind of mint can be used or just omit it.  I grow spearmint, so that's what I use.
Instructions
In a sauce pan, bring the water to a boil then remove from the heat.
Add the hibiscus flowers and mint.  Stir gently to submerge mint and flowers.
Cover and let steep for 20 minutes.
Strain the brewed tea through a fine sieve.   Using a spatula, press the water from the hibiscus flowers.  You should have about 1 ½ cups of hibiscus and mint infused water.
Return the hibiscus water to the pan and add the sugar.
Heat over medium heat to a boil.  Reduce heat and simmer for 15 minutes.
Let cool and refrigerate.  Will keep in the refrigerator for about 2 months.
Hibiscus Sparkling Soda
My favorite use for Hibiscus Simple Syrup is in a sparkling soda.  Can't you just see yourself sitting on the front porch on a hot summer's day sipping on this?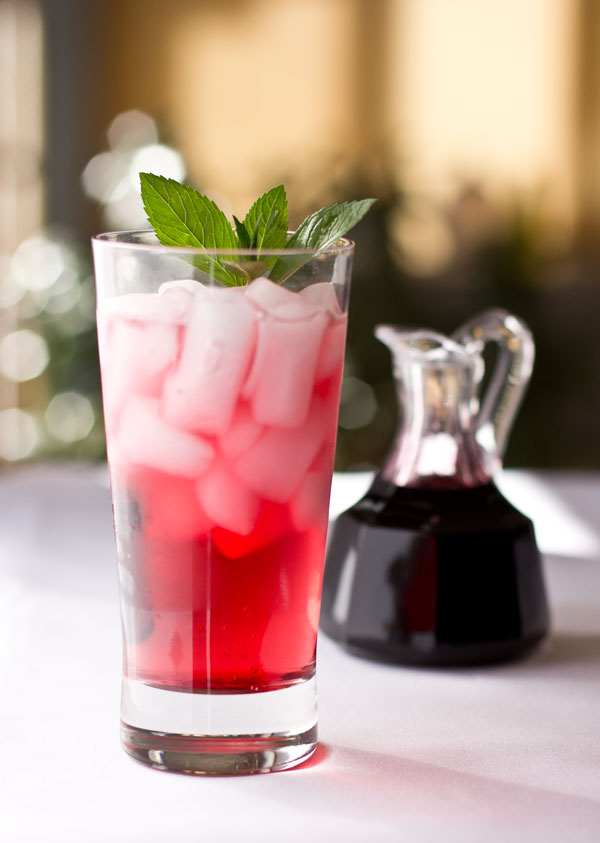 [print_this]
Hibiscus Sparkling Soda Recipe
Makes 1 serving
Ingredients
For an 8 ounce glass
Instructions
Add the simple syrup to a tall glass along with a little bit of sparkling water.  Stir to combine.
Fill the glass with ice.
Fill the glass with sparkling water and stir.
Add a spring of mint, grab a book, go outside to your patio or porch, and enjoy!
Cold-Brewed Hibiscus Tea
One of the most common uses for dried hibiscus flowers is as a tea.  Hibiscus tea can be drank both hot or cold, but in both cases, it does require a sweetener of some type.  Brewed hibiscus flowers can be quite bitter.  My BIL turned me on to cold-brewed hibiscus tea, and after a little experimentation, I found that cold-brewed tea isn't near as bitter as hot-brewed tea; therefore, that's the method that I use for the tea below.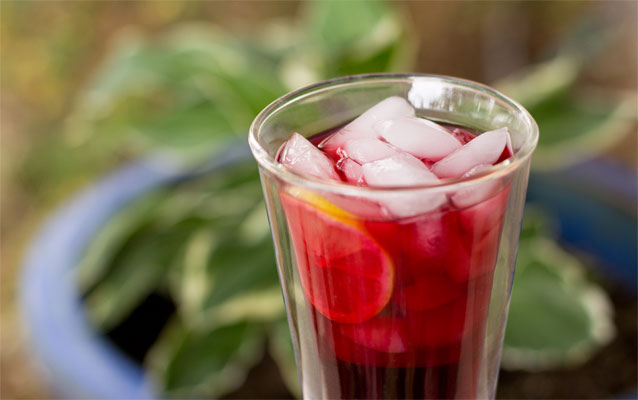 [print_this]
Cold-Brewed Hibiscus Tea Recipe
Adapted from PK's recipe
Yields about 1.5 quarts tea
Ingredients
1.5 quarts water
½ ounce dried hibiscus flowers (up to 1 ounce if you want the tea stronger)
sweetener of your choice (I use agave nectar)
slices of lemon
Instructions
Put the dried hibiscus into a tea infuser. (This floating infuser works great!)
Fill a pitcher with 1.5 quarts water and place the infuser in the water.
Set in the refrigerator overnight.
After 8 to 12 hours, remove the tea infuser.
Sweeten the brewed tea to taste.
In each glass of tea, place a thin slice of lemon if you'd like, and fill the glass with ice and tea.
Enjoy!
Hibiscus Tea and Your Health
A friend of mine first introduced me to hibiscus tea several years ago when she mentioned that she had been able to go off her high blood pressure medication after she started drinking 3 to 4 glasses of tea a day.  After a little research I did find a study by the USDA that found that "Hibiscus sabdariffa L. tea (tisane) lowers blood pressure in prehypertensive and mildly hypertensive adults". This study was based on results from 65 people, drinking 3 cups of hibiscus tea per day for 6 weeks. That's not a lot of people and the drop in blood pressure was not huge (7.2 mmHg drop to the top number vs. 1.3 mmHg with the placebo), but for mildly elevated blood pressure it might help.
On WebMD, I found that hibiscus is also used for "treating loss of appetite, colds, heart and nerve diseases, upper respiratory tract pain and swelling (inflammation), fluid retention, stomach irritation, and disorders of circulation; for dissolving phlegm; as a gentle laxative; and as a diuretic to increase urine output."  However, no studies were listed.  WebMD did provide a special caution & warning for women who are pregnant or breast-feeding:  "Hibiscus is UNSAFE to take during pregnancy. There is some evidence that hibiscus might start menstruation, and this could cause a miscarriage. Not enough is known about the safety of taking hibiscus during breast-feeding. Stay on the safe side, and avoid use."
Scleroderma Awareness Month
While we're on the topic of health, I want to mention that June is Scleroderma Awareness Month.  Scleroderma is a rare autoimmune disease that falls under the category of "connective tissue disease" right along side well-known diseases such as lupus, rheumatoid arthritis, and polymyositis. Systemic scleroderma, also called systemic sclerosis, can cause a hardening of the connective tissue throughout the body – blood vessels, skin, and internal organs.  To learn more about scleroderma, visit the International Scleroderma Network, a non-profit organization that has been extremely successful in educating and supporting people who have been diagnosed with all forms of this disease.
This Hibiscus Syrup, Soda and Tea post has been linked up to the following blog hops:  The Weekend Social   .
Save
Save
Save