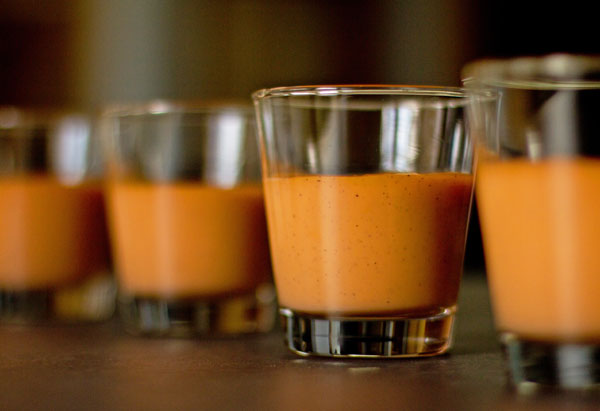 This Thai Tea Pudding is a pudding version of the Thai iced tea that is served in many Asian restaurants.  It's creamy, it's sweet (but not near as sweet as the iced beverage), and quite addicting. Every time I serve it, it doesn't matter what I had served for the main meal, this pudding steals the show.  It's a great finish to any meal!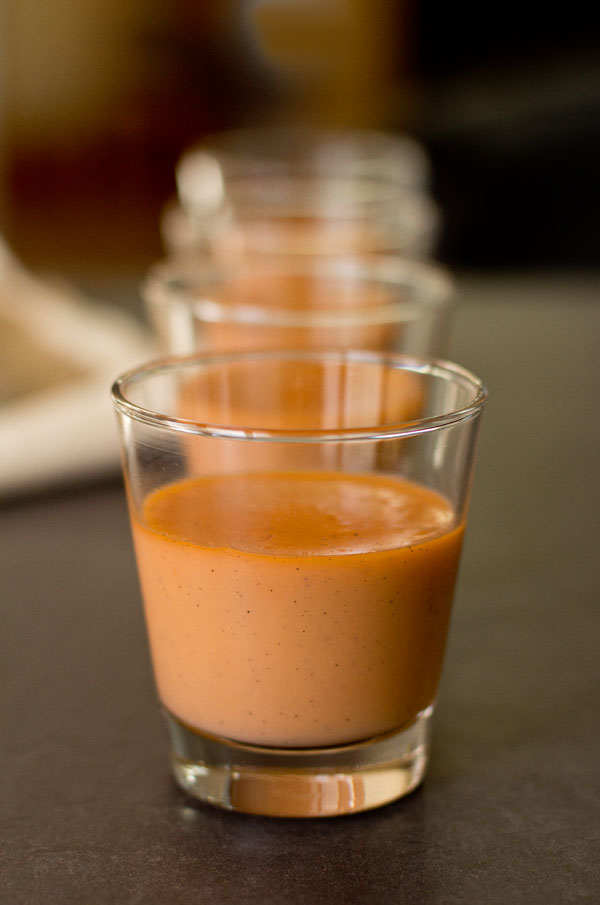 [print_this]
Thai Tea Pudding Recipe
Serves 4 – 5
Prep and Cook Time: about 15 minutes
Recipe author:  MJ of MJ's Kitchen
Ingredients
2 cups milk (2% or whole)
½ cup sweetened condensed milk
4 tsp. Thai Tea leaves
3 Tbsp. Cornstarch
½ tsp. vanilla extract
Instructions
Heat 1 cup milk to a simmer (about 1 ½ minutes in the microwave).
Add the Thai tea and let steep for 3 minutes, no longer or it could become bitter.
Drain through a fine sieve.
In a sauce pan, whisk together the cornstarch, tea infused milk and remaining milk, condensed milk and vanilla. Place over medium-low heat and bring to a low boil, stirring constantly.
Set heat for a constant low boil. Stir for 1 ½ minutes, scraping the sides and bottom of the pan.
Remove from the heat and pour into pudding cups.
Let cool, then refrigerate.
Serve cold.
[/print_this]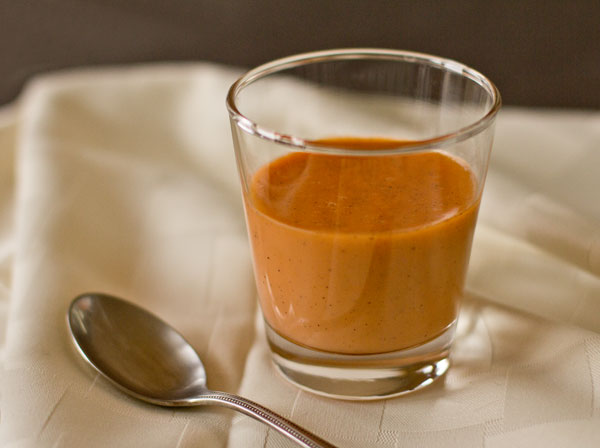 Kitchen Notes
Thai Tea – Thai tea is a black tea mixed with an assortment of herbs and spices.  As with most flavored teas, the combination of herbs and spices varies between manufacturers.  Ingredients could include star anise, orange blossom water, tamarind, and many times, food coloring (#6 orange dye).  Last spring I bought a one pound bag (the smallest bag I could find at the Asian market) and, at first, wondered how on earth I would ever use that much Thai tea.  Well, between making Wok With Ray's Thai Iced Tea, my Thai Tea Apricot Smoothie, and now this pudding, that one pound bag is just about gone.
Pudding Consistency – One of the things I struggled with was getting the right pudding consistency.  The sweetened condensed milk adds some additional thickness to the pudding once it cools that I originally didn't account for.  The first time I made this I followed the recipe for my New Mexico Chocolate Pudding, but replaced the sugar with the condensed milk and reduced the milk to 1 ½ cups.  This made a very thick pudding, too thick for me, but Bobby enjoyed it.  The ingredient amount used in the recipe above yields a semi-thick pudding that we both like.  If you prefer your pudding a little thinner, then cut back on the cornstarch by about ½ Tbsp.
One of the nice things about this recipe (aside from the delicious flavor) is that it is SO easy to make. You can throw it together right before you start dinner, put it in the refrigerator when you sit down to eat, and by the time you're ready for dessert, it's ready for you.
WARNING – This pudding is addicting!
If you like this Thai Tea Pudding then you'll probably like these recipes as well: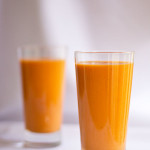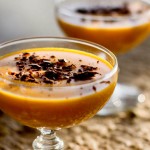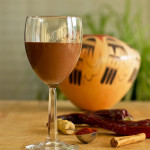 Chocolate Pudding, New Mexico Style