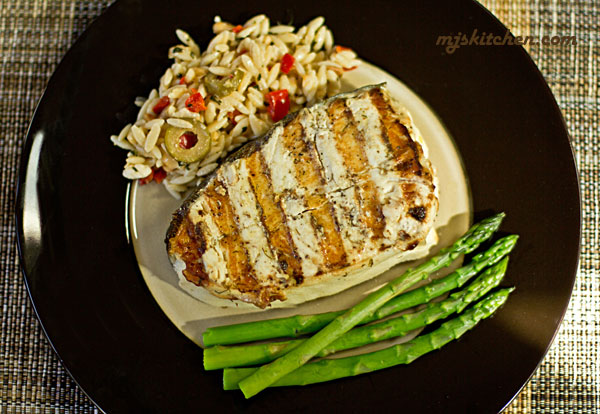 This Grilled Halibut recipe came to being several years ago when Bobby and I spent two glorious weeks on the island of Kauai in the Hawaiian islands. We had a vacation rental on a beach that lead into a live coral reef. Needless to say we spent a lot of time snorkeling and just hanging out. Bobby bought an underwater case for our little point and shoot camera, so he had a blast getting pictures of the coral and the tropical fish.  I just floated around trying to see as much as possible and enjoying the experience of being in an underwater world. It was very surreal.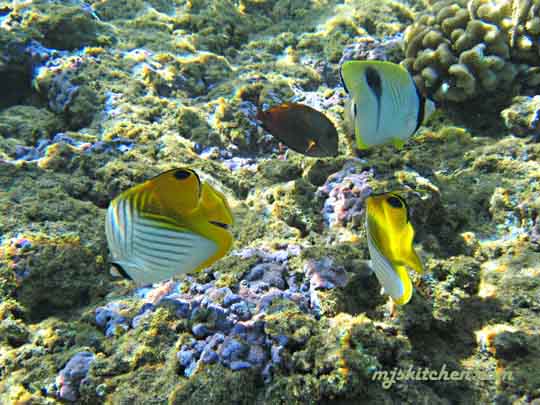 Several afternoons we would drive into town, go to the local fish market and buy a couple pieces of fresh fish, usually right off the boat.  Our standard method of grilling the fish was based on a method that Bobby had found in some articles about cooking fish Hawaiian style. The method was to season the fish, then spread both sides with a generous helping of mayonnaise.  It sounded kind of weird, but when in Rome…

I'm here to tell you that this is the BEST way to grill halibut! Some of the mayonnaise soaks into the fish yielding a very moist fish, with a slightly crusty, but not dry exterior.  The rest of the mayonnaise burns off.  As far as the seasoning goes, all you need is a little salt and pepper. While on Kauai we grilled every type of fish we bought using this method (halibut, mahi mahi, Ono) and each one was delicious.
Here in New Mexico we don't get much of a variety of fish, and fresh, wild fish is hard to find, and when I can find it, it costs an arm and a leg. So when I saw these gorgeous fresh, wild halibut steaks the other day, I couldn't help myself. They were quite expensive, but I went ahead and paid the price. My rationalization was that to get a piece of fish like this at one of our local restaurants would have cost two to three times more, and the grilled halibut wouldn't have been near as good! Also, I knew I would be able to squeeze at least two meals out of it.  Once I got the halibut steaks home and Bobby grilled them, I decided that my rationalization was spot on and that THIS fish was well worth the price.  This grilled halibut recipe is SO easy and the outcome – the best halibut you'll ever eat.
Grilled Halibut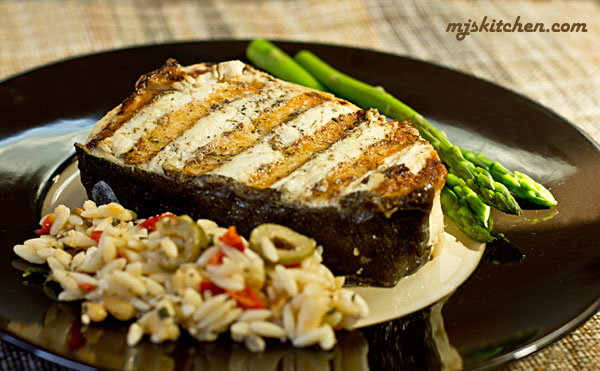 Grilled Halibut at its BEST
This recipe can be used for as many halibut steaks are you want to grill. I estimate 1/2 pound fish per person.

"*" See Kitchen Notes for more information or links to special ingredients.
Ingredients
Halibut steaks

Salt and Pepper

light on the salt, generous on the pepper

Dried or fresh dill

go light with dried dill, use twice the amount of fresh

Mayonnaise

generous amount
Instructions
Prepare the grill for a medium heat.

While the grill is heating, sprinkle each side of each halibut steak with salt, pepper, and dill.

Cover both sides generously with mayonnaise, using a rubber spatula to spread.

Flip the steak over, season the other side and apply the mayonnaise.

When the grill is ready, place the steaks on the grill. Cook, with lid closed,

5 minutes per side for 1 to 1 ½ inch thick steaks

6 minutes per side for 1 ½ to 2 inch thick steaks

Remove from grill and serve immediately.
Kitchen Notes
Serve with an asparagus side or an asparagus and orange salad.
The Fish – We have used this recipe for halibut, mahi mahi, shark, Ono, and salmon.  It works for all of those fish except for the salmon.  We still prefer our salmon cooked on a cedar plank, but for the others, this recipe is perfect!
The seasoning – You can use whatever seasoning you desire. I like to keep it simple to get as much of the flavor of the fish as possible, but a little dill, tarragon, thyme, curry, chile powder, or paprika won't hurt. Just make sure that the seasoning complements the fish,  not overpowers it.
Time on the grill – There are many variables associated with the grill time:  thickness of the steaks, type of fish, temperature of the grill, type of grill.  So for the timing, use your own judgement. These steaks were thicker than 1 ½ inches; therefore, we cooked them for 6 minutes per side. That was perfect!
The meal – Along side the halibut, I served Simply Asparagus (with bacon drippings) and my Lemony Orzo Salad.
Leftovers – Any leftover halibut can be used for fish tacos with a pineapple salsa.
Every time we cook fish this way,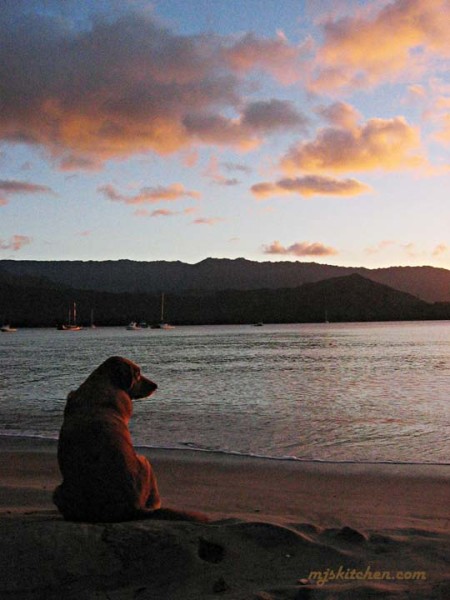 it reminds us of our trip to Kauai.  It was such a unique place – peaceful, green, gorgeous views, and beautiful skies.
It's the kind of place where even the dogs pause to watch the sunset.