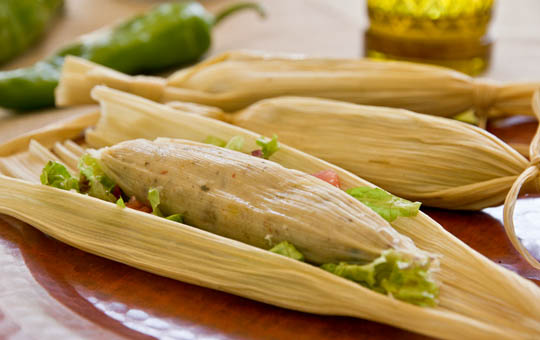 I've been wanting to make a green chile veggie tamale for a long time now, and this month's Daring Cook Challenge inspired me to get it done! Rachael of pizzarossa was the August 2012 Daring Cook hostess and she challenged us to broaden our knowledge of cornmeal.  Since I already use cornmeal quite a bit, I decided to work with a cornmeal product that I haven't used much – masa or ground hominy.  Masa harina is used for tamales and tortillas so I decided to finally make those green chile vegetable tamales.
Bobby and I both love tamales but I always feel guilty about eating them because traditional tamales use quite a bit of lard.  I decided to try to make a relatively low fat tamale using canola oil and then veggies rather than pork, cutting down on the total prep and cook time as well as the saturated fat.  Whenever I make the traditional pork and red chile, they usually take all day especially when I try to cook down the pork, make the red chile sauce, and make the tamales all on the same day.
These corn, mushroom and green chile tamales use canola oil, vegetable broth and a few sauteed vegetables.  The total time – about 2.5 hours – is a lot shorter than traditional tamales, but quite a bit longer than most of the recipes on this site.  You'll get about 18 tamales, but if you want more, just increase the recipe.  I made two different batches, using two different steaming methods, so be sure to read the Kitchen Notes.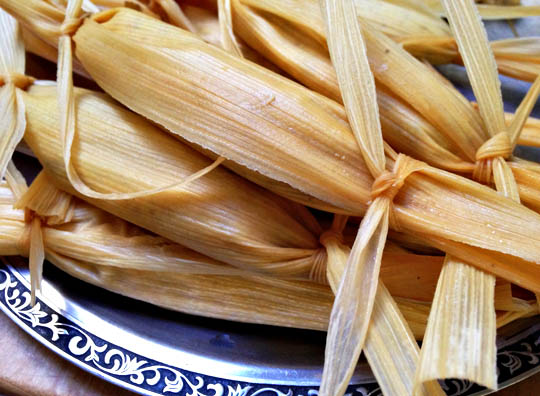 Corn, Mushroom and Green Chile Tamales Recipe
Recipe Author:  MJ of MJ's Kitchen
Yields: 16 – 18 tamales
Prep and assemble time:  1 hour
Cook time: 1.5 hours
Ingredients
Large pot of boiling water for soaking the corn husks.
2 dozen corn husks
Vegetables
1 Tbsp. olive oil
1 small onion, diced (about 1 cup)
3 large garlic cloves, minced
¼ tsp. ground cumin
1 cup corn (frozen or fresh)
2 cups diced fresh button mushrooms (2 – 4 large mushrooms)
½ cup chopped roasted, peeled green and/or red chile
½ tsp. oregano
Masa
2 cup masa harina
½ tsp. salt
¼ cup canola oil
2 cup vegetable broth, chicken broth or water
Instructions
Bring a large pot of water to a boil. Remove from heat and add the corn husks. Cover and let re-hydrate until ready to use.
Heat the olive oil in a skillet over medium low heat. Add the onion, garlic, and cumin and sauté for 2 minutes.
Add the corn and mushrooms. Sauté for another 2 minutes (or until the mushrooms start to release their water).
Add the green chile and oregano. Cook for 1 minute and remove from heat.
In a large bowl, combine the masa and salt.  Stir to combine.
To the masa, add the canola oil and broth. Using a rubber spatula, mix to combine ingredients.
Add the vegetables and stir until vegetables are incorporated into the masa batter. The batter should be the thickness of a thick quick bread batter. Add a little water if you think it's too thick.
Transfer a few of the husks from the water to a plate or bowl. Take one of the smaller, thinner husks and pull lengthwise into long thin strips that will be used for tying up the tamale ends.
Spread about ½ cup masa/veggie mix down the middle of a corn husk, wrap the husk around the batter, and tie each end with one of the corn husk strips (picture right) OR spread about ½ cup masa/veggie mix down the top, middle half of a corn husk, wrap the husk around the batter, fold one end up, and tie around the middle of the tamales with one of the corn husk strips (see pictures below).
Continue to assemble the tamales until all of the masa/veggie batter mixture has been used.
Place the tamales in a steamer and steam, covered, on the stovetop or grill for an hour. (See Kitchen Notes)  Remove cover and let sit for 10 to 15 minutes. Remove one and test for doneness. If the tamale pulls away from the husk, it's done. If not, steam for another 15 minutes and let rest again.
Leave wrapped until ready to eat.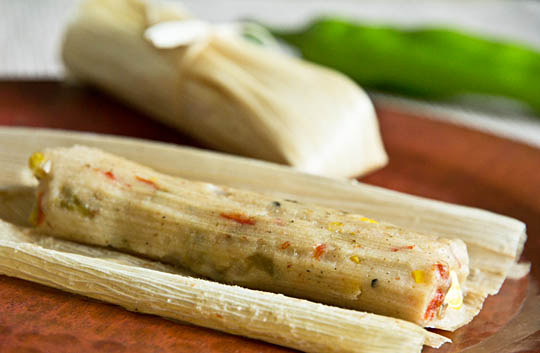 Kitchen Notes
Prepping the corn husks – Instead of putting husks in a pot of boiled water, you could lay the husks in a large casserole dish and pour boiling water over them.  With this method, you'll need to weigh them down with a heavy plate or lid.
Batch 1 – For the first batch I used a Cameron Smoker as a steamer which was placed on the grill.  I tied both ends of the husks (see picture above), laid them flat on the smoker's rack, poured about 2 cups of water in the bottom of the pan, covered, and set the grill for about 350° F to 400° F.  It worked fine, but it took forever!  I ended up steaming them for over 1.5 hours with 15 minute rest.  They turned out great, but took longer than anticipated.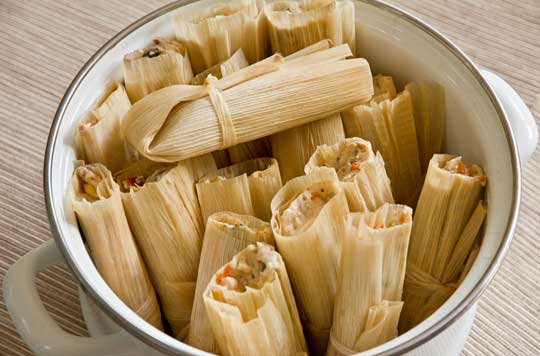 Batch 2 – I'll call batch 2 my Christmas tamales since I used both red and green roasted New Mexico chile that I had in the freezer.  I rolled the tamales the traditional way: open at one end, folded at the other, and tied in the middle.  I steamed them on the stovetop rather than the grill.  This worked better and only took an hour to steam, then the rest time. One thing that helped, that I don't show in the picture, is to divide the tamales into rows by inserting extra corn husks.  This helps the tamales stand up straighter in the pot and adds gaps between tamales for better streaming results.
Assembly – By mixing the vegetables in with the masa, it saved A LOT of time and the assembly was much easier than laying down the masa then scooping the vegetables on top.  I will definitely continue to use this method for these tamales!
About halfway through assembling the tamales, the batter started getting a little dry; therefore, I mixed in a little more water, making the batter easier to spread.
The chile – I used New Mexico roasted green and red chiles (surprise, surprise 🙂 ); however, poblano, serrano, jalapeno, or even sweet peppers for a milder tamale would work fine.  The amount of chile can vary according to how hot you do or do not want your tamales.  The chiles I had were really hot, but, once added to the other vegetables and the masa, the outcome was relatively mild.  Next time I'll probably add more chile.
The broth – You can use water, chicken broth or vegetable broth.  The night before I made batch 2 I had boiled some green beans and potatoes and had saved the cooking water.  I used this broth for batch 2.  For batch 1, I used water.  As far as the difference in taste between the two batches, didn't really notice any difference to be honest.
Recommended serving ideas:
Smother with red chile sauce or green chile sauce.
Top with black olives, fresh diced onions and tomatoes, then a little grated cheese.  Pop in the microwave for 2 minutes and enjoy!  We LOVED them this way!  My Cantaloupe and Walnut salad made a great side dish!
As an appetizer – Cut them into bite size pieces and serve with a dip such as a pepper sauce, chile sauce, or harissa.
These tamales freeze very nicely.  When ready to use, just thaw and heat in the microwave for 2 minutes and they are ready to go!
If you like these Corn, Mushroom and Green Chile Tamales, then you'll probably like my other tamales:
Black Bean Chipotle Tamales with Spicy Mango Sauce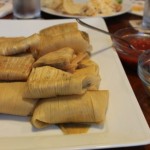 You need to check out Emily's Tamale Fiesta over at the Pursuit of Healthfulness.  She made some gorgeous tamales using this recipe!
This recipe was featured by Zesty South Indian Kitchen's Hearth and Soul Blog Hop.