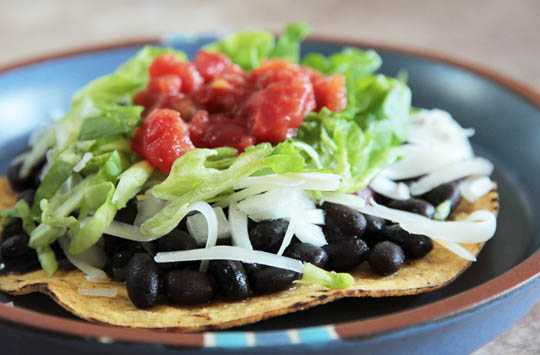 My last post was all about how to cook up a pot of dried black beans.  In this post, I'm going to share some recipes that use black beans. Below are my Black Bean Tostada Recipe and a few other recipes from some of my blogger friends.  Please feel free to share your favorite black bean recipe by providing a link or the recipe in the comment section.

[print_this]
Black Bean Tostada Recipe
Basic Ingredients
Corn tortillas
Canola oil (enough to fry up the desired number of tortillas)
Black beans
Seasoning for beans: ground cumin, garlic powder, chile powder
Sweet onion, chopped
Lettuce, shredded
Salsa or Pica de gallo (chopped tomatoes, onions and jalapeno)
Cheese (cheddar, Monterey Jack or Feta)
Other topping options
Avocado, chopped
Green Chile Tomatillo Salsa
Guacamole
Chopped green chile or as my sister suggests – green chile sauce
Red Chile Sauce
Black olives, chopped
Fresh tomatoes, chopped
Sour Cream
Instructions
Fry the corn tortillas in canola oil until crispy. (While the tortillas are frying, you'll need to push them into the oil with tongs or some other metal device so that the tortilla is submerged. They are ready to remove from the oil once the bubbles subside.)
You may choose to leave the black beans whole or smash them in the pot with a potato masher. Season the beans with a little ground cumin, garlic powder, and red chile powder.
Build your tostada starting with the heated beans on the crispy tortilla followed by the cheese then toppings of your choice. (I like the put the cheese right on top of the warm beans so that it softens and even melts.)
Enjoy!
[/print_this]
For more wonderful recipes
Other suggestions for black beans
Black beans and chile – Add some red chile sauce or chopped green chile to a bowl of beans topped with chopped onions and feta cheese (or another cheese of your liking.) Serve with a side of tortillas or hot cornbread.
Fajita Style Black Bean Burrito – Saute slices of onion and bell pepper in a cast iron skillet over high heat until soft and starting to brown. Make a burrito in a warm flour tortilla with black beans, some of the onion and bell pepper, sour cream, cheese, lettuce, and fresh tomatoes. Smother with red or green chile sauce or both (Christmas).
Black Beans and Rice – Season your black beans with your favorite curry spices and serve over rice. I like using brown rice.
Black Beans in a Baked Sweet Potato – Season your black beans with either curry spices or southwestern spices and serve inside a baked sweet potato.  If you use southwestern spices, you could smother it all in red chile sauce. Bet you didn't see that suggestion coming!  🙂
Here are some more recipes to check out and give a try. Enjoy!
A relatively quick & easy way to make a delicious, vegetarian tamale with black beans.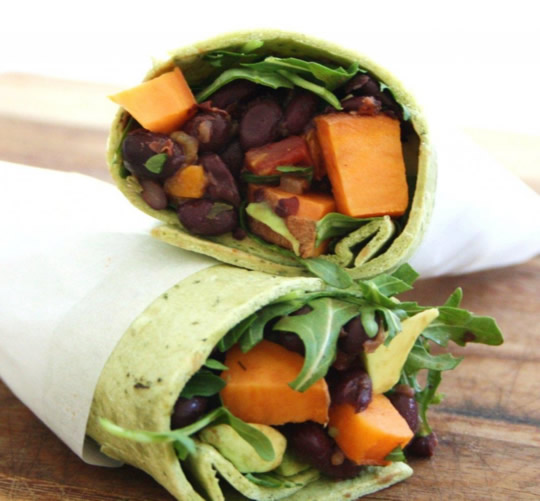 Sweet Potato and Black Bean Burrito
Kelly Mulcair from Inspired Edibles is a registered nutritionist and the founder of Trinity Nutrition.  She shared this recipe and other great nutritional information in a guest post at The Three Little Piglets.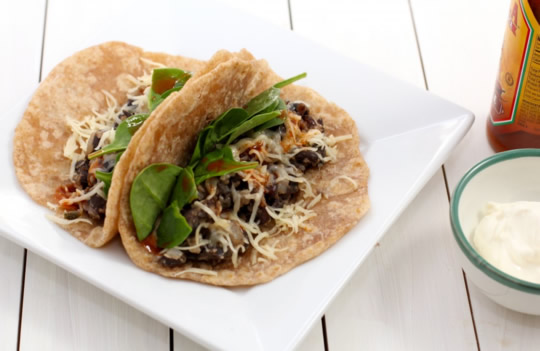 Homemade Tortillas and Black Bean Soft Tacos
As part of her effort to reduce waste, Sally of Tasty Easy Healthy Green developed this healthy and delicious soft taco recipe.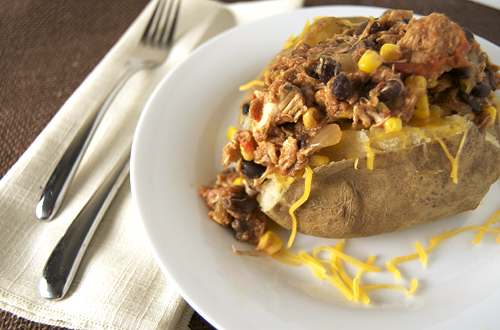 Black Bean Chicken Baked Potatoes
"This recipe is great for a busy day. I put everything into the crock pot, headed to school, then finished the dinner after I got home. I added green chiles and Sriracha to add some spice to the recipe, as well as some extra garlic and salsa."  Savour the Senses
"I think this recipe is perfect for anyone who claims they don't like tofu, or who wants to ease in to tofu eating. The tofu is marinated in spices and lime juice to amp up the flavor, then put on a taco with black beans, corn, and all your favorite taco toppings. It's so frickin good."  Katherine Martinelli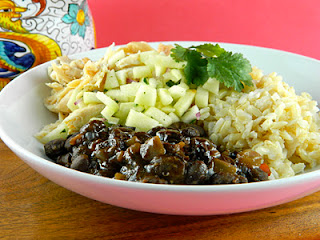 Chicken, Black Beans and Rice with Apple Salsa

A healthy and delicious plate of rotissiere chicken, black beans, and rice topped off with an apple slaw. From Cooking Healthy For Me.
Are you hungry yet?
Well, just in case you need more – here are some more ideas.
Healthy Lentil, Black Bean and Chicken Chili by Curry and Comfort.
This post has been linked to the following blog hops.  Click on the links for more exciting recipes.
Full Plate Thursday, It's a Keeper Thursday, Frugal Food Thursday, Taste This Thursday (Featured), Fusion Friday, Weekend Potluck, Friday Potluck