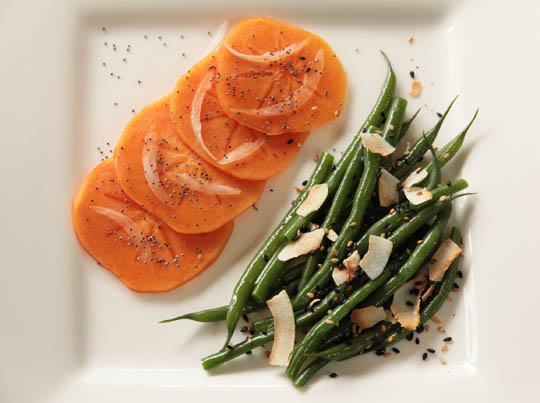 After all of the massive amounts of food and sweets around the holidays and a week of business travel, I need to get back to my lighter and healthier way of eating.  Here's a healthy light lunch that I threw together with some green beans and a persimmon that I had leftover in the fridge.  Both of these recipes – the easy green beans with coconut and the persimmon carpaccio reinforce the fact that keeping it simple can yield some of the tastiest results.

[print_this]
Easy Green Beans with Coconut and Sesame Seeds Recipe
Recipe Author: MJ of MJ's Kitchen
Serves: 2
Prep and Cook time: 30 minutes or less
Ingredients
½ pound young green beans
¼ tsp. salt
water for blanching
1 tsp. white sesame seeds
1 tsp. black sesame seeds
1 Tbsp. unsweetened coconut flakes
1 ½ tsp. unrefined peanut oil
Salt and pepper to taste
Instructions
Blanch the beans to desired tenderness in salted boiling water. Drain and rinse with cold water to stop the cooking process if you aren't going to use immediately.
While the beans are cooking, toast the sesame seeds in a heavy skillet, shaking frequently for even browning.  When the seeds start to turn add the coconut. Continue to cook until coconut just starts to turn brown. Remove from heat and transfer to a saucer to keep the coconut from overcooking.
Reheat the beans in the peanut oil.
Top with seeds and coconut,  and salt and pepper to taste.
[/print_this]
 Persimmon Carpaccio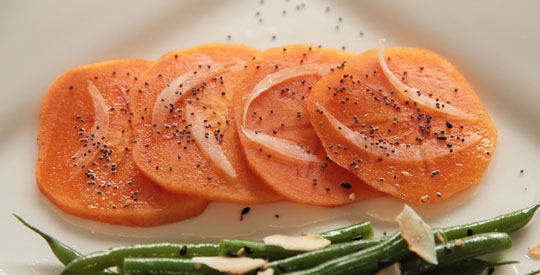 [print_this]
Persimmon Carpaccio Recipe
A few weeks ago I made the Persimmon Carpaccio with a Wasabi Dressing from The Culinary Tribune.  It was fabulous and I would highly recommend making it.  I so loved the simplicity of thinly slicing a persimmon and topping with a little seasoning that I created an even simpler carpaccio using what I had readily accessible.
Serves: 2
Prep and Cook time: 10 minutes
Ingredients
2 Fuyu persimmons, peeled and sliced thin
1 clementine orange or other orange citrus
A few really thin slices of sweet onion
Poppy seeds
Sea salt
Instructions
Place the slices of persimmon on a plate.
Squeeze the juice from ½ of a clementine orange over the slices of persimmon.
Place the onion slices on the permission.
Sprinkle with poppy seeds and a little sea salt.
Enjoy!
[/print_this]
Kitchen Notes
For Easy Green Beans with Coconut and Persimmon Carpaccio
Easy green beans
Serve as a side for a variety of dishes.  Obviously, I like them with the persimmon carpaccio, but they are also good with Soy-Ginger Chicken and Grilled Flank Steak.
I usually buy enough green beans for 2 to 3 meals, blanch them all at one time, then use what I need.  Having cooked beans in the fridge allows me to prepare them 2 to 3 different ways during the week.
Small, young green beans are my favorite, but more mature beans work just fine.
Unrefined Peanut Oil – There's peanut oil and then there's peanut oil.  My absolute favorite is Spectrum's Unrefined Peanut Oil.  It has so much flavor that you really don't need to use much.  I use it extensively for stir-fries, sautes, and Asian salad dressings.
The persimmons I used for the carpaccio were actually quite firm, but very sweet.  The firmness made them easy to cut.  Once a persimmon softens, I usually just peel it and eat it like a peach.
If you like these easy green beans, then should love this other green beans recipe.
Green Beans and Potatoes with Deconstructed Pesto
This post has been linked to the following blog hops.  Be sure to click on the links for more exciting recipes.
Mouthwatering Monday Blog Hop, Totally Tasty Tuesdays,  It's a Keeper Thursday, Summer Salad Sundays, Keep It Real Thursdays