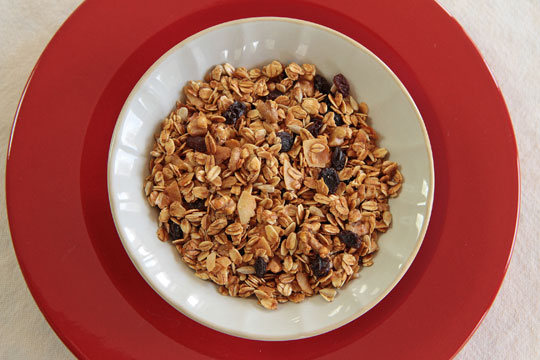 Great! The day I choose to post this Walnut Raisin granola recipe, Yahoo posts a story that suggests replacing your granola with high-fiber cereal to cut calories.  Just great!  Why would it suggest such a thing? Well… Because granola can be high in calories and fat, trans fat, and sugars.  This is especially true for many of the pre-packaged granolas that we buy off the shelf.  So what is a granola lover to do?  As is true with many things that are said to be "unhealthy" — make your own.

This walnut raisin granola is one of my favorite granolas, right there next to this Cranberry and Pecan Granola. The recipe changes a little every time I make it depending upon my mood at the time; but then that's what I love about granola. When you make your own, you never have to make it the same way twice.
[print_this]
Walnut Raisin Granola Recipe
Recipe Author:  MJ of MJ's Kitchen
Yields: 5-6 cups
Prep and Cook time: 60 minutes and then additional time to cool
Ingredients
3 cups rolled oats
1 cup chopped walnuts
½ cup sunflower seeds
½ cup unsweetened coconut
½ cup honey
1 tsp. cinnamon
¼ tsp. cardamom
½ tsp. vanilla extract
3 Tbsp. canola oil
½ tsp. salt
1 cup raisins (or dates or mix of raisins and dates)
Instructions
Preheat oven to 325° F (165° C).
In a large bowl mix together the oats, nuts, seeds, and coconut.
In a smaller bowl whisk together the remaining ingredients except for the raisins.
Using a spatula combine the wet and dry ingredients. Combine thoroughly to coat all of the dry ingredients with the wet ingredients.
Spread the granola evenly in large sheet pan with 1-inch sides.
Bake for 15 minutes. Remove from the oven and stir or turn with a spatula. Return to the oven for another 15 minutes. Remove, stir again and return to the oven for 5 minutes. (You can turn the oven off for the last 5 minutes.  If you like your granola really toasty like I do, you can leave it in the hot oven for 10 minutes.)
Transfer the granola back into the mixing bowl and add the raisins (or dates).  Stir the raisins into the warm granola.
Let cool, stirring occasionally, scraping the sides of the bowl so the granola doesn't stick as it cools. Once it cools, store in an airtight container.
[/print_this]
Kitchen Notes
So going back to how I started this story,  I have to make my daily rationalization on why I eat granola and not high-fiber cereal.  Well…first of all – I love granola!  My favorite warm weather breakfast is a bowl of fruit, a handful of granola or should I say – 1/2 cup of granola – and soy milk. For years, I paid an arm and a leg for a bag of granola that lasted less than a week AND apparently was high in fats and sugars. In an effort to save money, not necessarily calories, I started buying rolled oats, nuts, seeds, and dried fruit in bulk and making my own granola for a comparatively lower price. As an extra benefit – something that I realized after the fact – I was eliminating things like artificial flavoring and trans fats, as well as reducing the overall amount of fat, salt, and sugar content found in off the shelf granola. Homemade granola may still not be as healthy as high-fiber cereal, but I like it a lot better.  How did you like for a rationalization?
In reference to this particular recipe, I've made it so many ways, that it was hard to come up with the final recipe for this post. The final product usually depends on what I have in the pantry and my mood at the time.  All of the variations have been good so I'll share some of my favorites with you.  Just start with the rolled oats…
Add a couple gratings or dashes of nutmeg along with the cinnamon and cardamom.
Omit the cardamom and make it with just the cinnamon.
Add 1 ½ to 2 tsp. of apple pie spice (I found a little packet of apple pie spice from a pie pastry I had bought and it made a wonderful seasoning for this granola. In fact, I almost called this "Apple Pie Granola", but I haven't tried it with dried apples yet. I bet it would be great!)
Use dates instead of raisins. They are just as delicious and when I have them, I throw some in.
Add ¼ cup flax seeds for more crunch and to make it even more "good for you".  Oh – I forgot – granola's not good for you!
Replace the walnuts with sliced almonds.
And now for the lower fat version – eliminate the coconut and reduce the oil to 2 Tbsp.  I can't say "low fat" because of the fat in the nuts and seeds, but that's good fat.
So when you eat granola you are getting oats, nuts, seeds, fruit and oil.  If you use a monounsaturated fat for your oil, like canola or a nut oil, then, along with the nuts and oats you are helping to decrease the LDL (bad) cholesterol in the blood and increase the HDL (good) cholesterol.  So why choose a high-fiber cereal over a very tasty, and I must say – healthy, homemade granola?
This walnut raisin granola recipe has been linked up to the following blog hop.  Be sure to click on the link to see more delicious recipes.  Mangia Mondays, Whole Foods Wednesday
If you like this Walnut Raisin Granola, then you might like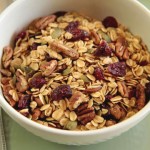 Cranberry and Pecan Granola (aka Thanksgiving Granola)