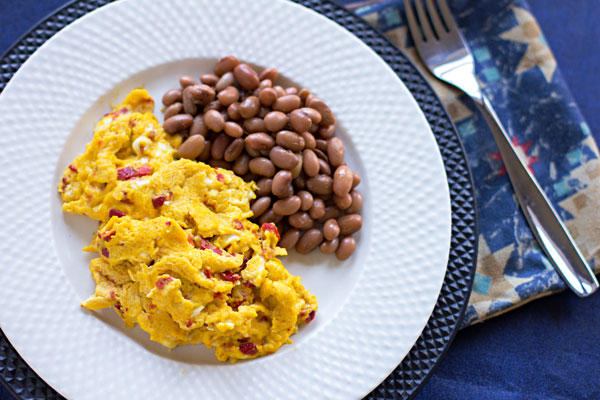 One of the challenges of retirement is coming up with a more varied breakfast menu.  When we were working outside the house, fruit and cereal was our standard breakfast; but now, with more time in the mornings and breakfast being closer to a brunch, our repertoire has increased.  One of the breakfasts that we both absolutely love is scrambled eggs with roasted red chile and cotija cheese.  These scrambled eggs are so easy to whip up and are complemented with a variety of sides.  Serve with beans, potatoes or something as simple as a piece of toast, and you have a spicy and tasty meal with which to start the day.  And, for those of you that aren't retired, these eggs are actually easier than putting together a bowl of fruit and cereal.
Note:  If you can find a local source for farm fresh eggs, you'll learn what an egg should really taste like.  The eggs we buy are fresh, hand-picked eggs, less than a week old.  They have huge dark yellow to orange yolks (as you can see in the pictures), with firm whites as opposed to the runny whites one finds in most storebought eggs.  And the flavor…the best eggs we've ever eaten.
Scrambled Eggs with Red Chile and Cotija Cheese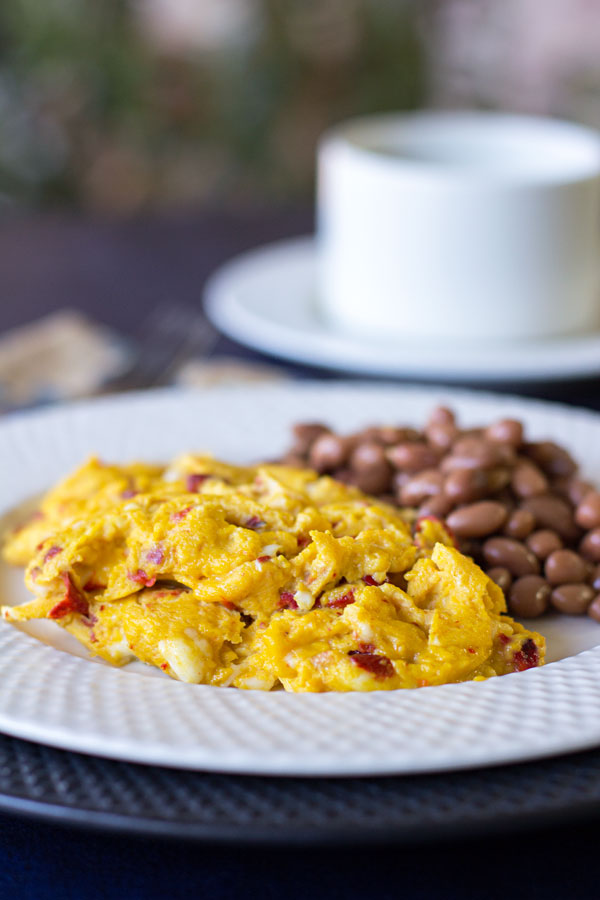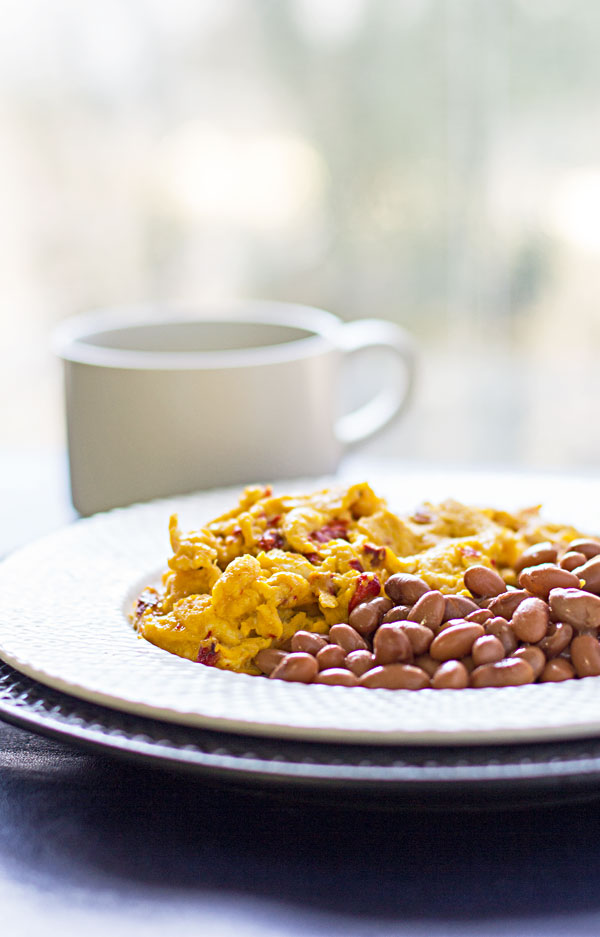 Scrambled Eggs with Roasted Red Chile and Cotija Recipe
Simple and spicy scrambled eggs made with hot roasted red chile and cotija cheese. Serve with a side of beans or potatoes for a deliciously filling breakfast.
"*" See Kitchen Notes for more information or links to special ingredients.
You may need to REFRESH page to print or save.
Course:
Breakfast, Eggs, Red Chile
Cuisine:
Mexican, New Mexico, Southwestern
Ingredients
4

large eggs

2

Tbsp.

milk or half and half

¼

tsp.

green chile spice blend*

1

roasted red chile pod (preferably Hot)*,

minced

¼

cup

crumbled cotija cheese*

A little fat

butter, bacon drippings or oil
Instructions
In a small bowl, whisk together the eggs, milk and green chile spice.

Stir in the minced red chile and crumbled cotija cheese

In a medium size skillet, heat the fat over medium heat.

Add the egg mixture. Run a heat resistant spatula through the eggs as they cook, moving the eggs around, then flipping over to cook through, but remain moist. The cheese softens, but does not melt.


Serve immediately with a complementary side*.

Kitchen Notes
Green Chile Spice Blend – Substitute with a dash of each:  red or green chile powder, garlic powder, onion powder, salt, and white or black pepper.
Roasted Red Chile – Substitute with ½ roasted red bell pepper and increase green chile spice mix to a heaping ¼ tsp. or the substituted red chile powder to ¼ tsp.  One could substitute with roasted green chile, but it would greatly change the flavor profile.  For this batch of eggs I used a hot Sandia roasted red from The Hatch Chile Store.
Cotija Cheese - Cotija has a high melting point and unique flavor making it my favorite cheese for this recipe.  However, you can substitute with queso fresco which also has a high melting point but a different flavor.  Avoid a low melting point cheese as it make the eggs runny. 
Suggested Sides - Bolita Beans (shown in pictures), pintos or black beans, Home fries, flour or corn tortilla.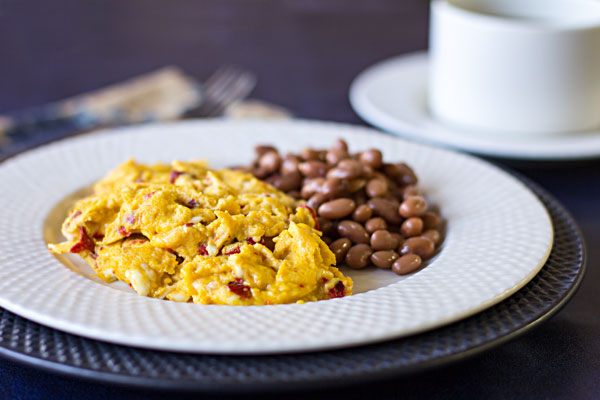 Here are some of the other breakfast dishes that we enjoy of a weekly basis.
Steel Cut Oats with fruit and nuts
Grits and Green Chile or Grits with Red Chile
Stewed Fruit with Crème Fraîche and Granola (The fruit for this dish can be whatever you have on hand)
Green Chile Cheese Breakfast Bake
On cold mornings, I love a hot cup of Spiced Chocolate Atole