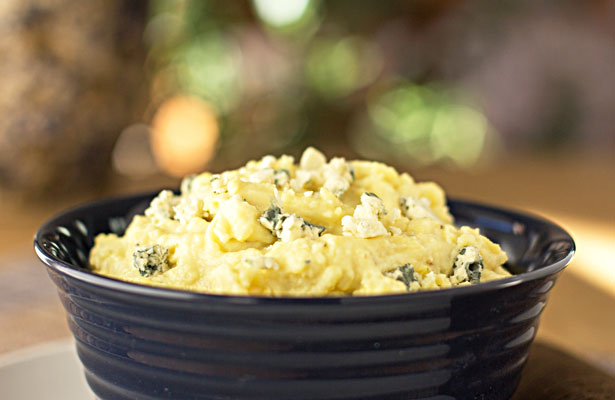 For Thanksgiving this year Bobby smoked a standing rib roast and for one of the sides, we made these Blue Cheese Mashed Potatoes.  What a fantastic pairing!  The roast was smoky, medium rare with a spicy crust on the outside.  The potatoes provided a creamy, buttery, and slightly cheesy complement.   Other sides included this Candied Pecan, Pear & Pomegrante Salad but with a white balsamic vinaigrette, a relish tray that my SIL put together of a variety of homemade pickles along with deviled eggs, roasted vegetables, and fennel infused onion.  What a feast!!!
In addition to serving along side standing rib roast, these blue cheese mashed potatoes also make a nice side dish for roast chicken, grilled ribeye, pulled pork and much more.  Of course you might just find yourself forgoing an entrée and just eating the potatoes.  🙂
 Blue Cheese Mashed Potatoes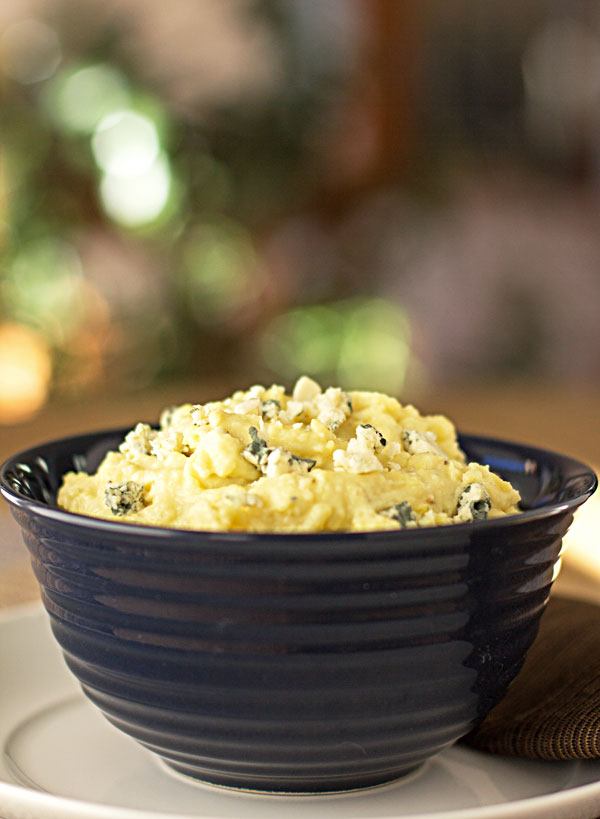 Mashed potatoes are one of those sides for which I really don't use a recipe. 
I have my standard ingredients that I start with – potatoes, butter, buttermilk, cream, salt and pepper – then I add other ingredients (like blue cheese) for a desired texture and flavor.  When making mashed potatoes, it is important to taste a few times while you're making them and adjust ingredients for flavor and texture as needed.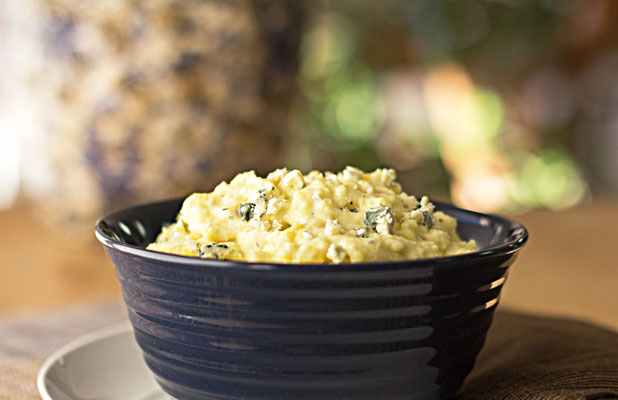 Blue Cheese Mashed Potatoes Recipes
There are no exact measurements for this recipe. It starts with potatoes and butter with a ratio of 1 pound potato to 1 tablespoon butter, then the remaining ingredients are added to create the desired flavor and texture.

Since I do like my potatoes a little chunky rather than smooth and creamy, I leave a bit of peel on the potatoes and use a hand potato masher, which works great!

"*" See Kitchen Notes for more information or links to special ingredients.
Course:
Side Dish, Vegetarian
Ingredients
4

pounds

Yukon Gold potatoes*,

washed and scrubbed

4

Tbsp.

unsalted butter,

softened

1/2- 1

cup

buttermilk* at room temperature or warm

(start with 1/2 cup and add more as needed)

1/2 - 1

cup

cream* at room temperture or warm

(start with 1/2 cup and add more as needed)

1/4

pound

blue cheese*

(start with 1/8 pound and add more as needed)

salt to tate

black pepper to taste
Instructions
Microwave the potatoes in two batches
Wash and scrub all of the potatoes. Using a sharp knife or fork, poke each potato a couple of times. Place half of the potatoes on a large plate or shallow bowl and microwave 4 minutes. Turn over each potato and microwave for another 4 minutes. Test by poking with a fork to see if potatoes are done. If not, continue to microwave in 2 minutes intervals until done. Repeat with the second batch.


Transfer cooked potatoes to a large bowl and when cool enough, remove some or all of the skin. (I usually just remove any thick pieces and leave the thin, tender skin on the potatoes.)


Cut potatoes into pieces and add the butter. Using a potato masher, mash the butter into the potatoes.


Add 1/2 cup buttermilk and 1/2 cup cream, a few dashes of salt and pepper.


Continue to mash, adding more buttermilk and cream (in equal parts) until you get the texture you want.


Break half of the blue cheese in small pieces and mash into the potatoes.


Reheat in the microwave. Stir. Taste for salt, pepper and cheese flavor.

Add more seasoning and / or cheese until you get the flavor you want. For 4 pounds of potatoes, I usually use 1/4 pound of cheese, but that can change depending on the "brand" of cheese.


Set potatoes aside until ready to serve. Reheat in the microwave for 2 - 4 minutes just before serving. Retaste and adjust seasoning if needed.

Kitchen Notes
Potatoes - Yukon golds make the best potatoes, but you can use a mix of potatoes.  Yukon gold and a few red potatoes yield a nice texture.  Also, since I don't peel, both of these potatoes have thinner skins which smashed quite well.
Cooking the potatoes - Microwaving potatoes has been my preference for a very long time.  I used to boil, but aside from losing some of the nutrients, you also lose flavor IMO.  So if you have a preference, just cook the potatoes however you want.
Liquid - The liquids do affect the flavor so if you aren't a buttermilk fan, then don't add more than 1/2 cup or substitute all or part with milk (whole/2%).  To cut back on calories, substitute all of the cream with whole milk and reduce the butter to 3 Tbsp.
Blue Cheese - Use a creamy blue cheese, not the drier, precrumbled.  Gorgonzola is a nice substitute and a more subtle flavor.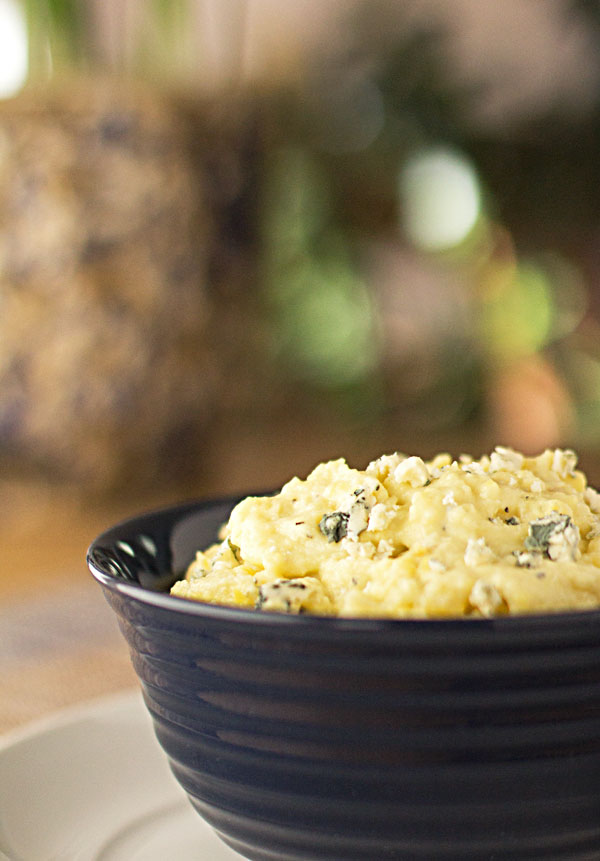 Here are more potato recipes you might enjoy.
Mashed Potatoes with Roasted Garlic and Herbs
Home Fries and their Many Possibilities
Sweet Potatoes with Brown Butter
Parting Shots
If you remember my post-Thanksgiving 2016 post, my parting shot was of my new great-niece who was 36 hours old – born the day before Thanksgiving.  This year, Thanksgiving was her one year old birthday!  Happy Birthday our dearest Lizzie!!!!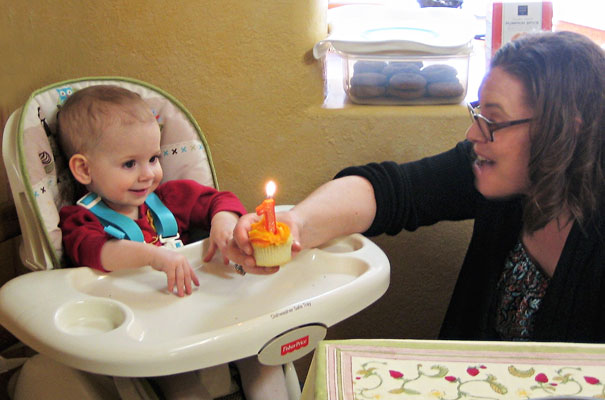 And what happens when a little girl has her birthday on Thanksgiving Day? 🙂
Set – Camera – Action!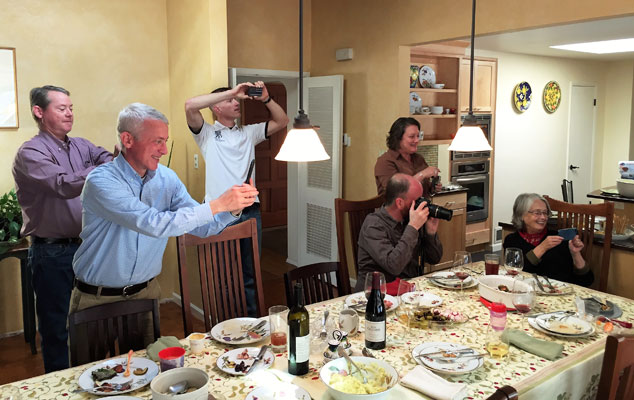 A wonderful day celebrating Thanksgiving and a birthday with family!