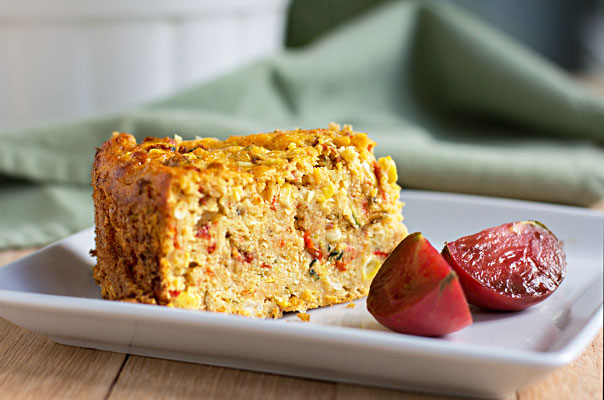 We can't let summer end without a calabacitas dish – a dish with corn, summer squash and New Mexico's roasted chile.  In years past, I've dished up a few other versions of calabacitas which you can find listed at this end of this post.  This year's recipe is Calabacitas Cornbread, cornbread with zucchini, corn, roasted chile and cheese.  With all of these ingredients, calabacitas cornbread is a meal in itself.  Just serve with a few homegrown tomatoes and you're all set for an enjoyable and filling meal.  You can also serve smaller portions as a side for any meal that screams for a piece of cornbread.
Calabacitas Cornbread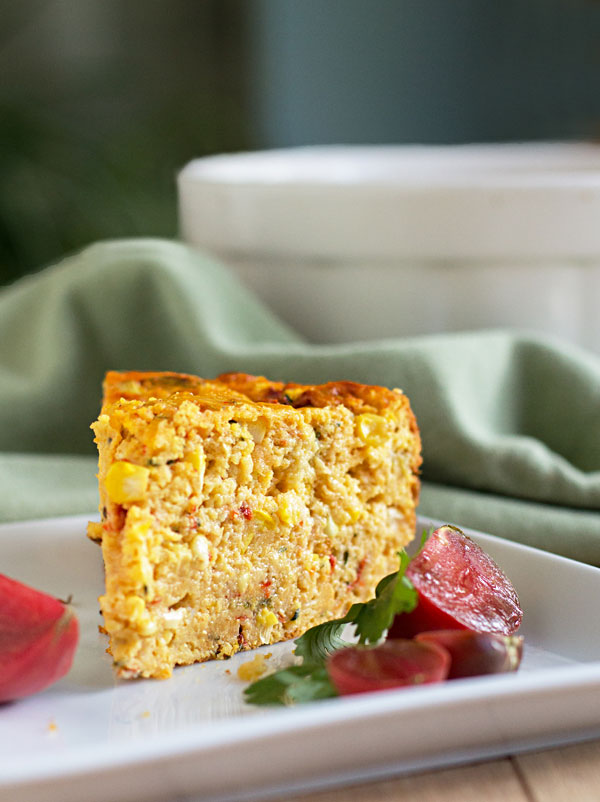 Calabacitas Cornbread Recipe
Roasted chile, zucchini and corn all wrapped up in cornbread batter for a hearty and spicy cornbread.

"*" See Kitchen Notes for more information or links to special ingredients.
Course:
bread, Light Lunch, Main Course, Side Dish
Ingredients
Bowl 1:
1

cup

grated zucchini or any summer squash

1

cup

corn

(corn from 1 cob)

½ - ¾

cup

chopped roasted chile*

(red, green or both)

2

scallions,

minced (white and green parts)

1

cup

grated cheese,

cheddar, Monterey Jack or both
Bowl 2: (Large enough to eventually combine all ingredients)
1

cup

fine ground cornmeal

½

cup

flour

1 ½

tsp.

baking powder

½

tsp.

salt
Small bowl or measuring cup
2

eggs

2

Tbsp.

melted butter

½

cup

yogurt*

¾

cup

milk
Instructions
Preheat oven to 350º F.

Coat a 1 - 2 quart casserole dish* with cooking oil spray or butter. Set aside.

Bowl 1: Add vegetables and cheese to the bowl and stir to mix together evenly.

Bowl 2: Whisk together cornmeal, flour, baking powder, and salt.

Bowl 3: Whisk together the eggs, butter, yogurt and milk.

Add Bowl 1 (the vegetables) to Bowl 2 (the cornmeal mix). Using a spatula, stir to incorporate the cornmeal mixture into the vegetables.

Pour the egg mixture (Bowl 3) into the vegetable cornmeal mixture. Stir gently to combine all ingredients. Once combined, stop stirring. You don't want to over stir and kill the baking powder.

Pour into prepared casserole dish.

Place in hot oven and bake for 40 - 60 minutes* or until cooked through. (Check for doneness by inserting a toothpick in the middle. If it comes out clean, it's done. It not, cook for another 5 minutes and retest.)

When done, remove from oven and let rest for 5 minutes before cutting.
Kitchen Notes
Roasted chile – For the cornbread in the pictures, I used the sweeter red roasted chile.  However, you can use green or Christmas (both red and green).  As far as the heat level goes, that's to your taste.  A medium chile yields a mildly spicy cornbread, whereas hot chile gives it a real kick.  I don't recommend mild unless you just don't like spicy at all.
Yogurt – If you don't mind your cornbread a little sweet, use Vanilla Lowfat yogurt. That's what I use and we love it. Normally, I don't add sweet to cornbread, but it works for this dish.  If you don't have yogurt on hand, then substitute with buttermilk or sour cream.
Casserole dish – Because of the heartiness of calabacitas cornbread, it works nicely as a deep dish cornbread.  As you can see, I bake it in a souffle' dish.  However, you can use a shallower, square or rectangular casserole dish or cast iron skillet.
Bake time – Different dishes do change the bake time.  A deep dish requires 60 minutes, whereas a rectangular shallow dish only requires 40 – 45 minutes.  You could also divide the batter between two small casserole dishes and bake about 40 minutes. Always use a toothpick to check for doneness just to be safe.
Reheat Leftovers – Unlike regular cornbread, calabacitas cornbread heats up very nicely.  Just cover, place in a cold oven, heat to 350ºF and, once at temperature, heat for 15 – 20 minutes depending on how much you're heating up.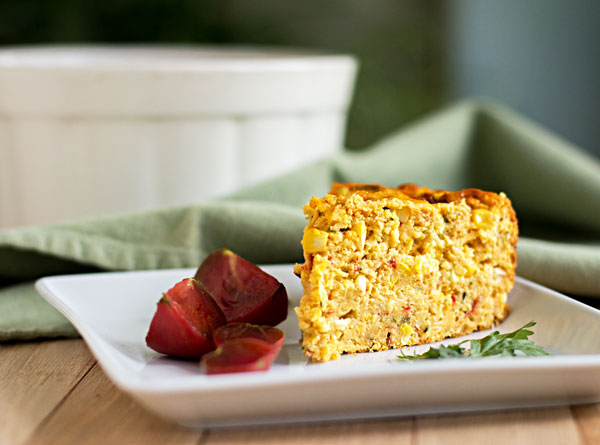 I hope you get a chance to enjoy Calabacitas Cornbread before the summer squash disappears.  If you do enjoy it, you might want to check out these other calabacita dishes.
Hope you all enjoy the rest of your summer.  The fall solstice is just around the corner.