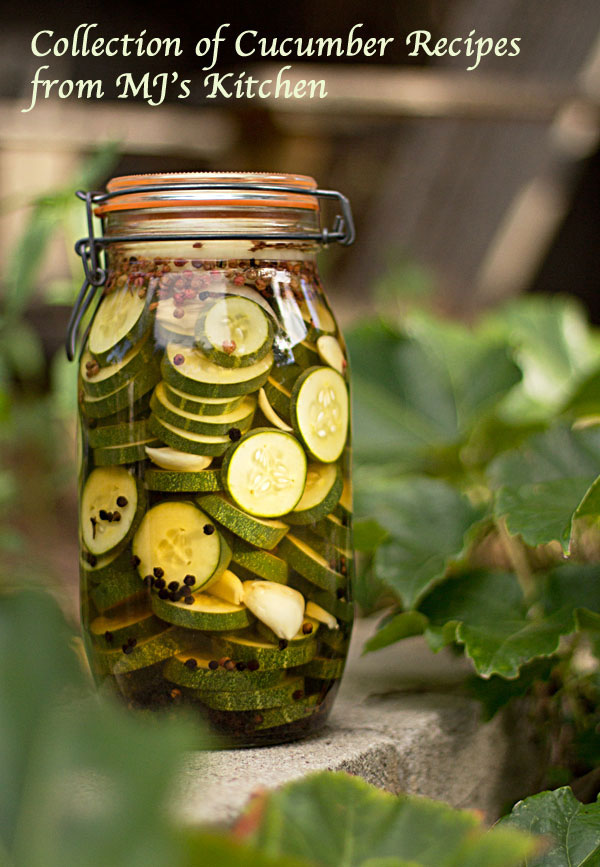 Whether you're growing them or buying them, cucumbers are cheap and plentiful right now, and there are so many ways to incorporate them into your meals. Here are some of my favorite cucumber recipes from MJ's Kitchen that feature the mighty cucumber.
One of the best cold soups of the summer! A cucumber, sweet onion soup with a broth base, and mixed of herbs.  Bobby and I just can't get enough of this soup.  Goes great with a green chile grilled cheese.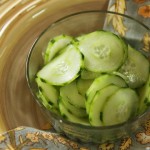 An easy addition to the relish tray. Just takes 10 minutes of prep and 30 minutes to overnight to rest in the marinade. Served chilled for a nice little palate cleanser or add to salads and vegetable bowls.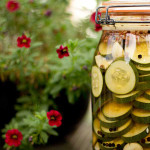 Pepper Cucumber Infused Vinegar
A great way to enjoy cucumbers year round. After 6 weeks rest, vinegar transforms into a peppery cucumber infusion. A nice finishing vinegar or base for homemade salad dressings.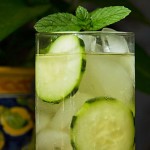 Sweet Cucumber Beverage or Cocktail
With or without alcohol, this cucumber beverage is a refreshing summer drink, sweetened with a bit of agave nectar and flavored with fresh mint.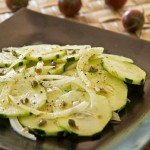 Need a quick and easy, no cook meal? Cucumber salad with onion and capers served with smoked salmon is just perfect! A summer time staple for lunch or supper.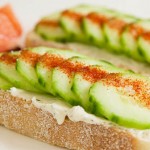 Cucumber and Cream Cheese Crostini
These little crostinis make a perfect light lunch, snack or party appetizer. Sprinkle with red chile powder for a bit of zip.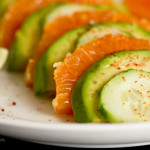 Avocado, Orange and Cucumber Salad
It might be hard to find oranges this time of year, but if you can, the flavors and textures of this salad are hard to beat.  An easy, easy lunch or side to just throw together.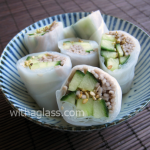 Spring Rolls with Soba Noodles and Cucumber
During my kitchen remodel a few years back, Sissi at With a Glass created this great meal for us.  It's light, full of crunch and flavor and, when dipped in a hot chili oil and soy dipping sauce, it's hard to beat.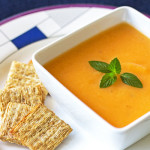 Cold Cucumber and Cantaloupe Soup
This soup has is all – sweet, savory, spicy, creamy and minty.  A tasty use for both cucumber and summer melon.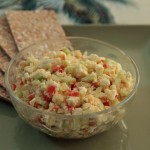 This was one of the first recipes I ever posted because it'd been a favorite of ours for years.  Feta, cucumber, fresh tomato, mint and Tabasco come together to wonderful little appetizer. An oldie but goody.
Now that you see how we enjoy summer cucumbers, please leave a comment and share your favorite cucumber recipe!  I'd love to add it to this list.