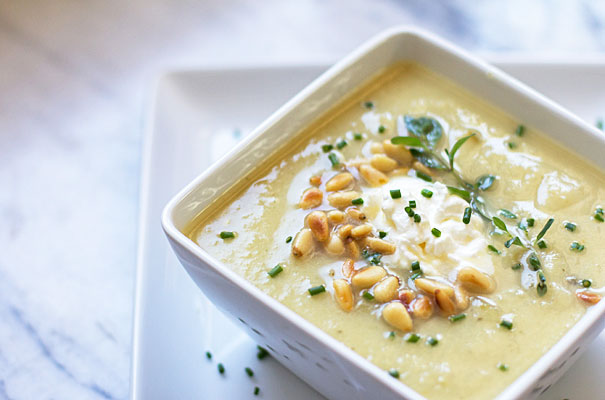 Green chile season is quickly approaching.  Picking should start within the next couple of weeks, so what better time to begin introducing some new green chile recipes. Last year I started with this Baked Blooming Onion with Hatch Chile, so in keeping with the onion and green chile theme, here is a Cold, Three Onion Green Chile Soup.
Cold soups help us get through the long hot summer, so they are a favorite meal this time of year.  This three onion green chile soup is a tasty cold soup with a richness created from the use of three different types of onion and a little spice from roasted green chile.  For a bit of sweetness and crunch, this soup is topped with a dollop of sour cream and toasted pinons (pine nuts).  Serve with a simple grilled cheese of cheddar and bacon bits or your favorite for a complete meal.
For links to more chilled soups, a couple grilled cheese sandwiches, and a list of New Mexico fresh green chile suppliers, check out the links at this end of the post.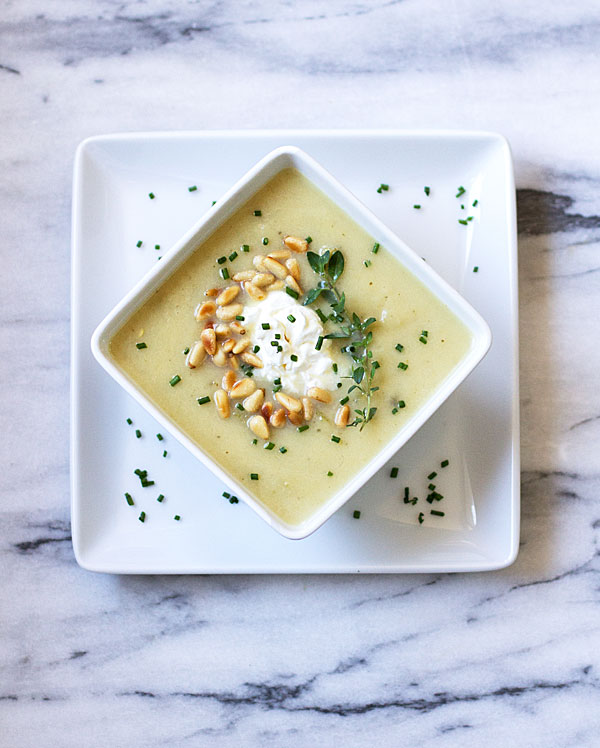 [print_this]
Three Onion Green Chile Soup – Served Cold (Recipe)
Recipe Author:  MJ of MJ's Kitchen
Prep and Cook Time:  A little over an hour + overnight chill
Yield:  About 5 – 6 cups
Ingredients
Amounts of ingredients are not exact due to different sizes in the onions.  Approximates are given.

2 Tbsp. olive oil
1 large leek (white only), coarsely chopped, rinsed (~2 cups)
1 large yellow onion, coarsely chopped (~2-3 cups)
2 large shallots, coarsely chopped (~1 cup)
3 cups broth (chicken or vegetable*)
1/2 cup broth or water
8 – 10 sprigs fresh thyme*
3 – 4 sprigs fresh oregano*
1 cup chopped, roasted green chile*, seeds removed
1/8 tsp. white pepper
salt to taste
Toppings
Dollop of sour cream
Fresh chives or thyme, chopped
Toasted pinon nuts (pine nuts)
Instructions
Steps 1 – 4 shown in the pictures below.
Heat olive oil over medium in a soup pot. When hot, add the leeks. Set heat level at medium/low and slow cook to soften the leeks. Cook for 3 minutes.
Add the yellow onion and shallots.
Sweat the three types of onions for 15 minutes or until yellow onion is translucent.
Add 3 cups broth and the fresh herbs. Cover and simmer for 15 minutes or until all onions are soft.
Let cool enough to puree'.
Remove the sprigs of herbs, leaving a few of the leaves in the pot.  Add 1/2 cup liquid.
Using an immersion blender, puree' the soup.
Add the diced green chile and white pepper.  Stir.
Taste.  Add salt if needed.
Refrigerate overnight. Remove about 30 minutes before serving.
While waiting for the soup to warm a bit, lightly toast the pinon nuts in a hot skillet.
Top each serving of soup with a dollop of sour cream, chopped chives/thyme, and toasted pinon.
Serve with grilled cheese or sandwich of your choice for a nice summer meal.
Kitchen Notes for Three Onion Green Chile Soup
Broth – Use a mild tasting chicken broth or vegetable broth.  Stay away from broths that contain soy sauce. The soy sauce overpowers the subtle flavors of the different onions.
Herbs – When you remove the fresh herbs, leave a few of the leaves in the pot, but not all. Too many will make the soup green and too herby.  If you don't have fresh herbs, substitute with 1/8 tsp. dried thyme and 1/8 tsp. dried oregano.  Leave in the soup when you puree'.
Green chile – I use 1/2 cup mild chile and 1/2 cup medium chile for lots of green chile flavor and a little spice.  If the chile is too spicy it overpowers the soup with heat, and you lose the flavor of the onions and green chile combo which is what makes this soup so good.
[/print_this]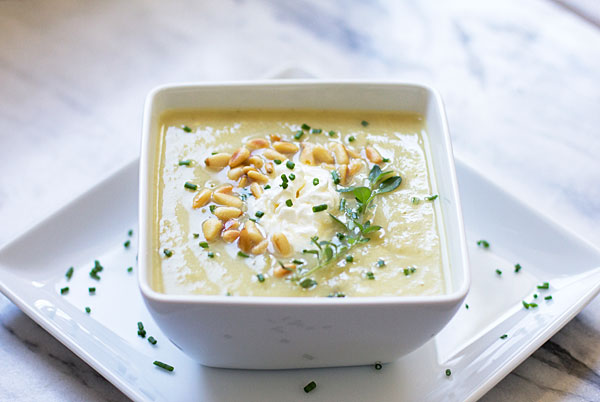 We are getting very close to seeing fresh green chile in the markets, but if you can't get it fresh where you live, check out the New Mexico chile suppliers for our famous Hatch chile and green chile from throughout New Mexico.
For more cold soup and grilled cheese recipes, check out the links below.
Cold Curry Vegetable Soup – A great soup for using up some of the bits of vegetables left in the freezer.
Cold Asparagus and Garlic Soup
Cold Cantaloupe and Cucumber Soup
Grilled Cheese with Urfa Biber Chile
Albuquerque Turkey Grilled Cheese
Index of Green Chile Recipes from MJ's Kitchen