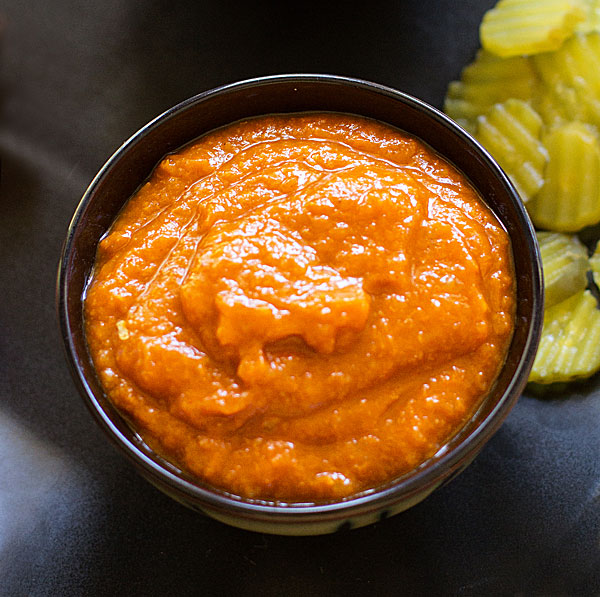 Does barbecue sauce really need ketchup or tomatoes to be called a barbecue sauce?  If so, then I'm breaking the rules with this Smoky Apricot Barbecue Sauce.  This sauce has most everything that one would find in a BBQ sauce, except for a tomato or tomato based product.  The tomato is replaced with apricot, but other common BBQ ingredients – vinegar, mustard and a bunch of chile powders – remain, turning sweet apricots into a smoky and spicy sauce for topping BBQ sandwiches and basting for a variety of meats and possibly vegetables.
Using a few of pieces of meats we had leftover from this and that, Bobby and I did some taste testing to find the best and better matches for this apricot barbecue sauce.  For each test we made a BBQ sandwich with a simple slaw, dill pickles, a toasted bun, shredded meat and BBQ sauce.  We tested smoked pulled pork, smoked chicken, grilled flank steak and smoked ham.  Our favorite was the smoked chicken.  Apricot barbecue sauce was a nice complement for a BBQ smoked chicken sandwich.  The smoked ham was also a winner.  However, we both thought the smoked pulled pork and grilled flank were better with a traditional BBQ sauce. They were good, but the meat overpowered the apricot flavor in the sauce.
In the next couple of weeks I plan to replace the tomato red chile jam with apricot barbecue sauce for the marinade on these pork kabobs.  I'll let you know how it goes.
Smoky Apricot Barbecue Sauce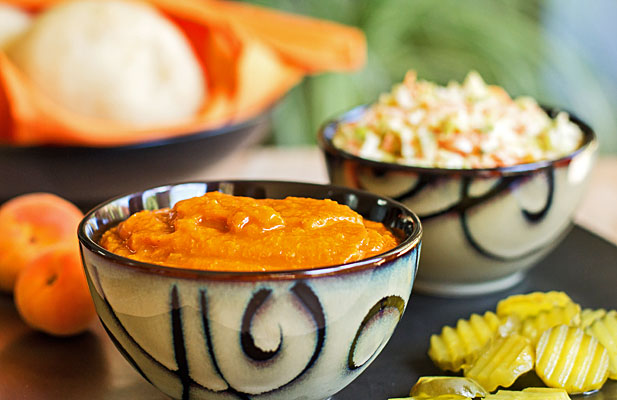 Smoky Apricot Barbecue Sauce Recipe
A sweet and spicy barbecue sauce that is great with smoked chicken or ham, and barbecue sandwiches. Like any sauce, sitting overnight in the refrigerator allows the flavors to meld. It just gets better with a little time.
"*" See Kitchen Notes for more information or links to special ingredients.
Course:
Condiments, Sauces & Dressings, Vegan
Ingredients
1

Tbsp.

light olive oil or vegetable oil

1/2

cup

minced onion

1

large garlic clove minced

3

cups

chopped apricots*,

fresh or frozen

2

Tbsp

maple syrup

2

Tbsp

brown sugar

1

Tbsp

yellow mustard

1

Tbsp

apple cider vinegar*

1/2

cup

ginger ale

1/2

tsp

smoked paprika

1/2

tsp

New Mexico red chile powder

1/4

tsp

chipotle powder

1/4

tsp

smoked Serrano powder

1

tsp

Worcestershire sauce

1/8

tsp.

salt
Instructions
Heat the oil over medium heat in a deep saucepan. Add the onion and lower heat to medium low. Sweat the onion for 3 minutes until translucent.


Add the garlic and continue to sweat the onion and garlic for another minute or two.

Add the remaining ingredients and stir to combine.

Increase the heat to medium and continue to stir until apricots begin to soften. Bring to a low boil, then reduce to a simmer. Simmer for about 15 minutes.

Remove from the heat and, using an immersion blender, blend to a puree'.

Taste. Add seasoning if needed remembering, as the sauce cooks down further, flavors will intensify. But just in case, if you want ...

more of a smoky flavor without the heat, add 1/4 smoked paprika.

more heat and smokiness, add ¼ tsp. chipotle or the Serrano powder.

just more heat, add ¼ tsp. or more New Mexico red chile powder.

Return to the heat and simmer for another 15 minutes or until sauce reaches desired consistency*.

Remove from heat and enjoy.
Kitchen Notes
Apricots – Use fresh or frozen.  If you don't have apricots, replace with peaches or nectarines.
Sweetness – If the apricots are really sweet, cut back on the sweetening components unless you like a really sweet BBQ sauce.  If you do like a sweeter sauce, then, when you do the tasting halfway through cooking it down, you might find add a little more brown sugar or maple syrup.  Keep in mind, it's only going to get sweeter as it gets thicker.
Vinegar – If you like your BBQ sauce with a little more vinegar then you can add more by adding 1 tsp. at a time to your taste.
Consistency – We like a rather thick sauce so it took about 30 minutes to reach consistency.  Plus it does thicken overnight.  If you find it too thick, just add a little more ginger ale or light beer.
BBQ Sandwich Ingredients – Toasted buns, a tender smoked meat like chicken or ham, dill pickles, apricot BBQ sauce, and a simple slaw.

Simple Slaw for BBQ Sandwich with Smoky Apricot Barbecue Sauce

Simple Slaw for BBQ Sandwich with Smoky Apricot Barbecue Sauce Recipe
A simple slaw that greats in barbecue sandwiches. This recipe makes enough for 4 sandwiches
Course:
Side Dish, Vegetarian
Ingredients
3 - 4

small to medium radishes,

chopped

2

cup

thinly sliced savoy cabbage

1

medium carrot,

grated

2

scallions,

white and green parts, minced

1/8 - ¼

tsp.

celery salt

Fresh ground pepper
Dressing
1 ½

tsp.

Dijon mustard

3

Tbsp.

mayonnaise

1

tsp.

seasoned rice vinegar

1

tsp.

dill pickle brine
Instructions
Add all slaw ingredients to a large bowl.

In a smaller bowl, whisk together the dressing ingredients. Pour over slaw. Toss to coat.
Hope you enjoy this Smoky Apricot Barbecue Sauce!  If you missed my post last week or you're looking for more recipes or ideas for dealing with lots of apricots, then take a look at this kitchen helper post – What To Do With a Lot of Apricots.