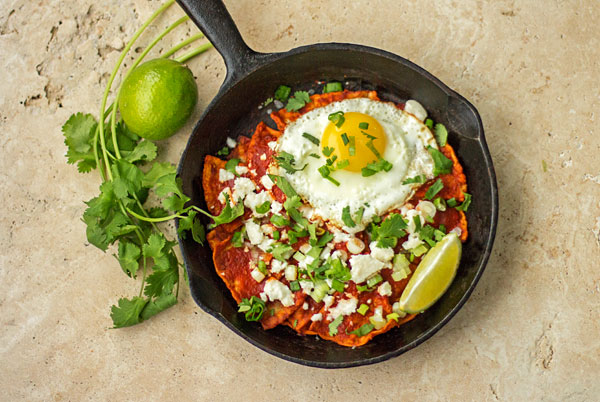 Chilaquiles (chē-lä-ˈkē-lās) is a traditional Mexican dish made with fried corn tortilla chips, a red or green chile sauce or salsa, cheese, fried eggs and complementary toppings.  I was introduced to a Sonoran version of red chile chilaquiles during a recent visit to Tucson. The Sonoran chilaquiles were as simple as they could get – corn tortillas with a tomato-based chile sauce, queso fresco and fried eggs, served with a side of black beans. Simple and hearty, though not spicy, and a very tasty way to start the day.
Following the simplicity of the Sonoran chilaquiles, I've been making red chile chilaquiles at home using New Mexico red chile sauce, a Mexican style cheese, some simple toppings, and fried egg. Because there are so many toppings that  complement this dish, you can change the flavors of this dish each time you make it.  It's a meal you can make over and over again and never get tired of.
The recipe below is a simple red chile chilaquiles and is the basic recipe that I start with.  A list of complementary toppings is provided that make this dish quite versatile and hearty.  No exact measurements are provided because it's just one of those recipes that you add whatever you want and as much as you want.
The Red Chile Chilaquiles shown in the photos are topped very simply with queso fresco, scallions (white and green parts), cilantro, and a generous squeeze of lime juice.
Red Chile Chilaquiles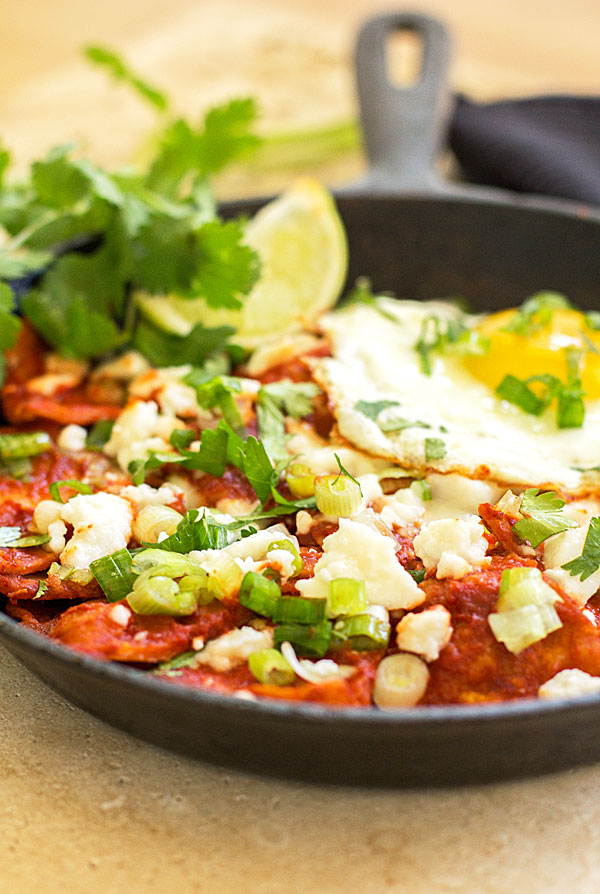 Red Chile Chilaquiles with New Mexico Red Chile (Recipe)
This recipe has no exact measurements. If you are serving two people, use enough chips for 2 people, enough red chile to coat all of the chips, 1 – 2 fried eggs per person, and as many toppings as you want.

Prep and Cook Time assumes that you already have the red chile sauce.

"*" See Kitchen Notes for more information or links to special ingredients.
Course:
Breakfast, Brunch, Red Chile
Cuisine:
Mexican, New Mexico, Southwestern
Ingredients
Baked or fried corn tortilla chips* -

~18 - 24 chips / person

New Mexico red chile sauce* -

~1/2 cup / person

Queso Fresco or Cotija Cheese or your favorite

- crumbled or grated

1 - 2

fried eggs / person
Suggested toppings: (Choose as many or as few as you want)
Scallions,

white and green parts, chopped

Fresh herbs -

Cilantro, chives, parsley

Chopped raw onion

Black beans or pinto beans

Mexican Chorizo

(one of my favorites)

Shredded Chicken or pork

Sour cream or Greek yogurt

Avocado

Squeeze of lime
Instructions
Prepare your toppings and set aside.

Add the tortilla chips to a skillet. Pour the red chile over the chips, toss to coat, and simmer on low until the sauce is hot and the chips just start to soften. Remove from the heat and cover.

In another skillet fry one to two eggs per serving.

Divide the red chile soaked chips between serving plates, top with cheese and any other toppings of your choice. Place a fried egg or two on each serving and enjoy!
Kitchen Notes
Corn Tortilla Chips – Homemade tortilla chips work best because they tend to be a little thicker than storebought.  I make homemade corn tortillas, then cut each tortilla into six wedges and bake in 350ºF oven (turning once) until crisp (about 5 – 7 minutes).  You can use storebought chips, just make sure they are not too thin. Thin chips fall apart and become mushy. Thicker chips work best.
Chile Sauce – I use New Mexico red chile (of course), but you could use your favorite enchilada sauce or salsa – red or green.  It doesn't need to be spicy, just tasty.  You can also make your own New Mexico red chile from powder  or from red chile pods.
Cheese – A Mexican cheese is best, but Monterey Jack or Cheddar work great.  I personally stay away from a stronger cheese like feta.  It overwhelms the simplicity of this dish IMO.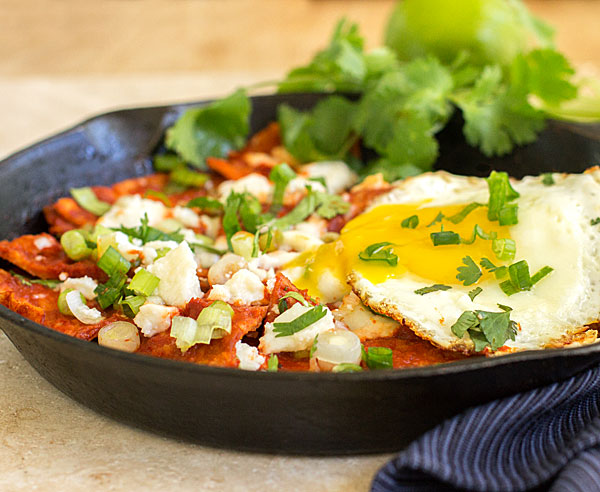 I haven't made chilaquiles with green chile yet, but once green chile season gets here, I'll be giving it a try.

Trip to SE Arizona – Part II:  Tucson
After spending a few days in the San Pedro River Valley, we drove northwest to Tucson where we rented a little quest house on the west side. We began each day with this gorgeous view, looking west from Tucson.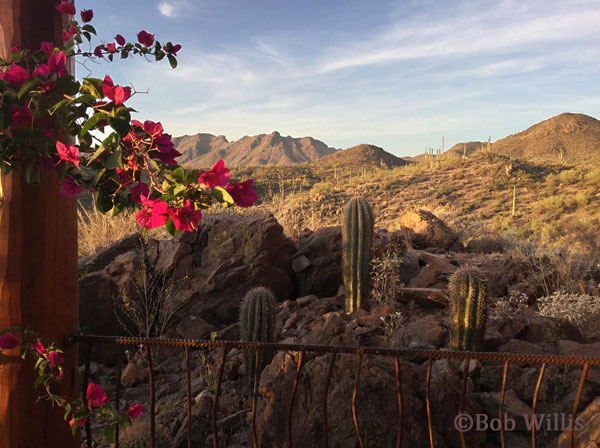 After breakfast each day, we went sightseeing. One morning we spent driving around the Saguaro National Park. What a mystic place.  Miles and miles of huge saguaro cacti, beautiful views and breathtaking landscapes.  I felt like I was on another planet.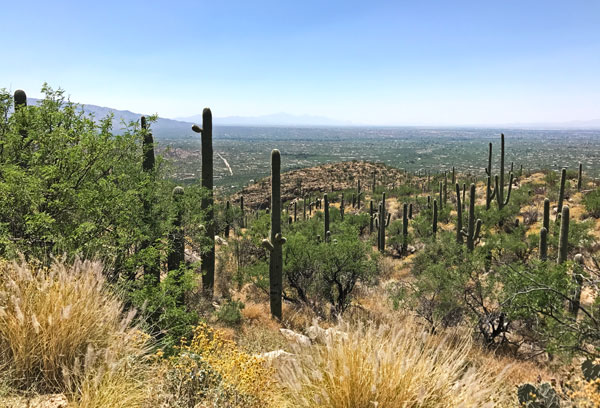 Among the saguaro you can find a variety of other cacti like the cholla cactus (front), Teddy Bear (center), prickly pear, and  ocotillo.  Much of the cacti were just starting to bloom.  If we had been one week later, I'm sure we would have seen a desert full of color!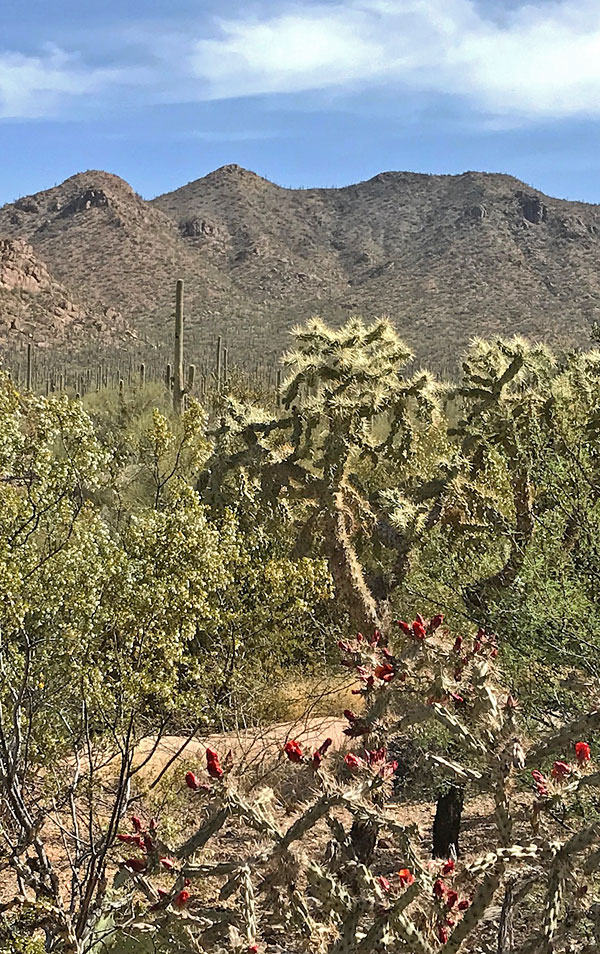 Luckily, there were several saguaro in bloom, a site we'd never seen.  Bobby captured this curved bill thrasher feeding on a saguaro blossom.  "Saguaro blossoms, open less than 24 hours for pollination, rely on the instincts of birds, bees, and other winged insects by day, and moths and bats at night. However, this massive effort is not enough to guarantee that the seeds, as many as 22 million produced in a lifetime, will take root."  (Text from a park information sign)  Apparently, the seeds eaten by birds are indigestible; therefore, when they discard them, often when perched in mesquite or palo verde trees, the seeds receive enough shelter to sprout and grow.  We noticed several new saguaro growing under the palo verde trees throughout the park.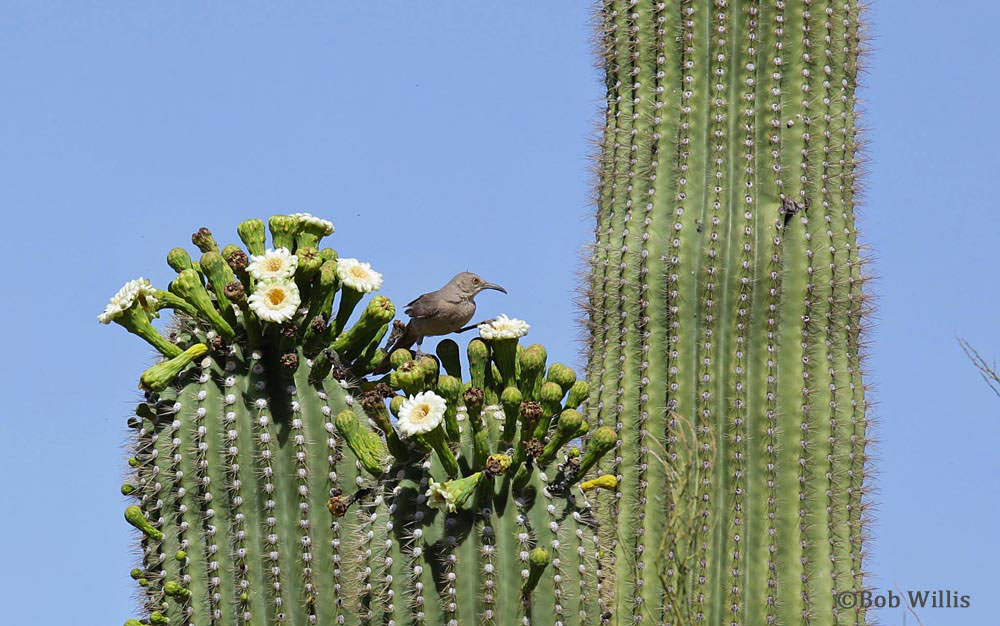 Having been thoroughly entranced by the Saguaro National Park, we went back the next day, but this time, spent the morning going through the Arizona-Sonora Desert Museum. My favorite part of the desert museum was the cactus garden. So many different cacti and blooming desert flowers.  The yellow blooms below are those the palo verde tree which were in full bloom all over SE Arizona during our trip.  In addition to a huge variety of desert plants, the museum is also home to butterflies, hummingbird, reptiles, a mountain lion and a few deer and big horn sheep.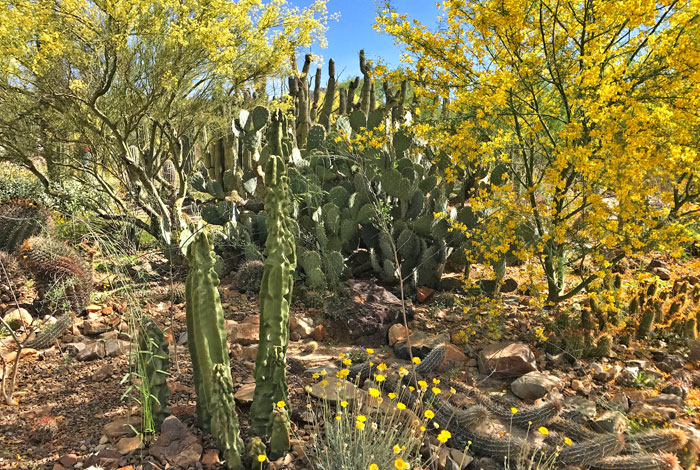 One morning we spent in Madera Canyon which is south of Tucson.  A narrow short canyon with several hiking trials and a great place to do some bird watching.  On the way back from Madera Canyon we took a short side trip to the Mission San Xavier del Bac.  I've been inside several missions, but I have to say that this one literally took my breath away.  I have never seen such ornate decor inside a mission. It seemed as if in over 300 years, 1000 or more artists were given free rein to add their creations to the walls of this mission. Even if you spent a whole day inside, you would not be able to see all of the individual pieces of art. The room is small, but the decor is tremendous!  Please click on this panorama image of the front of the mission to enlarge it.  It should give you a small taste of the intricate decor.

I don't have a lot to say about the city of Tucson because we didn't spend much time in the city.  Bobby and I prefer being within this country's beautiful landscapes and nature, and learning more about it's history.  Cities are cities – too many cars and too much stress for a vacation.  Give me a desert, canyon or mountain any day.
Hope you enjoyed the red chile chilaquiles and our trip to the Tucson area.  Next post – Chiricahua National Monument.