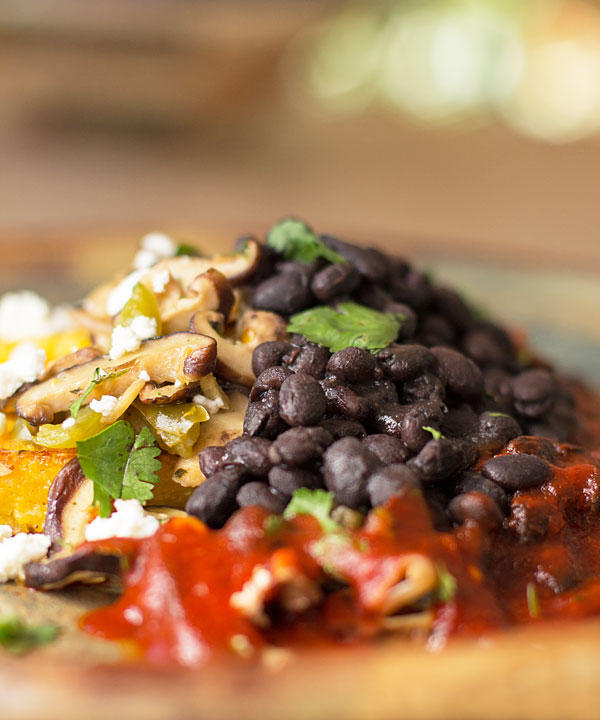 Black beans, shiitake mushrooms, and red chile is a delightful combination of flavors that we discovered many years ago.  Through the years I've made black bean and shiitake enchiladas and burritos, both smothered in red chile.  Now we have a new dish, which is lighter, but hearty enough and certainly tasty enough to please your favorite carnivores and vegetarians.  This black bean, shiitake and red chile dish is served on top of fried polenta which provides a crunchy texture and an additional layer of flavor to its many layers.  Top with a little feta cheese and cilantro for even more goodness.
When you look at the recipes, don't let the length of the recipe intimidate you.  With a little planning, this meal comes together easily and quickly, which is the way I like to cook.  Check out the Kitchen Notes on how to make this an easy dish for a weekday meal.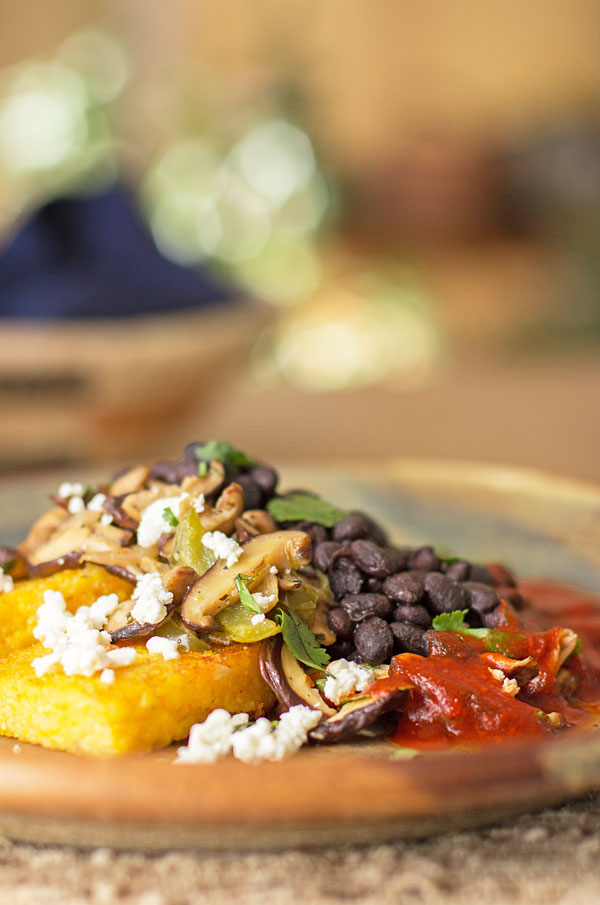 [print_this]
Black Bean, Shiitake, and Fried Polenta with Red Chile

Recipe author: MJ of MJ's Kitchen
Yields 4 servings
Prep and Cook time:  (See the Kitchen Notes for making it simple.)
Polenta – 30 minutes to make the day before or morning of, 20 minutes to slice and drain, 20 minutes to fry.
Black Beans – Use canned or leftover cooked dried beans.
Vegetable Mixture – 30 minutes to prep and cook (Saute' the vegetables while the polenta is frying.
Red Chile Sauce – Use storebought or make a batch ahead of time and freeze in 1 cup portions.
Ingredients
Polenta (Make the day before or at least 6 hours ahead of time or use leftovers from another dish)

1 batch creamy polenta (no cheese)
Small rectangular pan or tall round plastic container
Cooking oil spray
Spicy Black Beans (Use canned or leftovers)

2 – 3 cups black beans
¼ tsp. chipotle flakes or powder*
½ tsp. red chile powder*
Red Chile Sauce*
1 cup New Mexico red chile (made from pods or powder or purchased)
Mushroom mixture
2 Tbsp. oil
½ medium onion, thinly sliced
1 medium green bell pepper, thinly sliced
6 garlic cloves, minced
12 – 14 ounces shitake mushrooms, sliced
¼ tsp. dried thyme
½ tsp. dried oregano
2 dashes of salt and generous amount of pepper
¼ – ½ cup vermouth or white wine
Toppings
½ cup feta cheese, crumbled
2 Tbsp. fresh cilantro, chopped
Instructions
Polenta
The day before or morning of, make a batch of polenta or use leftover polenta from another meal.
Spray a container (pan or glass) with cooking spray.
Pour the cooked polenta into the container and let cool.
Cover and move to the refrigerator to set (at least 4 hours).
About 30 minutes to an hour before frying up the polenta, remove from the pan by inverting the pan onto a papertowel and tapping on the pan until polenta falls out.
Using a knife, slice the polenta into slices 1/2″ – 3/4″ thick. Place the slices on a papertowel then on a cooling racking to drain. This helps remove some of the remaining moisture that can cause splattering when you fry and which can also soften the polenta because of too much water.
Place about a teaspoon of butter or oil in a non-stick skillet and heat over medium high heat. When the skillet is hot, add the slices of polenta. Be careful because it may splatter. I use a splatter screen.
Fry the polenta about 8 minutes a side (turning once) or until the sides become crispy and start to brown. Once brown, remove from the heat. Polenta can stay in the skillet until ready to serve or you could move it to a plate. Just keep it warm.
Black Beans and Red Chile
Heat up the black beans.
Add the chile seasoning if they don't have it already.
Heat up the red chile sauce.
Vegetables
In a skillet, heat 2 Tbsp. olive oil over medium heat and sauté the onion and bell pepper, about 4 minutes.
Add the garlic and mushrooms. Cook stirring often. Shiitakes don't release much moisture so after about 3 minutes, add ¼ cup vermouth (or wine) and reduce heat to medium-low.
Add herbs, salt and pepper and continue to cook until the mushrooms have softened, about 5 more minutes. If they start to dry out and stick to the pan, add a little more liquid.  Cook until the mushrooms are tender and most of the liquid has evaporated.
Assembly (If serving 4, divide ingredients for 4 servings)
For each serving, place two pieces of polenta on a plate.
Top with a scoop of vegetables, then a scoop of beans.
Pour about ¼ cup red chile onto each serving, or more if desired.*
Top with feta cheese and cilantro.
Serve and enjoy!
*See Kitchen Notes for more information.
[/print_this]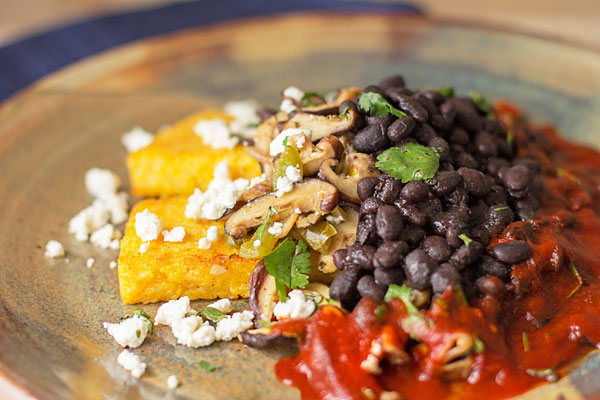 [print_this]
Kitchen Notes for Black Beans, Shiitake and Fried Polenta
Black Beans – If you are using canned beans, add the chipotle and red chile when you heat the beans.  If you make a pot of beans, then add the chile when you cook the beans.
Seasoning for Black Beans – Personally, I like chipotle, New Mexico red chile powder, and/or urfa biber chile flakes.  However, you can use any type of red chile flakes or powder that you have on hand.
Red Chile Sauce – Normally, I would smother a dish with red chile; however, this particular dish is best with a complementary amount of chile rather than a smothering.
Make it simple – Here's what I do to make this dish an easy dish to throw together.  It's a menu option when I plan to make a pot of black beans and there is red chile in the freezer. If I find some nice looking shiitake at the market, then it's on the menu.  To make the night of even easier, I'll plan a creamy polenta meal (like this Southwestern Pork Stir Fry) earlier in the week, and make a larger batch of polenta so I can have leftovers for this dish.  Therefore, if you schedule it all correctly, by the time you are ready to make this black bean, shiitake and polenta dish, all you have to do it reheat the beans and red chile, fry up the polenta, and saute' the mushrooms – easy peasy.
[/print_this]
If you like this vegetarian dish with black beans, shiitake and fried polenta, then you should also enjoy some of these other hearty vegetarian dishes.
Black Bean and Shiitake Enchiladas
Black Bean Chili over Sweet Potatoes
White Beans, Green Chile and Corn