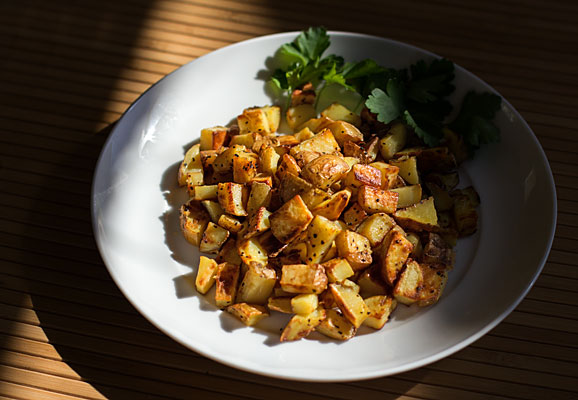 Home fries are a wonderful addition to so many meals and in some cases, can be the primary ingredient that you build a dish around.  For example, this Southwestern Pileup uses a skillet of home fries to support a mix of vegetables and proteins, and your choice of red or green chile.
Home fries make a complement side to huevos rancheros, migas or a meat entree' like green chile cheeseburgers,  pulled pork or smoked brisket.  And if you aren't a fan of white or yellow potatoes, then never hesitate to make sweet potato home fries. They make a great substitute for the hash browns in this sweet potato and green chile dish.
Because of their versatility, home fries should be a standard, go-to dish for any home cook.  Everyone loves them, and your family will love you even more for making them.  In this post, I'll share with you how I make home fries.  There is no parboiling, microwaving, or prep other than to chop, throw in a skillet, and season.  It's an easy method for making a very tasty dish and only messes up one skillet, which for me, is important.
Stovetop Home Fries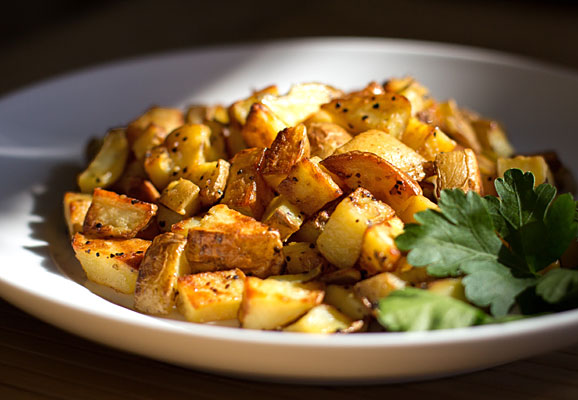 How to Make Home Fries on the Stovetop
A quick and easy method for cooking home fries on the stovetop.
"*" See Kitchen Notes for more information or links to special ingredients.
Course:
Breakfast, Side Dish
Ingredients
1

pound

organic potatoes*,

wash, scrubbed, and cut into small cubes

1

Tbsp.

butter*

1

tsp.

oil

1/4

tsp.

salt

or to taste

1/2

tsp.

ground pepper

or to taste

Chopped fresh parsley

(optional)
Instructions
Cut the potatoes into small cubes (about 1/2").

In a large skillet*, heat the oil and butter over medium heat until the butter has melted.

Add the potatoes, salt and pepper. Using a spatula, toss the potatoes around in the pan to coat them with the butter and seasoning.


Spread the potatoes evenly across the pan. Cover over medium to medium high heat* and cook for 2 minutes. Stir, cover and cook another 2 minutes. Continue to cook the potatoes covered until they are "just" tender. Depending on the type of potatoes, this could take 10 - 15 minutes. I find that yellow potatoes cook faster than red one.

Remove the cover and increase the heat to medium high. Cook the potatoes for 2 minutes, then FLIP the potatoes. Continue cooking and flipping until the potatoes are crispy brown, but not dry. This should take about 5 minutes.

Remove from heat, toss with parsley (if using) and serve.
Kitchen Notes
Potatoes – Because I only use organic potatoes, I never peel – just wash and scrub. You can use just about any type of potatoes, but I prefer yellow or red potatoes.  Sometimes I'll get adventurous and use a mix of potatoes, including sweet potatoes.
Butter – If you don't want to use butter, then substitute with a mild olive oil or non-dairy substitute of your choice.  For those of you who aren't oppose to bacon drippings, a teaspoon or two of drippings in place of some of the butter adds a bit of a bacon flavor to fries.
Cooking Temperature – Medium or medium high is dependent upon the size burner.  For a big skillet, I use a large diameter burner at medium.  This keeps the potatoes from browning too fast before they are done.  Once I remove the cover, I'll turn the heat up to medium heat to finishing browning.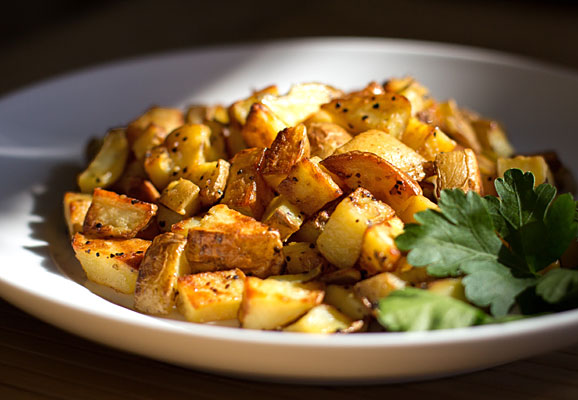 In what type of dishes do you use home fries? 
Below is a quick brunch that I love to make.
Cook up a batch of home fries.
Add some roasted red/green chile, sliced olives, and parsley.  Stir to combine and then cook for about a minute.
Top with grated cheese (cheddar or Monterey Jack).  Remove from heat and cover.
Fry an egg sunny-side up or over easy and place on top of fried.
Enjoy for breakfast, brunch, lunch or dinner.
If you don't have roasted green chile, you can always substitute red chile sauce or your favorite salsa.