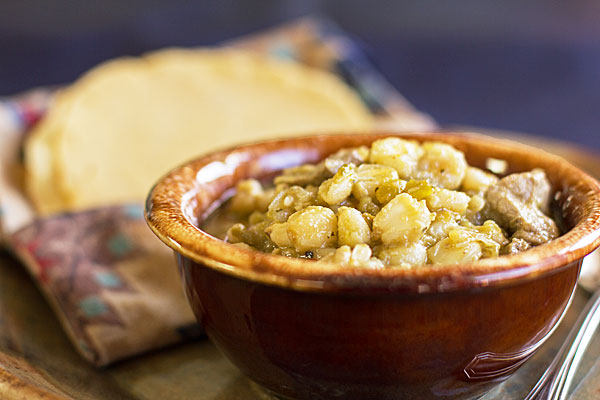 After a brief week of warmer weather, winter returned and so did the desire for comfort food.  Upon the request of a visiting friend, I made this New Mexico pork and green chile posole.  This posole, like most posole dishes, is hearty, spicy and warms you through and through.  It's made with pork shoulder and roasted green chile, and served with warm corn tortillas.  The only problem with this posole is making sure you have enough, because everyone is going to want seconds!
If you are unfamiliar with posole, click on the following link. What is posole?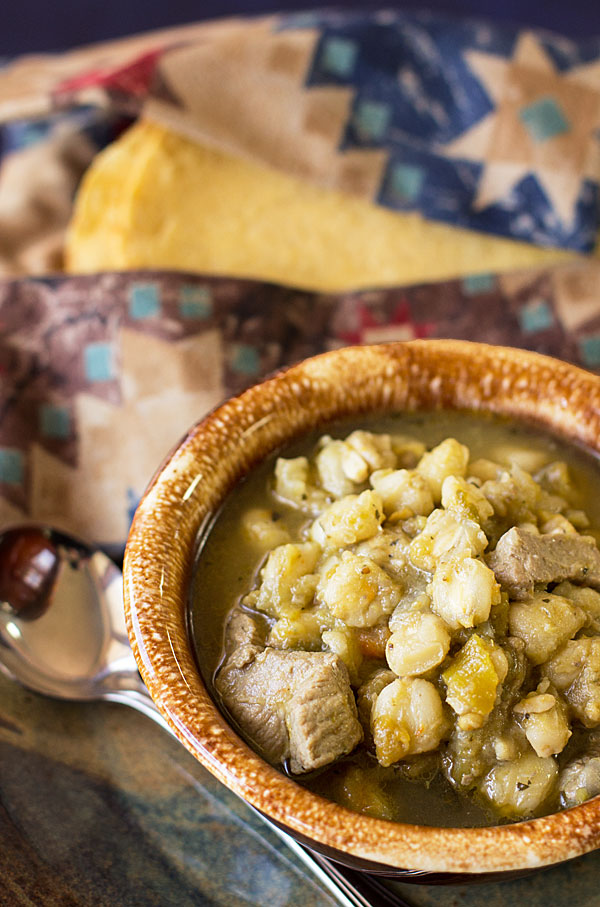 Pork and Green Chile Posole Recipe

MJ's version of a traditional New Mexico recipe
Serves: 6 servings
Prep and Cook time: 1.5 – 2 hours
Ingredients
1 pound pork shoulder*, trimmed of visible fat and cut into bite size pieces
1 tsp. green chile spice blend or salt/pepper/garlic powder
2 Tbsp. olive oil or 1 Tbsp. olive oil and 1 Tbsp. bacon drippings
6 cups water / stock*
1 pound fresh or frozen posole*
6 large garlic cloves, minced
1 medium onion, chopped
½ tsp. toasted cumin coriander blend
1 tsp. dried oregano, crushed
1 cup mild roasted green chile, chopped
½ – 1 cup medium to hot green chile (amount depends on heat desired)
1/2 tsp. salt or to taste
1 tsp. black pepper
Warmed flour or corn tortillas (one to two per person)
Instructions
Cut the pork into bite size pieces and transfer to a large bowl. Sprinkle with green chile spice blend. Toss to coat the pork pieces. Refrigerate for at least 30 minutes.
Chop the onion and the garlic.
Heat a large soup pot over medium heat.
Heat the oil. When hot, add the pork, onion and garlic. Increase the heat to medium high and stir for 2 minutes.
Add the water and stock. Bring to a boil. Add the rest of the ingredients, except for the green chile and salt.
Reduce to a simmer. Cook for one hour and add the green chile and more water if you think it needs it.
Cook for another 30 minutes or until the posole has popped and is tender.
Taste.  Add more salt if needed,
Remove from heat and scoop into soup bowls.. Serve with tortillas.
*Kitchen Notes
Pork – I prefer to use pork shoulder or pork butt because it gets nice and tender when cooked with the posole.  Pork loin tends to get dry and tough when cooked too long.  However, I would recommend the loin if you use canned hominy.
Liquid – The pork and posole add quite a bit of flavor to this dish, so using just water yields a very tasty stew.  However, a cup or two of chicken stock never hurts.
Posole – Fresh or frozen?  Both yield the same result and take about the same amount of time to cook.  If you use dry posole, soak it overnight, then cook for 2 hours instead of 1.  If you can't get posole in your area, substitute with canned hominy.  If you use hominy, following the recipe above except, add the green chile with the hominy and cook about 20 minutes, then let the stew rest for an hour if possible, for the flavors to meld.
Amount of Chile – We like a lot of green chile in this dish, so in order to keep it from being too hot, I use 1 cup of mild then add spicier chile to provide the heat and more green chile flavor. So knowing your chile always helps you know how much to add.  Adjust amount accordingly.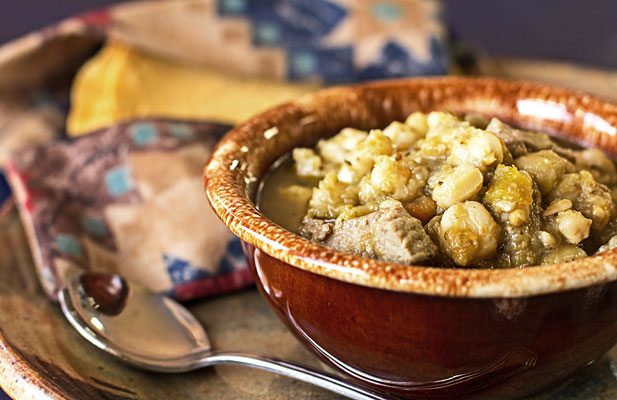 Did you like this New Mexico Pork and Green chile Posole?  If so, then try out these other posole recipes on MJ's Kitchen.
Chorizo, Mushroom and Posole (Hominy) Soup
Posole with Italian Sausage and Kale
Save