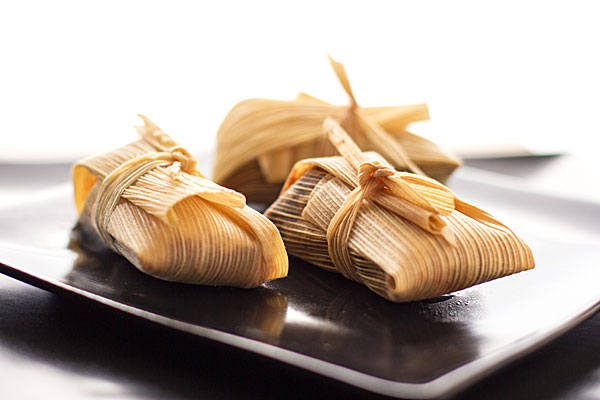 When you think of dessert, does "tamale" come to mind?  Well, if not, maybe I can change that with these chocolate tamales with port infused cherries.  Inside of these little corn husk packages are individually sized chocolate cakes, packed with dried cherries that have been re-hydrated in sweet Ruby Port.  The "cakes" or tamales are made with masa (corn flour), cocoa, and a few other choice ingredients.  Served these tamales warm with a small scoop of vanilla bean gelato and you'll feel like a kid at a birthday party eating chocolate cake and ice cream.
Like all of my tamale recipes, these chocolate tamales are relatively easy to make even though the recipe below may look complicated or intimidating. There are just a few easy steps, like re-hydrating the corn husks, soaking the cherries, toasting the pecans, and then throwing the masa ingredients together.  Once the masa batter is made (which is easy!), everything gets folded together. To form the tamale, just scoop a little of the masa mixture into a corn husk, roll, and tie.
Since these are a dessert tamale, they are smaller, about half the size of a normal tamale.   And for those who are gluten-intolerant, these chocolate tamales are gluten-free.  They could also be vegan if you had a decent substitute for butter, but IMO – there is no substitute for butter.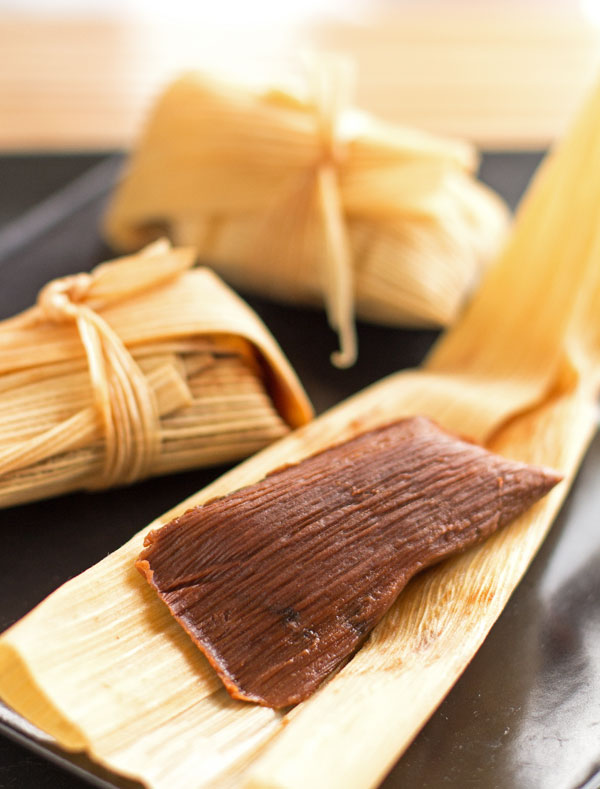 Chocolate Tamales with Port Infused Cherries (Recipe)
Surprise your family or guests with these sweet, chocolate tamales. Masa never tasted so good!

"*" See Kitchen Notes for more information or links to special ingredients.
Yields
:
20
tamales (about)
Ingredients
¾

cup

dried cherries*

~ 1 cup Ruby Port

30

Corn husks

1 ½

cups

Masa Harina

(corn flour)

½

cup

raw sugar or brown sugar

1

tsp.

baking powder

½

tsp.

salt

½

cup

unsweetened cocoa

¼

cup

unsalted butter,

cut into small pieces

1 ¼

cup

warm milk

½

tsp.

vanilla extract

¾

cup

pecans,

lightly toasted, very coarsely chopped*

½

cup

semi-sweet chocolate morsels or ¼ cup chopped sweetened Mexican chocolate*

1

Tbsp.

semi-sweet chocolate morsels

(for the serving sauce)
Extras
Vanilla ice cream or vanilla bean gelato

Whipping cream
Instructions
Rehydrate dried cherries
Place dried cherries in a large cup or small bowl and pour enough port over the cherries to completely cover and then some.

Set aside and let re-hydrate for about 2 hours or in the refrigerator overnight.

Before assembling the tamales, drain the cherries, reserving the port.
Prepare the corn husks
Heat up a full teakettle of water until hot.

Place corn husks in a large rectangular casserole dish.

Pour the hot water over the husks and top with a smaller dish to weigh down the husks.


Allow husks to re-hydrate while you prepare the rest of the tamale mix.
Toast the pecans
Heat a small heavy skillet over medium heat.

Add the pecans to the skillet and lightly toast, tossing in the pan often until evenly toasted.

Transfer to a cutting board and lightly chop. Set aside.
Making the Masa
In a large bowl, place the dry ingredients (masa, sugar, baking powder, salt, cocoa powder) and whisk to combine.

Using a pastry cutter, cut the butter into the masa mixture.

Heat the milk to "warm" (about 45 seconds in the microwave). Add the vanilla extract.

Slowly add milk to the dry ingredients, using a spatula to incorporate. Continue to add all of the milk plus 1 Tbsp. of the reserved port. Continue until the dry and wet ingredients are well combined. The batter will be somewhat grainy, but moist.

Fold in the drained, re-hydrated cherries, chocolate morsels, and toasted pecans. Continue to fold and mix until the cherries, chocolate, and pecans are evenly distributed. Masa batter will be thick, but moist. If the masa looks too dry, add little more (~1 Tbsp.) of the reserved port.
Assemble the tamales
Pour the water off of the corn husks.

Select 2 – 4 of the smaller husks and tear into strips for ties. If too short for a tie, then tie two together to make one tie.

Place about 2 tablespoons of masa mixture in the middle of a husk.

Roll the husk around the tamale. Fold both ends toward the center, overlapping the ends. Place a tie around the middle (as shown in the picture).

Assemble the rest of the tamales. You should get 20 – 25 tamales.
Steaming the tamales
Vertically place the tamales in the steamer. If they all don't fit vertically, just lay the extras on top.

Cover with a couple of the extra corn husks, then a lid. Steam for 1 hour.

After an hour, remove from heat, let rest for 15 minutes.

While the tamales are resting, heat the reserved cherry infused port in a small skillet or saucepan. Reduce until it starts to thicken. Remove from the heat and whisk in 1 Tbsp. chocolate morsels. Continue to whisk until the morsels have melted.

Place a tamale or two on a serving plate with a small scoop of gelato or whipping cream. Drizzle with a touch of the port reduction.

Serve and enjoy.
To Rewarm
Resteam for a few minutes. For a small batch (like 2 to 4), I use a small vegetable steamer.
Kitchen Notes
Cherries – A dried sweet cherry works best for these tamales because they are sweet.  If you want a little more tartness, you can use dried tart cherries.  Once re-hydrated the cherries may seem too big for these small tamales.  They aren't.  Don't be tempted to chop them up.  You'll love biting into a whole boozy cherry.  If you chop them up, they'll disappear.
Pecans – Just like the cherries, if you chop the pecans too small, they will disappear.  So, a coarse chop is best. If for some reason you can't eat pecans or don't like them, a reader substituted pinon (pine nuts) and said they were great!
Mexican chocolate vs. chocolate morsels – This really comes down to what you like and what you have available.  The first couple of times I made these I used Mexican chocolate.  They were a little sweeter even those I only used 1/4 cup.  The next time I made these chocolate tamales, I substituted with twice as many semi-sweet chocolate morsels.  This yielded a less sweet tamale but with more of a chocolate flavor, so that's what I have stuck with.
Serving size – Even though I love dessert, one tamale with a little gelato and a touch of sauce was rich enough for me.  Bobby enjoyed having two tamales.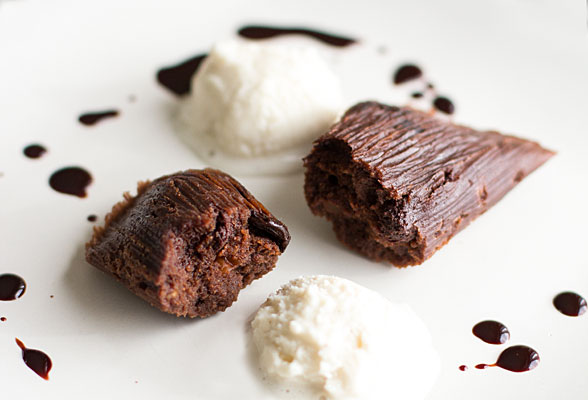 If you love tamales as much as we do, you might want to check out these savory tamales that use pretty much the same method as used for these chocolate tamales.
Black Bean Tamales with Spicy Mango Sauce
Red Chile Cheese Tamales (my favorite!)
Corn, Mushroom and Green Chile Tamales (Bobby's favorite)