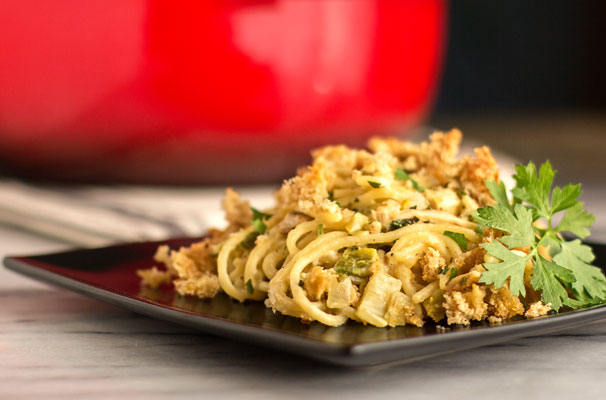 If you find yourself with leftover chicken or turkey, which we all do at one time or another, then you should make a tetrazzini. It's such an easy dish to thrown together and is quite versatile.  This particular chicken tetrazzini is made with leftover smoked chicken and a few vegetables.  To give it a little kick, spicy, but not hot, roasted green chile is added.  The roasted chile gives the dish a bit of a spicy bite and is a complementary flavor to the smoked chicken.  We'll be smoking a turkey on Thanksgiving so I can't wait to make this with leftover smoked turkey.
Hope you enjoy!
Chicken Tetrazzini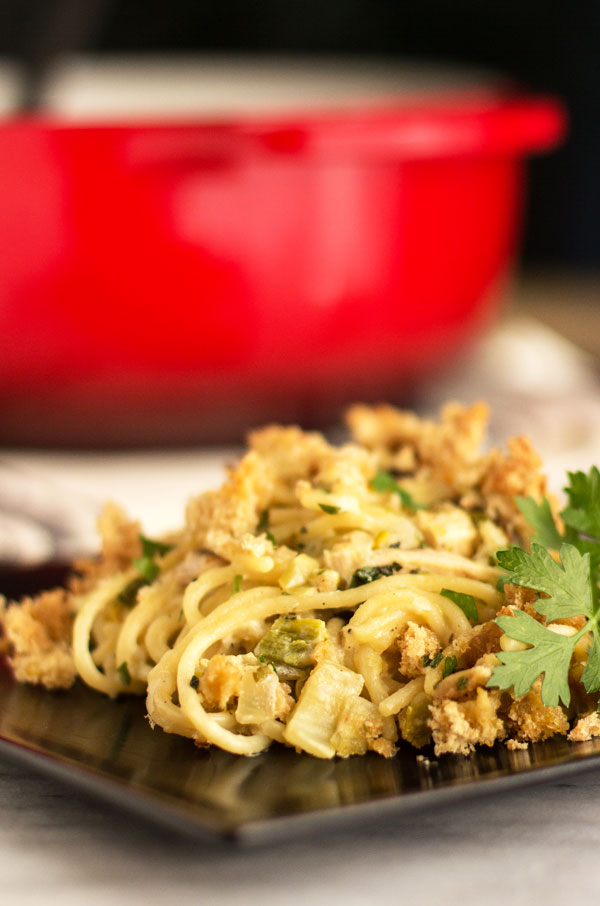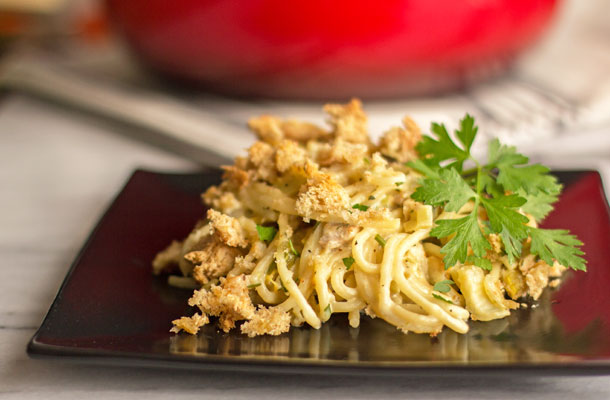 Spicy Smoked Chicken Tetrazzini Recipe
Spicy chicken tetrazzini is made with leftover smoked chicken and roasted green chile. Turkey could easily be used in place of chicken.
"*" See Kitchen Notes for more information or links to special ingredients.
Course:
Main Course, Pasta Dish
Ingredients
8

ounces

spaghetti,

cooked al dente

2

Tbsp.

olive oil

½

medium onion,

chopped

½

medium bell pepper,

chopped (use any sweet/green pepper)

1

large celery stalk,

chopped

6

medium button mushrooms,

sliced

6

large garlic cloves,

minced

3

Tbsp.

flour

2 ¼

cups

milk

1

cup

grated Monterey Jack cheese

2

cups

smoked chicken,

torn or cut into small pieces*

1

tsp.

dried oregano

1

tsp.

black pepper

½

tsp.

salt

¼ - ½

cup

roasted, chopped green chile*

¼

cup

cilantro or fresh parsley,

chopped

2

pieces

of wheat/multigrain bread,

crumbled*

Garlic infused oil or chile infused olive oil

(optional)
Instructions
Start the water for the pasta. Add 1 tsp. salt. Once water comes to a boil, add the pasta and cook under al dente.

Preheat oven to 350ºF.

Heat the olive oil in a oven proof dish over medium heat. (I use a Dutch oven)

When the oil is hot, add the onion, peppers, and celery. Saute' for about 4 minutes, then add the mushrooms and garlic.

Reduce the temperature to medium low and cook until the mushrooms start to release their liquid.

Sprinkle the flour over the cooking vegetables, stirring to coat. Slowly add 1 cup of milk, stirring constantly to prevent clumping and to start the sauce. Stir in the remaining 1 ¼ cup milk.

Add the oregano, salt and pepper.

Slowly add the cheese, stirring constantly until the cheese has melted.

Remove from heat. Stir in the roasted chile, chicken and fresh herb (cilantro or parsley).

Add the cooked pasta. Using tongs or a forked pasta spoon, incorporate the pasta into the vegetable and chicken mixture. Once all is fully incorporated, spread the pasta evenly in the dish. If possible, clean the side of the pot to make cleanup easier.


Top the pasta mixture with the bread crumbs. Drizzle with garlic or chile infused olive oil if desired.

Bake for 30 minutes. Remove from oven and let rest for 5 minutes before serving.
Kitchen Notes
Chicken or turkey – Either one works.   Use whatever cooked poultry you have:  canned, rotisserie, smoked, poached, grilled, or skillet fried.
Green Chile – If you don't have roasted chile, then just sauté a poblano, Anaheim, or other chile pepper with the onion and bell pepper.  The amount you use is dependent on how hot the chile is and how spicy you want the dish.  I would recommend a medium to medium low spice on this dish so don't overpower the other flavors and so you can add enough of the chile to actually taste it.
Bread Crumbs – You know those heels of bread that sometimes go unused and get stale?  They make great bread crumbs.  I usually use one heel and another slice of stale bread.  If your bread isn't stale enough to crumble, put it in the toaster and toast lightly. Remove and let cool while you prepare the dish.  By the time you get ready to add the bread crumbs, the bread should crumble quite nicely.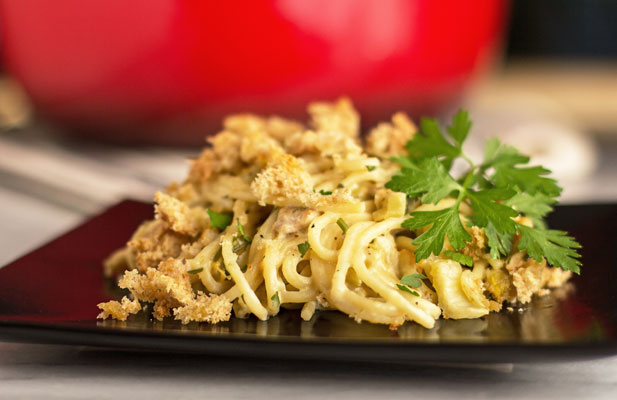 As you can see this chicken tetrazzini is a hearty and easy meal and a delicious way to use up leftover chicken or turkey.  It also has the versatility to allow you to use different vegetables, cheeses and seasonings.  So have fun creating your own flavors!
Click the link for other pasta dishes you might enjoy.