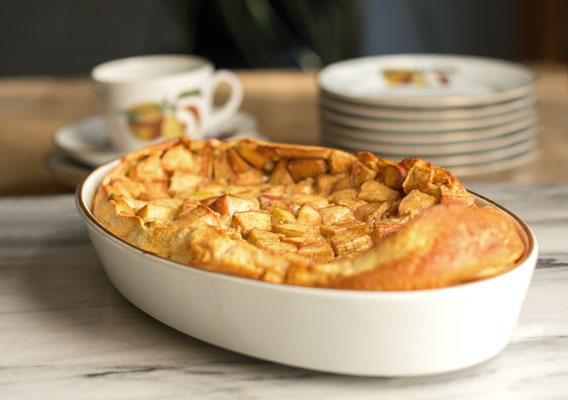 October is National Apple Month and what a month it's been for great apples! Wanting to give a new apple recipe a try, I decided on an apple clafoutis.  I chose the clafoutis because Bobby and I both love custard type dishes and fruit, and, it's a dish I've never made.
This apple clafoutis is not a traditional French clafoutis which, from what I found, is made with cream and sugar.  It's a bit lighter in that it's made with 2% milk, a little brown sugar to coat the apples, and maple syrup in place of sugar for the egg mixture.
Feedback on the first apple clafoutis, made with 2 eggs and 2 Tbsp. maple syrup, was "good", but we both wanted a little more custard and a touch more sweetness.  For the second one I added a third egg and another tablespoon maple syrup. Texture and sweetness were just what we were looking for.  It was a keeper.  Just to make sure I made a third one with the same results. It disappeared as quickly as the others.
This apple clafoutis is such an easy dish to make.  You can throw it together in about 15 – 20 minutes, then bake it for 35 minutes.  We enjoy this apple clafoutis for dessert, but have found that it makes a nice warm breakfast on a cool morning.
 Apple Clafoutis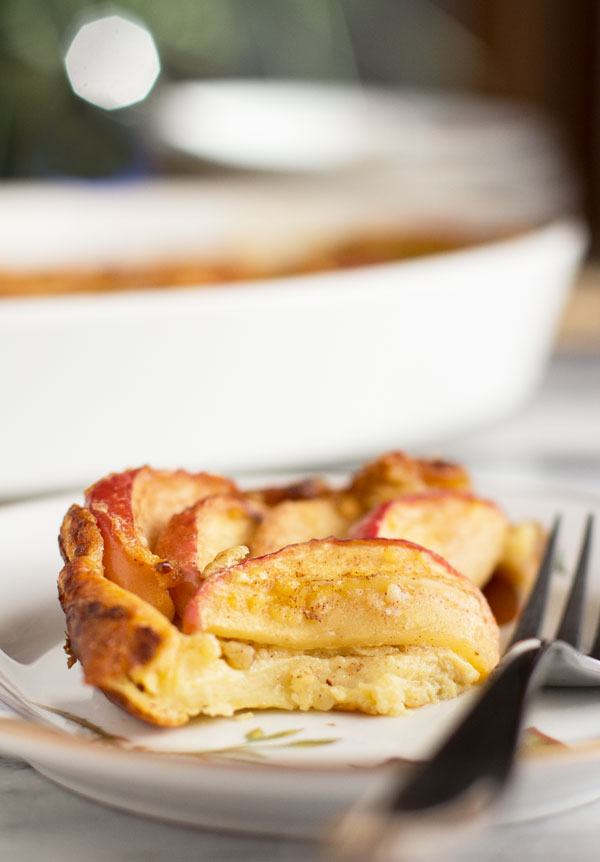 A Light Apple Clafoutis Recipe
This delightful custard dish can be served as a dessert or breakfast. A nice way to celebrate your favorite crispy fall apples.

"*" See Kitchen Notes for more information or links to special ingredients.
Course:
Breakfast, Dessert
Ingredients
2

medium apples*,

sliced or cubed

1/4

heaping tsp. cinnamon

2

Tbsp.

brown sugar

2

Tbsp.

butter

3

large eggs

3

Tbsp.

maple syrup

1/8

tsp.

salt

1/2

tsp.

vanilla extract

1/2

cup

unbleached flour*,

sifted

3/4

cup

milk or milk substitute*
Instructions
Preheat oven to 375º F.

Slice or cube the apples and transfer to a large bowl. Toss with the cinnamon then the brown sugar. Set aside.

Add the two 1 Tbsp. slices of butter to a baking dish and place in oven until melted. (Be careful not to burn it.) Remove from oven. Set aside.

Whisk together the eggs. Add the maple syrup, vanilla extract and salt.


Alternately add the milk and the sifted flour into the egg mixture until all has been incorporated.

Spread the apples and any juice that has accumulated in the bowl across the bottom of the dish with the melted butter.

Pour the egg mixture over the apples.

Place in the oven and bake for 15 minutes. Lower the temperature to 350º F and cook for another 20 minutes. Gently shake the dish. If the center jiggles, bake for another 5 minutes.

Remove from oven and let rest for at least 5 minutes before serving.

If desired, you can sift powdered sugar on the top before serving.

If you have leftovers, reheat in the microwave for 1 minute or serve cold.

Kitchen Notes
Apples – For the best finished texture of firm, not mushy apples, start with crisp apples. For a sweeter dish, use sweet apples. We personally like a sweet, but tart apple.
Sliced or Cubed – Sliced apples make a prettier dish, but it's harder to cut into serving size pieces.  Because of that, I usually chop the apples.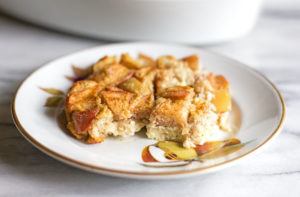 Flour: Gluten-Free Adjustment – A friend of mine is gluten-free (GF) so I attempted a GF version by substituting the unbleached flour with almond flour. Even though it still had a great flavor, I, personally was not fond of the texture. It was rather grainy as you can see in the picture to the right.
Milk – This recipe works with almost any milk or milk substitute.  However, rice milk is too thin and doesn't work well for baked goods.  I've used 2 or 3 different milks / milk substitutes and have found very little difference in taste or texture.
If you've been buying apples like I have this fall, you really should use a couple of them to try out this apple clafoutis. It is so easy to make and was a delight to serve to family and friends and, to wake up to in the morning with my morning tea.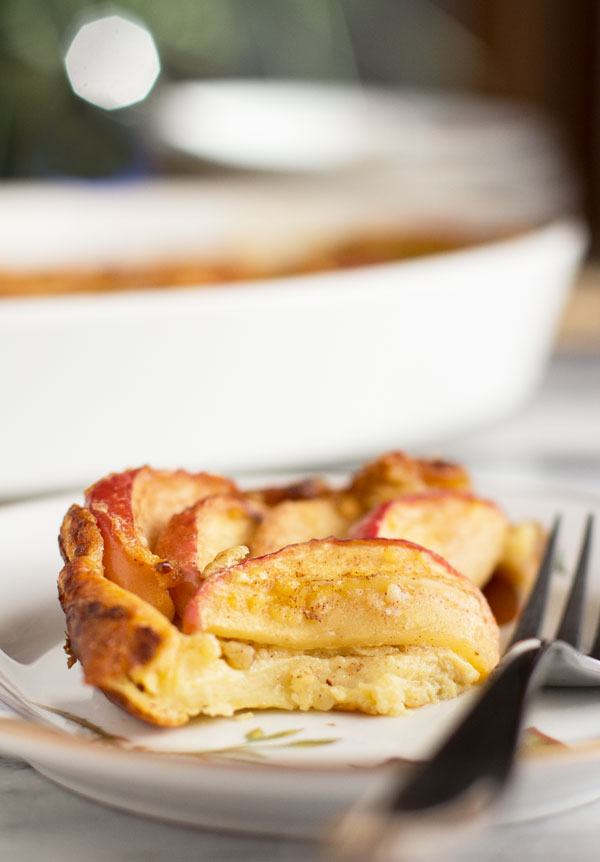 If you are looking for more apple recipes to enjoy this fall, check out this Collection of Sweet & Savory Apple Recipes.
During the spring when the apricot are ready, here is an Apricot Clafoutis (Flaugnarde) you should also enjoy.