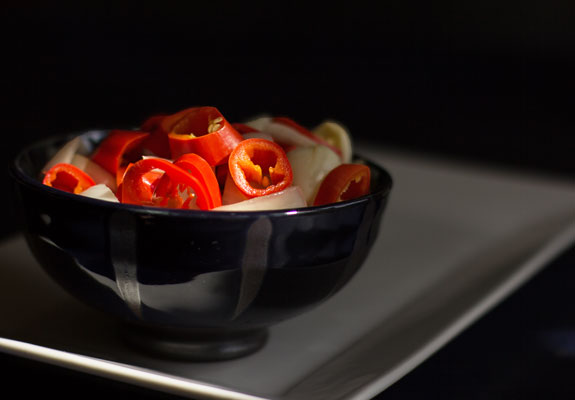 Each year I try to plant a few different types of chiles, but this year I only managed to plant one type – the Santa Fe Grande chile pepper. Just two plants have been quite prolific and are still producing.  With my first big batch, I made a quart of these pickled peppers which I make every year.  Last week I had picked enough to do even more pickling.  Instead of using the same recipe, I changed it up a bit and made these Pickled Chile Peppers and Onions as well as fresh chilli in olive oil that I found over at With a Glass.  These recipes yielded two completely different flavors and both were excellent.
The pickled chile peppers and onions are seasoned with star anise, coriander and cumin.  These three spices combine and infuse the peppers and onions with a very exotic flavor that carries just a hint of each specific spice.  The heat and the flavor of the chile peppers infuse into the onion and garlic and vice versa.  As a result, each bite fills your mouth with an infusion of all of the ingredients and lingers for quite a while.
These pickled chile peppers are as easy to make as my original pickled peppers and can be used in the same type of dishes as well as just eaten right out of the jar.  I've added them to coleslaw, served them as a condiment to pulled pork, and placed them on top of pulled pork sandwiches – and I'm just getting started.  Can't wait to place a few on top of a taco or just wrap a few in a warm corn tortilla.  Sound good?  If so, then check out the recipe below.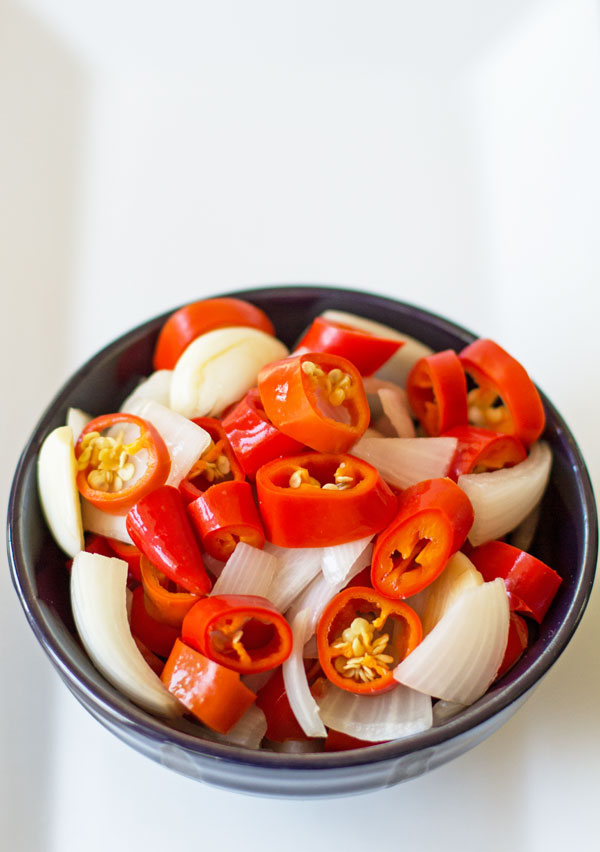 [print_this]
Spiced Pickled Chile Peppers and Onions – Recipe
Recipe author:  MJ of MJ's Kitchen
Prep and Cook Time: 20 minutes
Yields: a little over a cup
This recipe can easily be doubled or tripled*.
Ingredients
You'll need a clean glass jar with a non-metal lid to store these pickled chile peppers. The jar should be able to hold all of the peppers and onions and at least one cup of the vinegar.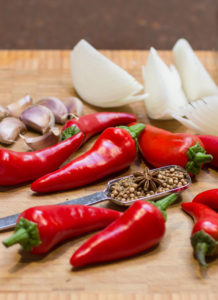 4 ounces red (ripe) chile peppers*, remove top and slice
4 ounces onion*, cut into chunky pieces
6 garlic cloves, peel and cut in half lengthwise
1 star anise
1 tsp. coriander seeds
½ tsp. cumin seeds
½ tsp. salt
1 tsp. sugar
1 – 1 ½ cup distilled white vinegar*
Instructions
In a small sauce pan, add the vinegar, star anise, coriander, cumin, salt and sugar.  Bring to a boil over medium heat.  Reduce and simmer for 2 minutes.
While the vinegar is heating, prepare the chile peppers, onion and garlic.  Transfer to a bowl and toss together to mix it all up. Transfer to a clean glass jar.
Pour the hot vinegar and spices into the jar.  Add enough vinegar to cover the chile. Add the lid and set on the counter for 24 hours.
Transfer to the refrigerator and enjoy!  Pickled chile peppers will keep for at least 6 months, but they'll be gone long before then.
See Kitchen Notes for more information.
[/print_this]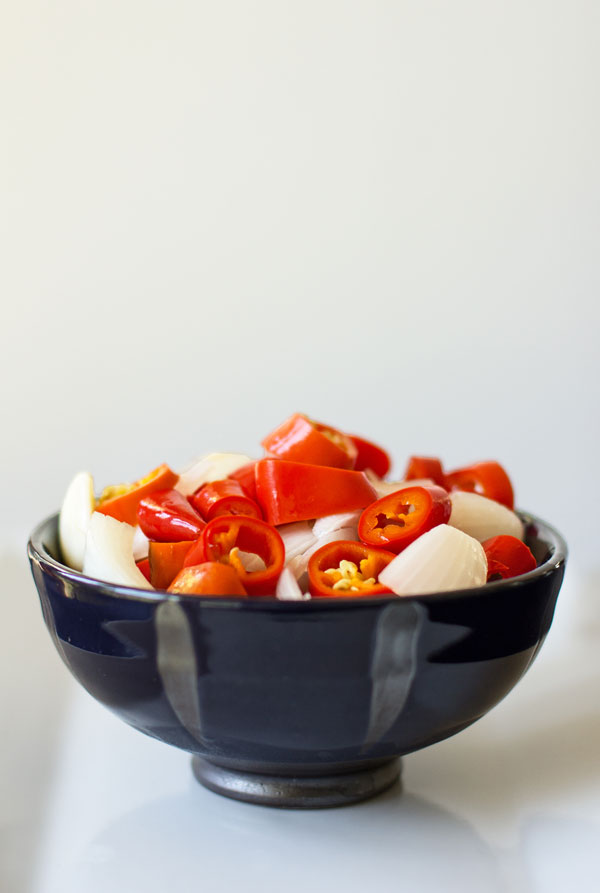 Kitchen Notes
Chile Peppers – For pickled chile peppers, I prefer small, thick walled, hot red peppers  – like these Sandia… or jalapeno.  You could use green or a mix of red and green or go all green, but the flavor will be different.  Red chile is sweeter than green chile, so what you use is based on the flavor you want.
Onion – Sweet onions and red onions work best IMO, but you can use whatever you have.
Vinegar – For pickling, I prefer white vinegar as opposed to apple cider vinegar, because it doesn't take away from the flavor of the onion and chile.  Apple cider vinegar can add a totally different profile which I'm not crazy about.  But if that's what you have, then give it a try.
Doubling/Tripling recipe – To make a larger batch, just maintain the same proportions on all ingredients, except for the vinegar.  The amount of vinegar you use depends on the size of the jar and how well you pack the jar.  For example, a batch with 8 ounces of chile in a quart jar will require more vinegar than 12 ounces of chile packed into a quart jar.  Therefore, for larger batches, start with 2 – 2 ½ cups of vinegar.  You can always boil additional vinegar and add it to the jar if you need to.
The longer these pickled chile peppers and onions stay in the refrigerator the more the flavor infuse, but the less crispy the peppers and onions get.  They stay really crisp for about a month, then they start loosing the crispiness.  However, they never do get "soft", just less crispy.
If you enjoy pickling things, then here are some more ideas for you.
Pepper Cucumber Infused Vinegar
An Assortment of Pickled Chilli from With a Glass