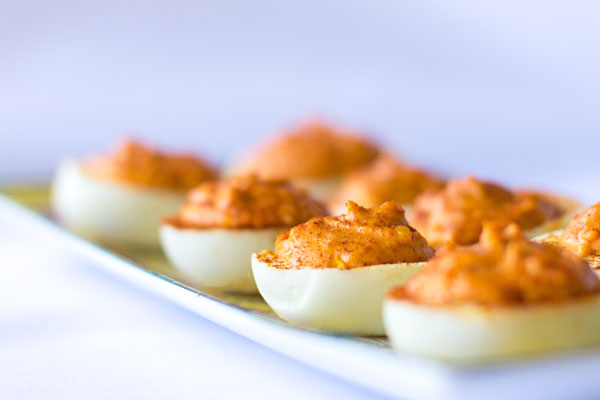 These gochujang deviled eggs were greatly influenced by my European chile sister. Last year my chile sister – Sissi from With a Glass – introduced me to aji panca chile.  This year she has introduced me to gochujang, a Korean Chili Paste.  I'd heard of gochujang many times and have seen it used in several recipes, but never sought it out. Upon receiving a generous sized tub of gochujang along with some Korean chili powder, what choice did I have but to start using it.  It is chile afterall. 🙂
Have you ever tried gochujang?  It's awesome!!!!  It is SO very different from New Mexico red chile flavors as well as other chile flavors from Turkey, South America, and Thailand.  This paste is hot and sweet, and for me, quite unique.  For some reason I had assumed that it would be similar to Sriracha, but it's not even close. Totally different and just as delicious.
After taking the first bite of these gochujang deviled eggs, it was obvious that gochujang was originally created for the egg. IMO 🙂  The two flavors are incredibility complementary.  The gochujang gives them a sweetness, smokiness, and spiciness that one normally doesn't find in deviled eggs.
These eggs are very simple to make and require just a few ingredients, all of which you probably have in the refrigerator.
WARNING – They are dangerously addicting!
Gochujang Deviled Eggs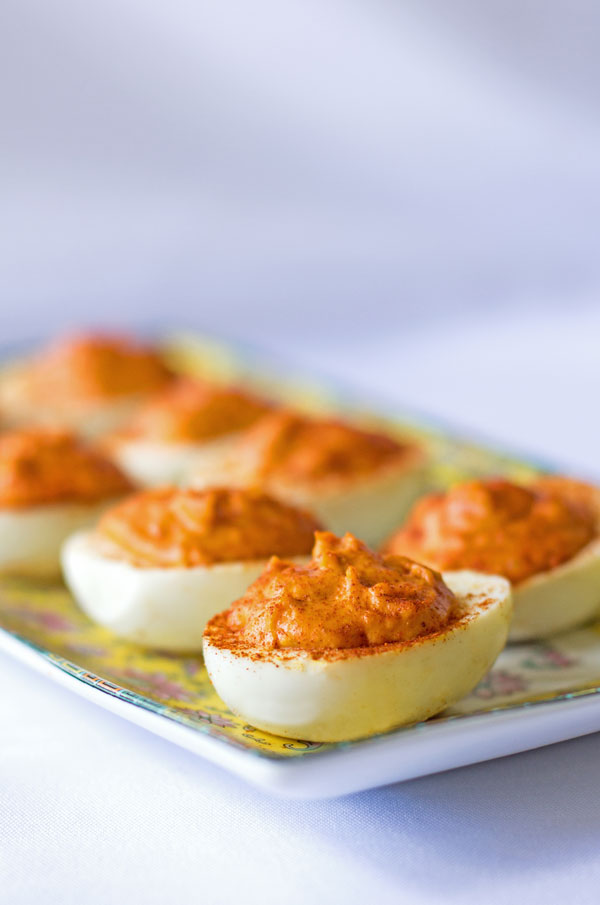 Gochujang Deviled Eggs Recipe
Spicy deviled eggs with the unique flavor of the Korean paste - Gochujang.

"*" See Kitchen Notes for more information or links to special ingredients.
Ingredients
6

eggs*

2

heaping tsp.

Gochujang

(Korean Chili Paste)

2

tsp.

stoneground mustard

(e.g., Dijon)

1

Tbsp.

mayonnaise

2

Tbsp.

olive brine from green olives

Chile powder for dusting
Instructions
Boiling and peeling the eggs
You'll need a pot large enough to hold 6 eggs in one layer with some room in between the eggs.

Bring a pot of water to boil. There should be enough water to submerge six eggs.

Once the water boils, use a slotted spoon and carefully lower the eggs into the water. Cover and set the timer for 10 minutes if the eggs are at room temperature, 12 minutes if they are cold.

When the water comes back to a boil, lower the heat for a low boil and let the eggs cook the remaining amount of time.

Place about 2 cups of ice in a large bowl. Add about 2 cups of cold water. When the eggs are done, carefully transfer the eggs to the bowl of ice. If the eggs are not submerged, add more water. Let sit for 5 minutes.

Carefully tap the fat end of an egg on the counter until cracked. Gently roll the egg on its side on the counter. Starting at the fat end, remove the shell and inner membrane. Repeat for all eggs.

Making the filling and stuffing the eggs
While the eggs are boiling, whisk together the gochujang, mustard, 1 Tbsp. mayonnaise and 2 Tbsp. olive brine.

Slice each cooked egg in half lengthwise. Carefully, scoop out the yolks and transfer to the bowl with the chili/mustard mixture. Using a fork, smash in the yolk into the mixture and mix until smooth. You can use a mixer is you want.

If the mixture is too thick, add a little more olive brine (1 tsp.). If you like an even softer consistency, add a little more mayonnaise.

Fill the egg holes with the yolk mixture*. Lightly sprinkle with chile powder. (I used a Korean chili powder)
Kitchen Notes
Fresh eggs or old eggs? - The method I use to boil and peel eggs works for ALL eggs, even fresh ones. The trick is the ice water bath.  The shock of the ice water causes the egg to shrink, pulling away from the membrane.  Makes for an easy peel every time.
Filling the eggs - If you have a piping bag with fittings you can use that to make some really beautiful looking eggs.  Since I don't have one, I just used a spoon.  They aren't as pretty, but looks certainly don't affect the taste.
If you are looking for more egg recipes, here are a few you might like:
Asparagus, Chorizo, and Soft-Boiled Egg
Migas (Scrambled eggs, green chile and tortillas)
Egg Quesadilla (substitute the Jerk seasoning with gochujang)
Green Chile Cheese Breakfast Bake