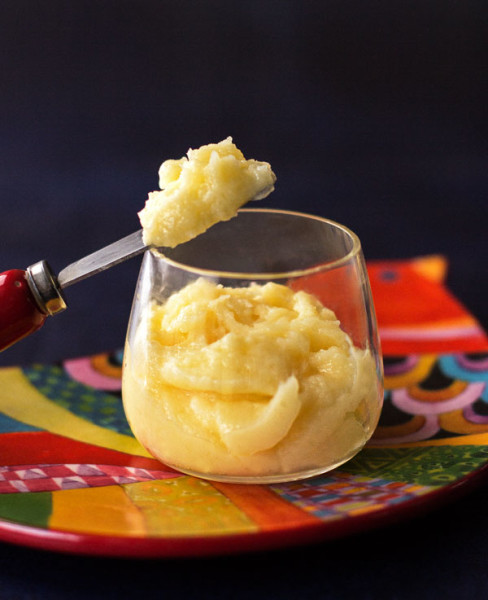 Honey… who doesn't love honey? I've always been fascinated by the production of honey and how hard all those little honey bees work. Did you know that the average worker honey bee only produces 1/12th of a teaspoon of honey in a lifetime, and that it takes two million flowers for honey bees to make one pound of honey?!   I guess I should feel guilty about eating so much honey, but since it's the by-product of an activity of nature that has been occurring for 10 – 20 million years, somebody has to keep all that honey from going to waste.
The flavor of a particular honey is determined by the flora on which the bees feed. The flavor can be described as floral, fruity, citrus, chocolate, malt, grassy, woody, nutty, tangy, buttery, and caramel – just to name a few.  There is actually a Eucalyptus honey which is described as tasting like bubble gum, one I'd love to try!  There are so many flavors of honey that UC Davis developed a Honey Flavor Wheel.  One way to enjoy the flavor of honey is in a Honey Butter.  I have two honey butters that I'm sharing with you today – both of which taste completely different because of the two completely different tasting honeys.
A couple of months ago I received two Happy Valley honeys from New Zealand.  One was a Clover Field Honey and the other a Rewarewa Native Honey.  These honeys are distinctively different, each with its own unique richness and flavor that far surpasses any honey I've ever tried.  I don't know if I'll ever be able to get enough of the Rewarewa honey. It was these honeys that inspired this Honey Butter.  I've been using these butters on toast, hot yeast bread, cornbread, and warm flour tortillas.  The other night I replaced the ghee in these sweet potatoes with the clover field honey butter. When I get my weekly craving for cinnamon toast, I'll spread some honey butter on hot toast and sprinkle with cinnamon.  I've yet to discover all the many ways to use honey butter, but I'm sure many of you will be able to help me with more ideas.
You can learn more about these Happy Valley New Zealand honeys right after the recipe.
Interesting reads:  10 Fascinating Facts About Honey Bees and Honey Trivia.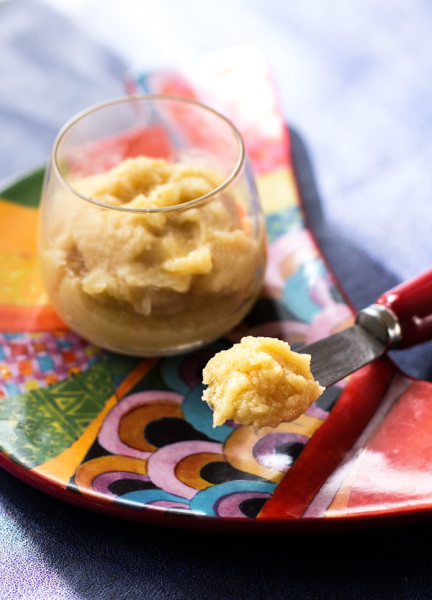 [print_this]
Honey Butter Recipe
Recipe author:  MJ of MJ's Kitchen
Yield depends on how much butter you use
Time to make: 5 minutes and then some
Ingredients
You can make as much or as little as you'd like.  The recipe is basically 2:1 butter to honey. For 1/4 cup yield, use the amounts below.
4 Tbsp. unsalted butter
2 Tbsp. honey
¼ heaping tsp. cinnamon (optional)*
Instructions
Soften the butter in the microwave.  Take it to almost melted (about 10 seconds). If it melts, that's o.k.
Add the honey.
Using a fork, whisk together the butter and the honey until the honey melts and it starts forming an emulsion.  If it doesn't form an emulsion, place in the refrigerator for 5 minutes, then whisk until smooth. You may need to refrigerator a couple of times to get a buttery texture.
If you don't plan to use the butter for a couple of days, then refrigerate.  It will harden once refrigerated.  To use it as a "spread", remove from the refrigerator about an hour before you need it.
*Add the cinnamon to create a quick and easy spread for cinnamon toast.
Happy Valley Honeys from New Zealand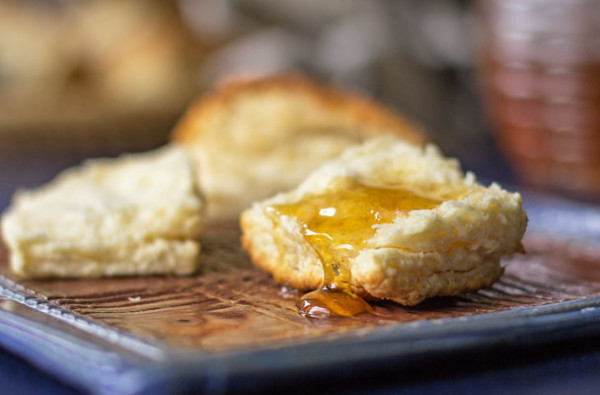 Happy Valley is a distributor of New Zealand honeys.  During the fall they collect, process and package honeys from all around New Zealand.  Happy Valley has several retail stores in a variety of locations throughout New Zealand, Australia, Asia, and other locations around the world.  One can also buy online at places like Amazon.
The two honeys that I received were the Clover Field honey and the Rewarewa honey.  Below is a brief description of both.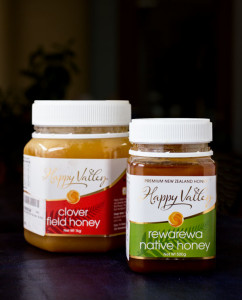 Clover Field Honey – This is a light colored honey with a buttery texture and a floral, citrus flavor with a hint of vanilla. Compare to the Rewarewa honey, it is milder and sweeter in flavor, but compared to New Mexico honey, it is a little more robust.  I love it with ginger and orange flavors, and it works especially well in ginger tea and my afternoon coconut chai.  It also is a nice component in a Kansas City style BBQ sauce. (The first picture shows the honey butter that was made with this Clover Field honey.)
Rewarewa Native Honey – This is probably one of the most unique and robust honeys I've ever tried.  Its color is dark amber and its flavor is that of a rich, dark caramel or that of toffee. It's not as sweet as the clover honey, but makes a flavorful sweetener for baked goods and other sweet dishes.  We love it drizzled on biscuits, poured inside a warm sopapilla, and dissolved in a little bourbon for a hot toddy.  I do have to say that it is too much for my morning teas as its flavor overpowers the flavor of the teas.  Other than that, I love this honey!!!  I'm looking forward to discovering more uses for both of these honeys.  (The second picture shows the butter made with this honey.  You can see how much darker it is.)
Disclaimer – I received no monetary compensation for this post, just two jars of honey.  The recipe and the opinions expressed here are my own.