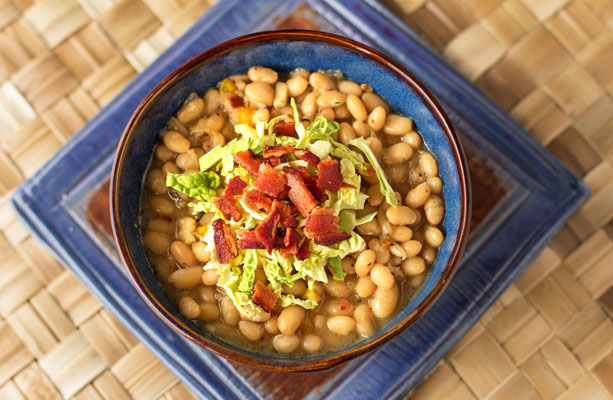 When it comes to white beans, navy beans are our favorite.  In comparison to the Great Northern and Cannellini, navy beans cook faster, have a creamier texture (IMO), and work with a lot of different flavors. Navy beans are normally used in baked beans, but for this recipe, I went for a more savory navy bean with hint of heat.
Dried navy beans cook up very nicely in 30 – 45 minutes.  Normally, I pressure cook dried beans, but navy beans do explode very easily; therefore, I prefer to cook them, covered on the stove top.  This is a one pot meal that calls for standard aromatics, herbs and a small amount of hot chile powder. A few toppings are added to provided crunch, a little more heat if you choose, and some smokiness (bacon, bacon, bacon). The depth of flavors going on here is as deep as the bowls I use to serve.
If you are vegetarian or vegan, this recipe can easily be altered to accommodate your diet. You can eliminate or substitute the meat products for a delightful vegetarian or vegan option. Be sure to check out the Kitchen Notes to see what changes you need to make.
Savory Navy Beans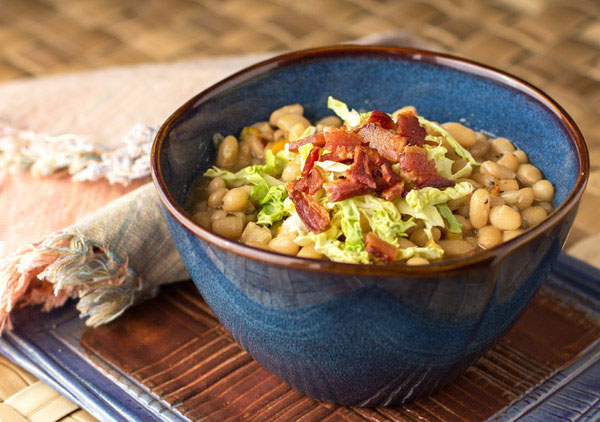 Savory Navy Beans Recipe
A tasty bowl of beans that can be served as a main dish for 4 or side for 6.

After a 4 hour brine, these beans require a short prep and cook on the stovetop.

"*" See Kitchen Notes for more information or links to special ingredients.
Course:
Dry Beans, Main Course, Side Dish
Cuisine:
American, Southwestern
Ingredients
Brine
2

cups

dried navy beans

1

Tbsp.

salt

Water
Bean Ingredients
4

pieces

of bacon*

2

Tbsp.

bacon drippings*

1

medium onion,

diced

2

stalks celery,

diced

½

large bell pepper

any color, diced

6

garlic cloves,

minced

6

cups

chicken stock*

1

tsp.

dried thyme

¼

tsp.

dried marjoram

1

tsp.

ground black pepper

½ - 1

tsp.

hot red chile powder*

(chile with an "e")
Toppings (Choose 2 or 3)*
Crumbled bacon

Thinly sliced savoy cabbage

Fresh cilantro or parsley

Thinly sliced or minced jalapeno

Red chile sauce

Sriracha
Instructions
In a large bowl, dissolve 1 Tbsp. salt in about 6 cups water. Add the beans and let brine for 4 hours. After 4 hours, drain and rinse.

During the last 30 minutes of the brine, cook the bacon and chop the vegetables.

In a large soup pot, cook the bacon until crispy. Transfer to paper towel to drain. Hide in the cupboard so that it won't get eaten before the beans are done.

Pour out all but 2 Tbsp. of the bacon drippings.

Over medium heat, saute' the onion, celery, and bell pepper in the bacon drippings for 3 minutes. Add the garlic and cook 1 minute.

Add the stock, drained and rinsed beans, herbs, pepper and chile powder.

Bring to a boil, reduce to a simmer and cover for 30 minutes, stirring twice.

After 30 minutes, check for doneness. If not done, cook covered, another 10 minutes and test again. Continue cooking until done. It usually takes about 40 - 45 minutes.

Once the beans are done, scoop into serving bowls, top with shredded cabbage and crumbled bacon, fresh herbs and a little hot sauce, whichever toppings you desire.*
Kitchen Notes
Bacon drippings – If you don't want to use bacon drippings, then substitute with mild flavored cooking oil like olive oil, avocado, or canola.
Hot chile powder – The hot chile powder that is added during the cooking of the beans provides a spicy after bite.  It's interesting how just a small amount of powder allows you to taste the herbs and other ingredients before it creeps up on you as a finisher.  So if you want to experience this cascading of flavors, don't go overboard on the chile powder.  If you're using "hot", keep it to 1/4 teaspoon.  If you are using "extra hot" (like habanero or ghost or viper), then reduce to 1/8 teaspoon.  I normally use urfa biber or cayenne.
Toppings – Our favorite toppings are the cabbage, bacon and minced jalapeno. If I don't have jalapeno, we'll add a dollop of red chile sauce.  I thought a little Sriracha worked, but Bobby thought it overpowered the flavor of the beans.  If you don't want spicy at all, these beans are just as delicious without it.  Bacon and cabbage is really all you need.
Vegetarian/Vegan Version – Eliminate the bacon and bacon drippings.  Use a cooking oil instead of the drippings.  Replace the chicken stock with vegetable broth and it's totally vegan.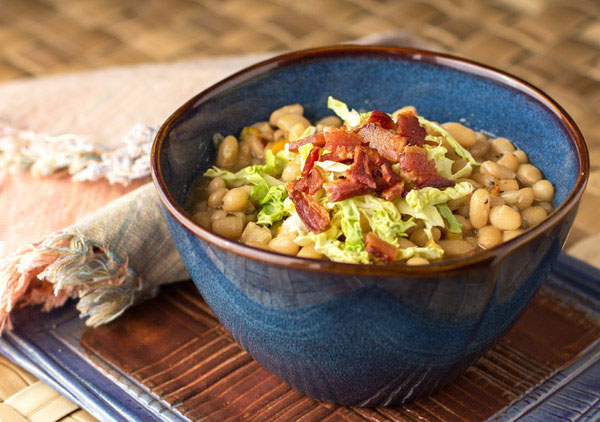 For those of you who have been following my blog for a while, know how much we love beans and this has been a fantastic recipe to add to our bean collection.  Just like chile, different beans have a totally different flavor.  That are a GREAT source of protein and perfect for those meatless meals that we all need to have on a weekly basis.  Therefore, once you try these savory navy beans, be sure to check out my other bean recipes.