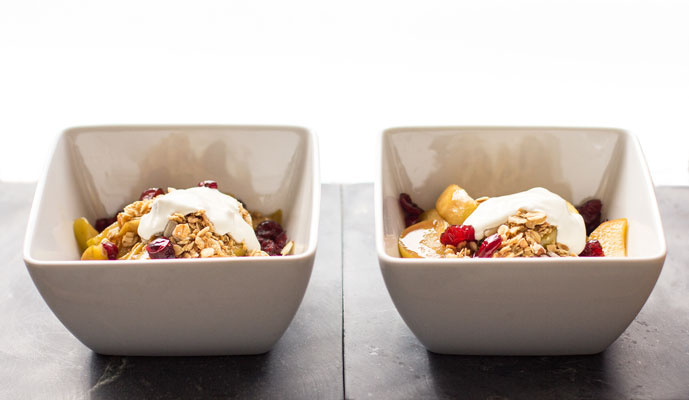 When it's cold outside, I need to be warm on the inside.  That's why, during the winter months, cold cereal stays in the pantry and hot dishes like eggs, grits and steel cut oats become our main stay breakfasts.  This winter this Spiced Apple Breakfast has been added to our repertoire – stewed, spiced apples with granola and crème fraîche.  It is so easy to make and takes no time at all.  The hot spiced apples, with the crunchy granola and creamy crème fraîche yield an enjoyable breakfast that is so warm and satisfying.  And if you really want to spice things up, add some of those bourbon infused cranberries from that old-fashioned you made last night. 🙂
Quick and Easy Spiced Apple Breakfast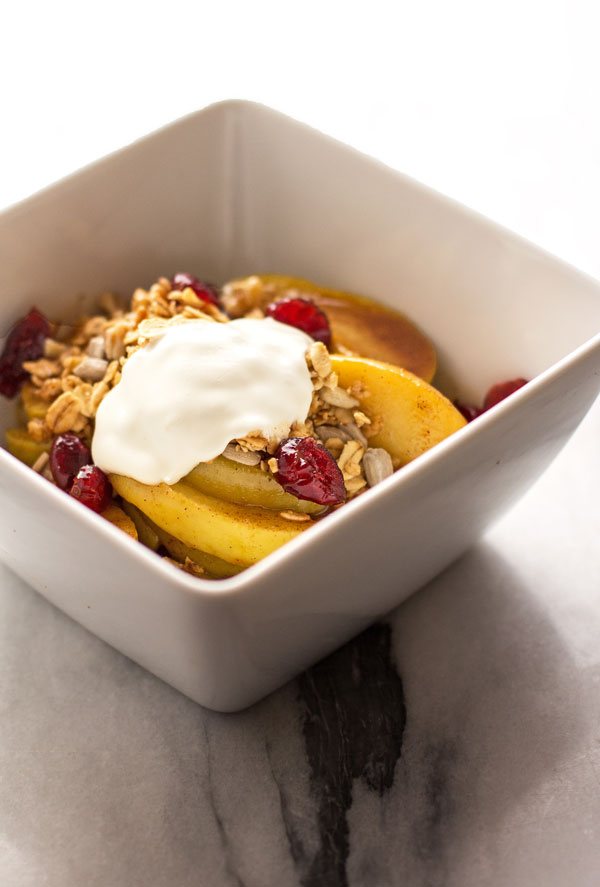 Quick & Easy Stewed Spiced Apple Breakfast Recipe
A lovely breakfast for when you are looking for something warm, crunchy and a little sweet. Also, very versatile in that you can substitute apples with just about any fruit.

"*" See Kitchen Notes for more information or links to special ingredients.
Ingredients
1

Tbsp.

unsalted butter

2

crispy apples*,

sliced (or 1 apple/1 large banana)

1

Tbsp.

dried cranberries

(optional)

1

Tbsp.

honey or maple syrup

heaping ½ tsp. cinnamon*

heaping ¼ tsp. ground ginger*

heaping 1/8 tsp. nutmeg*

¼

cup

of your favorite granola

2

Tbsp.

crème fraîche*

2

Tbsp.

toasted nuts*

(optional)
Instructions
Melt the butter in a medium sized skillet over medium low heat. When the foam starts to subside, add the spices and stir.

Add the apples, cranberries*, and honey. Stir to coat. Cover and let cook for 2 minutes. Stir, cover and cook another 2 minutes.

Remove the lid and let the juice thicken a bit, about 30 - 60 seconds.

Divide the apples and juice between two bowls.

Top each bowl with half of the granola and a tablespoon of crème fraiche and nuts if using.

Kitchen Notes
Fruit - We love apples but when we don't have apples, we'll substitute whatever fruit we have such as blueberries or a mix of berries, frozen cherries and pomegrante, or banana and raisin.
Spices – Adjust the spices to your tastes as we do or change them up depending on the fruit used. 
Crème fraîche – Honestly, there is no substitution for crème fraîche.  However,  your favorite yogurt would work great as well.  Just avoid using a fruity, sweet yogurt because the fruit is sweet enough to provide the sweetness you'll need.
Cranberries – If you do use the bourbon infused cranberries (which I highly recommend), add them once the apples are cooked and you remove the cover to thicken the juice.  They are already re-hydrated, so they don't need to re-hydrate with the stewing process.
Nuts - Since I first started making this, I have added toasted nuts to the dish.  Topping with toasted pecans or walnuts adds more crunch and even more flavor.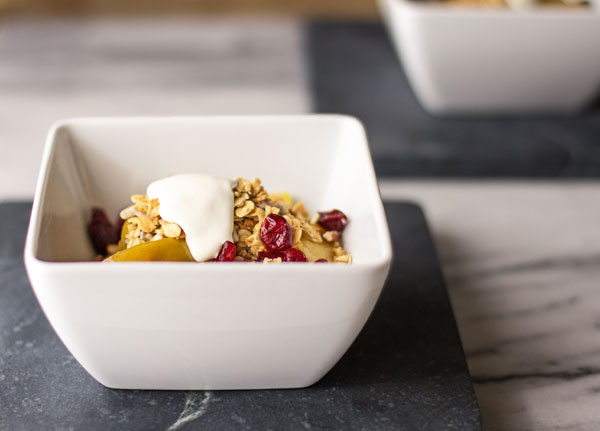 If you like this Spiced Apple Breakfast and want something similar, but cold, then you might want to check out this Persimmon Cranberry Parfait.  It's just as easy to make, easier actually, and quite delicious.