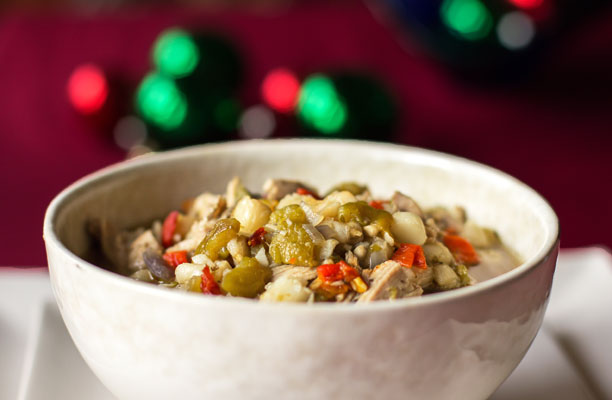 Posole is a traditional New Mexico dish during the holidays and one of our traditional dishes for Christmas Eve.  Our Christmas Eve version is usually made with pork and red chile.  But when we woke up to snow and cold last weekend, I had an early craving for posole and threw together this Green Chile Chicken Posole.  It's a very easy dish to make and nothing better for taking the chill off and clearing up that stuffy nose.  One might say it's New Mexico's version of chicken noodle soup.
If you aren't familiar with posole', you can learn more about it by reading "What is posole?"  My green chile chicken posole is made with frozen fresh posole (nixtamalized corn) which takes about an hour to cook.  Chicken thighs are cooked with the posole during the first 30 minutes, providing a chicken stock.  The meat is removed from the thigh bones and added back into the posole along with the green chile and seasoning.  The prep and cook time is less than 1.5 hours.  If you want to bring the prep and cook time down to about 30 minutes, you can use canned hominy (rather than posole), and leftover chicken.  See the Kitchen Notes for more information.
No matter whether you use posole or hominy, this is a delicious stew.  It has the unique flavor and spiciness of New Mexico's green chile, complementing the texture and flavor of one of my favorite corn products – posole.  To make it more of a Christmas posole (red and green), I tossed in a little roasted red chile.
Green Chile Chicken Posole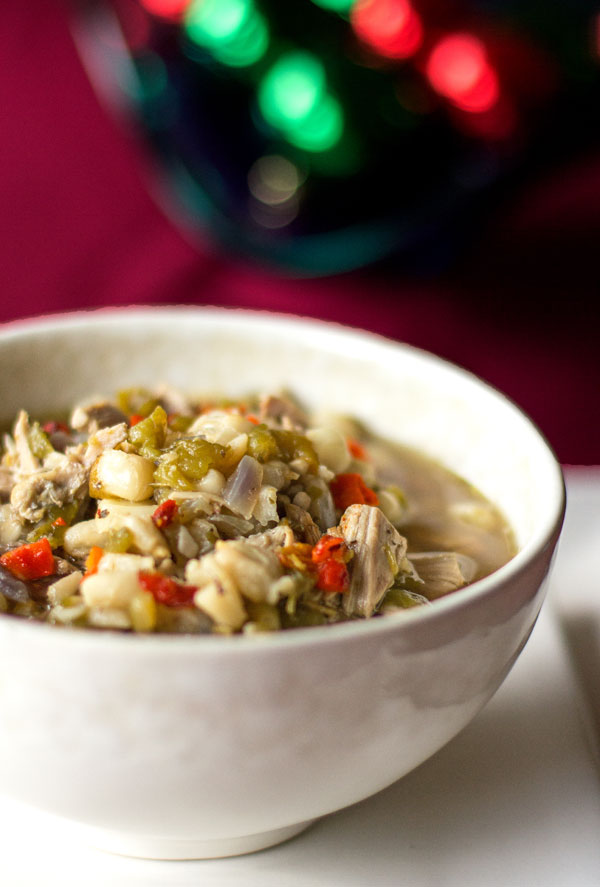 Green Chile Chicken Posole Recipe
Even though posole is a traditional holiday dish in New Mexico, it's wonderful at taking the chill off in cold weather. In this house, any type of posole is comfort food.
"*" See Kitchen Notes for more information or links to special ingredients and substitutions - like if you want to replace posole with canned hominy. You can shorten the cook time by doing so.

Ingredients
If you plan to use canned hominy in place of posole', please read the Kitchen Notes first.
2

cups

(1 pound) fresh or frozen posole*

6

cups

water + more if needed

4

chicken thighs,

skin and visible fat removed

½

tsp.

black pepper

½

tsp.

salt

½

tsp.

green chile spice blend

(optional)

½

medium onion,

chopped

6

garlic cloves,

minced

1

tsp.

dried oregano

½

tsp.

cumin/coriander spice mix*

½

cup

roasted medium to hot green chile*

½

cup

roasted mild to medium chile*

juice from half a lime
Instructions
Add the water, posole, chicken thighs, salt, pepper and green chile spice blend to a Dutch oven or soup pot.

Bring to a boil. Reduce to a simmer and simmer for 30 minutes.

Remove the chicken thighs and let cool. Once cool, remove meat from the bone, tear and cut chicken into small pieces. You should get 1 ½ - 2 cups of chicken. Any more than 2 cups can be put aside for another use.

To the posole, add the onion, garlic, oregano, and cumin/coriander. Simmer for 15 minutes. If it starts to get too thick, add more water. I usually end up adding 1 - 1 ½ cups additional water.

Add the chicken, chile and lime juice. Simmer for another 15 minutes or until posole is tender.

Taste for seasoning and adjust if needed.

Serve immediately or let cool and refrigerate until ready to eat. Reheat and serve.
Kitchen Notes
Posole – You can use fresh, frozen or dried posole.  The fresh (unfrozen) and frozen take about the same amount of time to cook.  Dried posole should be soaked overnight, then drained.  However, even after soaking it still takes a couple of hours to cook.
Decreasing prep & cook times: If you use canned hominy and cooked chicken, use chicken stock instead of water.  Place all of the ingredients in a soup pot and simmer for 30 minutes. To add a little bit more flavor, you could first saute' your onion and garlic in about 1 tablespoon bacon drippings or oil for 5 minutes, then add the rest of the ingredients.  This method decreases the total time considerably; however, I would recommend making it a day in advance to give the ingredients times to meld, improving the flavor of the dish.
The chile – Mild, medium or hot is totally up to you and dependent on the spiciness of the chile.  The late harvest medium green that I bought this year was quite hot and so was the red that I used; therefore, I balanced it out with some mild.  Know your chile and season accordingly. 🙂
And for those who can't handle spicy…Use all mild chiles.  If you don't have New Mexico green, you can substitute with poblano chile.  To make a beautiful Christmas bowl, mix in some roasted red bell peppers.  Granted, the flavor will be different with different peppers, but you would still have one delicious bowl of posole.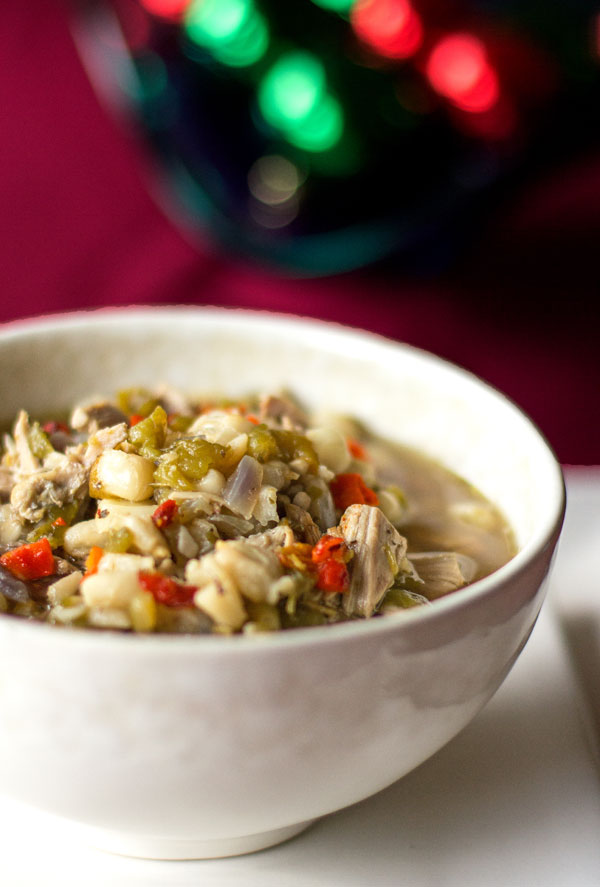 If you enjoy posole and have enjoyed this Green Chile Chicken Posole you might want to check out these non-traditional posole dishes.
Posole with Italian Sausage and Kale
New Mexico Pork and Green Chile Posole
Save