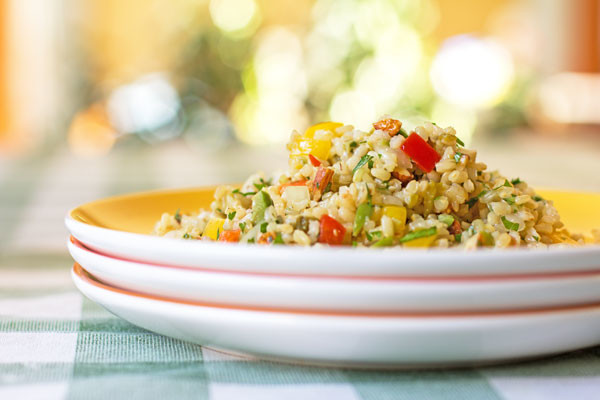 This weekend we had a wonderful meatless meals that was totally unexpected. I had made this Brown Rice Salad with a Lime Vinaigrette and was planning on serving it with chicken.  Then Bobby walked in with a bunch of green tomatoes from our garden so I couldn't I resist making a batch of fried green tomatoes. To heck with the chicken. What a great meal that this salad with the fried green tomatoes made!
This brown rice salad is crunchy, nutty, tangy, sweet and spicy.  It includes a mix of colorful peppers – sweet red and yellow bells and spicy roasted green chile.  Toasted almonds add some real crunch, and fresh parsley and mint give it a nice herbiness.  The lime dressing adds acid and a bit of tang. Because it can be served at room temperature or chilled, this salad is great for potlucks, parties, or picnics.  It also keeps well, so leftovers are a treat.
For the brown rice, I used organic short grain. It's nutty, tasty, and quite nutritious.  Brown rice in general is higher in B vitamins, selenium, phosphorus, manganese, magnesium, iron and fiber than white rice and taste so much better.  The only problem with it is that it takes 45 minutes to cook…until now.  I've now got it down to 30 minutes, thanks to help from Cook's Illustrated. (See "How to Cook Brown Rice in 30 minutes" below.)

[print_this]
Brown Rice Salad with Lime Vinaigrette Recipe

Recipe Author:  MJ of MJ's Kitchen
Yields: 4 – 5 cups
Prep and Cook time: less than 45 minutes
Ingredients
~3 cups cooked short grain brown rice
¼ cup roasted green chile, diced
¼ of a large yellow or orange sweet pepper, diced
¼ of a large red sweet pepper, diced
~¼ cup sweet onion, diced
10 large green olives, diced
¼ cup chopped almonds, lightly toasted
1 Tbsp. minced fresh parsley
1 Tbsp. minced fresh mint
Salad Dressing Ingredients

Juice from ½ lime
3 tsp. olive brine
3 Tbsp. canola oil
1 tsp. honey or maple syrup
2 dashes salt
Instructions
While the brown rice is cooking, chopped the vegetables and herbs, toast the almonds, and transfer to a large salad bowl.
In a small bowl, whisk together the ingredients for the dressing.  Set aside.
Once the rice is cooked and drained, add to the vegetables and herbs. Toss to combine.
Pour the dressing over the salad and toss.  Taste, adjust seasoning to taste.
Serve slightly warm, at room temperature or chilled.
[/print_this]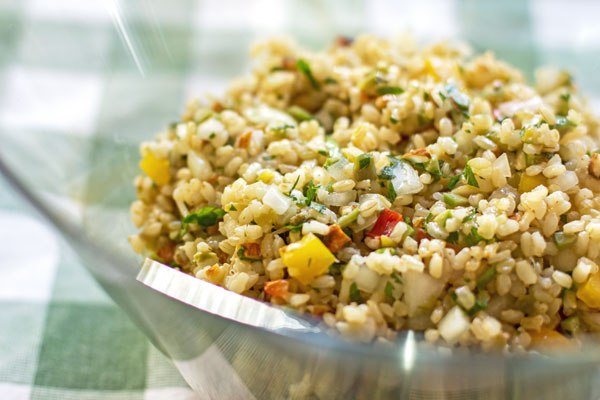 Kitchen Notes
The Peppers – You can use just about any peppers you want.  Just choose a combination of sweet peppers and a spicy one.  Also use a mix of raw and roasted to provide different textures.
Onion – If you don't use sweet onion, you might want to cut back on the onion as it can be overpowering.  And if you don't like onion, then just leave it out.
Almonds – The almonds could be substituted with toasted pecans or pine nuts (pinon).
Parsley and Mint – We love this combination with this salad. However, cilantro could also be used as well as a touch of tarragon.  You can let the entree' help you decide which herb(s) to use, but the parsley/mint combo goes with just about anything.
Serve this Brown Rice Salad with Lime Vinaigrette as a side to just about any meat entree' – steaks, burgers, pork chops, or chicken.  It also works with another vegetarian dish like those fried green tomatoes, a caprese or a swiss chard quiche.
How to Cook Brown Rice in 30 minutes

Inside one of the 2016 Cook's Illustrateds, America's Test Kitchen (ATK) tested cooking brown rice like one cooks pasta – in boiling water. I saw this as a revolutionary new way to cook brown rice so I had to give it a try.  It worked! The rice cooked in 35 minutes instead of 45! The result was a beautiful batch of rice, with individual grains, no stickiness or gumminess. Brown rice cooked just the way we like it.
I did play around with the ATK method and was able to get the same results using considerably less water which cut another 5 minutes off the time.  I found it best to cook without a lid, keeping the water boiling like you would pasta.  So if you love brown rice, but don't cook it much because it takes too long, you really need to give this method a try.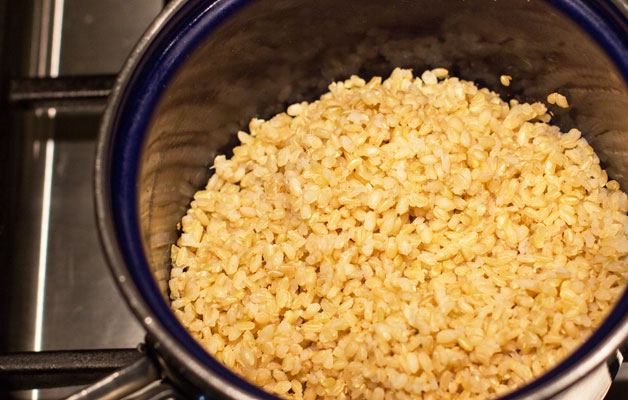 [print_this]
How to Cook Brown Rice in 30 minutes
Yields 3 cups cooked rice
Prep and cook time:  less than 45 minutes
Ingredients
4 cups water
1 heaping tsp. broth base (low salt) (I use Better Than Boullion)
1 cup uncooked short grain brown rice, rinsed
Instructions
Bring the water to a boil in a 4 quart sauce pan. Add the broth base and stir to dissolve.
Add the rice, stir, and bring back to a low boil. Set the timer for 30 minutes.
Keep an eye on the water to make sure it doesn't boil over, but keep it boiling.
Cook for 30 minutes, test for doneness. If done, drain* and enjoy.
If not done to your taste, cook for 5 more minutes at the most. Drain.
*You can use some of the water for other purposes.  For example, if I use brown rice for Braised Orange Ginger Chicken, I'll use some of the rice water in place of tap water.
[/print_this]
Cooking brown rice like you cook pasta keeps the grains moving while cooking.  This yields a batch of rice with separate, individual grains that is perfect for salads and fried rice dishes.  It's also good for rice bowls or stir fries as long as you plan to eat with a fork instead of chopsticks.