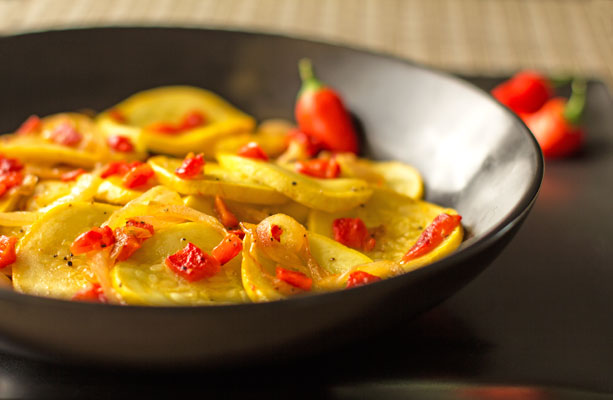 Even though fall is my favorite season, I still resist the end of summer, primarily because of the abundance of produce.  Yellow squash is one of those vegetables that I hate to see disappear; therefore, I continue to buy it as long as it's on the shelves.  There are so many ways to prepare it and most are relatively easy.  This Yellow Squash with Red Peppers is one of the easiest.  This dish is just yellow squash sauteed in garlic oil with some onion and red peppers.  You can use roasted reds (my favorite) or fresh reds.  You can use sweet peppers or medium/hot chile, depending on what you want or have.  Our favorite is a hot roasted red New Mexico chile.  It gives this dish a pleasant mix of sweet and spicy.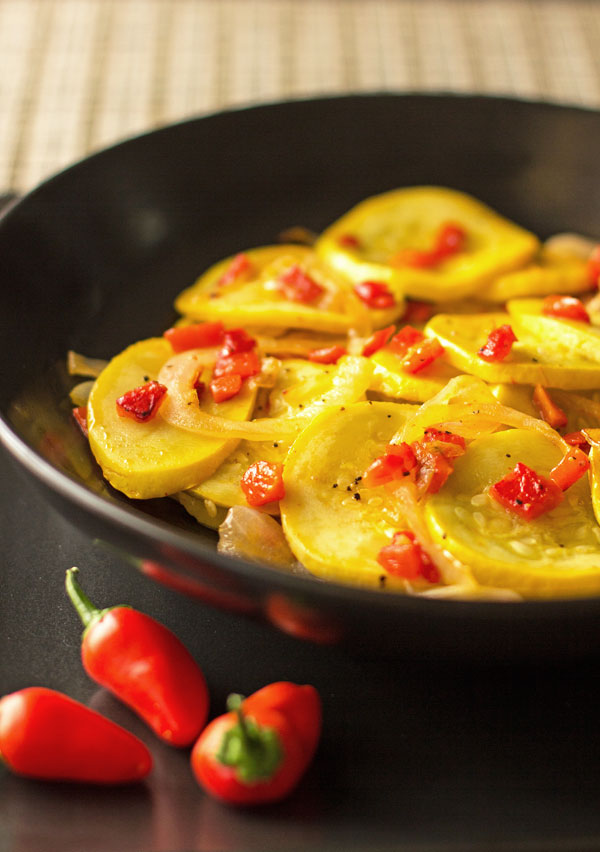 [print_this]
Yellow Squash with Red Peppers Recipe
Recipe author:  MJ of MJ's Kitchen
Serves 2 as a side
Prep and Cook Time:  Less than 45 minutes (includes roasting the peppers)
Ingredients
The amounts below are not exact and all can be easily adjusted to whether you are serving 2, 4, or more.
1 medium yellow squash (about 8 ounces), sliced
~2 ounces onion, sliced thin
1 Tbsp. garlic-infused olive oil*
1 large roasted red pepper, diced*
a sprinkle of salt
generous amount of cracked pepper
Instructions
If you don't already have a roasted pepper, then you can roasted one under the broiler, on the grill, or over an open flame on the stovetop.  Once roasted, let cool, peel, remove stem and seeds, and dice.
Heat the oil in a large skillet over medium heat.  Once hot, add the onion.  Saute' for 1 minute.
Add the squash by spreading it out on top of the onion.  Cook for 1 minute.  Using a spatula, flip the squash over and let cook for another minute.  Continue to flip and move the squash around until all of the pieces are done (soft but not mushy).
Add the diced peppers, a sprinkle of salt and a generous amount of cracked pepper.  Mix it into the squash and onion mixture.  Cook for about 30 seconds.
Remove from heat and serve immediately.
[/print_this]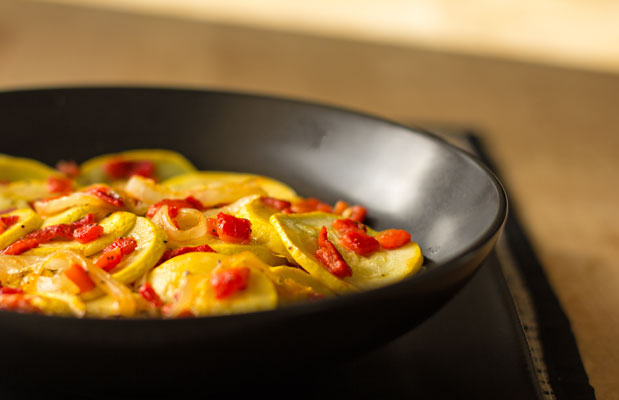 Kitchen Notes
Garlic-infused oil – If you don't have any garlic infused oil, then use 1 Tbsp. of olive and 1 large garlic clove, minced.  Add the garlic with the onion.
Type of Red Pepper – This dish can be made with sweet bell peppers, mini sweet peppers, or hot/medium/mild red chile peppers.  You could also use orange or yellow, but the red really makes this a beautiful dish.
Roasted or Not – Roasting peppers brings out the flavor and the sweetness of red pepper regardless of if it's a sweet pepper or hot chile.  Therefore, roasted peppers work best.  However, this year I grew mini sweet peppers and found that just slicing them up raw and throwing them in this dish at the last minute worked as well.  The main difference was the crispy texture that the raw peppers added to the dish.
Yellow squash with red peppers makes a great side dish for a wide variety of entrees.  It comes together very fast, and can be easily doubled, tripled or quadrupled to fit the number of people you're serving.  Hope you enjoy!
If you like this dish, then you should give these other squash dishes a try.
Yellow Squash sauteed with Basil and Pine nuts (pinon)
Calabacitas (Summer squash, Green Chile and Corn)