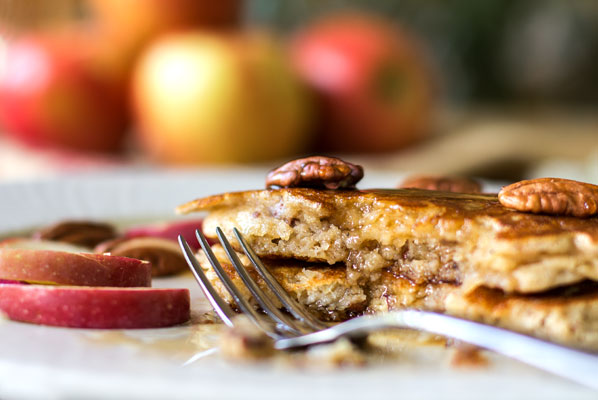 For the past year, whenever I made pancakes I would make my Cornmeal Ricotta Pancakes or these Raspberry Oatmeal Yogurt Pancakes by my friend over at Inspired Edibles.  Both have been our favorite pancakes for quite a while, but now they have some serious competition – Apple Buttermilk Pancakes.
With this year's plentiful and delicious fall apples, I've been making these Apple Buttermilk Pancakes with Pecans.  They are so moist, and can be sweet or a little tart depending on the type of apples used.  The pecans add a bit of a crunch, and if you toast them first, you get a little extra flavor that complements the apples quite well.  Top the pancakes with warm maple syrup for a delicious weekend brunch.
Apple Pecan Buttermilk Pancakes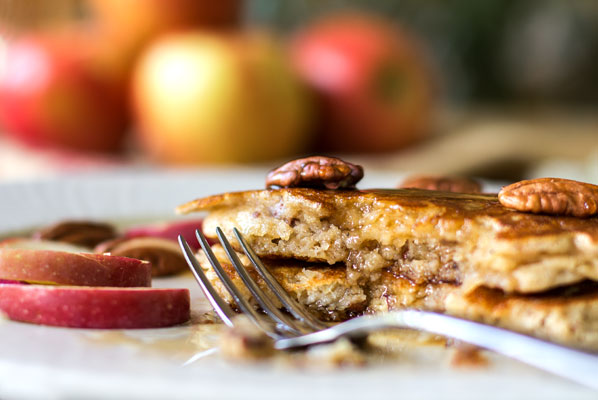 Apple Buttermilk Pancakes with Pecans Recipe
These pancakes are moist, fluffy, crunchy, sweet, and tart. Every bite bursts with the flavors of apple, pecan, buttermilk and a hint of cardamom.

"*" See Kitchen Notes for more information or links to special ingredients.
Cuisine:
American, Southern US
Ingredients
2/3

cup

unbleached flour*,

sifted

1/3

cup

Spelt flour*,

sifted

2

tsp.

baking powder

2

tsp.

sugar

¼

tsp.

salt

¼

tsp.

cardamom

¼

cup

coarsely chopped pecans,

toasted*

½

medium apple*,

diced (about 3/4 cup)

1

egg

~3/4 cup buttermilk* (egg + buttermilk = 1 cup)

1/4

cup

milk*

1/2

tsp.

vanilla extract

3

tsp.

coconut oil

Warm maple syrup
Instructions
Toast the pecans in a heavy skillet over a medium heat. Toss frequently to keep them from burning. Once nice and toasted, transfer to cutting board and chop.

In a mixing bowl combine the dry ingredients (flour, baking powder, soda, salt, cardamom, and sugar)

Start heating up the griddle on medium low. Spray with cooking oil.

In a 2 cup glass measuring cup, whisk the egg. Add the coconut oil, vanilla extract, and whisk to blend.

Add enough buttermilk to the egg and oil to make 1 cup. Add the milk and whisk to combine.

To the dry ingredients, add the chopped apples and pecans. Stir to combine.

Add the milk and egg mixture to the dry ingredients. Using a rubber spatula gently fold and stir until ingredients are combined. Batter may be a little lumpy. (Do NOT over stir or you will kill the baking powder and the pancakes won't rise.)

When the griddle is ready, scoop 1/3 cup batter onto the griddle for each pancake. Cook until the bubbles in the batter pop or until the cooked side of the pancakes are lightly brown, about 3 minutes. Turn. Cook for another 3 minutes or until the pancakes are cooked through. (You can lightly touch the pancakes in the center. They are done when they spring back at your touch. )

Top the pancakes with warm maple syrup and extra pecans if you desire.
Kitchen Notes
Flours – I like using a mix of flours, but if you don't have spelt flour, you could substitute with whole wheat, rice flour, or just use 1 cup of unbleached flour.
Pecans – Toasted pecans is always my preference, but I have made these without toasting the pecans and still had excellent results, just a little difference in flavor.  If you don't have pecans, then substitute with walnuts.  However, I would not toast the walnuts because toasted walnuts to be overpowering.
Apple – Use whatever apple you have available.  Crispy apples stay rather firm during the cooking process, while softer apples become even softer.  I really like a crispy, tart apple like a honey crisp or McIntosh.
Buttermilk and milk – You could use all buttermilk or substitute some of the buttermilk with regular milk.  If you use all milk, your batter will be a little thinner, but it will still work.
Speaking of the batter, this is a relatively thick batter, but then we like thick, fluffy pancakes with lots of texture.  If you prefer your pancakes thinner, then increase the liquid by 1/4 cup.
Stovetop griddles – If you haven't invested in a stovetop griddle yet, then it's time.  Even for just the two of us, it makes things like pancakes, French toast, patties, and tortillas so much easier.  I can't remember when I didn't have one and I don't know what I would do without it.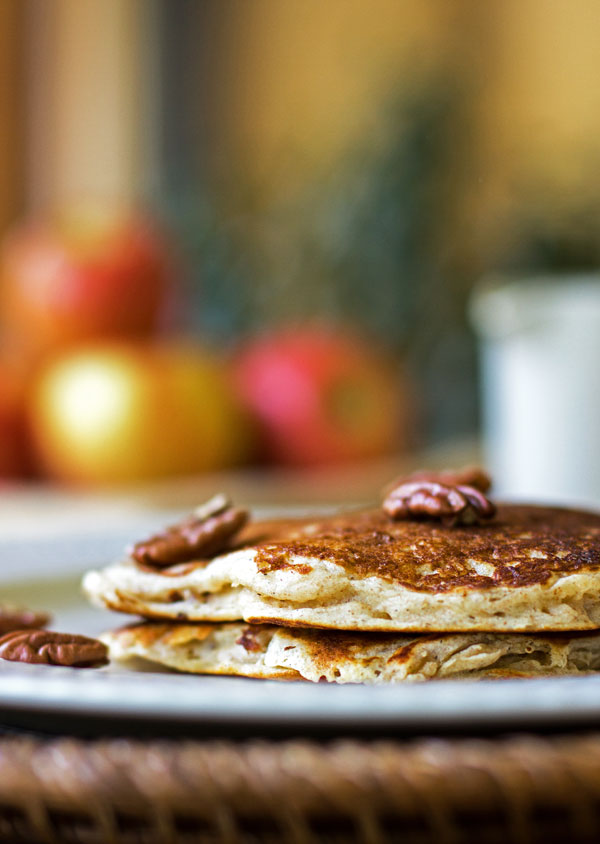 As we all know, breakfast is the most important meal of the day.  These apple buttermilk pancakes with pecans will also make it the most enjoyable meal of the day.  Happy eating!
Here are a few more breakfast ideas you might enjoy.
Banana Buttermilk Waffles with Strawberries and Maple syrup
Cranberry Bread – Tried and True