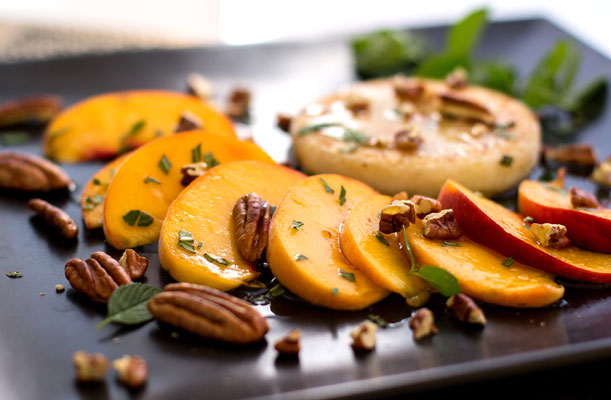 Do you find yourself stuck in a rut for breakfast at times, bored with another smoothie or bowl of cereal with fruit?  If so, then I think you'll find this breakfast – Fried Grits with Peaches and Pecans – quite refreshing. What's not to love about fresh peaches and grits?  This is a hearty, but light breakfast.  It's sweet and savory with lots of texture and flavor, and it's also quite versatile in that you can use just about any fruit you have on hand.  We just really like it with peaches and peaches and grits is a great combo.
It does take a little planning because you need to make the grits beforehand and let them set. I usually make up a big batch of grits one day, eat half for breakfast with some green chile or butter, and use the leftovers for fried grits the next day.
The following peaches and grits recipe includes how to make the Fried Grits and how to use them with peaches in this delightful breakfast.  Be sure to read the Kitchen Notes for suggested substitutions and additions.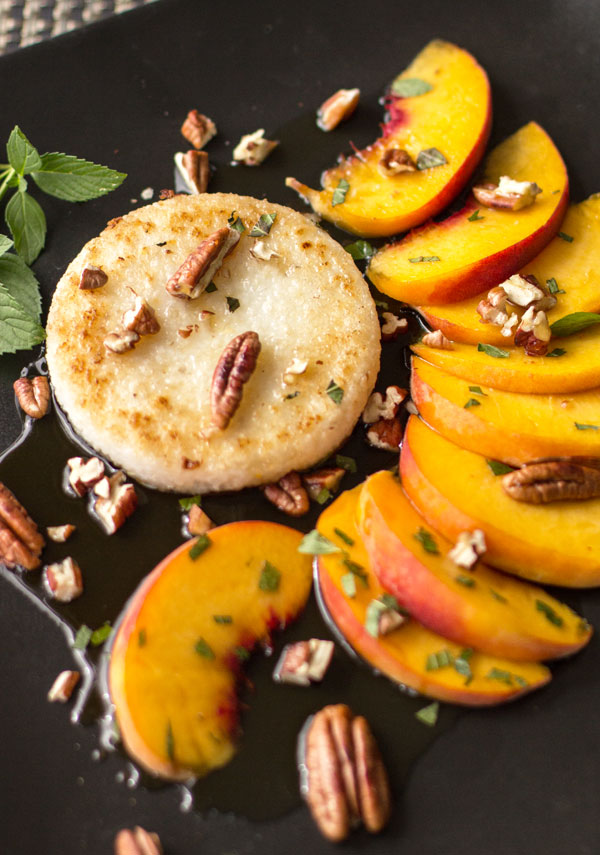 [print_this]
Peaches with Fried Grits and Pecans Recipe
Recipe author: MJ of MJ's Kitchen
Serves 2
Prep and Cook Time for the Grits: 15 minute cook time, rest for at least 2 hours or overnight.
Prep and Cook Time Peaches and Grits Breakfast: Less than 30 minutes
Ingredients
For the grits (This makes enough for 2 breakfasts for 2 people)

3 cups water
¾ cup Quick-cooking Hominy or White corn grits* (NOT instant)
¼ tsp. salt
Remaining Ingredients
1 large peach*, sliced
¼ cup pecans*, toasted and chopped
2 – 3 Tbsp. maple syrup, warm
4 – 6 large fresh mint leaves, chopped
Butter or butter substitute
Instructions
To Prepare the Grits – Instructions below (Fried Grits Recipe)

To Assemble the Dish (The rest can be done while the grits are frying.)
Toast the pecans in a heavy skillet over a medium heat. Toss frequently to keep them from burning. Once nice and toasted, transfer to cutting board and coarsely chop.
Divide the peach slices between the two plates.
Place one or two pieces of fried grits on each of two serving plates.
Sprinkle the peaches and grits with the mint and chopped pecans.
Warm the maple syrup in the microwave for about 30 seconds
Pour about 1 Tbsp. of syrup over each dish.
Serve and enjoy!
[/print_this]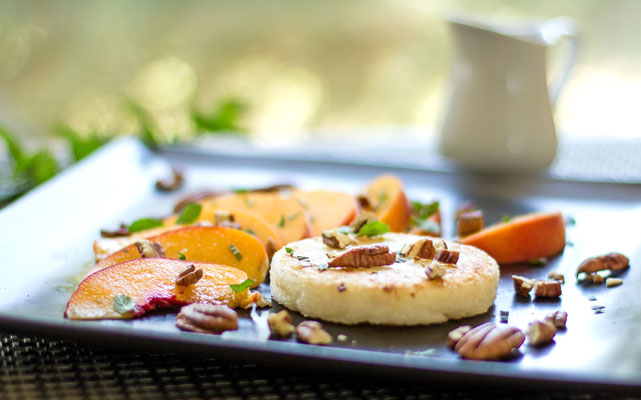 Kitchen Notes
Grits – I prefer hominy grits or white corn grits for breakfast dishes, but fried polenta (yellow grits) works just fine.  I don't add anything but salt to the grits because ingredients like cheese and butter tend to soften them, making it more difficult for them to hold together when you fry them.
The Fruit – Peaches are excellent with this dish, but I have been known to add a few strawberries, blueberries or blackberries.  In fact, just about any fruit or combination of fruit works.
Pecans – Pecans, walnut, almonds are all good nuts for this dish.
Replacing Fried Grits with Fried Cheese – I have also made this dish with fried cheese, like Halloumi or a dense feta or Queso Fresco.  Any cheese with a high melting point works.  This dish with fried cheese make a nice little dessert.
[print_this]
Fried Grits Recipe
Makes 8 – 10 pieces of fried grits
Since it's just the two of us, I usually make the batch of grits below and then we eat half of them, then save the reminder for fried grits. If you are serving 4 to 5 people, use this whole batch for fried grits.

Equipment:  Ramekins or a small loaf pan.  If you have room in the refrigerator, the ramekins work great.  If not, transfer grits into the loaf pan.  You can slice the grits into 1/2″ pieces once the grits have set. If you use the loaf pan, then leave the grits in the refrigerator overnight to ensure that they set.  The smaller amounts in the ramekins set within 2 hours.
Ingredients
3 cups water
¾ cup Quick-cooking Hominy or white corn grits (NOT instant)
¼ tsp. salt
Instructions
To Prepare the Grits
Bring the water with salt to a boil. Reduce the heat to low and whisk in the grits.
Cover and simmer about 5 minutes, stirring frequently, until grits are thick.
Lightly coat the inside of the ramekins with oil or butter.
Pour about ½" of grits into individual ramekins or fill the ramekins with about 1″ of grits. (The latter you will cut in half as shown below.)
Using a spatula, smooth the top of each for a flat surface.
Set in the refrigerator for 2 hours or overnight.
When ready to fry, remove the ramekins from the refrigerator. Drain off any water that may have accumulated on the surface or sides.
Run a knife around the inside edge of the container to loosen the grits.  Turn each ramekin of grits over onto a papertowel.
If you filled the ramekins, then carefully slice each piece in half crosswise (as shown below).
Top with another papertowel and press. Let set while you heat up the skillet.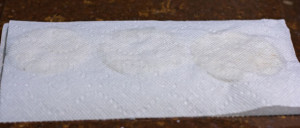 To Fry the Grits
Heat up a non-stick skillet over medium high heat. Once hot, place a pinch of butter in the skillet and spread it out to the size of a grits piece.
Place one of the grits pieces on top of the butter and let cook until it starts to brown, about 5 minutes. Flip and brown the other side.  If your skillet is big enough you can fry all of the grits patties at once.  NOTE:  This does tend to splatter, so have a screen ready to cover the skillet.
When both sides are nice and crispy brown, transfer to a serving plate.
[/print_this]
Fried grits can be used in so many ways.  Afterall, it's just fried polenta, right?  As seen in the Peaches with Fried Grits recipe above, it's great with sweet fruit and maple syrup.  It can also be a base for a tomato or tomato sauce, sauteed vegetables, a soup, gravy or a chile sauce.  They are a lower carbohydrate substitute for potatoes and other starches.
If you like fresh peaches and grits, then you might also enjoy these Apple Pecan Crepes with Cheddar Cheese.  If you don't want to make the crepes, you can always substitute fried grits.