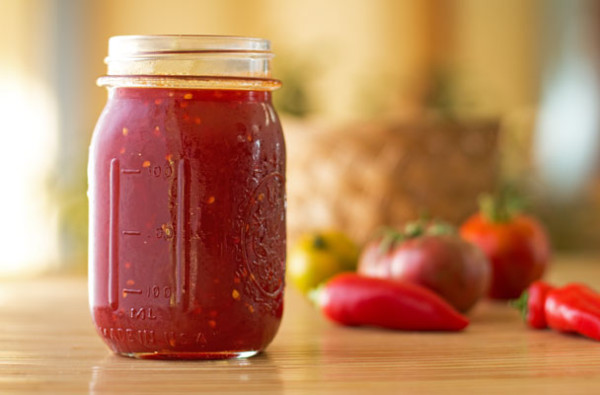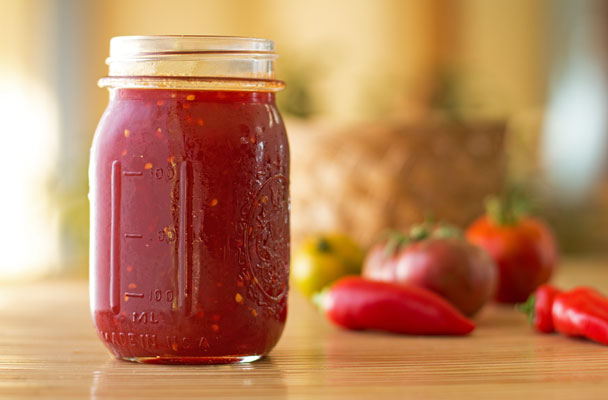 This Tomato Chile Jam has been my favorite sweet and savory jam for several years now.  I was tempted to keep it to myself but it's just too good not to share.  It's not a PB&J jam nor a jam for toast. It's more of  a jam to eat with crackers, pour over baked brie or use as a marinade.  My favorite use is as a marinade for pork, such as these pork kabobs with tomato chile jam marinade.
There are only four ingredients to this tomato chile jam:  tomatoes, red chile sauce, lemon juice and sugar. No pectin. If you don't already have some red chile made up in the refrigerator or in the freezer, then you will need to make a red chile sauce from powder and let it sit in the refrigerator overnight.  Since so little of it is used in the jam (3 tablespoons), the rest can be used for burritos or enchiladas. (See Kitchen Notes to know why I use the sauce rather than just powder or flakes.)
For the tomatoes, it's best to use fresh, homegrown, meaty tomatoes.  They don't have to be red tomatoes, just good firm, meaty tomatoes.  However, you really can use any type of tomato.  Just a warning…the more watery the tomato, the longer you'll have to cook the jam to get a good consistency.  But whether you cook for 30 minutes or an hour, this tomato red chile jam is SO worth it.
Tomato Red Chile Jam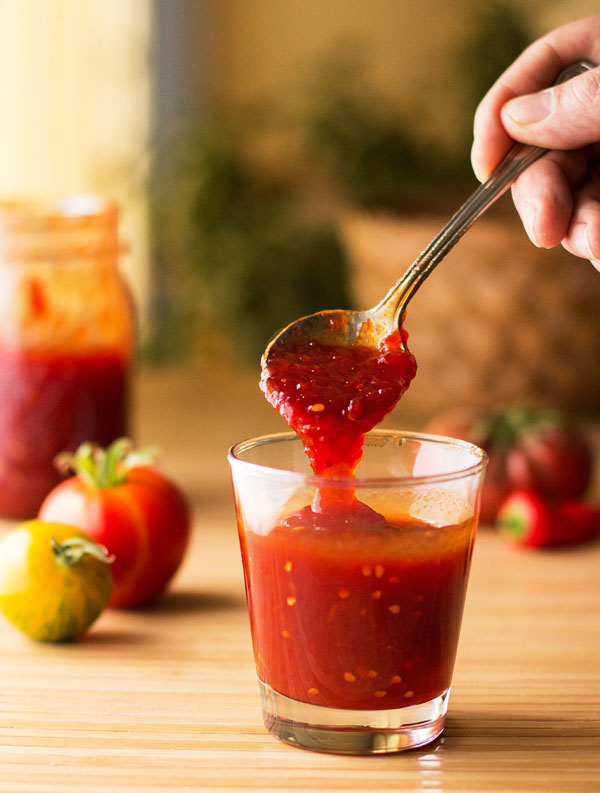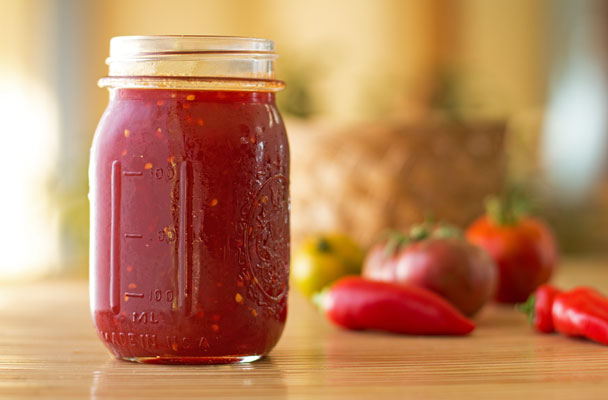 Tomato Chile Jam Recipe
Before starting you might want to review my Kitchen Notes on Making Quick &Easy Jams.
This is a refrigerator jam and not intended to be sealed and stored in the pantry. All you need is a very clean jar. Once the jam has cooked to consistency, pour into jar, let cool and refrigerate. This jam will keep for several months in the refrigerator.

You should read through the Kitchen Notes before starting this jam.

"*" See Kitchen Notes for more information or links to special ingredients.
Course:
Jams and Preserves
Ingredients
1 ½

pounds

cored and coarsely chopped tomatoes*

3

Tbsp.

New Mexico red chile sauce*

Juice from one lemon or lime

12

ounces

sugar
Instructions
Wash and rinse a pint jar. Do not dry. Place in the microwave for 2 minutes. Let cool until you're ready to use.*

Transfer the chopped tomatoes to a sauce pan. Using an immersion blender, pulse the tomatoes a few times to eliminate larger pieces and break up the skins. Don't be tempted to puree' unless you want to stand at the stove stirring for an hour. The tomatoes become watery enough with a few pulses.

To the tomatoes, add the red chile sauce, sugar and lemon juice.

Heat over medium heat, stirring frequently until sugar has thoroughly dissolved.

Increase the heat to medium high until the mixture starts to boil.

Bring to a full rolling boil, stirring constantly. (If you can't get it to a full boil, then increase the heat a bit more.) A full rolling boil is a boil that can not be stirred down.

At full boil, stir very frequently for 15 to 20 minutes, scraping the sides and keeping the mixture from boiling over or burning. If the boil is too vigorous, lower the heat.

Once the mixture starts to thicken (after about 15 minutes), stir constantly for another 10 to 15 minutes*. If using a candy thermometer, cook to 205ºF. Since I use this jam primarily as a marinade, I leave it a little thinner than other jams.

When the jam becomes thick and glassy, pour into the pint jar, place the lid on the jar, and let cool. Once cool - refrigerate.

Kitchen Notes
Red Chile –  Red chile sauce works better in this jam than powder or flakes.  With the sauce you get other flavors such as garlic, onion, toasted cumin/coriander, and oregano.  All of these ingredients help to give this jam its savory element.  As I mentioned before, you can quickly make a red chile from powder using this recipe.  OR, prior to making the jam, you can make red chile from dried pods.
Amount of Red Chile - Don't be tempted to add more red chile because you think it's not hot enough or because you can't really taste it when you first start the cooking process. The chile heat and flavor intensify as the liquid from the tomatoes evaporates.
Tomatoes – As I mentioned earlier, you can use any type of tomato for this jam or a mix of tomatoes; however, the meatier the better.  Watery tomatoes will increase the cooking time to possibility as much as an hour.  The main criteria are that the tomatoes are ripe and that you like the flavor.  This isn't hard to come by if they are homegrown.
Cook Time and Consistency – As with any jam, the longer you cook the jam, the thicker it becomes.  The same is true here, but it does take a very long time to get a stiff jam because of all of the water in the tomatoes. I have found 30 to 35 minutes and a temperature of 205ºF (for an elevation of 5000 feet) yields a nice consistency. At sea level, look for  a temperature of 215ºF or just cook until it becomes thick and glassy.  Remember that it will thicken up a bit once it sits overnight in the refrigerator.
Sterilizing the jar – Because this jam is refrigerated, I don't worry about boiling the jar.  I just clean it really good, place it in the microwave still wet and cook on high for 2 minutes. Believe me, the jar gets really, really hot!  I've never had any problems with this method as long as I keep the jam in the refrigerator.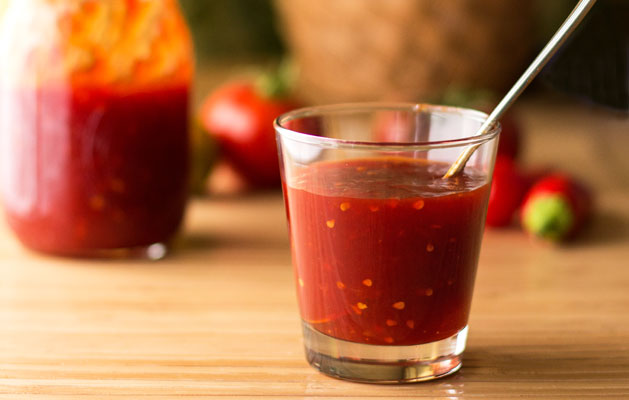 If your palate craves sweet and spicy like mine does, you'll be tempted to just grab a spoon and eat this jam right out of the jar.  That is a great way to enjoy it, but be sure to keep a little for other uses that I mentioned earlier like these scrumptious Pork Kabobs.  Of course you can always make another batch. 🙂  Enjoy!
If you enjoy this Tomato Chile Jam, then you should check out these two other red chile jams.