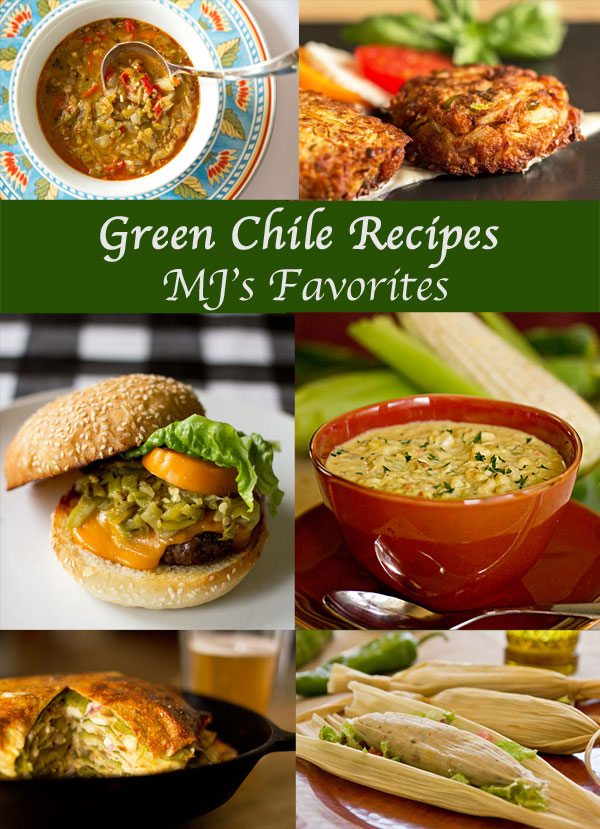 Just in case you haven't already started thinking about getting your New Mexico green chile fix for the year, I thought I would get you started with this collection of some of the best green chile recipes.  Here in New Mexico the roasters are fired up and turning out bags of roasted, succulent green chile.  Down in Hatch the roasters have been busy for weeks, but they just got started up here in Albuquerque.
If you live in New Mexico, you can find fresh green chile just about anywhere right now.  For those of you in California, Arizona, Texas and Colorado you're probably starting to see Hatch chile (chile from Hatch, New Mexico) at some of your local markets. For those of you that can't find it locally, here is a list of chile suppliers that will ship either fresh chile or roasted frozen chile right to your door.  If you buy the fresh chile, you can roast them on your grill.
You're definitely going to want some green chile once you start perusing the following recipes.
Let's start with some traditional green chile recipes.  To smother anything in green, you'll need to make a green chile sauce.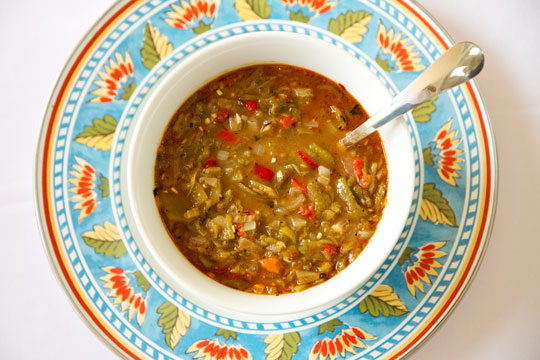 MJ's New Mexico Green Chile Sauce
Once you have a pot of sauce, then you can start smothering things like a big batch of  enchiladas, a stuffed sopapilla, or burrito.
I love this batch of Green Chile Chicken Enchiladas from Positively Splendid as well as these Chicken Enchiladas with a Creamy Green Chile Sauce from Diaz Farms.  But some times I just want a couple of servings, so I make these single serving Green Chile Enchiladas for me and Bobby.  And when I want to go vegetarian, these Calabacitas Enchiladas are my all time favorite.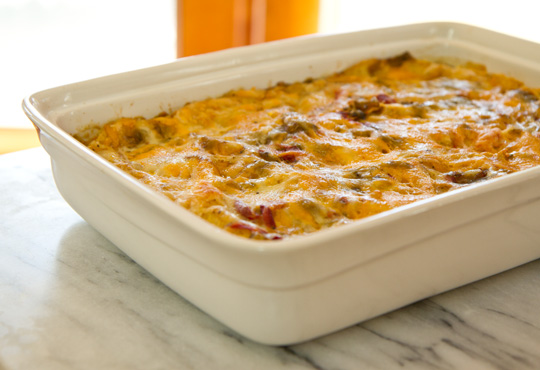 And then there's the stuffed sopapilla smothered in green.  If you've never had a stuffed sopapilla, then you don't know what you're missing.  You start with a large pillow of fry bread called a sopapilla.  These are the standard dessert in many New Mexican restaurants.  They are a wonderful way to finish a spicy meal.  Just pinch off the end, pour in a touch of honey and enjoy!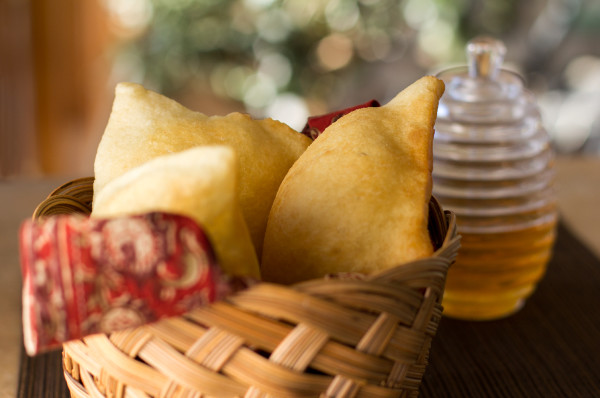 Sopapilla Recipe @ Gingerbread Snowflakes
However, you can also use sopapillas for a spicy, savory meal.  Just cut down the middle, fill with your choice of ingredients (e.g., ground beef, chicken, carne adovada, beans and/or rice), then smother with red or green (chile sauce that is).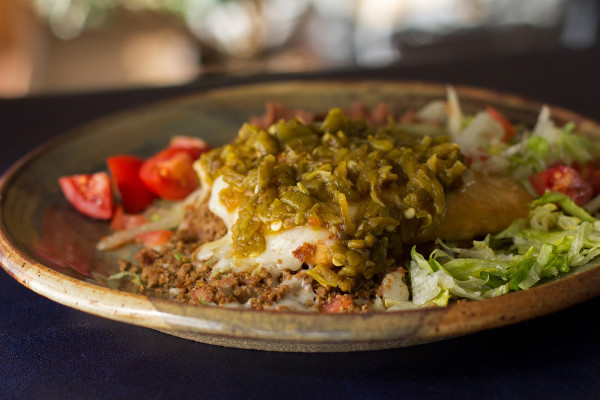 Stuffed Sopapillas with ground beef, pinto beans and Monterey Jack cheese, smothered in green chile
Green Chile sauce is also a standard (along with red) for smothering your favorite breakfast burrito.  Here's a breakfast burrito that even the most devout vegetarian would find hard to resist.
Smothered Breakfast Burritos @ New Mexico True
But making a sauce is not the only thing you can do with green chile. Once the green chile is roasted, the possibilities are endless.  Below are some great examples.
Green Chile Breakfast Recipes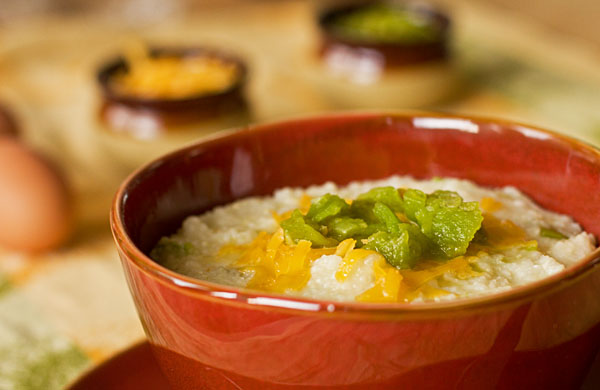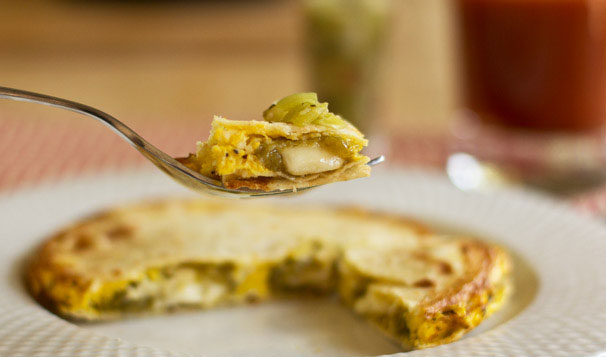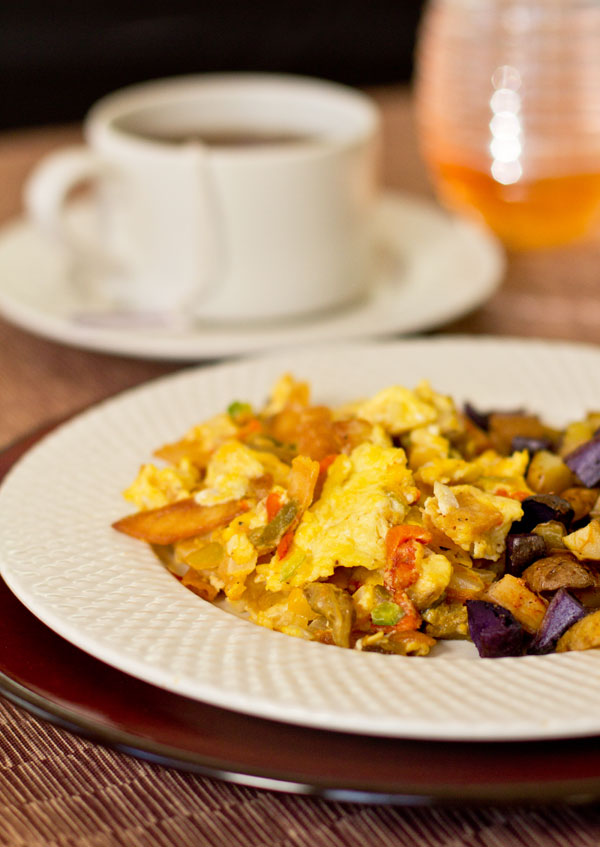 Migas (Scrambled Eggs with Green Chile and Corn Tortillas)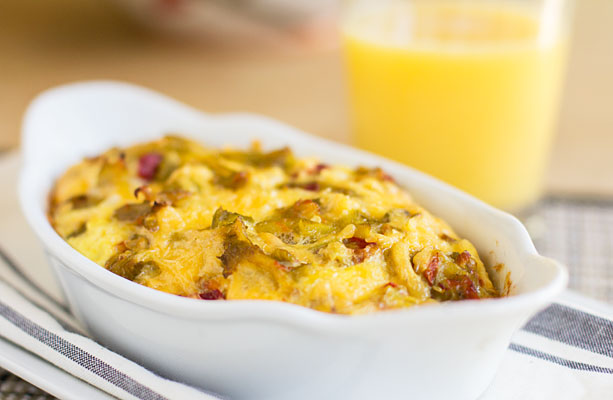 Green Chile Cheese Breakfast Bake
Green Chile Chilaquiles @ A Kitchen Hoor's Adventures
Green Chile, Bacon and Cheese Egg Bake @ Recipe Girl
Green Chile Sweet Potato Hash Browns
Red chile is my usual choice for Huevos Rancheros, but I easily make an exception with these Huevos Rancheros with Green @ Savoring Today.
Green Chile Appetizers and Starters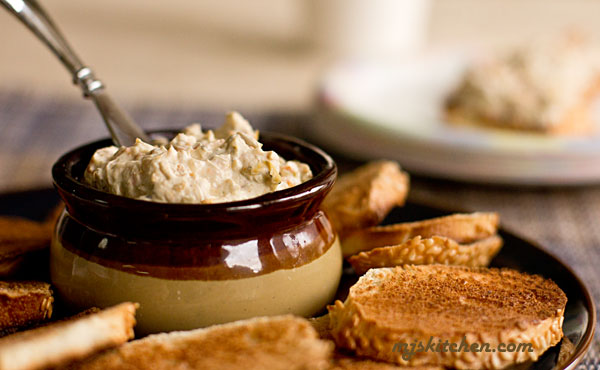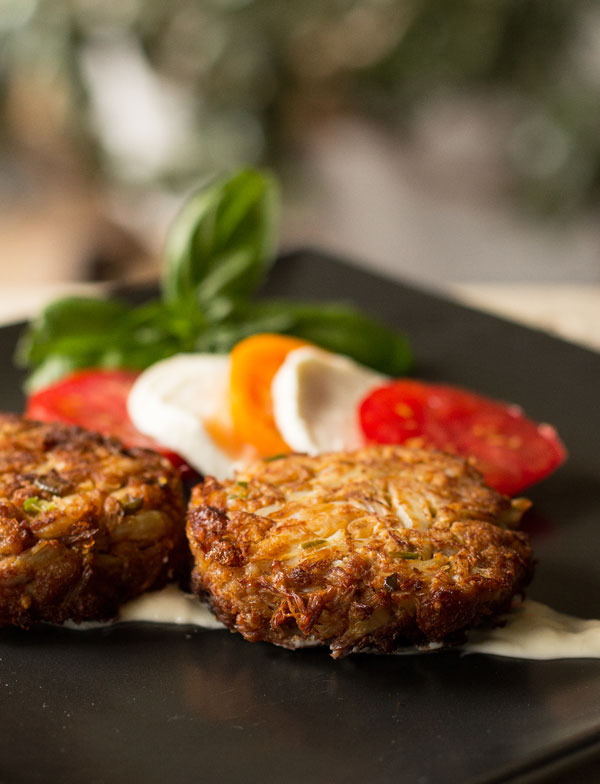 Green Chile Crab Cakes with Horseradish Sauce
Skinny Green Chile Chicken Enchilada Dip @ Recipe Runner
Queso Dip with Roasted Hatch Chile by The Wicked Noodle
Green Chile Entree Recipes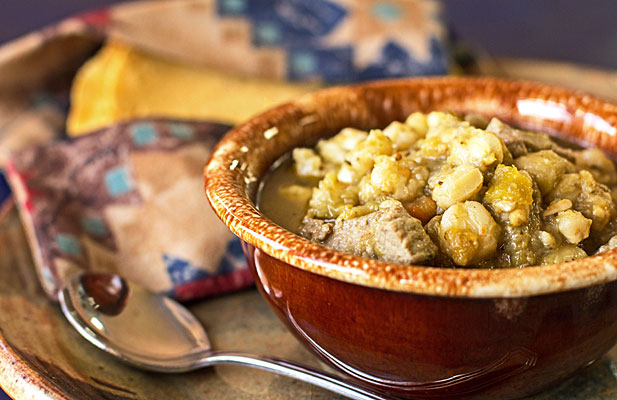 New Mexico Pork and Green Chile Posole
and
Bob's New Mexico Green Chile Stew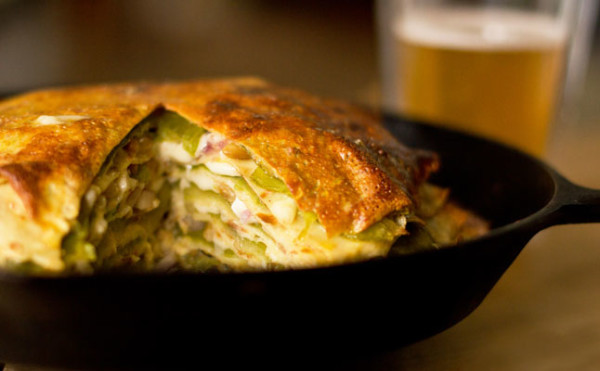 Green Chile Crepes with Pinon Nuts and Queso Fresco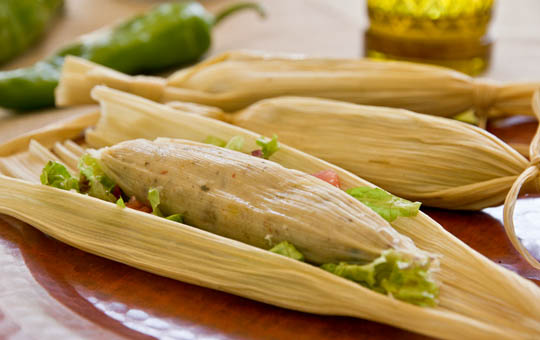 Green Chile Mushroom and Corn Tamales (Vegan)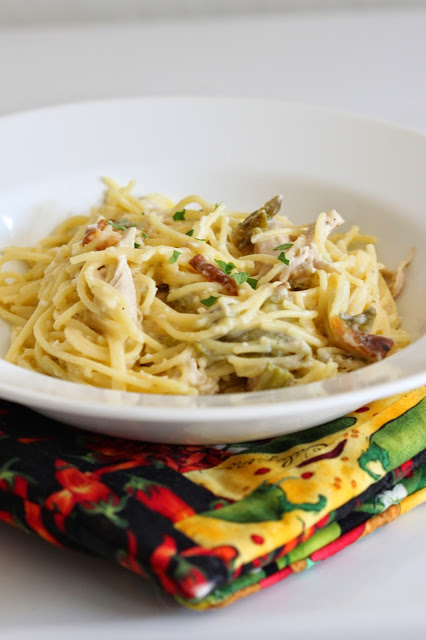 Grandma's Creamy Green Chile Chicken Spaghetti @ Tortilla and Honey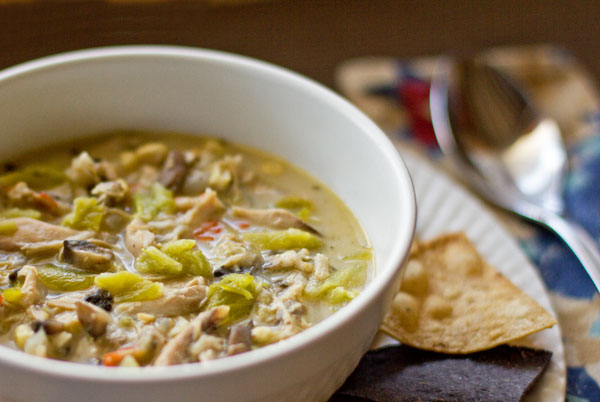 Green Chile Chicken Mushroom Soup
(Are we getting the idea that chicken and green chile is a match made in heaven?)
Calabacitas Chowder (Corn, Green Chile and Summer Squash
Slow Cooker Hatch Green Chile Verde @ Foodie Crush
Green Chile Chicken Noodle Soup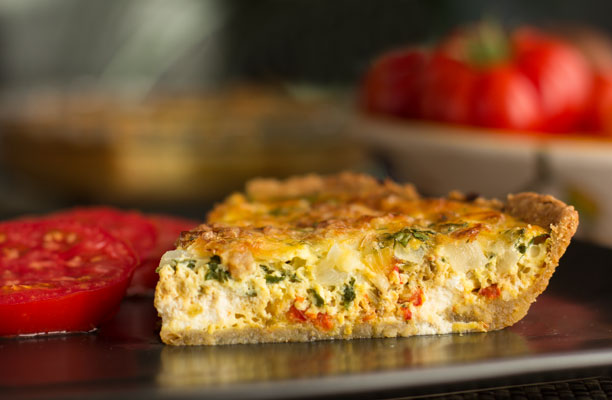 Green Chile Quiche with Pinon (Pine Nut) Crust
Beefy Cheesy Low-Carb Green Chile Bake @ Kayln's Kitchen
Hatch Chili Grilled Cheese @ Feed Your Soul Too
Green Chile Chili Beans with Bacon @ Kitchen Riffs
Green Chile Mac & Cheese @ Recipe Runner
Hatch Chile Tomato Tart @ The Devil Wears Parsley
Another Green Chile Chicken Enchiladas @Kevin is Cooking
I almost forgot this classic: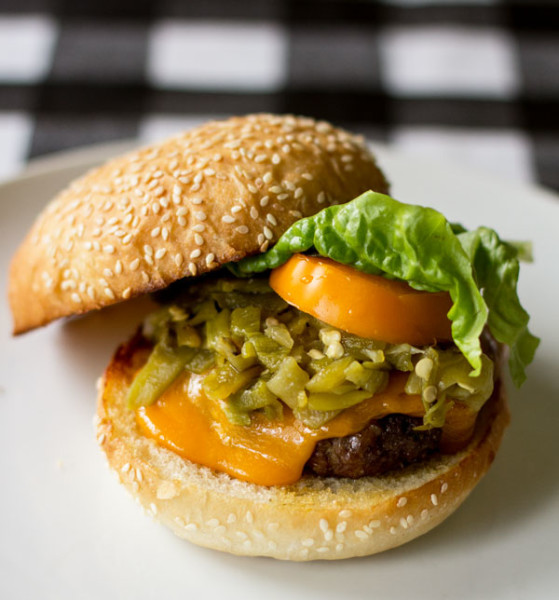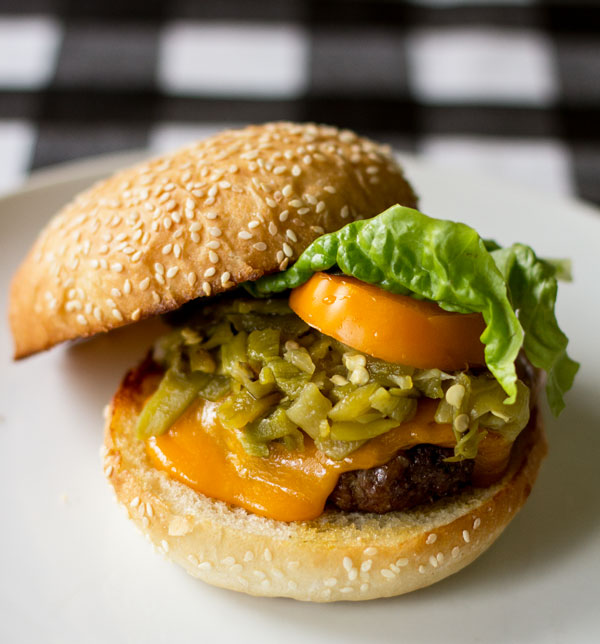 Quintessential Green Chile Cheeseburger
Green Chile Sides, Breads, and More Goodies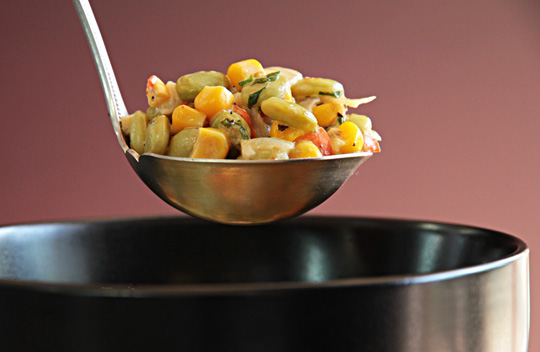 (This is a standard side dish for the holidays)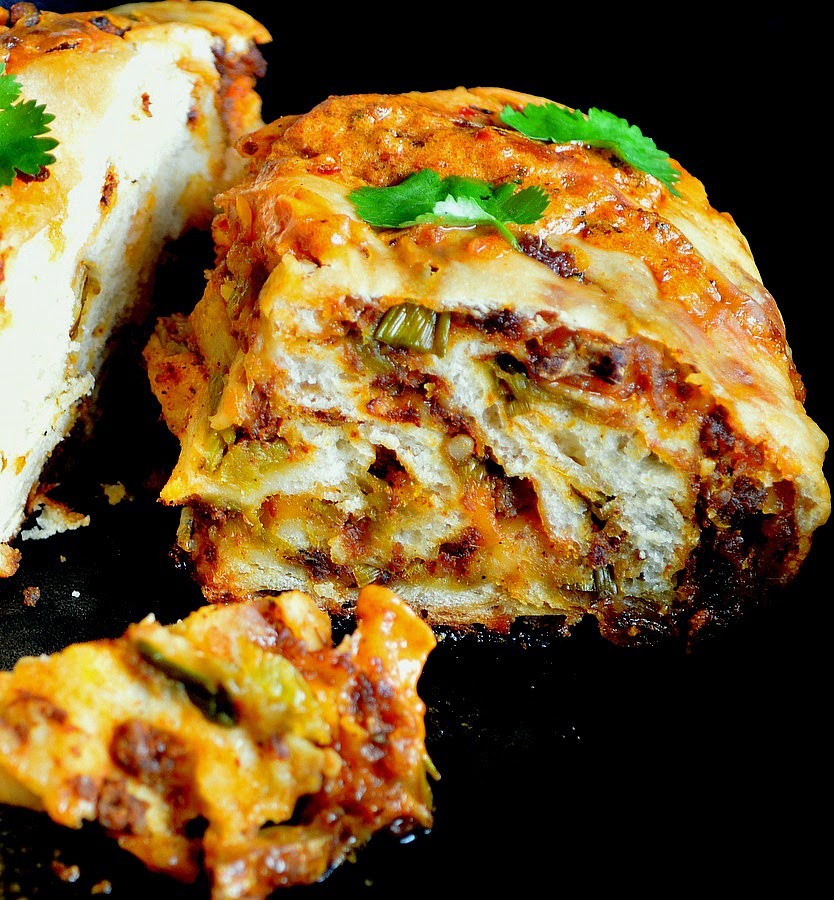 Green Chile and Chorizo Bread by This is How I Cook
(I haven't made this yet, but Abbe's photo tells me how good it's going to be.)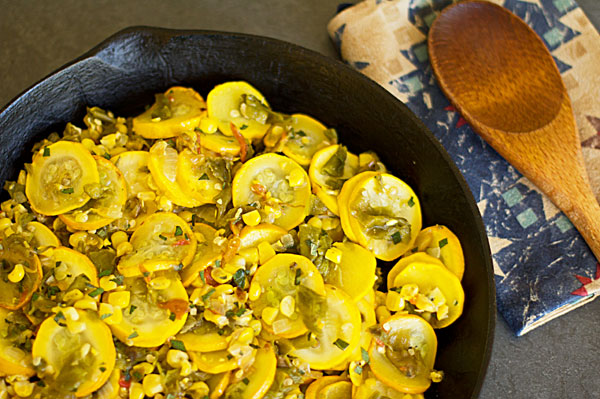 Calabacitas (Summer Squash, Green Chile and Corn)
Because I love anything called a fritter….Green Chile Corn Fritters @ Macbells
Baked Summer Harvest Zucchini Boats @ Inspired Edibles
Hatch Chile and Cheddar Biscuits @ Spoon Fork Bacon  (BTW – These taste as good as they look!)
Sinfully Spicy Green Chile Apple Pie @ The Hatch Chile Store
Roasted Green Chile Jelly @ James & Everett what's cooking at home
Green Chile Pesto @ Bobbi's Kozy Kitchen
These are just a few of my favorite green chile recipes.  If I provided all of my favorites, you'd still be reading this post two days from now.  But just in case you need more right now, check out the following links.
More green chile recipes from MJ's Kitchen
Green Chile Obsession Pinterest Board
Happy Eating!!!