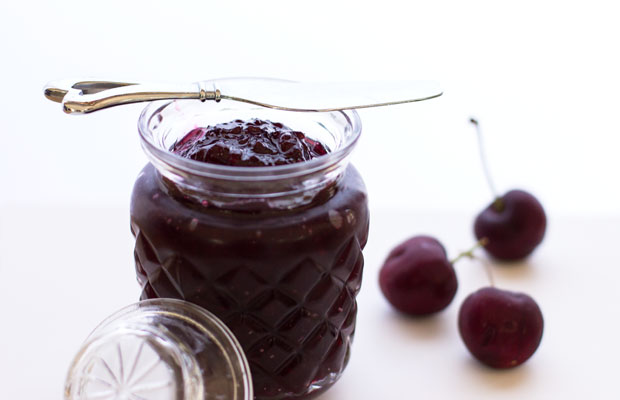 Very seldom do I get a special request to make something, but last week Bobby came home with 2 pounds of fresh cherries and asked "Will you make me a cherry jam?".  How could I refuse?  The 2 pounds gave us enough cherries for a pint of jam, plus a few to snack on.
The recipe below is one of my quick & easy jams made with fruit and no pectin.  It makes one jar of cherry jam that is intended to be refrigerated and eaten, not sealed and stored for the winter.  There are three ingredients – cherries, sugar and lemon juice.  The process requires no large pots of boiling jars and lids, and only about 20 minutes of stirring.  The most time consuming part is pitting the cherries.  The result of about 45 minutes of work? … a pint of cherry heaven!
Small Batch Cherry Jam with No Pectin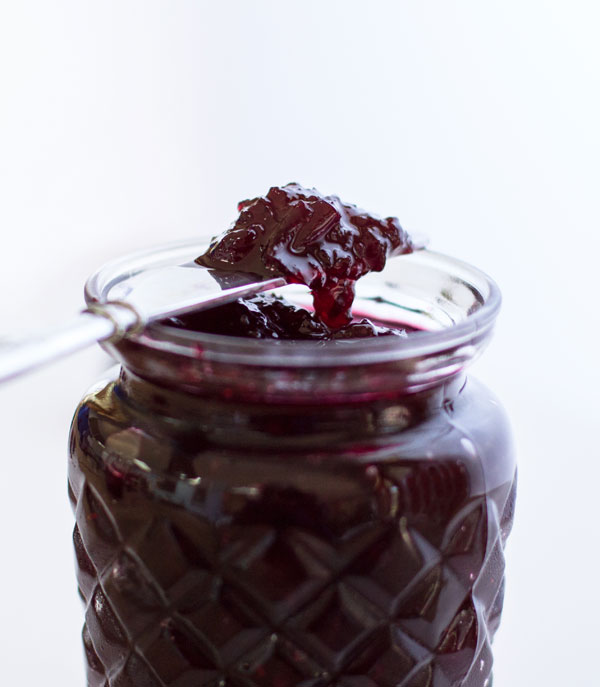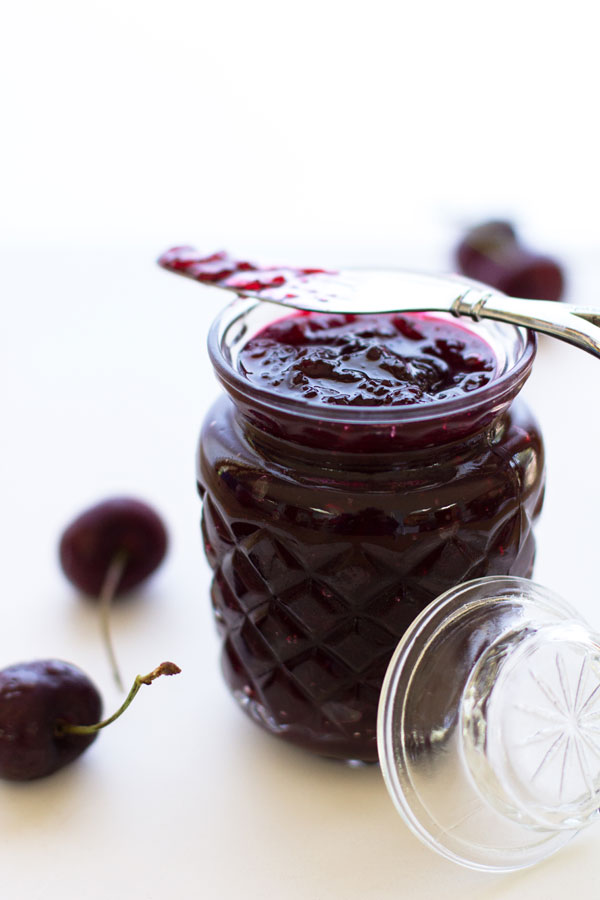 Quick & Easy Cherry Jam Recipe
Before starting you might want to review my Kitchen Notes on Making Q&E Jams Recipe

This is a refrigerator jam and not intended to be sealed and stored in the pantry. All you need is a very clean jar. Once the jam is cooked to consistency, pour into jar, let cool and refrigerate. This jam keeps for several months in the refrigerator.

"*" See Kitchen Notes for more information or links to special ingredients.
Course:
Jams and Preserves
Yields
:
1
pint (approximately)
Ingredients
16 - 20

ounces

of pitted chopped cherries (~1 ¼ - 1 ½ pounds of fresh cherries*)

8 - 10

ounces

sugar

Juice from 1 large lemon

Cherries to sugar ratio should be 2:1 by weight
Instructions
If you aren't planning on using temperature to know when the jam is ready to pour, then place a small saucer in the freezer.

Wash and rinse a clean pint jar (do not dry) and place in microwave for 2 minutes. Let cool before handling.

Wash and pit the cherries. Coarsely chop and transfer to sauce pan.

*(Optional) Using an immersion blender, pulse about 4 to 5 times. If you don't have an immersion blender, transfer chopped cherries to a regular blender and pulse 3 to 4 times. Do NOT pureé the cherries.

Add the sugar and lemon juice to the cherries and heat over medium heat. Stir until the sugar has melted.

Increase the heat to medium high and bring to a full boil*, stirring constantly. A full boil is a boil that can not be stirred down.

Adjust the heat so that the cherry mixture continues at a steady, rolling boil while stirring. Cook and stir for 15 to 17 minutes. At 15 minutes, test the jam.


To test the jam, dip a metal spoon into the jam and then raise it up out of the pot. Turn the spoon sideways. If the droplets flow together into one drop, the the jam is very close to being done. Pull the small saucer from the freezer and place a dollop or two of jam onto the saucer. If it spreads out, the jam's not done. Return the saucer to the freezer, continue to stir the boiling jam, and try again in 2 minutes. The jam is done when a dollop does not spread out but retains its shape. It usually takes about 15 to 17 minutes for this amount of jam to be ready. If you have a candy thermometer, you could use temperature to know when you jam is done.*

When the jam is ready, remove from the heat and pour into the jar. Put the lid on it, let cool, and refrigerate. This jam keeps in the refrigerator until you finish it off, which won't take long.
Kitchen Notes
Type of cherries – Sweet cherries yield a very sweet jam that makes one mean peanut butter and jam sandwich! Sour cherries or wild cherries (which are rather tart), yield a delicious sweet and tart jam.  Great in toast and bagels.  Therefore, it really doesn't matter the type of cherries you use. Just use your favorite cherries and enjoy!
Amount of cherries – It's hard to estimate non-pitted weight vs. pitted weight because cherry sizes and cherry pit sizes differ.  Therefore, regardless of how much pitted cherries you ended up with, just be sure that the ratio of fruit to sugar is 2:1 (by weight).  Also, 16 to 20 ounces of pitted cherries gets you closer to a full pint of jam.
Lemon Juice – Cherries are a relatively low pectin fruit; therefore, lemon juice is used to give the pectin level a little boost. For sweet cherries, the lemon juice helps to tone down the sweetness a bit, but is a very subtle component of the final flavor.
Using an immersion blender– If you like a chunky cherry  jam or if your cherries are small (like wild cherries), then omit the blender all together.
Time & Temperature – Since this is a low pectin jam, time and temperature are important to help the jam set.  Cooking it at a full boil cooks off a lot of the liquid in a short amount of time and raises the temperature quicker. Just be sure to stir constantly.  I have found from making many, many single jars of jam, that this process usually takes between 15 to 18 minutes for most fruits, but can take longer.
Using a candy thermometer yields pretty consistent results and is a good tool for beginners.  The standard maximum cooking temperature for jams is a temperature of 220° F (104° C) at sea level; however, as you go up in elevation, this temperature decreases.  The rule of thumb is to subtract 1ºF for every 500 ft. increase in elevation.  Since I live right at a mile high (5280 ft), 210ºF is a the temperature I use for cherry jam.
If you let the temperature get too high or allow too much liquid to evaporate, you get a "stiff" or "stringy" jam that is hard to spread. If this ever happens, don't throw the jam out.  Add it a quick bread or knead it into a yeast bread.
Full, rolling boil – You want a full, rolling boil that is well under control with a gentle stir.  If you feel like you're whipping egg whites to keep it under control, then the heat is way too high. Be sure to stir constantly once the jam comes to a rolling boil.  Infrequent stirring can cause the jam to burn and create a messy stovetop due to splattering or even a boil over.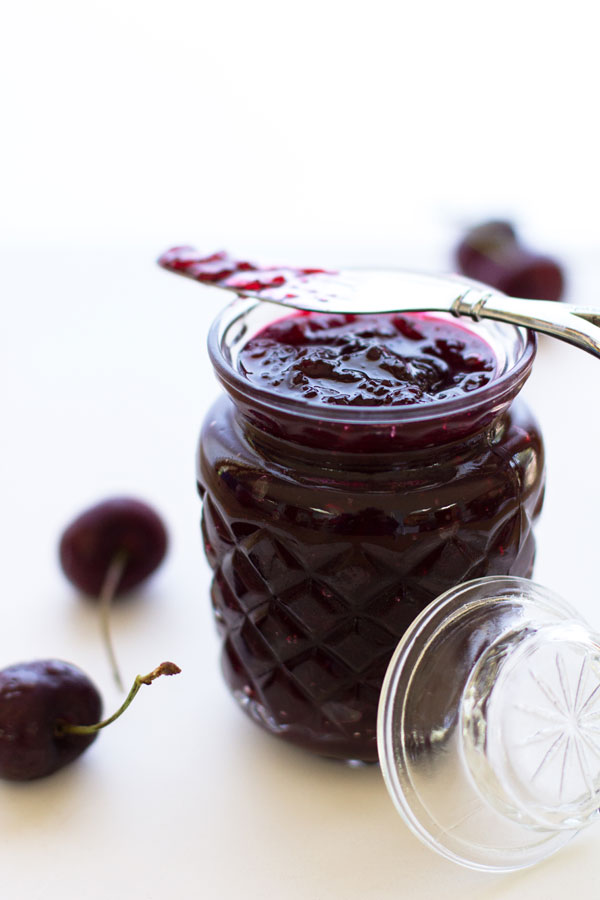 If you like this quick & easy cherry jam, then give these other jams and jellies a try.
This Cherry Jam has been shared with Foodie Friends Friday, Melt in Your Mouth Mondays, and Clever Chicks.