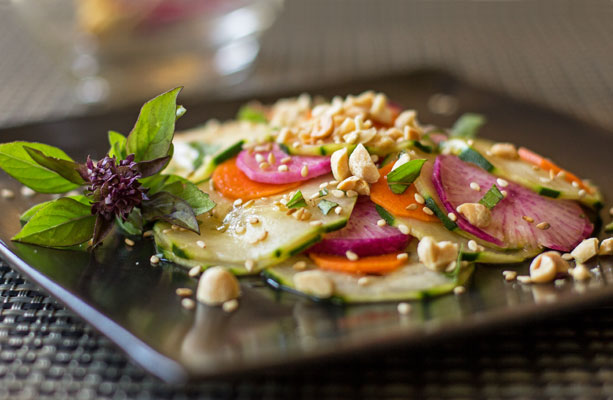 I don't know about where you live, but here in New Mexico we went from cool spring temperatures to the heat of the summer overnight.  This week the temperatures have been in the triple digits, a real challenge for our swamp cooler.  As a result, meal criteria is now "easy to make, at least one cold dish, and any cooking is on the grill".  Last night's meal met this criteria to a T:  grilled soy-ginger chicken and this Pickled Vegetable Salad – two very complementary dishes.
This salad is made with lightly pickled cucumber, diakon radish, and carrots, topped with mint, sesame seeds and roasted peanuts.  The vegetables are marinated in a light dressing for at least two hours.  The other ingredients are added once the vegetables are served on the plates.  It's extremely easy to make, quite refreshing, and with a slightly sweet and tangy flavor.
For the salad in the pictures, I used a purple daikon radish. and a mix of mint and Thai basil for the garnish.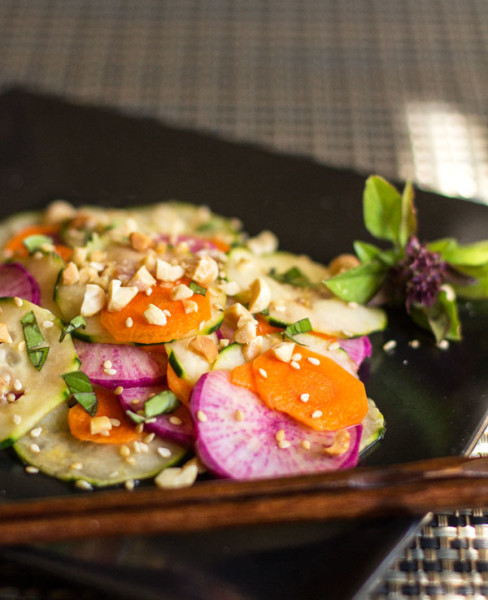 [print_this]
Pickled Vegetable Salad Recipe
Recipe author:  MJ of MJ's Kitchen
Serves 4 as a side salad
Prep time: 20 minutes prep, 2 hours to 10 hours
If you have one, use a Mandoline set to the thinnest slice to slice the vegetables.  However, you can manually slice them as well. Just slice as thin as possible.  No one is going to be grading you on your slices. 🙂

Ingredients
1 large cucumber, peeled and sliced thin
One 4" Daikon or 3 large red radishes, sliced thin*
1 large carrot, sliced thin
2 tsp. sugar
¼ cup rice wine vinegar
1 tsp. soy sauce
½ tsp. toasted (or dark) sesame seed oil
3 Tbsp. chopped roasted peanuts*
2 Tbsp. lightly toasted sesame seeds
1 Tbsp. chopped fresh mint or Thai basil*
Instructions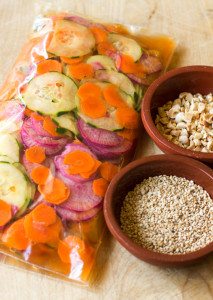 Place the sliced vegetables in a large Ziplock bag.
Whisk together the sugar, vinegar, soy sauce, and sesame oil until the sugar is dissolved. Pour into bag with the vegetables. Seal. Move the vegetables around to distribute the marinade and to coat the vegetable pieces.
Press as much air as possible from the bag and seal tightly. Lay flat on a shelf in the refrigerator. Marinate at least 2 hours, turning the bag over after an hour. (I usually prep the vegetables in the morning and let them marinate all day, turning once.)
When ready to serve, drain the marinade from the bag and place the vegetables on serving plates.
Top with mint (or basil), peanuts and sesame seeds.
*See Kitchen Notes
This salad keeps very well in the refrigerator for a couple of days; therefore, any leftovers make a nice lunch.
[/print_this]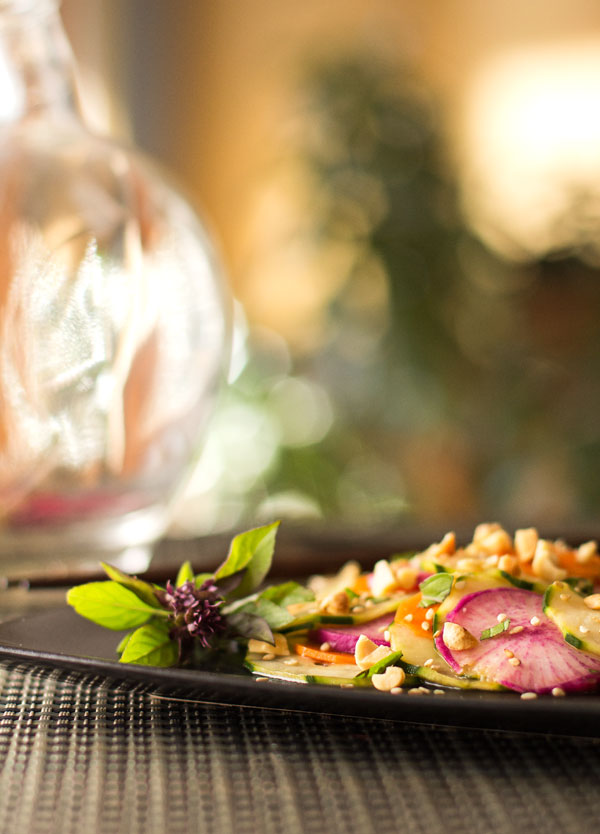 Kitchen Notes
Daikon or regular radish – Daikon is milder than regular radish so if you aren't a big fan of the little round red radishes, then use daikon.  (Bobby's not a fan of radish, but he loves this salad.)
Roasted Peanuts – I usually use salted roasted peanuts, which provides the needed salt for this salad.  If the peanuts you use aren't salted, then you might need to add a touch of salt.
Mint or Thai Basil – Spearmint is our favorite.  However, we also like to mix it up with a little Thai basil.
If you like this Pickled Vegetable Salad, then here are some similar, refreshing salads for these hot temperatures.
Mango Jicama Salad with Pickled Cucumbers
Apple, Carrot and Pecan Slaw with Curry Dressing