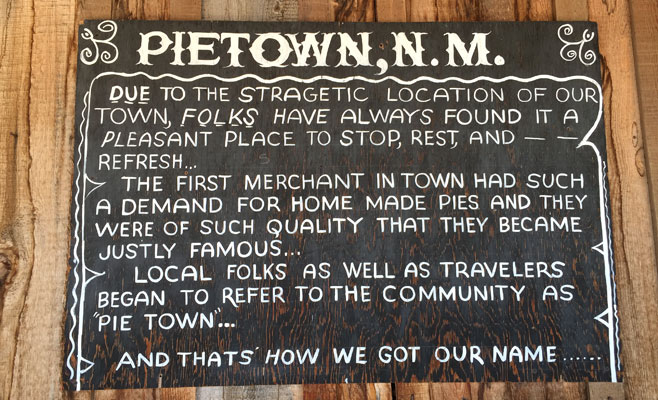 Have you ever driven 2.5 hours for a piece of pie?  People do it quite often here in New Mexico and some people drive even longer.  Last week Bobby and I took the day off and drove to Pie Town, New Mexico, for lunch.  Pie Town is on Hwy 60, west of Socorro, NM and north of the Gila National Forest. It's one of those towns that if you end up there, then that's because you were headed there.  Why else would you be out in the middle of nowhere?
When we drove to Pie Town it was a Thursday, so the only cafe open was Pie-O-Neer Pies, a small restaurant that has TWO non-pie items on the menu – a salad and a bowl of green chile. Everything else is pie, soda, and milk. The day we were there, there was at least 12 different types of pies and they kept changing.  It seemed like every time a new customer walked in, a couple of new pies came out of the kitchen.  We were there for an hour and business was non-stop. It was amazing, because Pie Town is literally in the middle of nowhere!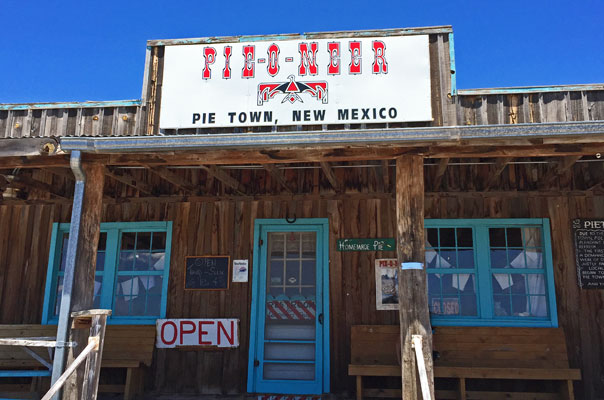 So let's see. What did we have for lunch? I started off with the Blueberry Cherry Pie, a tender, flaky crust with lots of blueberry flavor and a burst of cherry in every bite.  Bobby started off with the Apple Crumb Pie, which was his favorite of the day. The apple crumb pie was beautifully seasoned and not too sweet. In fact, none of the pies were too sweet.  For the second round, I had a creamy and delicious Chocolate Cream Pie (my favorite) and Bobby got Strawberry Rhubarb.  We didn't get a picture of the strawberry rhubarb because it was served straight out of the oven and was so soft they had to serve it in a bowl.  It was actually too tart for Bobby's taste, but not for mine. I loved that the rhubarb was the dominate flavor of the pie.  And yes…of course we tried each others' pies!
Click to enlarge and see the goodness in each piece of pie! From left to right – Blueberry Cherry Pie, Apple Crumb Pie, Chocolate Cream Pie.

The only other restaurant in Pie Town is the Pie Town Cafe. It serves a potpouri of pies as well, but it's not open on Thursday.  It appears, that in order to spread the little bit of wealth that comes to Pie Town, the two restaurants have set their schedules so they don't compete with each other.  The Pie Town Cafe is open Sunday through Wednesday while Pie-O-Neer Pies is open Thursday through Sunday.  So if you want to try pie from both cafes, you'll have to go on a Sunday, and this time of year…it's probably going to be busy.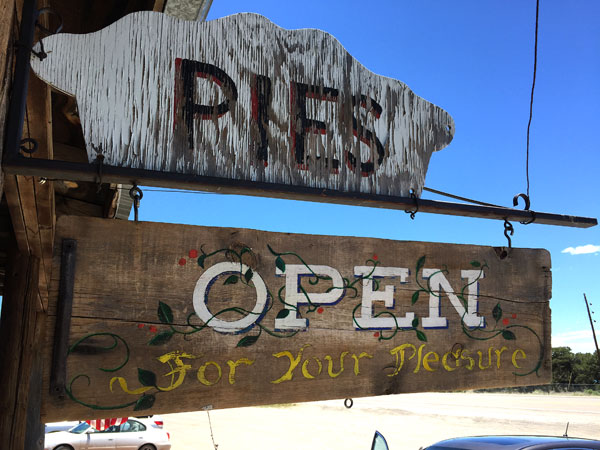 So if you are ever driving through New Mexico and feel like a piece of pie, be sure to head out to Pie Town.  You'll know you're there when you see the only STOP sign in Pie Town telling you to STOP!  How can anyone not stop and have a piece of pie.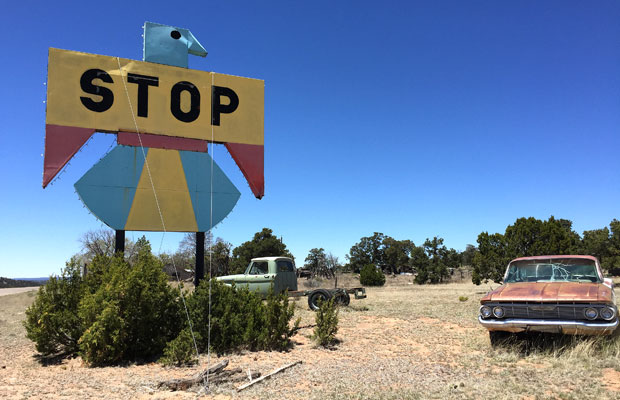 As I mentioned, we drove a loop to and from Pie Town.  The front end of the loop took us off I-40, down 117 through the El Malpais National Monument where we did a little exploring. From there we drove on a dirt road (41) to get to Pie Town. After a lunch of pie, we headed east on Hwy 60 which took us through the Very Large Array (VLA) of the National Radio Astronomical Observatory where we stopped for a short lesson in radio astronomy.
Click on pictures to enlarge.

El Malpais is Spanish for badlands or bad country. It was used by early Spanish map makers to describe areas of volcanic terrain.  The El Malpais National Monument was created by volcanic forces over the past million years.  Dozens of eruptions created a molten lava flow that spread out over this wide open space, creating caves, trenches, and a variety of interesting formations, most of which is accessible to the public. (nps.gov)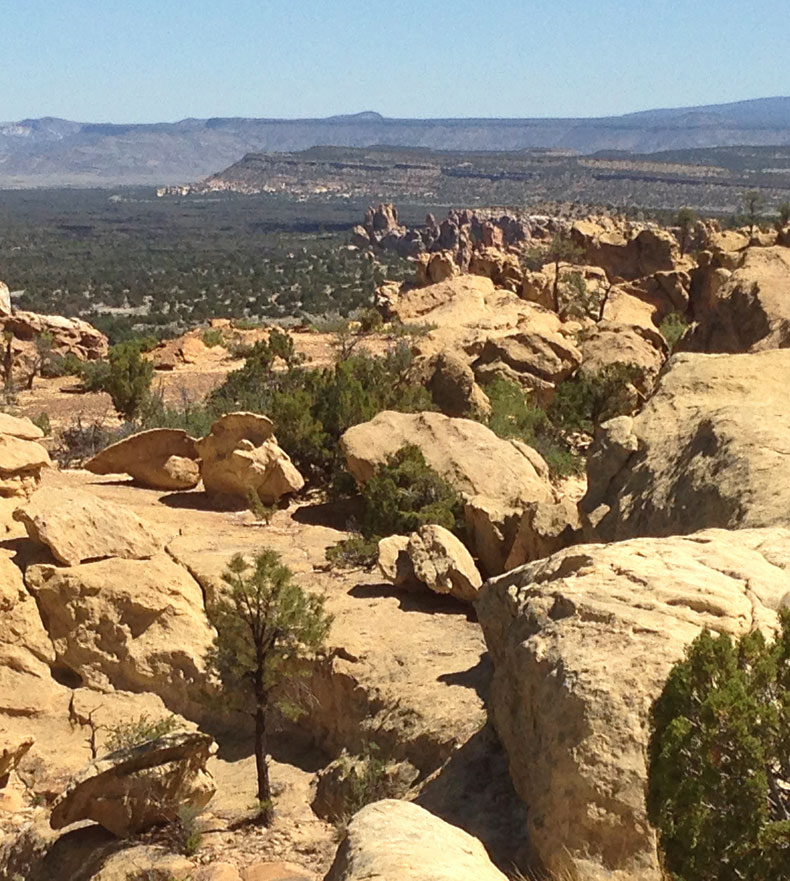 "This stark landscape preserves one of the best continuous geologic records of volcanism on the planet." (nps.gov)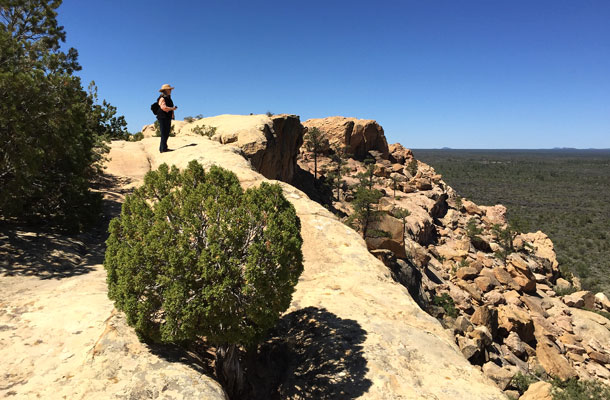 The valley is one huge volcanic field of lava flows.  A lot of growth has hidden much of it but you can still see large volcanic rock in the black areas.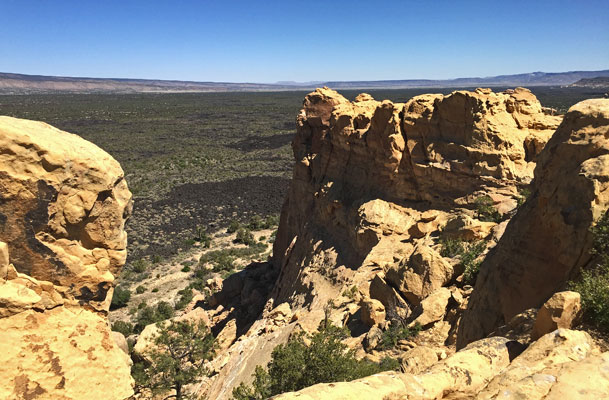 Except for the arch photo below, all of these pictures were taken from the main overlook off Hwy 117.  There are a few short trails scattered throughout the monument that take you into the lava fields, which is pretty cool.

El Malpais offers everything from easy drives, scenic overlooks, and short walks to strenuous trails, caving, and rugged backcountry.  It's home to one of the largest sandstone arches in New Mexico – the La Ventana Arch.  There is a short hiking trail that you can take into the arch.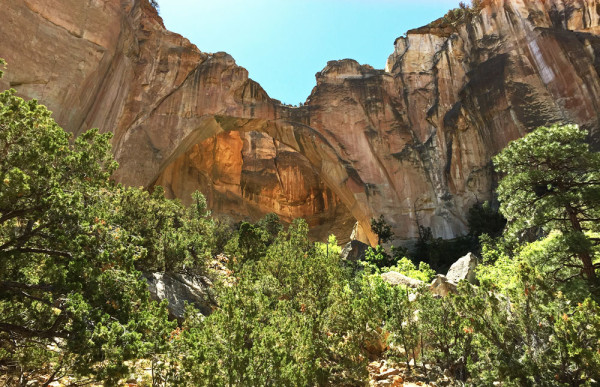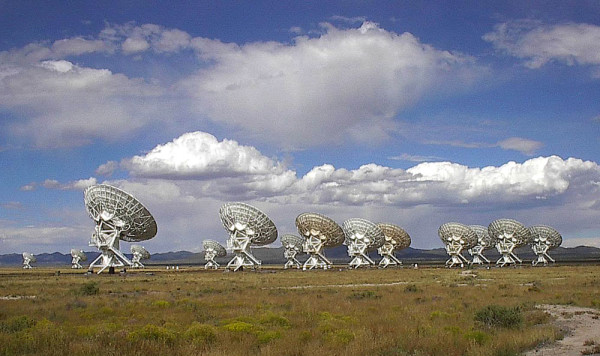 The Very Large Array is on the Plains of San Agustin, 50 miles west of Socorro,  New Mexico.  It is one of the world's premier astronomical radio observatories, consisting of 27 radio antennas.  Each antenna has a diameter of 25 meters (82 feet).  When combined into a Y-configuration, the antenna array provides "the resolution of an antenna 36 km (22 miles) in diameter with the sensitivity of a dish 130 meters (422 feet) in diameter". (http://www.vla.nrao.edu/)  While we were there, the antennas were in the BnA configuration.  In this configuration they can collect data from the galaxy Hercules A and more specifically from a supermassive black hole in the core of the galaxy (shown below).
Click here to learn more about this image that was created from data collected from the VLA and the Hubble Space Telescope.  It's pretty amazing stuff!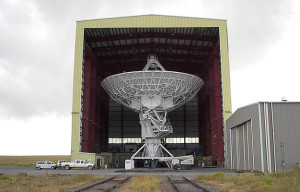 A large railroad track system covers the area of the VLA and is used to move the antennas into different configurations. This antenna had been moved into the repair hanger for maintenance.  I took this picture back in 2001 when me and some other teachers from the college took a tour of the VLA.  We were allowed to climb up into the top of this dish, which was pretty incredible.  It would have been more dramatic if the antenna had been outside of the hanger, but, at times, you just have to take what you can get.
After a short tour of the VLA we drove to Pete's Cafe in Belen for New Mexican food, then headed home.  What a wonderful day! After two pieces of pie for lunch and a Navajo Taco with extra green chile for supper, I know I blew whatever diet I may or may not have been on, but it was well worth it. I can always rationalize it by saying that I did burn a few calories with the little bit of walking we did, but truthfully, it wasn't near enough.  🙂
Hope you enjoyed the Loop to Pie Town, New Mexico.