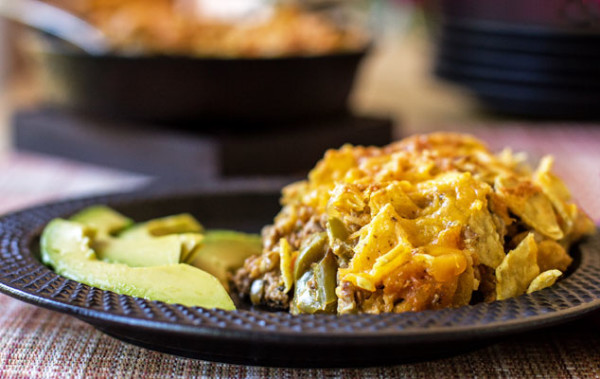 This dish was inspired by an eggplant casserole that my mother used to make when I was a kid.  The recipe, in "A Cook's Tour of Shreveport (1973)" cookbook, is a simple side dish calling for eggplant, onion, bell pepper and olives, sauteed, then topped with bread crumbs and cheese. I loved this dish, but like many of us, I just can't leave well enough alone. I have been playing around with this recipe over the years making it more than the original.  This Chorizo and Eggplant Skillet Pie is the result.
Instead of a side dish, we now have a one pot meal which is nicely complemented with a few slices of avocado. To the original recipe, I've added Mexican chorizo and seasoning (something the original had none of), and have replaced the bread crumbs with crushed tortilla chips.  Bobby calls it my version of a Frito pie.  I hope you enjoy it as much as we do.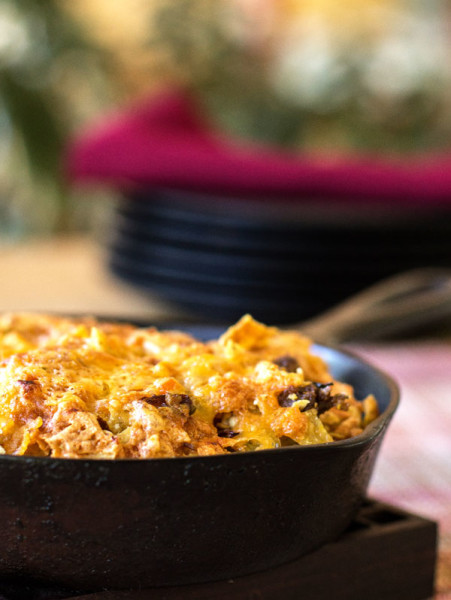 [print_this]
Chorizo and Eggplant Skillet Pie Recipe
Recipe Author:  MJ of MJ's Kitchen
Serves: 4
Prep time: 20 minutes
Cook Time:  30 minutes
Ingredients
1 Tbsp. canola oil
½ pound bulk Mexican chorizo*
1 Poblano pepper or green bell pepper, chopped
1 small onion, chopped
1 large eggplant, peeled and cut into ½" pieces
½ tsp. oregano
½ tsp. red chile powder
2 Tbsp. chopped fresh cilantro or parsley
1 large egg, beaten
½ cup coarsely chopped green olives
¼ tsp. salt
½ tsp. black pepper
~1 cup coarsely crushed, corn tortilla chips*
1 cup cheddar cheese, grated
2 avocados, sliced
Instructions
Preheat oven to 375° F.
Heat the oil in an ovenproof dish over medium heat.*
Add the chorizo, chopped pepper and onion. Cook about 3 minutes, stirring occasionally.
Add the eggplant, chile powder, salt, pepper, and oregano. Stir to combine. Cover and cook 5 minutes or until the eggplant is tender, stirring occasionally.
Remove from heat and add the cilantro/parsley and olives. Taste. Add more salt and pepper if needed.
Add the egg and stir to combine.
Spread mixture out evenly across the bottom of the dish.
Top with the crushed chips, then the cheese.
Bake for 30 minutes.
Serve with sliced avocado and enjoy!
*See Kitchen Notes.
[/print_this]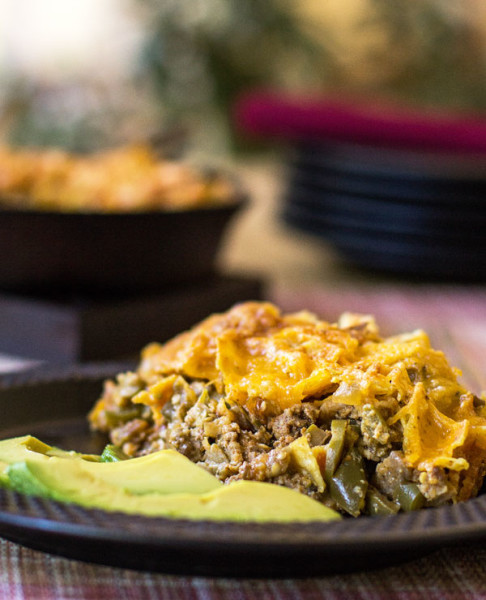 Kitchen Notes
Skillet Size – An 8 – 10″ skillet or oven proof casserole is a good size for this dish.  Anything wider and the proportion of filling to topping will be too small. However, if I'm using an extra large eggplant, I'll use a large skillet for making the filling, then transfer it into a smaller skillet or casserole dish for baking.
Mexican Chorizo – For the chorizo you can make your own, buy bulk chorizo or chorizo links.  If you use links, remove from the casing.  Break up the chorizo as you saute' it with the pepper and onions.
Corn Tortilla Chips – You can use tortilla chips or Fritos if you choose.  I prefer corn tortillas. The amount you use depends on the size of the skillet.  The wider the skillet, the more chips needed to cover the top of the eggplant.  Don't pile them on, just spread them evenly across the filling.
Chilled avocado slices make a great complement to this dish.  This casserole can be quite spicy, depending on the spiciness of your chorizo and chile powder.  The avocado helps to calm burn.
If you like this Chorizo and Eggplant Skillet Pie, then you might also enjoy these other chorizo dishes.
Asparagus, Chorizo and Soft-Boiled Egg