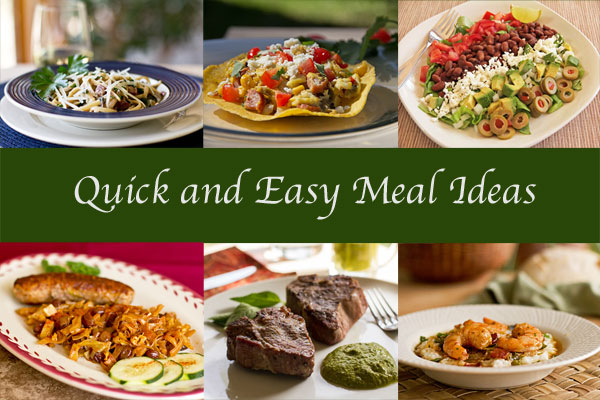 We all have the need for a variety of quick & easy (Q&E) meals to fall back on for those nights when we just don't have the time or the energy to put together an elaborate or time-consuming meal.  However, because we still want to eat good food that tastes like we did put a lot of effort into it, our quick & easy meals need to be delicious.
Today I'm sharing some of my favorite meals and meal ideas that I've been using for many years. They all take less than 45 minutes from start to finish and most take less than 30 minutes. I've also included links to some Q&E meals that I have on my list to try. I hope you find a few that you too, can use to make your life a little easier.
Some of the following are recipes while others are simple time saving ideas that allow you to actually take a night off from cooking or to be creative using leftovers and those bits of ingredients that haven't been designated for another purpose. Let's start with those.
Time Saving Ideas for Weekday meals
Think ahead and do the time-consuming work on the weekend.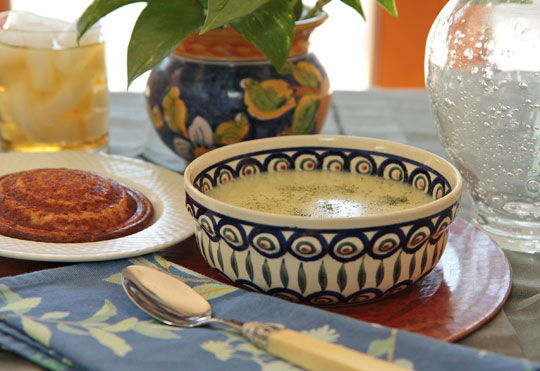 Make at least one meal that you can eat twice. For example, the leftovers from a big pot of soup or stew only need to be warmed up for a Q&E meal with very little clean-up. Any leftovers from the second round can be frozen or eaten for lunch. Same goes for casseroles, a batch of enchiladas, or a flat of lasagne.
During warmer weather I love to make the Cold Cucumber Soup in the above photo. It goes great with just about any grilled cheese.
Make a big pot of dried beans. The possibilities here are endless. Once the beans are cooked, they can be used later in the week in soups, casseroles, burritos, tacos, and salads. They can also be used as a side for grilled steak, chicken or pork, enchiladas, or added to rice for beans and rice.  Black beans, pinto beans, and bolita beans are all very versatile and can be used in a variety of dishes.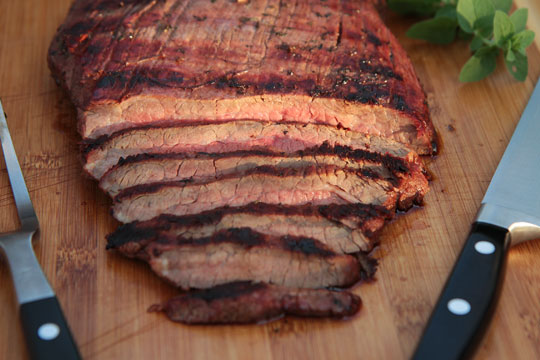 Grill a steak, braise a pork roast, or roast a whole chicken. Leftovers from any of these can be added to salads, stir fries, fried rice, sandwiches, casseroles, and of course my favorites – burritos, enchiladas, tacos or tostadas.  This Grilled Flank Steak is fabulous and its leftovers can be turn into something even more fabulous.
Create a Tasty Taco or Tostada

A while back, I attended an open panel discussion with four local chefs about tacos. One of the questions asked was "What are the minimum ingredients for a taco to be called a taco?" The answer was unanimous…"Corn tortilla!" After that, the filling can be just about anything you want. The same goes for tostadas, which are really just flat tacos.
Suggested components for Tacos and Tostadas (Go for a mix of flavors and textures):
Protein – chicken, pulled pork, steak, ground meat, chorizo, fish, shrimp, scrambled egg, tofu
Vegetables/Fruits – tomatoes, onion, greens (e.g., lettuce, cabbage, spinach) avocado, pineapple (for fish or chicken tacos), chile, mango.
Toppings – cheese, sour cream, yogurt, salsa, chile, cilantro, guacamole, olives, raw onion, something pickled, something spicy
Q&E Taco/Tostada Recipes: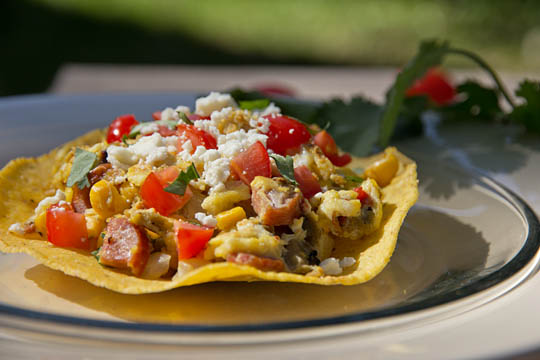 Breakfast egg & Sausage Tostada
Healthy Black Bean, Mango, and Guacamole Tacos @Baker by Nature
Shredded Beef Soft Tacos @Kitchen Riff
Chicken Taco @A Plan for Cooking
Chorizo and Spinach Tacos @Spicie Foodie (Don't leave Spicie Foodie without checking all the other taco recipes she dishes up.  She's got a lot of winners!)
Black Bean and Avocado Tostada @The Wimpy Vegetarian
Wrap it up in a Burrito
The only things that make a burrito a burrito are the flour tortilla and some type of chile (IMO).  Like the taco, pretty much anything goes for the filling.  For the finish, you can smother the burrito in a red chile or green chile or your favorite enchilada sauce or salsa.  OR… instead of smothering it, just add the chile component to the filling.
Here are some ideas for Q&E burritos: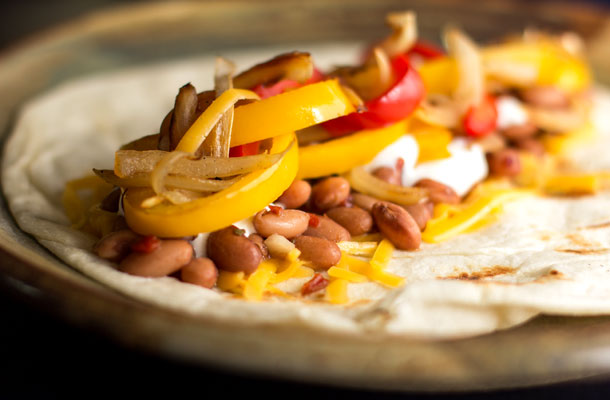 Fajita-style burritos with leftover beans
Steak Burrito – Leftover grilled steak with sautéed onion and mushrooms, avocado, sour cream, your favorite salsa, and cheese.
Breakfast burrito with scrambled eggs, onion, and chorizo or bacon, smothered with green chile.  You could add potato if you want it a little hardier.
Vegetarian burrito with cooked vegetables such as onion, bell peppers, mushrooms, broccoli, kale or Swiss chard, corn, squash, beans, wrapped in a flour tortilla and smothered in red or green.
20 Minute Healthy Chicken Burrito Recipe @Redefined Mom
Beef and Bean Smothered Burritos @Taste and Tell
One Can Never Go Wrong with Pasta
When the refrigerator crispers are down to little pieces of vegetables unused from other meals, throw together a pasta dish.  You can keep it vegetarian by sautéing a variety of vegetables with garlic and herbs, then making a simple sauce with a little spicy mustard, olive oil, and some pasta water or cream.  Add Parmesan or Pecorino Romano for a little protein.
If you don't need to keep it vegetarian, then add some leftover meat or a sausage for your protein. I keep chunks of ham and single wrap sausages in the freezer just for pasta meals. Here's an example of one of these pasta dishes – Fennel Spiced Ham and Mushroom Pasta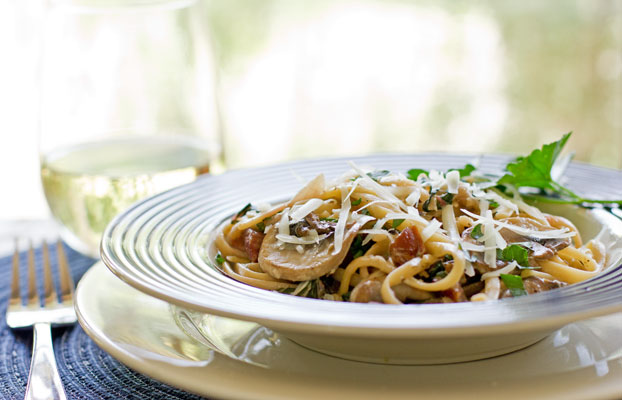 Capellini Pasta with Garlic, Lemon and Fried Egg – This is actually Bobby's quick & easy pasta dish and one of the dishes he makes when the kitchen is all his.
Spaghetti Carbanaro @Wozz Kitchen Creation 
Cajun Chicken Pasta on the Lighter Side @Gina's Skinny Recipes
Shrimp Lo Mein [with Gluten-Free Options] @Savoring Today
Creamy Green Chile Chicken Spaghetti @Tortilla and Honey
Udon or Ramen Noodles with Korean Chili Dressing and Smoked Salmon – This has become one of our regular Q&E meals.  In fact, it's so easy, that sometimes I'll make it for lunch.  This noodle dish was adapted from Season with Spice's ramen noodle recipe.  Sometimes I'll use ramen noodles but recently I've been using the fresh udon noodles that we get at Costo. To make, cook the noodles in chicken broth with one bunch chopped green onion then drain, reserving the broth. Toss the noodles and onion with the Korean chili dressing and about 6 ounces of smoked salmon.  Separate into 2 serving bowls, and top each serving with about ¼ – ½ cup of the reserved broth.  We did adjust the Korean dressing a bit to fit our taste by reducing the vinegar to 1 tsp. and the toasted sesame oil to 2 tsp.  This is an awesome dish with or without the smoked salmon.
The Oh So Versatile Rice Dishes
You can never go wrong with a rice dish.  When I have time, I prefer to use brown rice or a mix of brown and wild rice, but for Q&E, white rice is  the norm because it cooks in half the time.  Here are some Q&E rice dishes.
Prawn and Cashew Vindaloo @Ang Sarap   (Serve over rice.)
Mexican Rice Skillet @Life Made Sweeter
Quick Fix Meal: Thai Basil Beef @Crockpot Gourmet
Coconut Lime Chicken Curry and Rice @Fox Valley Foodie
Easy Chicken, Chorizo and Shrimp Paella @Iowa Girl Eats
Beans and Rice – A One Pot Meal  (Below)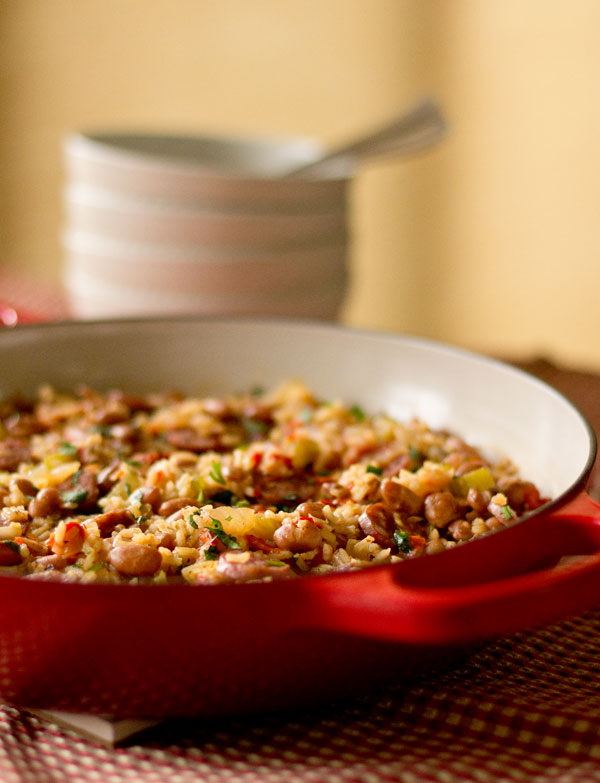 Fried Rice
If you make a meal that calls for rice, make extra rice for a fried rice dish later on in the week. Fried rice really needs to be made with leftover rice.  It is also one of those dishes that allows you to use bits and pieces leftover from another meal, like onion, peppers, carrots, peas, and greens.  You can also add pieces of chicken, pork or beef, or throw in a few shrimp.  From my friend Ray at Wok with Ray, I learn that for a good textured fried rice, you start by separating the rice grains and letting them dry a bit before adding the rice to the dish.  Here's a link to one of Ray's fried rice dishes that we love.
Garlic Fried Rice with Bacon  @Wok With Ray (Check out more of Ray's fried rice and stir fry recipes while you're there. He's a great source for Q&E meals!)
Italian Sausage Fried Brown Rice Recipe @SpicieFoodie
Szechuan Chicken Fried Rice @Lincy's Cook Art
Stir Fries
Southwestern Pork Stir Fry with Creamy Polenta
A Healthy Beef Stir fry @The Gingham Apron
Chicken and Green Bean Stir Fry @Roti n Rice (An easy dish with a versatile marinade for the chicken. Just take a look at what you have in your pantry and use it. The plum sauce is a slightly sweet component.  If you don't have rice wine (e.g., sake, mirin), you can use vermouth or another white wine.
Orange Beef Stir Fry @Rasa Malaysia
Take Those Leftovers and Build a Salad

For most of the salads below you can use leftover meat or beans.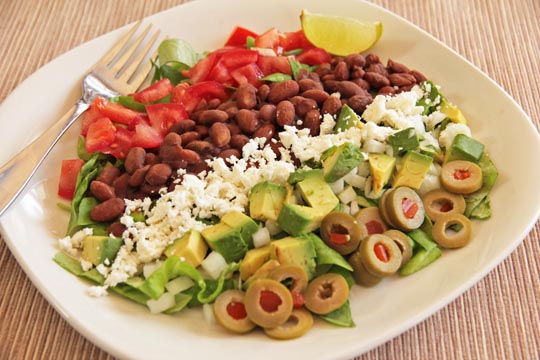 Spicy Bean Salad – The beans can be replaced with beef or chicken and you can change the vegetables to match.
Cucumber & Onion Salad with Smoked Salmon 
Chicken Tender Ginger Orange Salad
Flank Steak Salad with Zesty Honey Lemon Vinaigrette  @Learn from Yesterday, Live for today…
Chicken, Bacon and Corn Salad with Honey Line Vinaigrette @Cinnamon-Spice & Everything Nice
Grilled Balsamic Chicken and Avocado Brushetta Salad @Cafe Delites
Grilled Meat and Late Summer Vegetable Salad by Nadalyn
Meat and a Side
During the warmer weather our favorite Q&E is to slap a steak on the grill, saute' up a few vegetables or make a salad.  While Bobby's grilling the meat, I'm making the side making this a really easy 30 minute meal!  Below are some of the meat and a side meals that we enjoy.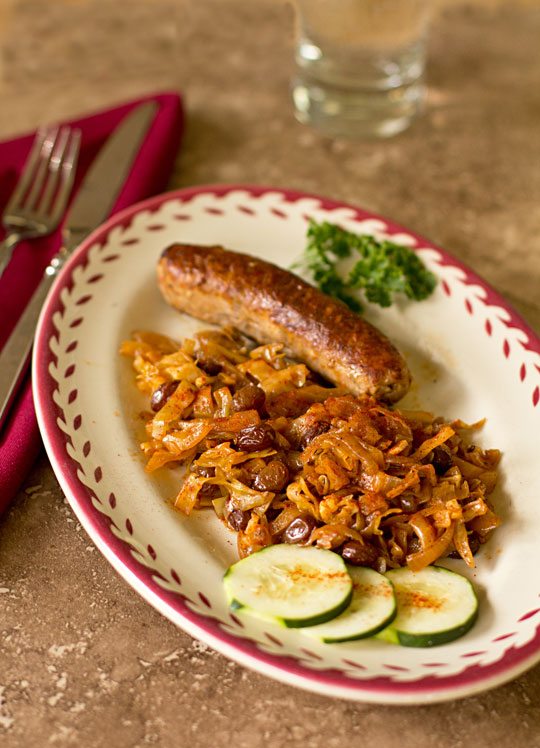 Sausage with Cabbage and Onions
Grilled Halibut with Simple Asparagus and Orzo Lemon Salad*
Peppered Lemon Chicken Bites with Curried Brussel Sprouts
Braised Italian Sausage with Vegetables
Baked Pork Loin Chops with Haricot Verts with Corn and Chives @Food & Style
Grilled Flank Steak with Strawberry Coconut and Pinon Salad.
Grilled Lamb Chops with Hot Beans (Green beans with dried chile) @Simply Reem
*This Orzo Lemon Salad recipe makes a large batch; therefore, you can make it on the weekend and eat on it all week.  It's good hot, cold and room temperature.
Other Quick & Easy Recipe Ideas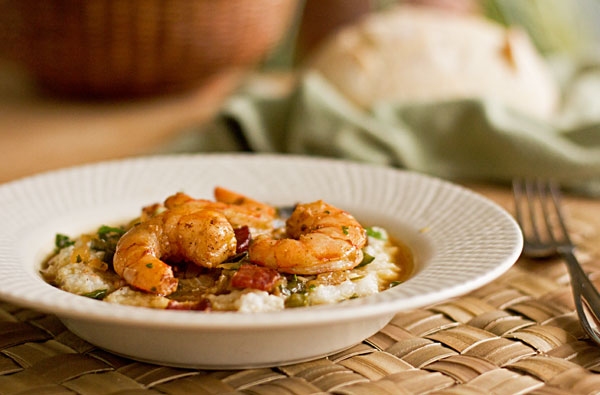 One Pan Mexican Quinoa @My Wife Makes
Spicy Kielbasa Tomato and Chili Curry @Curry and Comfort (Love this!)
Kung Pao Mushroom @Yummily Yours
Grilled Lemon Chicken Quinoa Bowls @Ricotta & Radishes
Feta and Sun-Dried Tomato One Pot Chicken @Bam's Kitchen
Beef and Chorizo Enchiladas with Red Chile Sauce
And for my absolutely all time favorite Q&E meal….
New Mexico Red Chile Enchiladas, but then I think most of you already knew that. 🙂
That's all I have for now.  Given more time, I could have made this list three to five times longer and eventually it may get that way.  Now that I have it started and posted (thanks to my SIL's suggestion!), I'll be adding to it as I find other Q&E meals that just need to be on this list.
Hope you find some recipes that will make life easier and make your mouth happy!