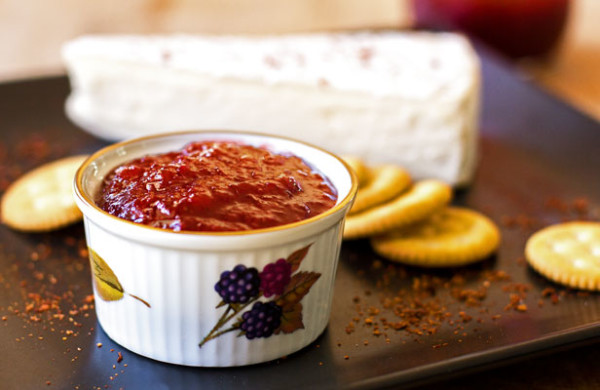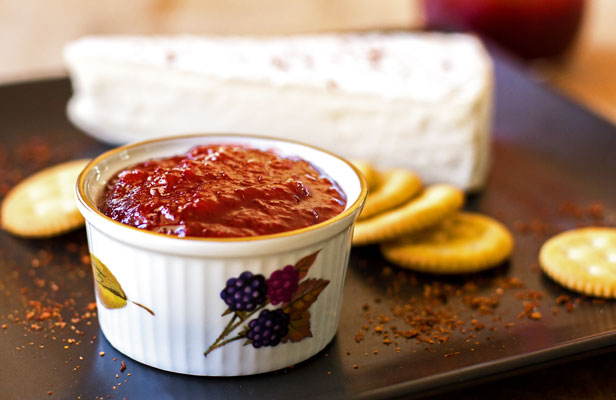 If you love sweet and spicy then you're going to love this Red Chile Strawberry Jam! With every bite you get the luscious sweetness of strawberries soon followed by a burst of spicy chile that continues to tickle the tongue long after the jam has moved on. It's a great jam for toast, biscuits, crackers and our favorite, a soft double cream brie.  But once you taste it, you'll probably just grab a spoon and eat it right out of the jar.
This chile strawberry jam recipe is a variation of my Quick & Easy Strawberry Jam that I posted as my first post over 4 years ago.  It's easy to make, has only 4 ingredients and no pectin.  You can use any type of red chile flakes – New Mexico red chile, Aleppo, Urfa Biber, Maras Biber, or even chipotle flakes, just to name a few.  However, the flavor and the heat of the flakes determines how much to add to the recipe.  Be sure to check out the Kitchen Notes for more information on red chile flakes and the process.
For more information on how to make single jars of quick & easy jams without pectin, be sure to check out the Kitchen Notes in a previous post for Quick & Easy Strawberry Jam.
Red Chile Strawberry Jam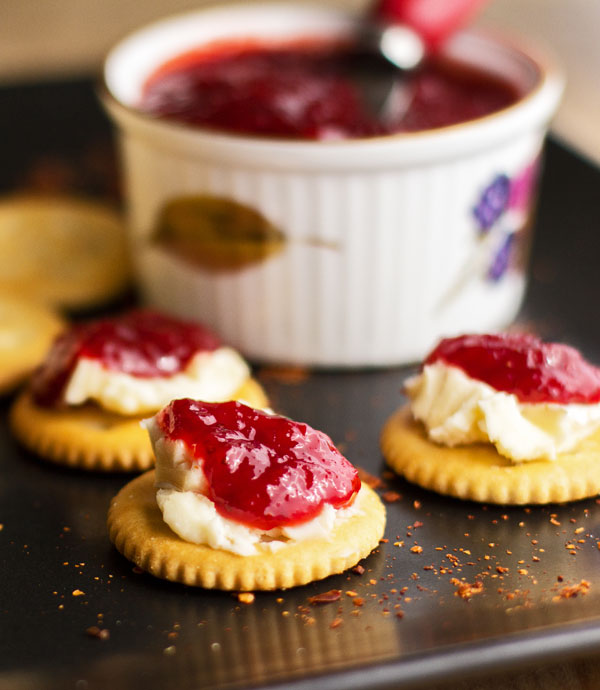 Red Chile Strawberry Jam Recipe
Before starting you might want to review my
Kitchen Notes on Making Q&E Jams
This is a refrigerator jam and not intended to be sealed and stored in the pantry. All you need is a very clean jar. Once the jam has cooked to consistency, pour into jar, let cool and refrigerate.
"*" See Kitchen Notes for more information or links to special ingredients.
Course:
Jams and Preserves
Ingredients
16

ounces

~2 cups coarsely chopped strawberries

8

ounces

1 cup sugar

juice from half a lemon

1

Tbsp.

red chile flakes*
Instructions
If you aren't planning on using temperature, to know when the jam is ready to pour place a small saucer in the freezer.

Remove the tops and coarsely chop the strawberries.

Add berries to a sauce pan or blender and pulse a few times for a coarse pureé. (I use the sauce pan and an immersion blender.)

Measure the sugar and add to the sauce pan with the berries along with the lemon juice and red chile flakes.

Start heating the jam over a medium heat, stirring, until the sugar has melted. Continue to stir frequently until the jam comes to a boil.

Bring the jam to a full boil and start stirring constantly. A full boil is a boil that cannot be stirred down. (You might need to increase the burner setting to medium-high in order to maintain a full boil while stirring.)

Set the timer and stir at a full boil for 15 minutes. At 15 minutes test the jam or using a candy thermometer, check the temperature of the jam*.

To test the jam without a thermometer, dip a metal spoon into the jam and then raise it up out of the pot. Turn the spoon sideways. If the droplets flow together into one drop, the the jam is very close to being done. Pull the small saucer from the freezer and place a dollop or two of jam onto the saucer. If it spreads out, the jam's not done. Return the saucer to the freezer, continue to stir the boiling jam, and try again in 2-3 minutes. The jam is done when a dollop does not spread out but retains its shape. It usually takes about 15 to 18 minutes for this amount of jam to be ready. OR at 15 minutes add a candy thermometer to the pot and use temperature to know when the jam is ready.

Rinse a clean pint jar (do not dry) and place in microwave for 2 minutes.

When the jam is ready, remove it from the heat and pour jam into the jar, clean the rim of the jar and put the lid on it. Let cool and refrigerate. This jam will keep in the refrigerator until you finish it off, which doesn't take long.
If you want a full pint, increase the strawberries to 24 ounces and the sugar to 12 ounces. Add an additional teaspoon of chile flakes, and use the juice from a whole lemon. You will also need to increase the cook time as well. This much jam could take possibly 20 minutes to cook down. Just keep checking it.
Kitchen Notes
Kitchen Notes for Quick & Easy Jam - Provides more detailed information on pectin, times & temperatures, methods for checking jam, and substitutions.
Make your own chile flakes – To make your own chile flakes, cut the stem off 2 chile pods.  Shake out all of the seeds.  Using scissors, cut the pods into pieces and transfer to a spice grinder.  Pulse a few times to create flakes.  Check for seeds and remove as many as you can or want.
Do not use chile powder – Powder will make this chile strawberry jam murky and even gritty if the powder isn't fine enough. 
The heat of the chile – The NM red chile that I use is a hot red, so it's as hot as a jalapeno.  It provides a very spicy finish, but not a burn.  If you want a burn then increase the amount of chile flakes by a teaspoon or two or use a hotter chile like a chile de arbol.  However, be careful…too much heat can overpowered the goodness of this jam…IMO.  If I were to use chile de arbol, I would probably just use 1 teaspoon of flakes at the most.  This is also true for chipotle flakes.  Not only could the heat overpower the flavor of the jam, but so could the smokiness of the chipotle.
Important Note about the amount of chile –  As the jam cooks down, the chile flavor and heat becomes more and more concentrated.  So by starting off with a good spicy heat, but not TOO hot, the final heat should be just right.  If you want more of the chile flavor and less heat, then use a less spicy chile flake.
Pectin in Strawberries – Strawberries are relatively low in pectin, but like most fruits the pectin content is higher when the berries are less ripe.  As fruit ripens,  the amount of natural pectin decrease.  Therefore, under ripe fruit and lemon juice, provide just enough pectin to give this small batch jam a nice texture.
If the jam comes out too soft – Let's say you pull the jam out of the refrigerator the next day and it's softer than you like.  Do not fear.  It's easy to save a jam that is too soft.  Just pour the whole jar of jam in a skillet, heat on high, stirring constantly.  Bring to a boil and boil for 1 – 2 minutes.  Remove from the heat and pour back into the jar and let cool.  This high heat in a wide skillet helps to quickly evaporate some of the liquid, helping the jam to thicken.
In the jam comes out too sticky - If the jam is too sticky it's to spread it; however, don't toss it.  Add it to quick bread batter or knead it into yeast bread dough for a touch of sweet and spicy.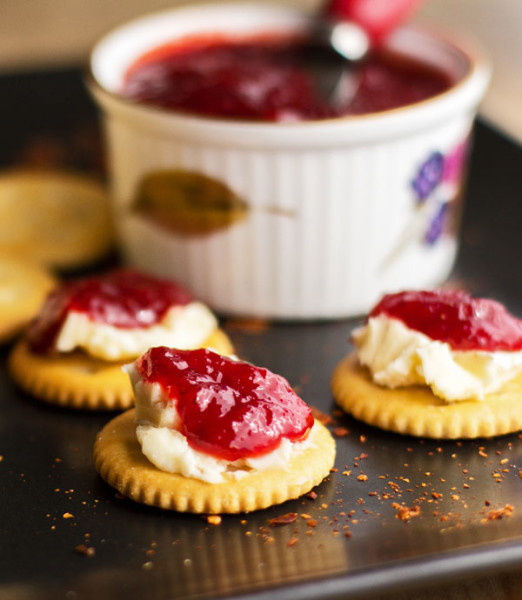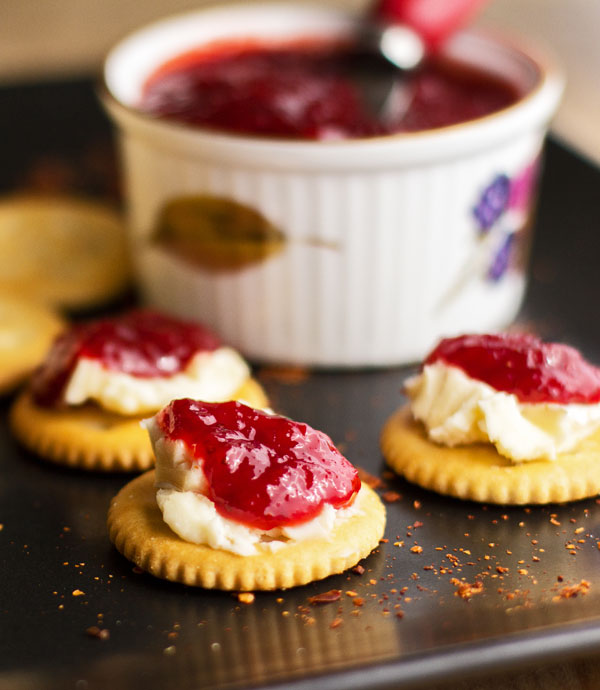 If you like your jams sweet and spicy like this Red Chile Strawberry Jam, then you might also enjoy my Raspberry Mole Jam, Green Chile Peach preserves, or my decadent Tomato Red Chile Jam.  If you don't want the heat and only want the sweet, then give one of the following jams a try.  All of these jams can be made in last then 30 minutes, makes 1 jar, and uses no pectin.
Save