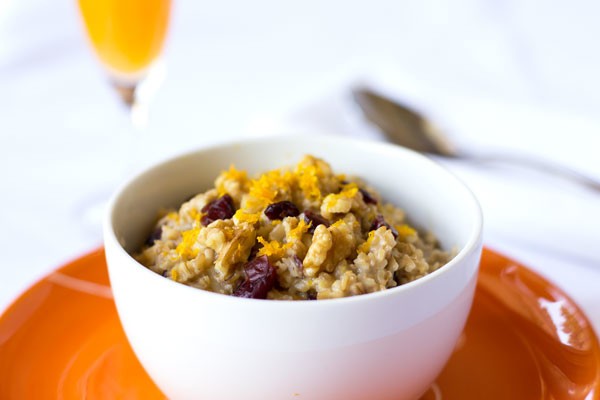 These Cranberry Orange steel cut oats were inspired by my favorite Tried and True Cranberry Bread recipe.  Like the bread, three simple ingredients – dried cranberries, orange zest and nuts – transform a boring bowl of oatmeal into a creamy, healthy, nutty, and tasty breakfast.
If you've ever made steel cuts, you know they take 30 to 45 minutes to cook, unless, you pre-soak them.  I used to soak them overnight, but since I found myself forgetting most nights, I've gone to a pre-soak in the morning.  While I'm steeping my first cup of tea, I boil some water, pour in the oats, cover and let them soak until I get hungry.  It only takes 30 minutes but they can soak as long as you want. Once pre-soaked, the oats only take about 15 minutes to cook up.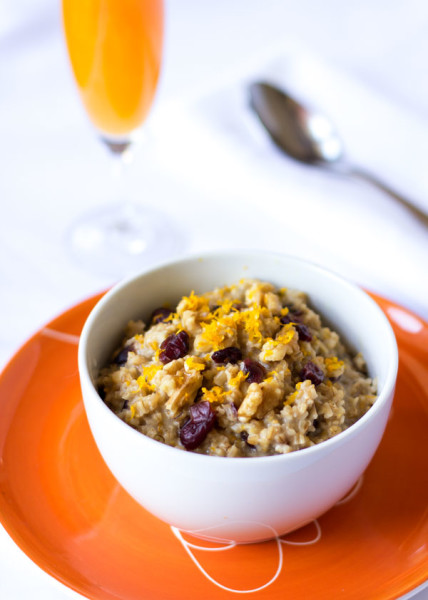 [print_this]
Cranberry Orange Steel Cut Oats Recipe

Recipe Author:  MJ of MJ's Kitchen
Serves: 4 – ½ cup servings
Prep and Cook time: 15 minutes after a half hour rest
Ingredients
½ cup steel cut oats
¼ tsp. salt
1 ½ cups water
½+ cup Vanilla almond milk
¼ cup dried cranberries
2 tsp. brown sugar or to taste
¼ cup chopped pecans or walnuts
Zest from half of a large orange
Instructions
Bring 1 ½ cups water to a boil in a sauce pan. Slowly add the oats, stirring. Bring back to a boil stirring constantly. Remove from the heat and cover. Let sit at least 30 minutes.
Reheat the oats with ½ cup almond milk. Bring to a boil, reduce to a simmer and stir for about 5 minutes.  If the oats appear too thick, add a little more milk.
Add the cranberries and brown sugar. Cook, stirring occasionally for 8 to 10 minutes. Taste for texture, sweetness and saltiness.   Adjust each to your tastes.
Add the nuts and orange zest. Stir and cook for another minute or 2 until the oats are to the desired doneness and thickness.
Divide the oatmeal between two bowls and enjoy!
If you want, you can juice the orange and have a glass of fresh squeezed orange juice with your oats.
[/print_this]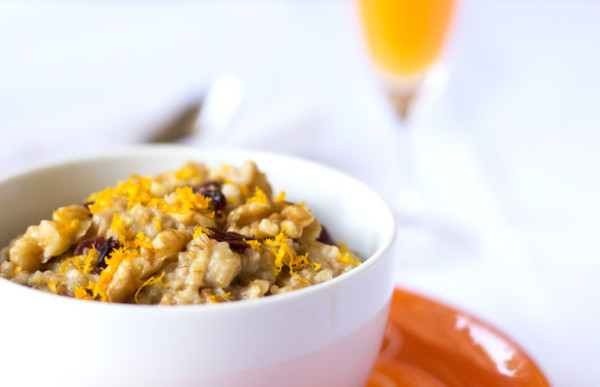 Kitchen Notes
Thickness of oats – Steel cuts soak up a lot of liquid; therefore, the longer they soak and cook, the more liquid you'll need.  So just keep adding almond milk until you get the consistency you want.
Almond milk – Almond milk, soy milk or regular milk can all be used for these oats.
The Sweetener – For the sweetener, I prefer brown sugar, but you can use honey, maple syrup or whatever sweetener you want. We find that 2 tsp. of brown sugar provide enough sweetness for us, but, again, you can adjust that to your tastes.
If you enjoy these cranberry orange steel cuts, then you'll also enjoy my Banana, Raisin and Almond oats as well as these Apple, Cranberries and Walnut.