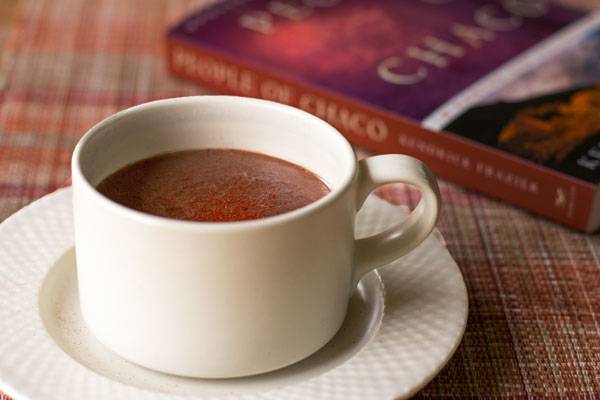 One of my favorite breakfasts when I was a kid was a pop tart and a glass of chocolate milk made with Bosco.  Now that I've grown up a bit, I still like my chocolate milk, but I've made the switch from Bosco to chocolate almond milk and instead of pop tarts, I prefer a slice of banana bread or cranberry bread.  Also, instead of just plain chocolate milk, I whisk in a little atole (toasted blue corn flour), a dash of ginger, and a few other spices, for a spicy hot beverage that is quite satisfying on a cold morning.
This Spiced Chocolate Atole is a version of champurrado, but is lighter (not as thick) than most champurrado recipes and is also lighter than my winter atole smoothies I shared back in 2013. It is also much easier to make.  Nothing to blend, just a little whisking.  In the winter, I like it hot, but it can also be served cold for a summer beverage.  Just make it the day before and refrigerate.
To read more about atole as well as chocolate atole (aka champurrado), visit my previous atole post.
 Spiced Chocolate Atole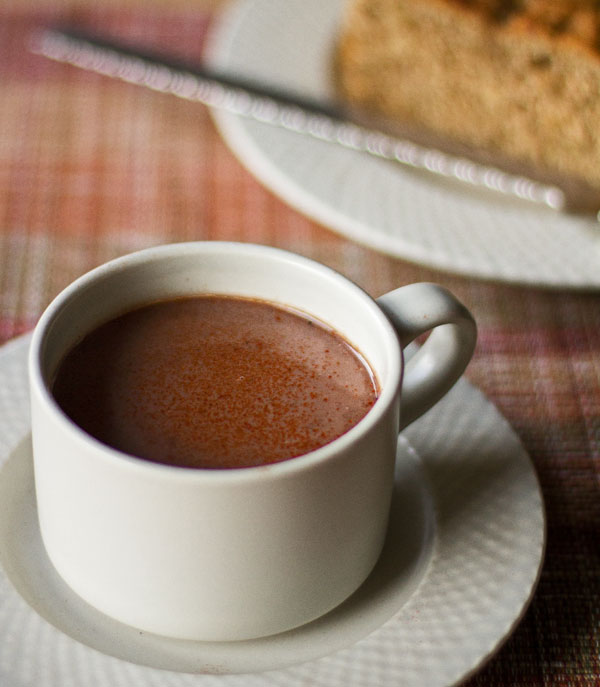 Spiced Chocolate Atole Recipe
Recipe author: MJ of MJ's Kitchen Yields 1 cup Cook Time: less than 10 minutes
Course:
Beverage, Breakfast
Cuisine:
Mexican, New Mexico
Ingredients
1

cup

chocolate almond milk or you favorite chocolate milk or milk substitute

1 - 1 ½

Tbsp.

atole

(toasted blue corn flour or fine ground blue cornmeal)

Generous dash of ground ginger

Generous dash of ground cardamom

Dash of cinnamon

2 to 3

dashes of red chile powder,

to taste
Instructions
Pour the chocolate milk in a small sauce pan. Whisk in the atole and heat over a medium heat.

Add the spices and continue to whisk, bringing the milk to a low boil.

Reduce heat to a simmer and simmer, whisking, for 1 minute.

Remove from heat, pour into a cup and sprinkle with a little extra chile powder or one of the other spices of your choice.
WARNING - It will be very hot, so you might want to let it sit for a couple of minutes, then stir and enjoy.
Kitchen Notes
Chocolate Milk, Milk Substitute – I use Blue Diamond Almond Breeze Chocolate Milk which I really like but some mornings I find it a little too chocolatey (if that's possible), so I add a little vanilla almond milk.  For this recipe it really doesn't matter what type chocolate milk you use.  Any brand or form of chocolate milk or milk substitute works. 
Atole – Atole is a toasted blue corn that is ground to a flour or fine cornmeal.  It's easy to find here in New Mexico, but outside of New Mexico you can either order it from a NM supplier or substitute with regular blue cornmeal or blue corn flour.  Here are two NM suppliers that I know sell atole:
You could also make this beverage with regular cornmeal or masa and cocoa powder.  And if you don't like chocolate, just leave it out.
Disclaimer:  This post was not a post to endorse Blue Diamond Almond milk or any particular business.  I just happen to like BD almond milk and like it for my chocolate atole.  As far as the atole, I purchase mine from the local co-op, but I know that the suppliers mentioned above do carry it.