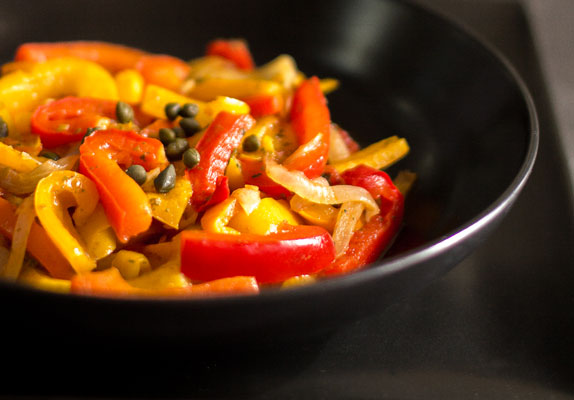 Sweet Pepper Stew is a version of the Italian dish – Peperonata – that is normally made in the fall when there is an abundance of different colored sweet peppers. However, several years ago Bobby made this lovely dish for me for Valentine's Day and it's been our traditional Valentine's Day dinner every since.  I also love making it for the holidays because it is so colorful and complements many other dishes.
Buying organic fresh sweet peppers this time a year is not cheap, but this dish is well worth the price. To the peppers we add frozen tomatoes and basil from our summer garden, along with a few capers.  After resting in the refrigerator overnight, this sweet pepper stew becomes quite "juicy" from the tomatoes and flavorful from the melding of all of the wonderful ingredients.  You can eat it by itself, or serve it with a nice baguette or homemade bread or as a side dish.  It's also quite good served with or over creamy polenta.  And if you are serving it as a Valentine's Day meal, finish your meal off with a Coffee Scented Chocolate Pot for a delicious and memorable home dining experience.
Sweet Pepper Stew (Peperonata)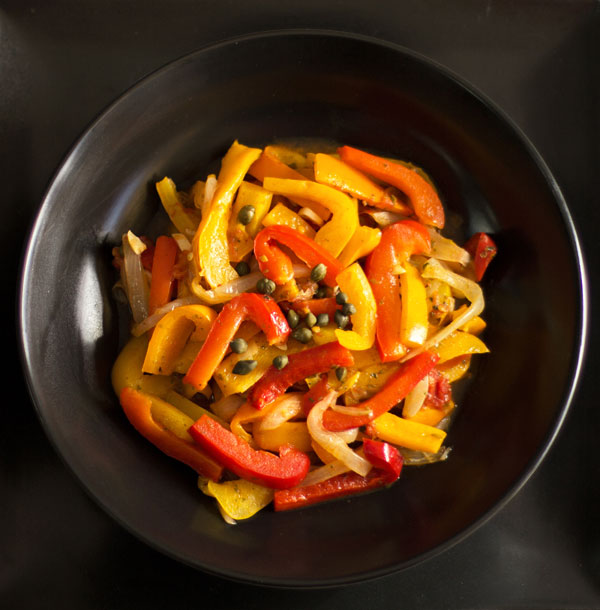 Sweet Pepper Stew (Peperonata) Recipe
Adapted from The Vegetarian Table: Italy. Serve as a meal of side dish.

This dish takes less than 45 minutes but is best when left to rest overnight rest in the refrigerator.
"*" See Kitchen Notes for more information or links to special ingredients.
Course:
Main Course, Side Dish, Vegetarian
Ingredients
4

Tbsp.

olive oil

1

large onion.

sliced thin (¼")

6

garlic cloves.

sliced thin

6

medium to large sweet peppers.

cored and sliced (¼-½")*

1 ½ - 2

cups

tomatoes.

fresh, frozen or canned*

1

Tbsp.

capers.

rinsed and minced

½

Tbsp.

capers.

rinsed and left whole (for garnish)

¼

cup

fresh basil.

chopped or 1 Tbsp. pesto or frozen basil*
Instructions
Heat the olive oil in a large Dutch oven over medium low heat.

When hot, add the onion and garlic and saute' for about 5 minutes. If they start to brown, lower the heat.

Add the bell pepper, and saute' gently, stirring occasionally for another 5 minutes.

Add the tomatoes, stir gently, cover and let the vegetables sweat, stirring occasionally, for 20 to 25 minutes or until the peppers are tender.

Remove from the heat. Add the minced capers and basil. Stir to combine.

Let the stew cool, transfer to the refrigerator and let sit overnight.

When ready to serve, reheat, scoop into bowls, top with a few capers or fresh basil, and enjoy.
Kitchen Notes
Sweet Peppers – A variety of colors makes a beautiful dish.  However, avoid green bell peppers since they haven't ripened into sweet peppers yet and could give your dish a bitter taste.
Tomatoes – Regardless of whether you use fresh, frozen or canned, do not drain. You want the juice to help form a "stew".
Basil – Fresh basil is always best; however, a little pesto or frozen basil works great.  Below is the method I use to freeze fresh basil.
Process for Freezing Fresh Basil
Freezing basil – When you have a large batch (a grocery bag full) of fresh basil, you can create a basil puree' that can be frozen and used all winter. Here is how I freeze my summer basil.
Start of pot of water on the stove top and bring to a boil.
Gently remove the leaves from the stems.
Blanch the leaves in the hot water by dropping in the water, then quickly removing using a slotted spoon. (This helps the basil to stay green and not turn brown.)
Transfer blanched basil to a blender.
When the blender is loosely packed with basil, add about 1/4 cup olive oil to blender, ¼ tsp. salt, and blend, adding more basil and olive oil (a little at a time), until you have a puree' of basil.
Pour into an ice tray and freeze.  Once frozen, pop out the ice cubes and transfer to freezer bags. Freeze and use as needed.
The Vegetarian Table Cookbooks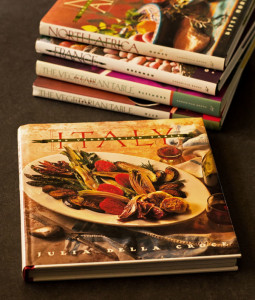 If you like vegetarian cookbooks, then I would highly recommend The Vegetarian Table cookbook series.  These cookbooks were published back in the 1990's.  Each book focuses on the cuisine of one country and each has a different author.  I have Italy, France, Japan, North Africa, and Thailand.  I love them all!!
Every book is professionally published with gorgeous food photography, and authentic recipes. This Sweet Pepper Stew was adapted from a recipe in the Italy cookbook by Julia Della Croce.  I would also recommend her Minestrone.
Because these cookbooks were published almost 20 years ago, they are now very reasonably priced and worth checking out.
Save