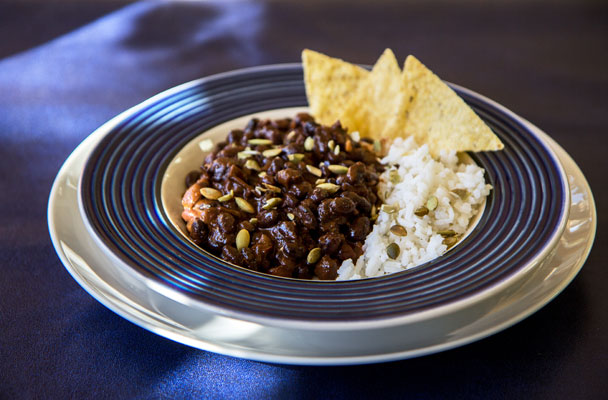 The first time I tasted Oaxacan Black Mole (Mole Negro) was about 30 years ago when I had the privilege of eating Mole Negro Chicken made by a Oaxacan immigrant. Each bite produced a flavor sensation that I still relish to this day.  Years later I found a recipe for Oaxacan Black Mole in Diana Kennedy's Book, The Art of Mexican Cooking and decided to give it a try. The result was heavenly but it took many hours of work and 2 days.  So when I decided that I wanted to make this Black Bean Mole dish I chose to make a deconstructed mole instead of making the sauce separately.  It saved quite a bit of time and simplified the process tremendously.
For this Black Bean Mole dish, I used dried black beans which I brined for 4 hours, then cooked for 3 hours.  I added the majority of the ingredients listed in Diana Kennedy's recipe at the beginning of the cooking time, allowing the various flavor to blend together while the beans cooked.  Several adjustments in the amounts were made because I was making a pot of beans not a sauce.  Also, instead of using whole dried chiles as one would for a mole sauce, I used an assortment of chile powders and flakes. The result?  A uniquely flavored, spicy pot of black beans with the rich, robust flavors and depth of a mole sauce.
For a shorter cooking time, you could pressure cook the beans or use canned beans.  See the Kitchen Notes for optional cooking methods, as well as ingredient substitutes and suggested meals with these beans.
Black Bean Mole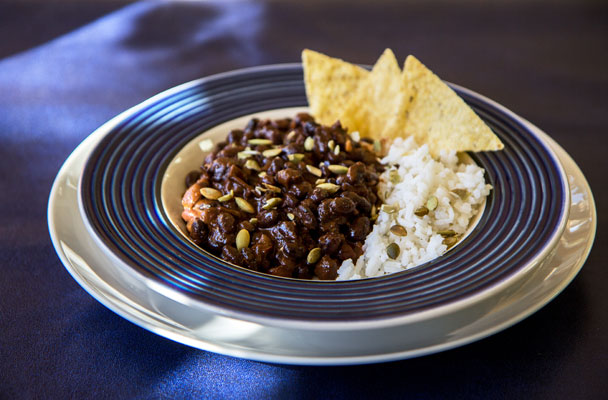 Black Bean Mole Recipe
A tasty vegetarian meal with the flavors of a red mole.

After a 4 hour brine, the bean mole is cooked on the stovetop. You can shorten the cook time by using canned beans or a pressure cooker to cook the beans. See Kitchen Notes.

"*" See Kitchen Notes for more information or links to special ingredients.
Course:
Main Course, Vegetarian
Ingredients
Brine the Beans
2

cups

dried black beans*

1

Tbsp.

salt

Water
Cook the Beans
1

Tbsp.

oil

½

large onion

diced

3

large garlic cloves

minced

1

tsp.

dried thyme

¼

tsp.

crushed dried marjoram

2

tsp.

Mexican oregano

crushed

1

Tbsp.

NM red chile powder

medium*

½ - 1

tsp.

smoked Serrano chile powder*

½ - 1

tsp

chipotle powder or flakes*

5-6

cups

stock/water*

½

pound

fresh tomatoes

chopped*

¼

cup

chopped roasted red or green chile*

3

whole cloves

1

small stick cinnamon

1 gram

2

Tbsp.

+ 1 tsp. unsweetened Cocoa powder

½

cup

raisins

2

Tbsp.

minced almonds

toasted

Salt to taste
Toppings (choose 2 to 3)*
Broken pieces of tortilla chips

Toasted pepitas

Toasted pine nuts

pinon

Diced raw onion

Crumbled feta or grated cheddar

Sour Cream or Creme FraÎche or Greek yogurt

Dashes of Pepper Sauce
Instructions
To brine the beans
Dissolve 1 Tbsp. salt in 4 cups water. Add the beans and enough water to cover the beans and be at least 1" above them. Brine for 4 hours. Drain, rinse and set aside.
Cook the Bean Mole
Heat the oil in a heavy soup pot over medium heat. When hot add the onion and garlic. Sauté for 3 to 4 minutes.

Add the three chile powders and sauté, stirring constantly for about 1 minute.

Add 5 cups of stock/water and bring to a boil.

Add the remaining ingredients except for the almonds and salt.

Bring back to a boil, reduce to a simmer and simmer, stirring frequently for 1.5 hours. Remove the cinnamon stick and add more water if needed, ½ cup at a time.

Add the toasted almonds. Taste for salt and add more salt if needed.

Continue to simmer until the beans are done, probably another hour or so.

See Kitchen Notes for serving ideas.

Kitchen Notes
Black Beans – Dried beans are my standard when cooking with beans.  I find the flavor and the texture so much more enjoyable than canned beans; however, if you don't have the 4 hours to brine and cook the beans there are 2 alternatives.
Using my 1970's pressure cooker:  After brining, place all of the ingredients (minus the almonds) in a pressure cooker and cook until almost done (about 10 minutes of pressurized cooking time). Open the pressure cooker safely and add the almonds and cook for another 10 – 20 minutes or until beans are tender. Here is my procedure for cooking black beans in a pressure cooker.
Using canned beans:  2 cups of dried beans yield 6 to 7 cups of cooked beans; therefore, if you want to use cooked beans, then you'll need 4 to 5 cans to get an equivalent amount of beans.  Follow the recipe above, but add the beans when you add the almonds near the end.  Reduce the liquid to about 3 cups and drain the beans, reserving the liquid.  Add the bean liquid to the soup pot when you add the other liquid.  Before adding the beans and almonds, let the "soup" simmer for 30 minutes.  By using canned beans, you could make this dish in less than an hour.
Slowcooker/Crockpot?  I have no idea.  I don't have a crockpot. 🙂
Water/Stock – Use whichever you prefer.  I've used both water and chicken stock with great results. For vegetarian, use vegetable broth and/or water.
Tomatoes – This recipe uses 1/2 pound fresh tomatoes which can be substituted with one 15.5 ounce can of diced tomatoes.
Green or Red Chile – Use whatever chile you have available in your area. The chiles don't have to be roasted. One to two fresh peppers work fine.  Just be aware of their heat levels and adjust your chile powders accordingly.  (Roasting fresh green chile)
Chile Powders – Again, there are several options and combinations of chile powders that you can use to create a depth of flavor and spice (heat).  Generally, you need a medium chile powder for the bulk (1 Tbsp.), then a hot chile and a smoky chile for the rest.  The chiles you use and the amounts will have a large affect on the flavor as well as the spiciness of the final dish.  So know how spicy you want this dish and adjust accordingly.
Toppings – Here's where you can have fun and mix things up.  Tortilla chips and pepitas are listed as ingredients in Kennedy's recipe, so as toppings they help to finish off the mole flavors.  However, Feta cheese or Greek yogurt makes a nice topping, but yields a different, but complementary result.  I think that the toppings you choose are more determined by how you plan to serve this.  See the Suggested Serving Ideas below.
Suggested Serving Ideas
Beans and Rice – Serve with brown or white rice and top with toasted pepitas or pinon and broken tortilla chips.  Sprinkle with a little more chile powder or a dash or two of pepper sauce.
Just Beans – Top with pinon nuts, cheese, raw onion, and yogurt or sour cream.  Serve with a warm flour tortilla.
Black Bean Mole Burrito – Wrap some beans, raw onion, and cheese in a flour tortilla and smother with red chile.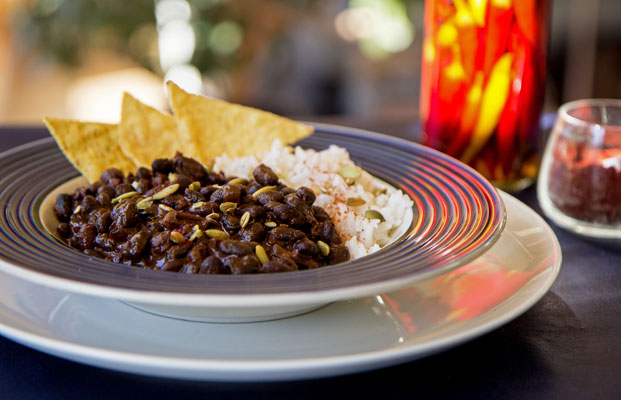 No matter how you decide to serve this Black Bean Mole dish, I hope you do enjoy it!
If you enjoy this Black Bean Mole dish, you'll also enjoy these bean dishes: